Last Updated on
Instagram is an incredibly popular social media account with over 800 million users and no sign of slowing down! With so many people competing to work with brands, you've probably wondered how you can implement an Instagram branding strategy to grow your business and grow your influence.
Instagram is definitely more than just posting a photo and a lot goes into the process of growing your Instagram account. But before you think of growing your account, you need to make sure your Instagram brand is on point!
Having a strong Instagram brand can help you:
land clients
attract your ideal followers
and so much more!
So let's get right to it and discuss the different ways you can build out your very own Instagram branding strategy.
1. Give Your Bio A Makeover
Your Instagram branding strategy starts with the first thing people see when they land on your account; your bio.
Your bio is important real estate on your Instagram profile so let's work to beef it up. Within your Instagram bio, you should consider revamping:
Your photo
Your name
Your website
Add your email
Creating copy for your bio
Your Instagram Profile Photo
Your Instagram profile photo should reflect your personality! A good profile photo is high quality (not grainy and dark), and unless your Instagram account is of a faceless business (i.e. a restaurant) you should include your actual self in it!
Having a photo of yourself makes it easier for people to connect with you.
Optimize Your Name For Search
Next, you'll want to make sure your name is your real name so when people search for you, you show up. As we are limited on space, I also include my job-title with a "|" after my name. If you are a blogger you can include that after your name to save on characters in your bio.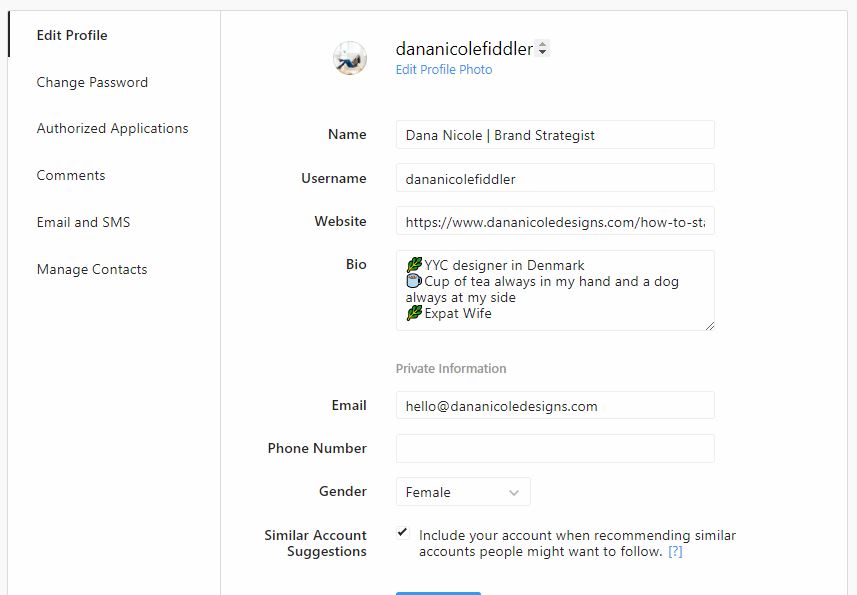 This will help people to find you in the search. As you can see below, when I type in "brand strategist" I come up along with others who have the words "brand" and "strategist" in their names!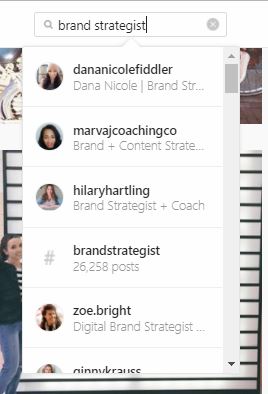 Add Your Website In
Next, put your website or featured blog post in your website area. If you don't have a website, consider getting a simple blog!
If you are an influencer and you want to start working with companies, many of them will require you write a blog post in exchange for compensation. A blog can provide you with lots of leverage when negotiating with brands.
I've broken down the steps you can take to starting a profitable blog if you aren't really sure where to begin!
Add Your Email To Your Instagram
While prospects, future clients and others can just send you a direct message, some like to communicate off the app so they can keep track of their emails within their actual inbox.
Adding your email to your Instagram makes it easier for people to contact you. If you don't have an email listed, you are missing out on potentially being contacted.
Create Compelling Copy For Your Instagram Bio
Ok – you have 150 characters max to brand yourself in your Instagram bio. Part of a killer Instagram branding strategy is having a compelling bio. You want to make sure you have personality in your bio but also make it obvious about who you are.
We've already included your "title" in your name above, but here is where you can expand on that. For example, if you wrote "Lifestyle Blogger" above, in your bio you can expand on that a bit. Here is my bio:
🌿YYC designer in Denmark
☕Cup of tea always in my hand and a dog always at my side
🌿Expat Wife
Ok so what have we here? Well, first I touch on the fact that I am a "YYC designer". "YYC" is the airport code of the city where I come from, and I want people to know right away where I am from in case they want to collaborate with a local designer.
Next, I talk about something I love. Totally unrelated to design but if you poke around my website a little bit you will see that I talk about my dog and my love for tea quite a bit. So I'm playing up to my brand with this part.
Lastly, I touch on the fact that I'm an expat wife.
Reading my bio you learn a few things. First, I'm a freelance designer that moved from Calgary to Denmark because my husband got a job. Second, I have a love for tea and my dog.
I could've written:
I am a freelance designer who moved from Calgary to Denmark when my husband got transferred there. I love tea and my dog.
Buuuut…that sounds a little boring and is probably over the 150 character limit!
Tip: If you want to add line breaks into your Instagram bio, you will need to log in from a computer and edit your bio from your computer. All you need to do is hit the "return" key when you want a break.
Other things you can include in your bio:
your own hashtag to encourage people to use it
your address if you are a store
your hours
a call-to-action (such as "click the link below" referring to your website link
2. Write Your Captions In Your Brand Voice
Developing a strong brand voice can take a bit of trial and error but once you figure out how you like to talk to your audience your brand will be so much stronger on Instagram.
You should aim to include some kind of call-to-action in your captions. Popular calls of action include:
"double tap if you agree!"
"comment below and let me know what your _____"
"tag someone who you _____"
"click the link in my bio to____!"
"check out my latest story ____"
Learning to write good Instagram captions takes practice, so if you feel stuck, trying reading through some of your favorite accounts for inspiration to see how they craft their captions.
3. Check Off Similar Account Suggestions
If you log into your Instagram account from a desktop computer, you will see the option "Similar Account Suggestions" within the edit profile section. Check this off!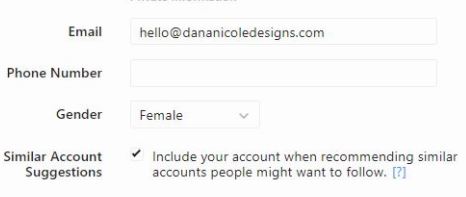 You know when you follow someone and then you'll get a list of accounts that are similar to follow?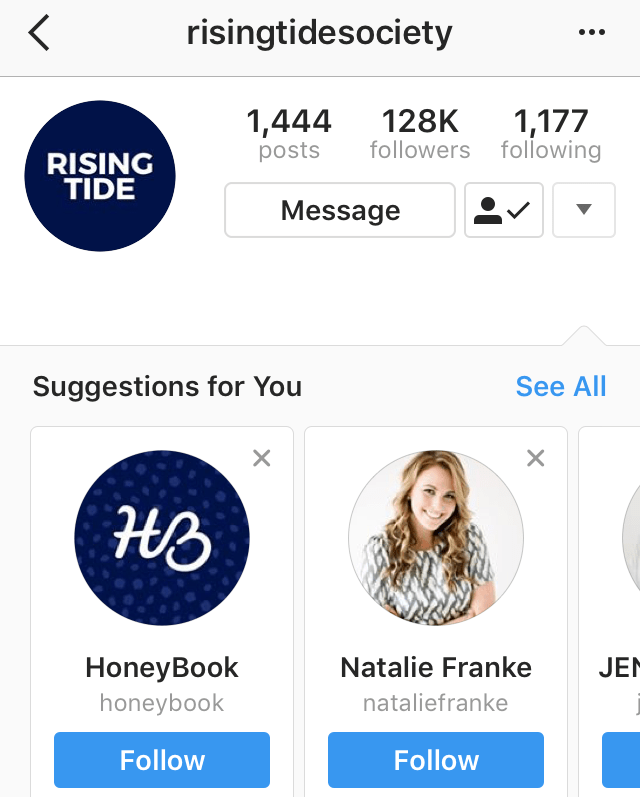 By checking this box off, you will be included in that list when your account is similar to other users.
Let's say a marketing manager is looking to connect with influencers for an upcoming campaign. They find one they really like, and instead of trying to find others, they just go to the similar accounts to speed up the process.
They'd likely find a whole bunch of other Instagrammers who are similar to the one they just selected to work with! So check that box off!
Related:
4. Create A Consistent Feed
A component of building an Instagram branding strategy is by having a feed that reflects your brand message.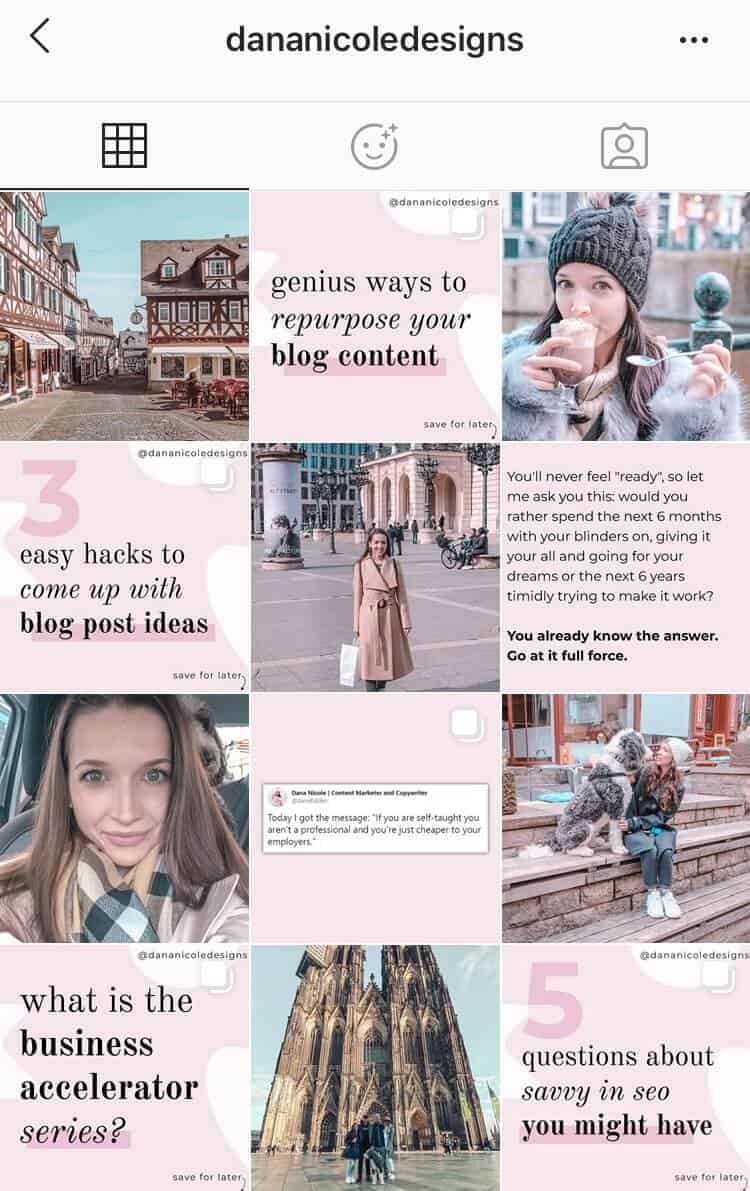 Choosing the type of aesthetic you want for your Instagram will really showcase your brand. My clients often comment to me about how they saw my Instagram and wanted to work together. The photos in my Instagram definitely speak to my target audience!
In order to create a consistent feed, you will need to invest in some equipment. I've got a rundown of my favorite photography equipment or bloggers and entrepreneurs along with the best cameras for bloggers.
---
Summary: Building an Instagram Branding Strategy
Here is a quick summary of some things you need to be doing in order to build an Instagram branding strategy for yourself or your business:
Give your bio a makeover

profile photo
optimize name for search
add your website
add your email
revamp bio

Write captions in your brand voice
Check off similar accounts so you are grouped with similar brands
Create a consistent feed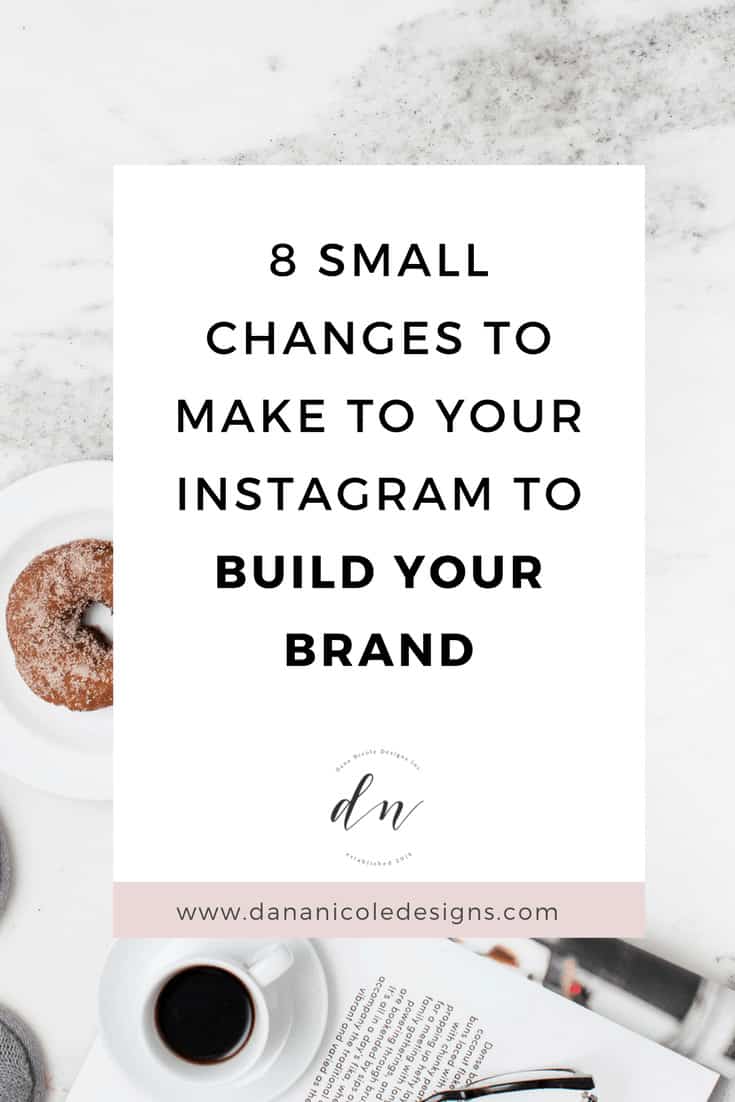 ---
This article may include affiliate links. As an Amazon Associate I earn from qualifying purchases.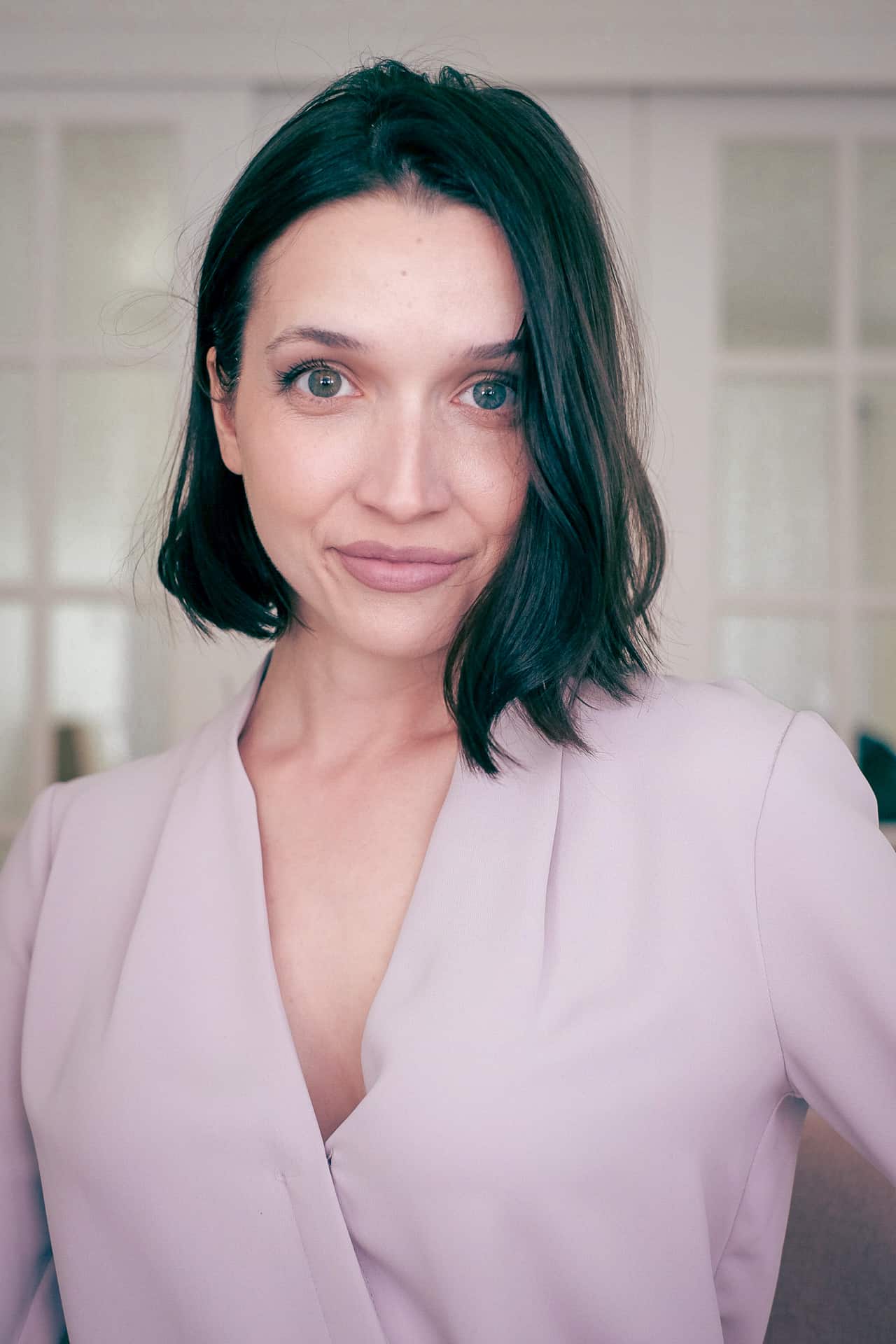 Dana Nicole is an award-winning freelance writer for MarTech/SaaS who was rated one of the best SaaS writers by Software World. She specializes in writing engaging content that ranks high in search engines and has been featured in publications like Semrush, ConvertKit, and Hotjar.
Dana holds a Bachelor's degree in Business Administration and has over 15 years of experience working alongside national brands in their marketing departments.
When Dana's not working, you can find her dancing en pointe, cooking up new recipes, and exploring the great outdoors with her two big dogs.