Last Updated on
If you want to learn how to get paid to post on Instagram and make money through social media, you're in the right spot. In today's post, you're going to learn everything you need to have in place so that brands will be more willing to pay you to post about their products.
Have you ever scrolled through Instagram and stumbled upon someone who had #ad in their photo and wondered how you can get paid for Instagram posts as well? Getting paid to post on Instagram is emerging to be a very lucrative side job (and even fulltime job for some bloggers).
Instagram influencers who are paid for their Instagram posts can make anywhere from $50 to over $500 and beyond.
Becoming an influencer on Instagram isn't just limited to celebrities anymore, in fact, micro-influencers are said to be the next big trend (for marketing, that is).
The term micro-influencer is used loosely, but generally includes accounts with followings between 1,000 and 100,000 followers.
Brands are very interested in paying people with loyal followings to promote their products!
This post contains affiliate links. If you purchase from one of the links below, I will earn a small commission. The price is not increased to account for my commission.
What Types of People get Paid to Post on Instagram?
Someone who gets paid for Instagram posts is also known as an "influencer". Influencers are paid by brands and corporations to post about their products.
I've heard people wonder whether or not Instagram pays you for having followers, but they don't. When Instagram users get paid, it's because they've formed a partnership with a company (not with Instagram itself).
Now, what exactly is an Instagram influencer?
An Instagram influencer is someone with a loyal following who is able to have an influence over their audience.
Companies will partner with an influencer and ask them to promote their products, through a variety of various means, such as Instagram posts or blog posts, in exchange for free products and compensation of some sort.
So how do you get paid for Instagram posts through being an influencer?
Let's break down the steps!
Step 1: Find Your Niche
Asking yourself what types of content you want to post (and ultimately, what types of brands you'd want to work with) is a good starting point.
If you want to get paid for your Instagram posts by working with fashion brands, begin posting photos of your favorite outfits.
If you would like to work with nutritional brands, focus your account towards something in the health & fitness niche.
Your Instagram is going to become your brand, and it needs to be authentic and 100% "you" in order for your followers to trust you. Find something you are passionate about and develop your account in those areas!
Below are some profitable Instagram niche ideas to get you thinking:
Travel
Lifestyle
Mom/parenting
Food
Business
DIY
Fashion
Fitness
Vegan
Wellness
Related:
Step 2: Grow Your Instagram Account
Next step to securing brand partnerships (and ultimately to get paid for your Instagram posts) is to grow your account.
While I mentioned that brands will pay to work with smaller accounts, you still want to focus on growing your account. Bigger accounts with higher engagement (quality over quantity, of course) will be able to receive higher pay for their Instagram posts.
There are many ways to grow an Instagram account fast and organically.
First, make sure you are posting high-quality photos. Not sure what to post on Instagram? Here are some quick ideas:
introduce yourself
share an outfit of the day
tell a story about something your followers might not know about you
share behind-the-scenes of your work
When someone new comes to your Instagram account, they are going to quickly make a decision on whether or not they want to follow you based on what their first impressions are.
Not to mention, brands are not going to pay you to post grainy images. Your images need to be high quality and should be taken with a good camera.
There are many great cameras for bloggers and influencers that can take your photos to the next level.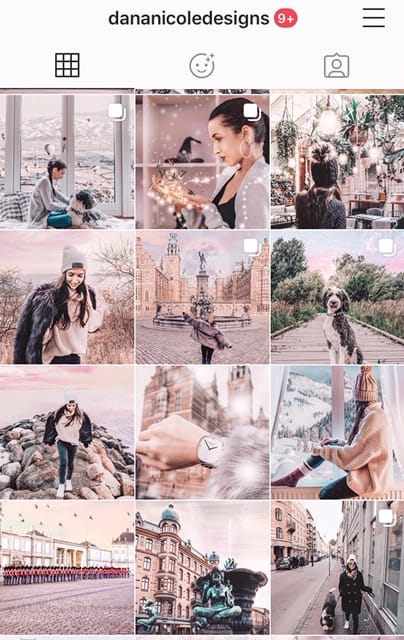 First impressions matter, so make sure you have high-quality images.
Next, if you want to get paid to post on Instagram, you should try and spend time engaging in the app itself. It won't be enough to post some pretty photos and expect your account to take off.
Engagement is really important in social media, but I've found it to be particularly important if you want to stay visible on Instagram. Find accounts that aren't following you and engage with them by leaving meaningful comments on their photos.
You should also be liking and commenting on photos in your home feed regularly! If you don't, you risk your followers turning into ghost followers (which can really hurt your account).
Lastly, engage with brands! Building a relationship with them is very important before you pitch them.
Step 3: Get A Media Kit
People who get paid to post on Instagram have media kits. A media kit is essentially a resume for your brand.
It details all your key information, analytics and engagement rates all on one page. Companies will take a quick scan of your media kit and decide whether or not they want to spend any more time going back and forth with you to secure a partnership!
Instagrammer Shanna Leigh wanted to get paid for Instagram posts, and although she had a couple of thousand followers and good engagement, brands weren't offering to pay her for any of her posts.
And when she'd reach out to them, they told her "no".
So what was she missing?
Getting paid to post on Instagram is a delicate business. First, you need to have a niche along with a growing account (as we discussed above).
The next item that all Instagrammers and bloggers should have if they want to get paid to post on Instagram is a media kit.
Shanna was missing a media kit and once she started pitching companies with one, she secured over five brand partnerships within a month! Her media kit made her appear more professional and gave brands a detailed look into her stats and audience.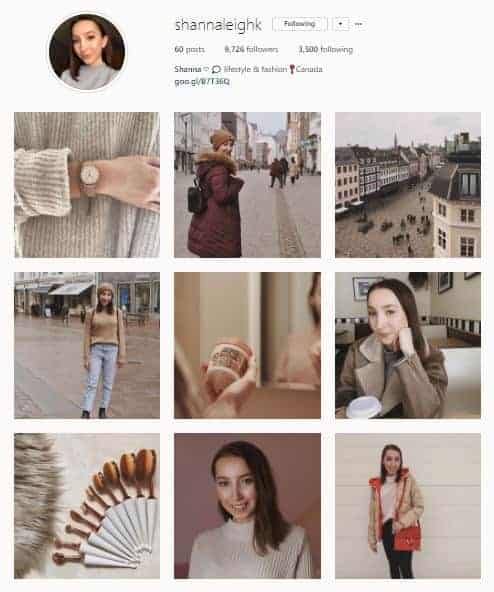 She's begun working with Daniel Wellington, Garnier, CaseApp, YSL and more secured for the future.
The tiny change of adding a media kit to her 'gram-game created a big return for her.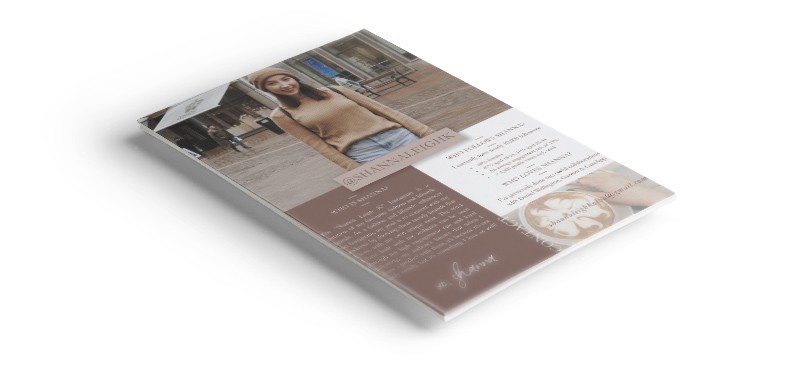 Need a media kit? No problem! I have a free customizable media kit template you can edit in Word. Click here to download it.
Step 4: Set Your Price
Everyone's first question is, "how many followers do I need to make money?"
And while there's no straight-forward answer, there are some tools to help you out.
Here is the tough part – trying to figure out how much to charge for an Instagram post.
First, you can use this handy Instagram account worth calculator to help determine how much you can earn from each Instagram post.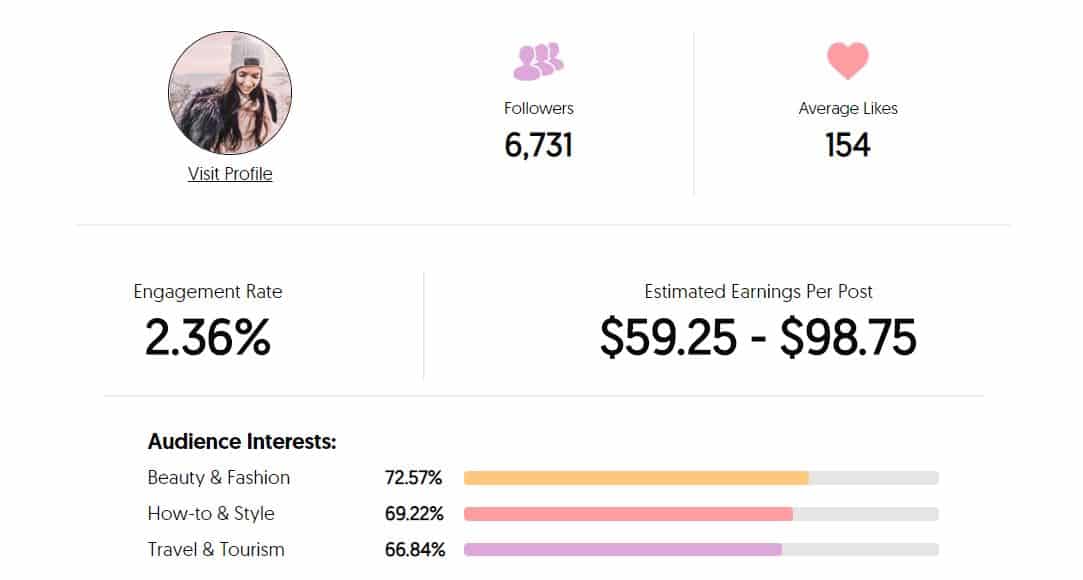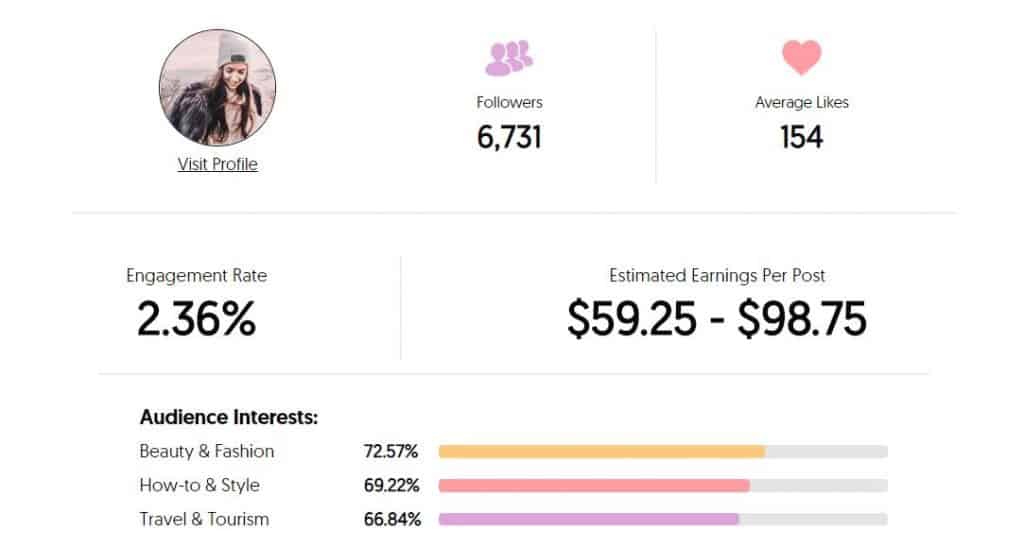 This is definitely just a ball-park estimate and to determine how much you should get paid to post on Instagram, you should take other things into consideration such as:
how much time it will take for you to take photos
how much time it will take for you to edit photos
how much time it will take for you to write copy and post the photos
how many photos will be required from you for each campaign
do you have anything additional you can offer, such as a blog post, a permanent spot on your "featured highlights" that can increase your rate?
You may even feel that you don't want to be paid for every post. While I do advocate trying to get some form of compensation for your hard work, sometimes brands will offer you really good products in exchange for a post.
And when you are first starting out, you might need to accept free products to build up your media kit resume.
If you find yourself in this position, ask yourself what your time is worth and what you are comfortable accepting as a form of compensation. Free products don't pay the bills, so tread carefully!
Many people also wonder how to make money on Instagram without followers.
Is it possible to make money with no followers?
The short answer is no. Even having followers doesn't guarantee that you'll get paid to post on Instagram. Brands want an engaged audience, and if you have no followers, you have no audience and you have no engagement.
If this is the case, don't worry! You'll get there! You just need to work on growing your Instagram account organically.
Step 5: Contact Brands
If you're a micro-influencer, you might have brands contacting you, however, you might need to actually go out and contact them yourself.
Being a micro-influencer means your account is a bit smaller and you are competing with thousands of others who are in the same boat as you.
By reaching out to brands, you are giving them an opportunity to view your Instagram account and see the potential you have to offer for a paid partnership.
If you start with the above steps, getting paid to post on Instagram might come quicker than you think!
If you're looking for even more resources, check out how this full tutorial on how to make money on Instagram as an Influencer.
Common Questions
Here are some frequently asked questions that many people have about getting paid to post on Instagram.
1. Can you get paid to follow people on Instagram?
No, you cannot be paid to follow people on Instagram. This is a blackhat social media tactic and will get your account banned.
2. Can you make money on Instagram as a teenager?
If you're a teenager looking to make money on Instagram, I applaud you for being so entrepreneurial! Lots of brands cater to younger demographics and would love to work with younger influencers.
You may need to get parental permission and should reach out to brands directly.
3. Can you get paid to like Instagram photos?
The answer for this is the same as question 1. This is blackhat and you should not accept payment to like Instagram photos, otherwise, you risk your account being shut down.
4. What other ways can you get paid on Instagram?
Payment isn't just for Instagram posts. You can get paid for any type of content you create solely for Instagram, including (but not limited to):
paid shout outs
product reviews
Instagram stories
IGTV
5. Should I Join an Instagram Pod?
Instagram pods are a hard no. Not only do they give you fake engagement, they are misleading to brands who want to work with you.
My advice? Avoid joining any comment pods and work towards authentic engagement.
In Conclusion
If you want to get paid to post on Instagram, it can help to establish your niche. A media kit will set you apart from your peers and brands will love you for being so thorough and putting together something they can reference.
Monetizing your Instagram account It requires lots of work and patience, but when you approach it like a business you will begin to see a great return!
---
Pin me: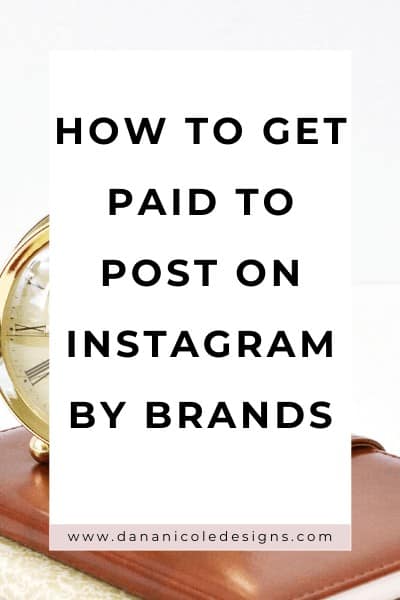 ---
This article may include affiliate links. As an Amazon Associate I earn from qualifying purchases.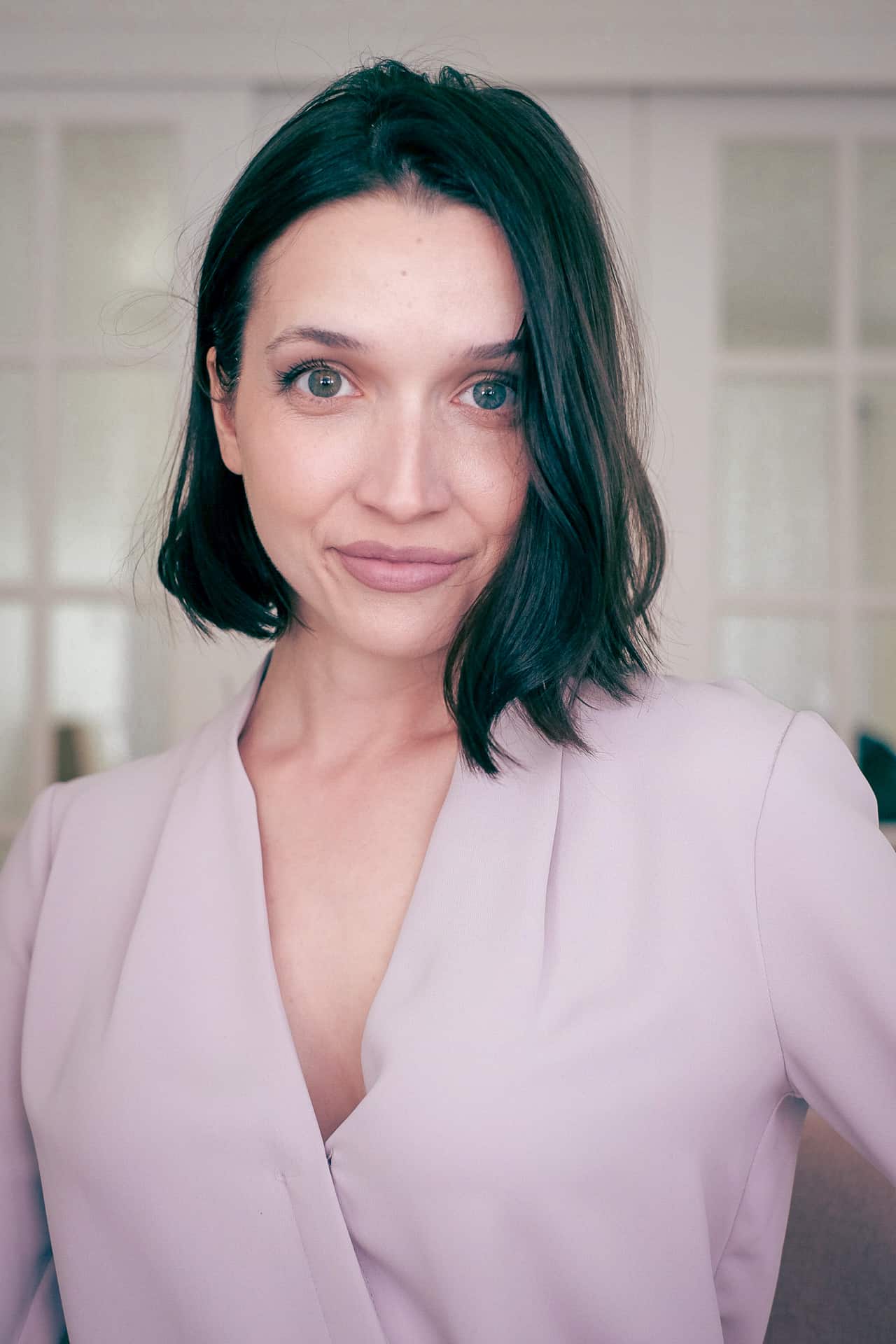 Dana Nicole is an award-winning freelance writer for MarTech/SaaS who was rated one of the best SaaS writers by Software World. She specializes in writing engaging content that ranks high in search engines and has been featured in publications like Semrush, ConvertKit, and Hotjar.
Dana holds a Bachelor's degree in Business Administration and has over 15 years of experience working alongside national brands in their marketing departments.
When Dana's not working, you can find her dancing en pointe, cooking up new recipes, and exploring the great outdoors with her two big dogs.