Last Updated on
What makes you "like" a photo on Instagram? If you're like me, there's probably a few reasons, but one of the main reasons is that it's aesthetically pleasing to look at—I'm a sucker for a good photo…
But for the longest time, I couldn't figure out how to make my own photos *pop*. I'd try different angles, use different composition techniques, but they always seemed to fall flat…
Until it hit me: I needed cute (but cheap) Instagram props to take my photos from bleh to beautiful and get that aesthetic Instagram feed I wanted. I'm talking marbled contact paper, fuzzy fabric and fake flowers.
After finding my favorite Instagram props, I decided to write this post to help you develop your own inventory of items for gorgeous photos. Once you're able to level-up your Instagram photos, it'll be easier to grow your Instagram and attract your ideal follower.
This post contains affiliate links. When you click on a link within this post and make a purchase, I will earn a commission. This is at no additional cost to you.
1. Fake Flowers
Fresh flowers add a beautiful touch but they can be expensive. My favorite Instagram photo styling prop by far is fake flowers, fake succulents and fake greenery.
Here are a couple of affordable and versatile options to consider:
For a low price, you can have flowers that will last you (and that you don't need to worry about killing #blackthumb).
The Instagram Prop in Action: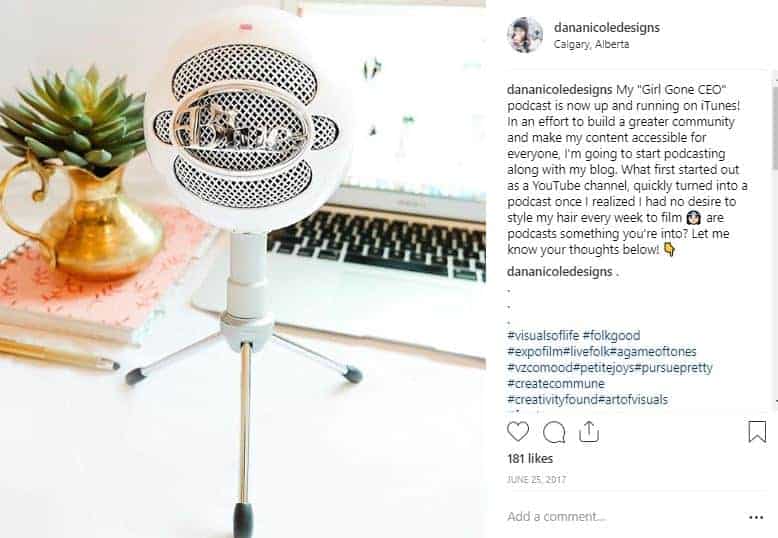 See that succulent over on the left-hand side of the photo? Well, it's 100% fake and makes a great addition to the photo by giving it a little something extra in the background.
It's a vertsatile photo styling prop that you'll never get sick of.
2. Wallpaper & Poster Paper
Wallpaper is my top choice for Instagram background props. When I first started out, I bought some marble wallpaper for flatlays–a photo shot from above–however, you can get any type of wallpaper or poster-board that fits your brand!
You can also use your floor if you have nice floors, but for those who want something simple and uniform, paper works great.
The Instagram Prop in Action: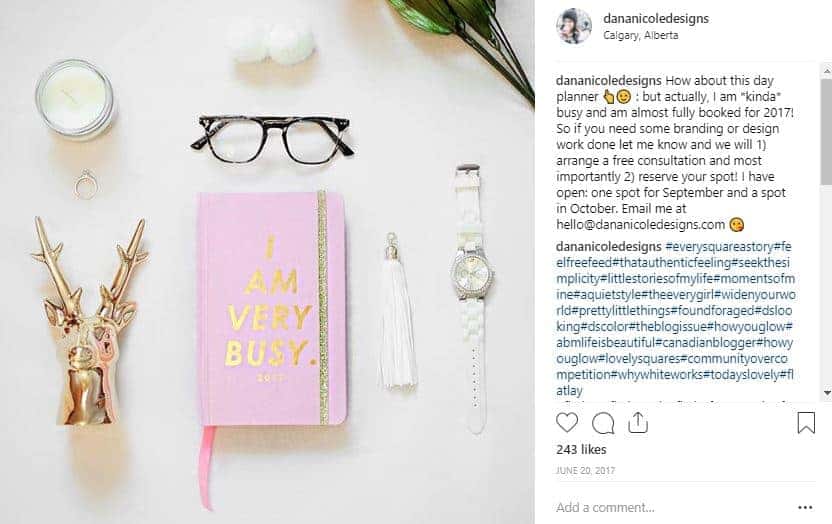 Wallpaper works great to use as a base for your flat lays. The photo above uses white posterboard, but I could have easily swapped in some marble wallpaper to make it look like it was taken on a marble top, and give the photo an elegant feel.
3. Books and Magazines
Books are a favorite of mine because they add lots of depth and different dimensions to photos. You can use them to stack, you can put other items on top or you can use them as props yourself (i.e. take a photo of you reading the book).
Books are a very versatile Instagram prop and you probably already have some laying around that you can use.
Opened books will add extra texture to your photos, and you can stack them to add additional height.
4. Candles
If you want cozy photos, this Instagram prop is a must. Candles, especially when lit, immediately give photos cozy vibes.
To keep your photos consistent, try and match the candle with the other items you're staging. This candle variety pack comes with 12 different candles in six different colors.
The Instagram Prop in Action: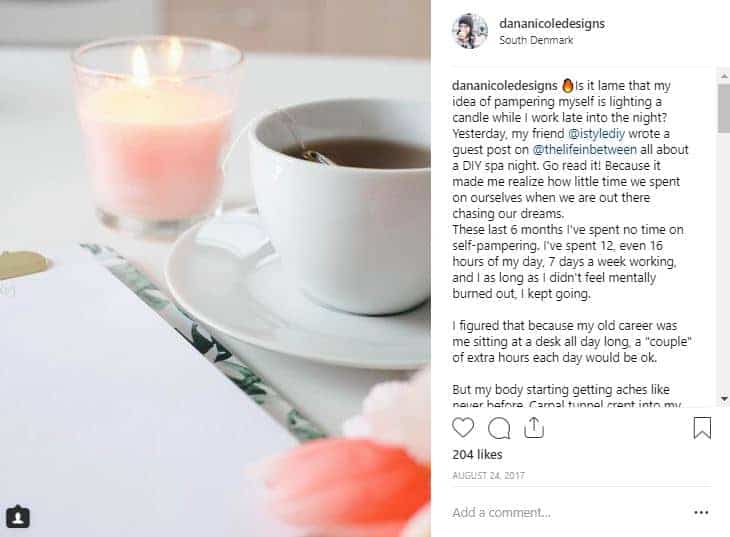 In the above photo, I have a candle that matches my color scheme, along with some fake flowers near the front of the photo that adds a bit more texture to the image!
5. Faux Sheepskin
Faux sheepskin is an Instagram worthy prop for many influencers, and in my opinion, super chic. It adds a nice texture to photos and can be used for flatlays, any photo that is taken from above or draped over your furniture!
The Instagram Prop in Action: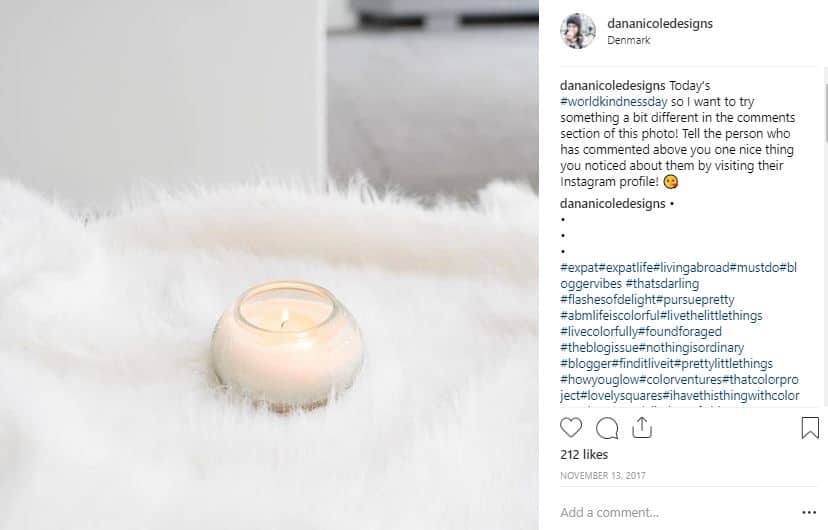 6. Material + Burlap
Another easy way to add texture to your photos is through the use of fabric and different materials. Depending on what your brand is and what your Instagram looks like, different colors and texture of materials can add a nice touch to your imagery.
This burlap is the easiest way to add an extra element to your images. I also found these scarves that come in a variety of pretty pastel colors so you always have plenty of colors on hand!
7. Vintage-Looking Bottles
Perfume is expensive but you don't actually need to buy the perfume to get the cool-looking bottle. Head over to your local antique or thrift store and see if you can find some nice bottles!
If not, these antique-bottles are a great addition to your photo styling prop collection.
Related:
The Instagram Prop in Action: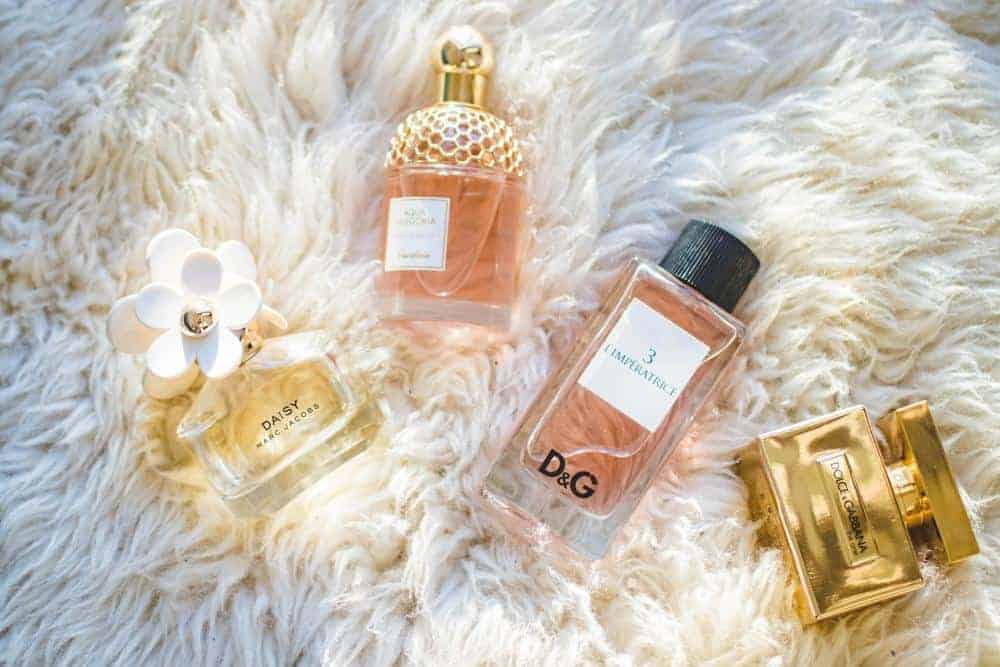 While these are brand-name bottles, yours definitely don't have to be (seriously–don't spend $500 on bottles!). And look! Our faux sheepskin also makes a debut in this photo (see, these props are very versatile).
8. Chalkboard
I love using chalkboards as props because you can easily change the message on the chalkboard, use different color chalk, or use it as a black background for other photos.
It's truly a versatile prop! This chalkboard is on the smaller side but make sure you check the dimensions and get a size that'll work best for you.
This Instagram Prop in Action: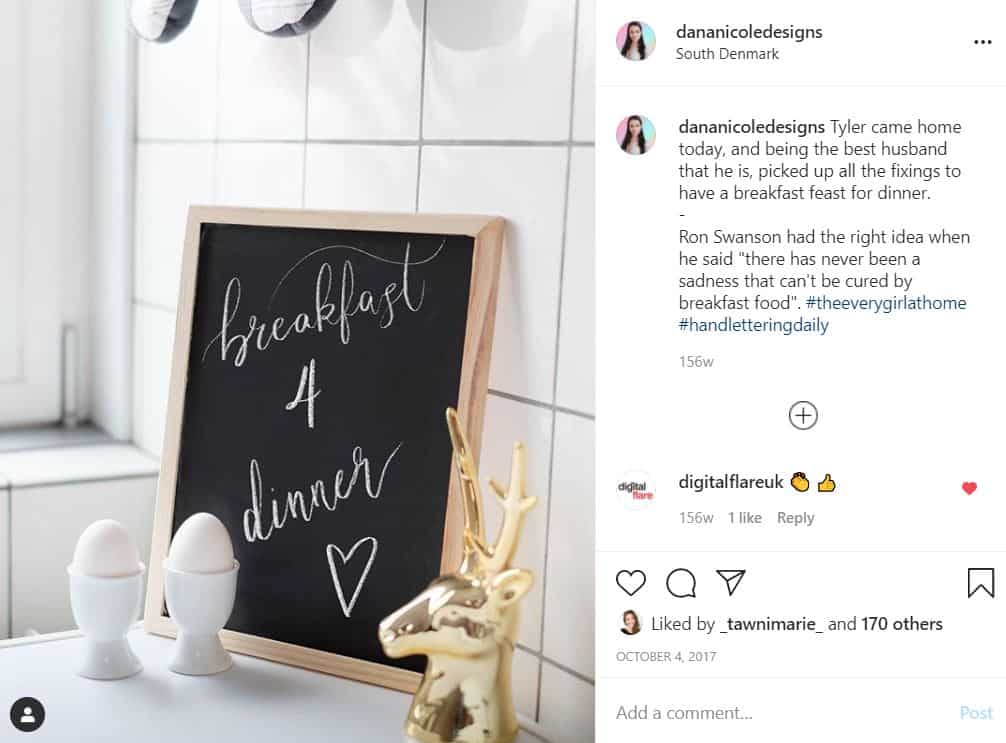 9. Letter Board
Like the faux sheepskin throw, letter boards are another influencer staple over on Instagram. If drawing with chalk is challenging, a letter board is the solution.
Letter boards come in different colors (this one is plain black), but you can also find grey, pink, white, blue, or any other color to match your brand.
This Instagram Prop in Action: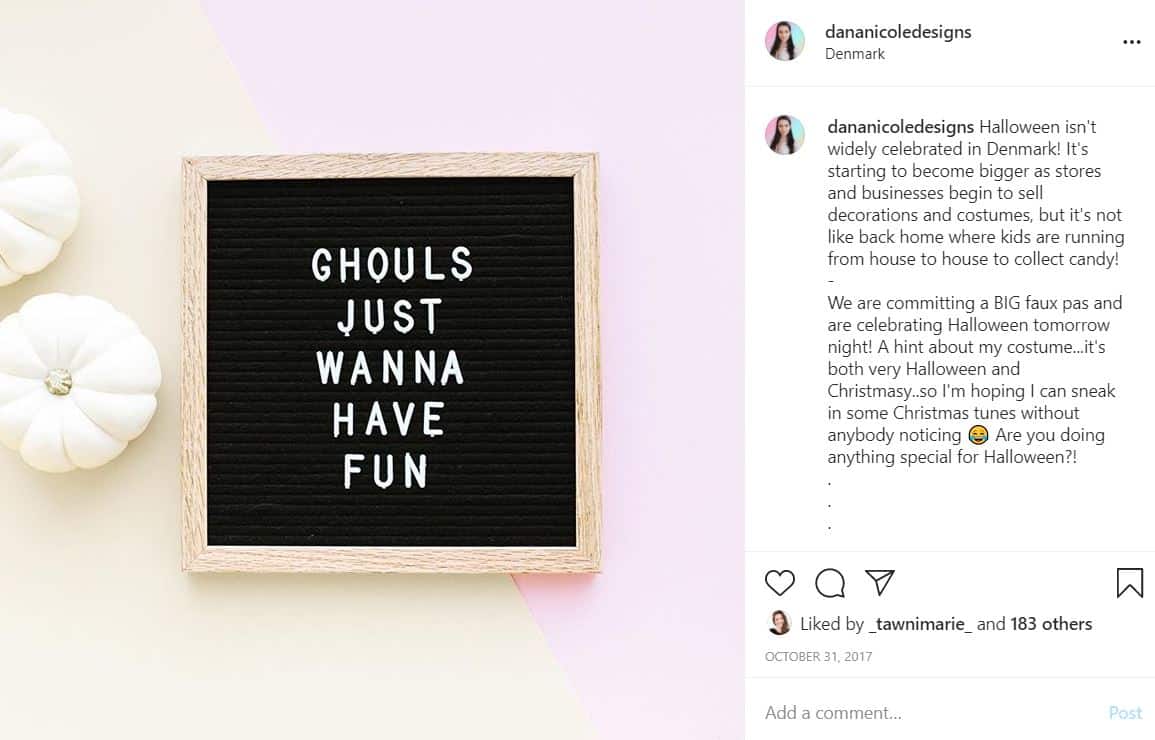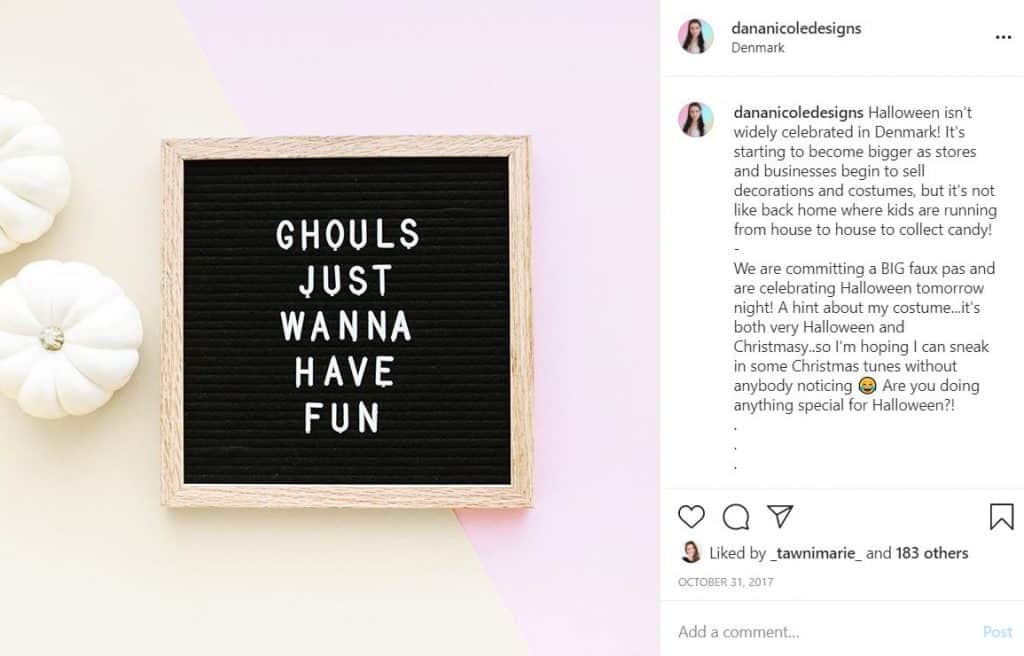 10. Fairy lights
If you ask me, fairy lights instantly improve everything. Their subtle sparkle will elevate your imagery. These fairy lights come in a variety of different colors so you can stay on-brand.
This Instagram Prop in Action: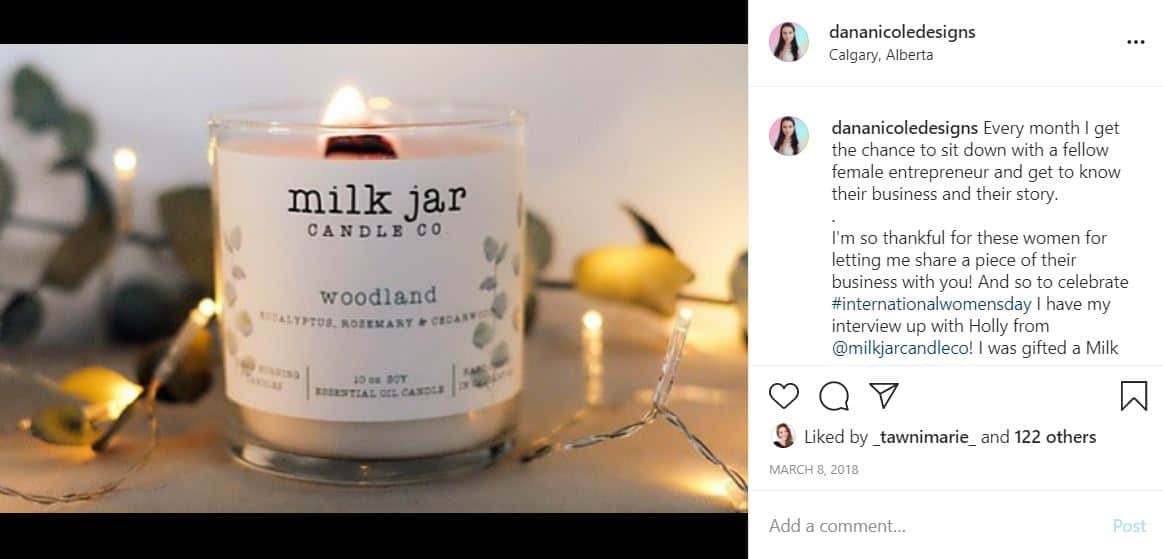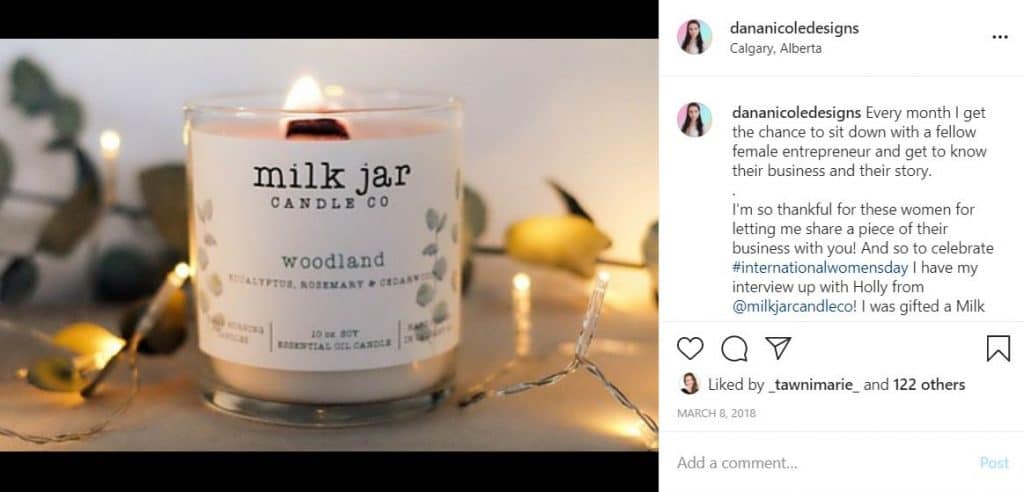 11. Geometric Containers
Geometric containers (like this gold one) are elegant and beautiful. You can have succulents popping out, vine-like plants overflowing down the sides or just keep them empty.
Even More Instagram Prop Ideas
Here are some more prop ideas (some of this stuff you might already have laying around!):
Earrings
Rings
Bracelets
Sunglasses
Fuzzy socks
Mirrors
Starbucks cups (just ask Starbucks for an additional cup and save it for prop use)
Ribbon and bows
Wrapping paper
Nail polish
Pillows
Blankets
Laptops, tablets and phones
Champagne or wine bottles
Gemstones
Candy
Cute coffee mugs
Garland
Other plants (pine needles, pine cones, leaves, etc.)
---
Coming up with new Instagram post ideas is a lot easier when you have the right Instagram props! Not only will your photos be snazzier, you'll also be able to grow your brand on Instagram. The above props are versatile, reusable and easy for beginners to use!
What's your go-to Instagram prop? Drop it in the comments below!
---
This article may include affiliate links. As an Amazon Associate I earn from qualifying purchases.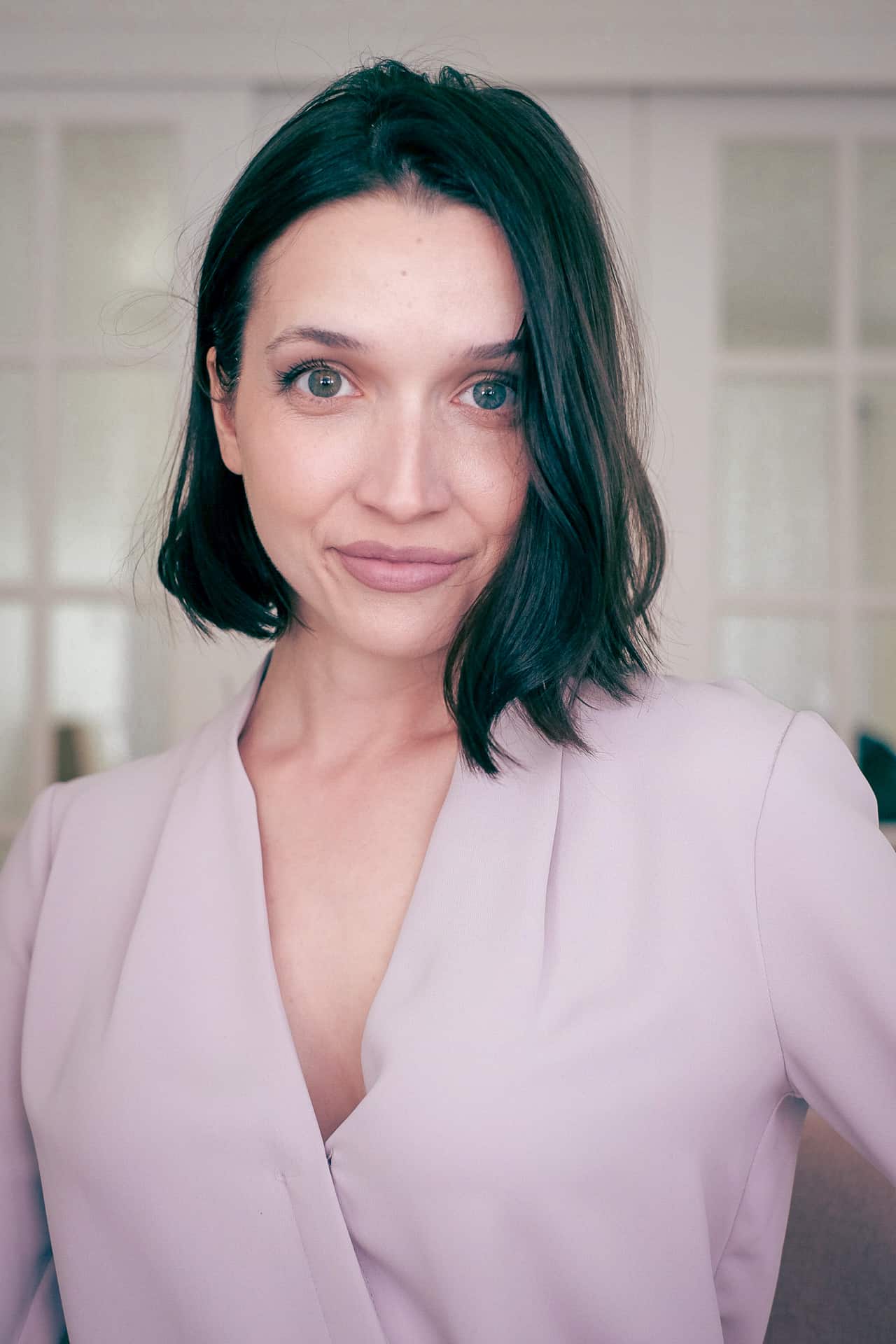 Dana Nicole is an award-winning freelance writer for MarTech/SaaS who was rated one of the best SaaS writers by Software World. She specializes in writing engaging content that ranks high in search engines and has been featured in publications like Semrush, ConvertKit, and Hotjar.
Dana holds a Bachelor's degree in Business Administration and has over 15 years of experience working alongside national brands in their marketing departments.
When Dana's not working, you can find her dancing en pointe, cooking up new recipes, and exploring the great outdoors with her two big dogs.