Last Updated on
Instagram has no shortage of inspiration and ideas when it comes to creating a killer feed. Here are some amazing Instagram feed ideas to help you plan and execute an Instagram feed that makes people want to follow you!
Looking for some inspiration so you can have a stand-out Instagram feed theme?
Having a cohesive Instagram feed is something many bloggers and small business owners want to have.
However, finding Instagram feed ideas for business or personal can be overwhelming! With over 1 billion users, you could scroll for years trying to sort through all the different feeds and themes.
To make things easier, I've put together some of the best Instagram feed designs you can implement today.
In this blog post, you are going to see various Instagram theme ideas, and you are also going to learn how you can begin to develop an Instagram feed that will grow both your account and your business.
I will also provide you with different Lightroom mobile presets to help you achieve all the theme ideas listed. (Lightroom is a free mobile app that is great for editing photos).
Using Lightroom mobile presets will help your Instagram posts look beautiful without spending hours editing.
Instagram Feed Ideas
Let's start by getting some inspiration for our Instagram feeds! Here are 20+ different Instagram feed ideas.
1. Minimal
A minimal Instagram feed theme is gorgeous and very aesthetically pleasing! To maintain a feed like this, you will need to capture objects on a plain white background and only have one of two items per image.
How to Recreate This Instagram Feed Theme
Minimal feeds aren't busy and don't contain many objects. There is also lots of natural light and the photos are not too heavily edited. Color is usually desaturated and the contrast is bumped down.
2. One Color
Stick to shooting one dominant color. This one can be very challenging and limiting, but when done right, it's incredibly pretty and aesthetically pleasing. Desiree, above, makes sure all her photos have a pop of red throughout them to achieve her red Instagram theme!
How to Recreate This Instagram Feed Theme
If you want to have an Instagram feed that showcases one dominant color, you will need to make sure that in most photos, the most visible item in your photos is your dominant color.
The Lightroom preset I'd recommend you use will vary depending on what color you'd like to have as your primary color.
3. Bright and Airy
I just love bright and airy feeds! They work incredibly well for soft and feminine brands. While they take a lot of effort to achieve and can be challenging to maintain, they are so incredibly gorgeous and worth the added effort!
How to Recreate This Instagram Feed Theme
A bright and airy Instagram feed theme can be achieved through photos with a light-colored background, muted colors and lots of natural light!
My Amour Lightroom mobile preset doesn't desaturate the photo too much but still gives it a bright and airy look and gives skin a nice and creamy look.
4. Flatlay Instagram
A flatlay is a photo that is taken above in which you organize products in an aesthetically pleasing way! As Instagram user @walid puts it, it's "organized chaos" and I love it!
How to Recreate This Instagram Feed Theme
Being successful with this Instagram feed idea will require lots of planning and lots of extra Instagram props and objects to play around with and use to stylize your flatlays.
5. Pastel Instagram
If you have a feminine brand, a pastel Instagram theme can be the perfect Instagram feed idea for you.
When going for a pastel feed, you just need to make sure that the colors in your photos aren't overly bright or saturated. In the example below, the feed has beautiful soft blues, pinks and oranges throughout.
How to Recreate This Instagram Feed Theme
Pastel feeds have low contrast, lots of brightness, and are slightly desaturated. They are similar to a light and airy feed, but with more colors.
6. Puzzle Instagram
This one can be a bit tricky to execute properly, but I sure do love the look of a puzzle feed when done right! A puzzle feed is when your Instagram grid all connects. Elements from each individual posts spill out into their neighbors, creating something truly unique!
How to Recreate This Instagram Feed Theme
You definitely will need some kind of Instagram planner to organize your feed. I'd also recommend investing in Photoshop for $9.99/month because you will need to crop and split up each photo so it fits like a puzzle.
The easiest way to do that (in my opinion) would be through Photoshop!
7. Alternate
Adding quotes every second image can be another great idea for your Instagram feed. Particularly if you want to inspire your followers, you can use quotes to do just that.
How to Recreate This Instagram Feed Theme
You can use a tool such as Canva to create your quotes!
This is an easy theme for those who don't have strong photo editing skills but still want something that pops.
8. Featured Product
An elegant way to showcase your products if you are a business is to focus on one product per image against a plain background. Doing so makes the products the star of your feed.
How to Recreate This Instagram Feed Theme
To recreate this theme, you will just need a wall and a surface to place your product! It doesn't get much simpler than that!
9. Black and White
A black and white Instagram theme can be a creative way to showcase your photos if you aren't one for bright colors.
While there is definitely skill required to take black and white photos, if you aren't confident in your editing skills, black and white can be one way you can attain a cohesive look without having to play around too much either any editing.
How to Recreate This Instagram Feed Theme
You can use just about any photo editing app to change your photo to black and white. You can even add Instagram filters right in the Instagram app to change them to black and white.
10. Black and Pastel
I absolutely love this unique Instagram feed idea! Alternate your black and white photos with a pastel photo in between each one. You'll have a cohesive look that isn't completely black and white but is still very monochromatic.
How to Recreate This Instagram Feed Theme
You will have to do a bit of planning to see what types of photos you can capture to get those pastel hues. With the Instagram feed above, it seems as if every pastel photo has been taken at sunset to give off the same colors.
Try to figure out what will work best for you and your brand, and what you can take photos of that will give off consistent results.
11. Surreal
If you are creative, you can design and create your own photos to showcase your creative ability! Let your imagination run wild with this Instagram theme idea!
Below is an example of a surreal, composite photo:
You'll have a unique and exciting feed if you choose to create all your images like this.
How to Recreate This Instagram Feed Theme
You will need Photoshop to achieve this look, but it's very easy to learn Photoshop online (especially through YouTube tutorials)!
I am self-taught in Photoshop so I can tell you firsthand that it's possible!
12. White Borders
One way to keep your photos looking cohesive is to add a white border around all of them. You'll also get some extra white space which can add to a minimal feel if you choose to combine this Instagram feed idea with the minimal one above!
How to Recreate This Instagram Feed Theme
Lots of photo editing apps let you add borders in a couple clicks! Try out Instasize to easily add white borders to all your images.
13. Above
Just like colors, you can also theme your feed around the angle that you shoot at! Take most of your photos from above to have a gorgeous Instagram theme that features an ariel view of your world.
How to Recreate This Instagram Feed Theme
Similar to the flatlay, if you want to shoot from above it's important to have a set of Instagram props you can cycle through to style your photos!
14. Moody
Cozy, moody, warm…whatever you want to call this Instagram theme I personally LOVE it!
How to Recreate This Instagram Feed Theme
This type of feed does best with lots of warm colors such as browns and oranges.
This Lightroom mobile preset works incredibly well for moody Instagram themes, giving your photos a warm and cozy vibe!
15. Abstract
Abstract Instagram themes involve lots of different patterns and angles. If you have access to some cool places where you could obtain photography like this, you can easily create an Instagram feed them like this one.
How to Recreate This Instagram Feed Theme
Always be on the lookout for different patterns and textures because you never know when you'll come across something!
Try taking photos of your subject from different angles and use different framing techniques to see which method captures your abstract object best.
16. Line
Another way to keep a theme going with quotes is to keep them all in one line! To do this, every third photo of yours needs to be a quote. I love how easy and simple this Instagram feed idea is, yet it looks so put together!
How to Recreate This Instagram Feed Theme
Again, use Canva to create your quotes and post your quote every third photo!
17. Colorful
If you don't want to focus on just one color, you can create a colorful feed by using imagery with bright and saturated photos!
This Instagram feed idea works particularly well with upbeat brands.
How to Recreate This Instagram Feed Theme
My Delicate Lightroom mobile preset is perfect to use when you want your images to retain their bright and vibrant colors!
Related readings: (clicking these links will open a new tab, so feel free to click on what you want to read next without losing your reading spot on this post!):
18. Soft and Airy
In order to achieve a soft and airy Instagram feed, you need to make sure your images aren't overly bright or colorful.
Sticking to a simple color palette that is consistent across all images is best. You will also want to lower the contrast and eliminate harsh shadows or lighting in your imagery.
This theme differs from a "bright and airy" Instagram feed theme in that it's not as bright, and has more of a softer feel.
How to Recreate This Instagram Feed Theme
Keep your images and the colors within each image simple and consistent.
19. Consistent
Choosing something that remains consistent in all your photos can differentiate you from the crowd.
Sara Shakeel edits sparkle into all of her photos for a cohesive Instagram feed theme.
Or take Murad Osman, for example, who created the picture, from the perspective of a man, who is holding onto the hand of a woman as she leads him into an adventure:
How to Recreate This Instagram Feed Theme
Pick something relevant to your brand and stick to it for as many photos/videos as possible. This one is quite rigid and doesn't allow for as much room to change things up, but when done right, it looks visually fantastic!
19. Greyscale
You don't need a colorful feed to pack a punch. Having a greyscale Instagram feed is very pleasing to the eye!
How to Recreate This Instagram Feed Theme
To achieve a greyscale Instagram feed theme, you will need to take your photos against backgrounds that have minimal color to them. Desaturate other objects in your photos so that the colors the photo contains aren't too overpowering.
20. Monochrome
A monochrome feed can be achieved by picking one color and sticking to various shades of it for several rows of photos.
You could easily alternate between different colors as well!
How to Recreate This Instagram Feed Theme
With this style of feed, it will help to use a photo editing software, such as Lightroom, to ensure that you can edit each color within the photo to get it the shade you'd like it to be. Your images should also contain the color you are going for.
21. Doodles
Doodle-type Instagram feeds are highly popular right now! If photography isn't your thing, create doodles instead!
How to Recreate This Instagram Feed Theme
Use a software such as Illustrator to create digital hand-drawn doodles.
22. Alternate-Colors
Alternating different colors can create a beautiful aesthetic without being overly powerful with one color. It also gives you a bit more flexibility with shooting content, as you don't need to stick to one particular color since you will be alternating between two different ones.
Juniper Cakery (pictured above) alternates between pink and white photos. The end result makes you want to jump right into the photos and dig into their confectionery creations!
How to Maintain Your Instagram Feed
Choosing an Instagram feed theme is the first challenging bit. The next part though is to actually maintain your theme!
1. Shoot and Edit Content
First, you need to create your content. Although the original purpose of Instagram used to be instant updates through photos, users now meticulously plan their feeds.
Many times, users will batch content, meaning they will dedicate a chunk of time to taking a specific number of photos rather than having to take one picture each day.
It can be much easier to take 20 photos all at once than to have to take one photo a day for 20 days.
But you will need to decide which works best for you, and which method you feel most productive doing.
After shooting your content, you will still likely need to edit it.
Here are some of my favorite Instagram feed apps to help me edit and maintain a cohesive theme:
FaceTune
Lightroom app
Lightroom presets
I have Lightroom mobile presets you should definitely check out, or you can make Lightroom mobile presets on your own.
2. Plan and Schedule
There are many different Instagram feed theme apps to help you manage and plan your feed. I like to use Tailwind, as I can plan and schedule my content all in one place.
Tailwind is a schedule for Instagram that allows you to plan how your feed will look, plus schedule out your content so you don't need to worry about being free to post every day!
Tailwind also has an easy drag-and-drop photo planner, so you can plan out the perfect aesthetic.
Click here to get a free Tailwind acount and then click on "Signup with Instagram" (pictured below):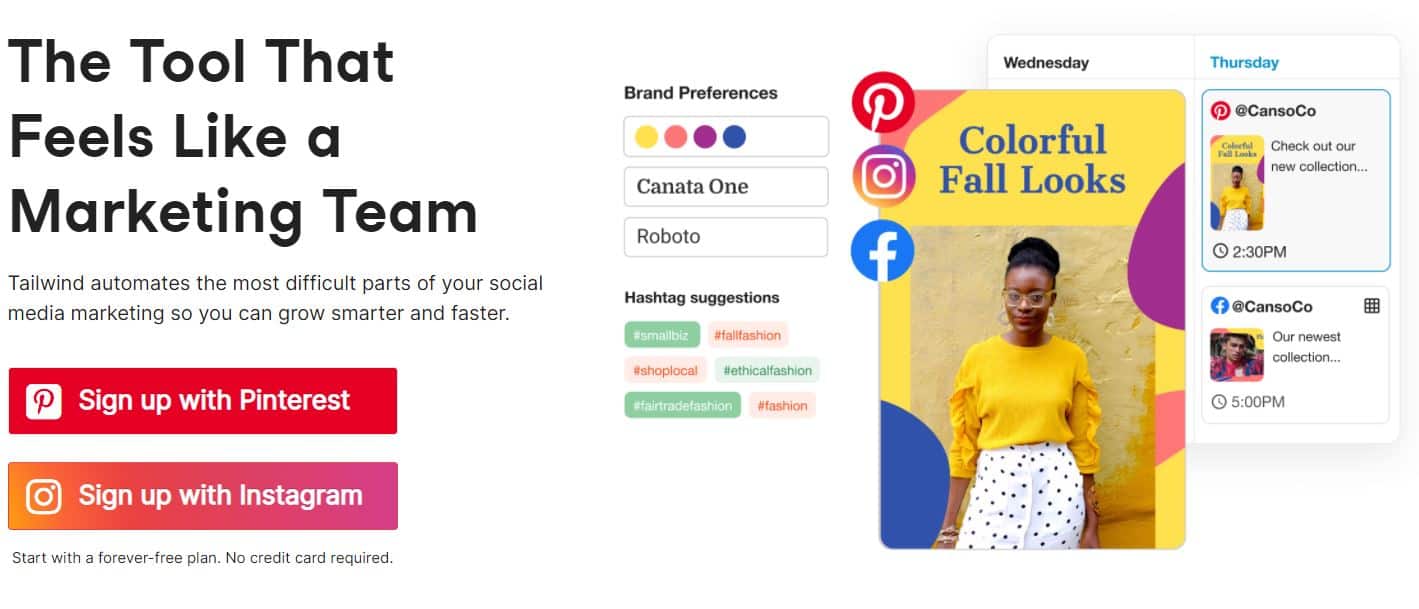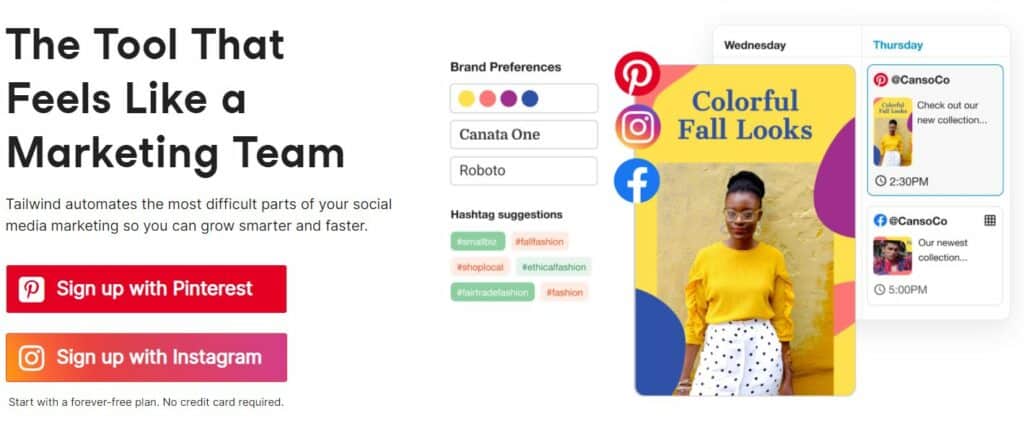 Pin me: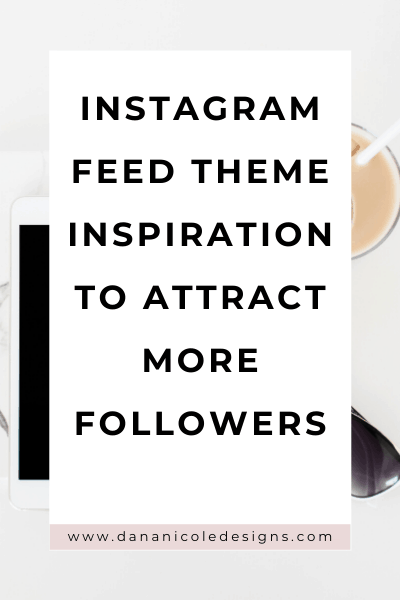 ---
This article may include affiliate links. As an Amazon Associate I earn from qualifying purchases.