Last Updated on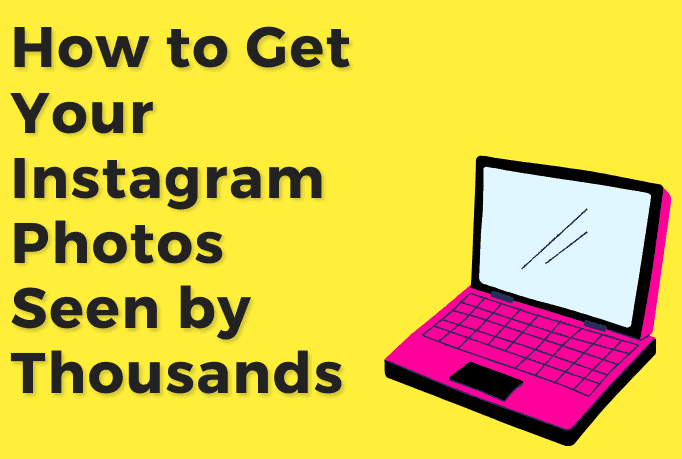 If you want to know how to go viral on Instagram, I'm going to show you the easiest way possible. It's the same method I used to go viral and the best part? You don't need a huge account to get started (in fact, even if you only have 20 followers, this method will work for you).
Tell me if this sounds familiar: you spend hours crafting the perfect Instagram post and when you go to post it, only a handful of your followers end up seeing your post.
Not only that, after a few hours, the engagement starts to fizzle out and you're left wondering why you didn't reach as many people as you'd like.
You panic and start to wonder if maybe you need to join some Instagram pods or if you should just give up on Instagram entirely.
We've all been there. It's a challenge even the best marketers face. And after all that effort, going viral seems like a far-off dream.
But what if I told you that going viral on Instagram actually isn't that hard? Would you feel a little flicker of hope?
Because the truth is, it isn't actually difficult.
It just requires a bit of strategy. And today, I'm going to show you how you can get re-posted on large accounts so that you can go viral, get in front of the right people and grow your Instagram following.
Getting Re-Posted on Instagram
The fastest way to go viral is to get your posts re-posted by big accounts.
There are two ways you can do this:
the traditional method (hashtags and tagging)
through an account takeover
Hashtags and Tagging
A lot of people try to use hashtags to go viral on Instagram. These hashtags are usually branded hashtags where big accounts will repost your photos to their millions of followers.
Take Chatters, for example:


Chatters asks users to use their branded hashtag #ShareTheChatter for a chance at being re-posted.
Target, on the other hand, asks users to tag them in your photos, also for the chance at being featured:

When these big brands re-post images on their Instagram account and give you credit, your account is suddenly exposed to thousands, if not millions, of eyeballs.
But there's a major problem with this method…
Brands are being tagged in thousands of photos per day and hashtags often have hundreds of thousands of posts tagged to them.
The chance that your content will be seen by the brand and then reposted is quite small, which is why I prefer account takeovers.
What is an Instagram Account Takeover?
An Instagram account takeover is when you manage an Instagram account for a day (or several).
During this time, you introduce yourself to their followers (usually through a post) and let them know that over the next 24 hours (or however long your takeover will be) you are going to be sharing some of your best photos with them.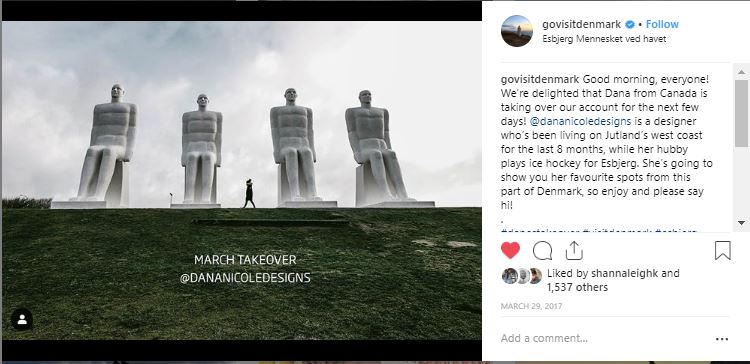 For your introduction, you don't need a photo of yourself, per se. Even though I'm in the above photo, the focus is on the monument.
It's up to you whether you want to take a photo of yourself and incorporate it into your introduction/takeover.
What is the Benefit of an Instagram Account Takeover?
The main benefit of doing an Instagram account takeover is being introduced to thousands of people who may have never seen your account before and the potential to go viral on INstagram.
You also get to control the type of content that you post and you have the opportunity to build a relationship with their followers by replying to comments and DMs, and ultimately, driving traffic back to your Instagram account.
For my takeover with Go Visit Denmark, Denmark's largest tourism board account, I was posting my content in front of 200,000 people for five days. It was an incredible opportunity.
But not only that…the photos I shared during my takeover were then picked up by other large acocunts: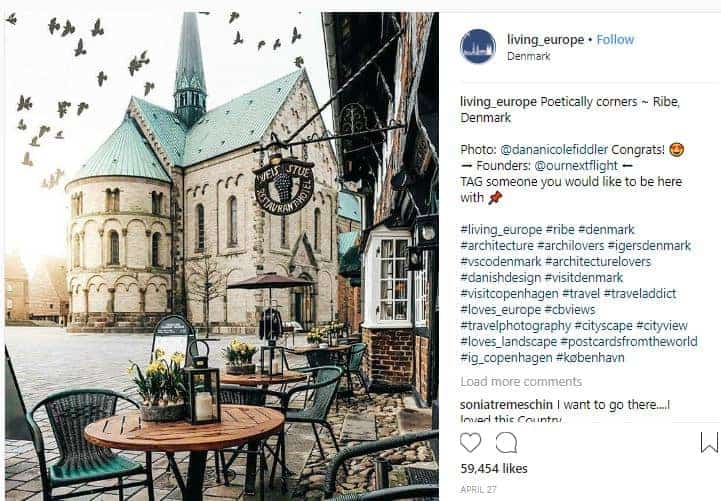 Here's a little secret: big accounts want to re-post content that they know will perform well on their Instagram page.
They do this by looking through their tagged images, branded hashtags or other similar accounts, and finding the highest performing posts.
When I posted content to @govisitdenmark, hundreds of other travel accounts picked up on it right away and began re-posting it to theirs, which snowballed.
It's been four years since I did that takeover and if you check in my tagged photos, you'll be able to see that my post is STILL being re-grammed to this day.
Types of Accounts You Should be Taking Over
There are a couple of key points to analyse before you decide to take over an account.
Niche
It is very important to take over the right account. If you are a fashion blogger, it doesn't make sense to take over a food account.
Four years ago, when I did my takeovers, my Instagram account mainly featured travel photography, so my takeovers were accounts in the travel niche.
Engagement Rate
You also want to takeover accounts with good engagement rates (the average engagement rate on Instagram is 3%).
If you manage to land a takeover for an account with 1 million followers but they are only getting 100 likes per post, it's going to be a waste of your time.
You can check the engagement rate of an account using Influencer Marketing Hub's engagement calculator.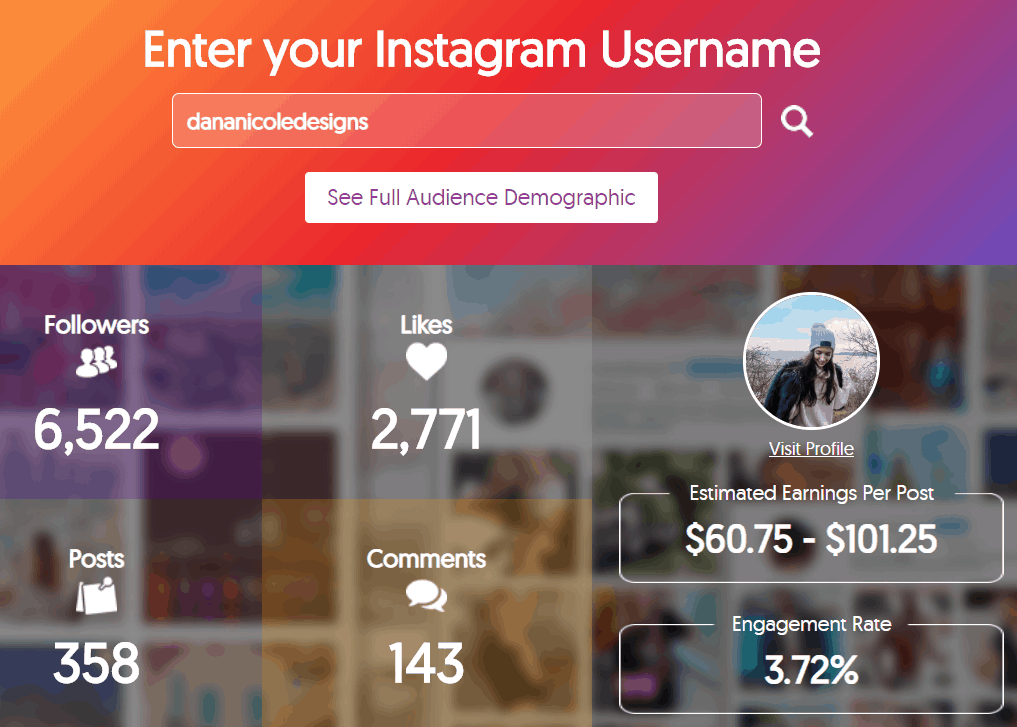 Size of Following
Follower count is also a metric to take into consideration when narrowing down accounts to do takeovers for.
My advice? Don't be afraid to reach out to accounts with over 100,000 followers. You never know until you try.
How to Land an Account Takeover
When reaching out to accounts to take over, I first message them through Instagram.
I like Instagram DMs because it gives the social media manager direct access to my profile. If I'm going to be taking photos for their account, it's important they can see the quality of my work right away.
The message I send goes like this:
Hi!
My name is Dana and I love following your account. I'm currently an expat in Denmark and I was wondering if your account would be interested in allowing me to host an account takeover?
I'd love to show your followers around the area in Denmark I'm currently living in, and provide you with some beautiful images that you can share on your account.
Please let me know if you'd like more details, as I'd be more than happy to send an email over with some ideas!
Warm,
Dana
Obviously, you will need to tailor your pitch for your niche, but that's all I'd say. I keep it simple and quick to ready.
If they don't read it (which happens), I then find someone to email, either by going to their Instagram profile and seeing if they have a contact button or by digging through their website.
Most accounts are really excited at the potential of a takeover because it means they get amazing images to post, the potential to be advertised to your own audience and someone who will manage the account for them for a couple of days.
It's a win-win situation for both you and the account letting you do the takeover.
What to do Prior to an Account Takeover
Once you land your takeover, what should you do next?
Prior to the takeover, I like to announce to my followers that I will be doing a takeover. I like to make a couple of announcements the week before through my Instagram story, as well as an actual Instagram post.
I always tell my followers to go follow the account if they would like to follow along. Here are a few other things that I find incredibly important to do beforehand:
Make note of how many followers the account has prior to the takeover. It is important that I see whether the account grows or shrinks while it is in my hands.
If you have access to the account (and they have a business profile) make note of their analytics. It is important to know when their followers are most active so you know the best times to post.
Research the right hashtags to use for your photos (more on this in the next section)!
Create content. I take some photos before the takeover so I have time to edit and get them ready.
Supplies Needed for Account Takeovers
During an account takeover, you should be posting high-quality photos. The bigger the account you want to take over, the better your photos will need to be.
You'll likely want to use a good camera in order to produce quality images! Here are four of the best cameras for blogging and social media use:
But what else do you need?
After you take your photos, you'll probably want to edit them a bit. My Lightroom mobile presets are a hassle-free way to edit your photos in one easy click.
Another tool you can't go without is a hashtag finder.
At the end of the day, the whole purpose of the takeover is to get as many eyeballs on your photos as possible so that everyone who sees your content is compelled to give you a follow on your own account.
You probably already know the challenge of landing on the "top" page for specific hashtags.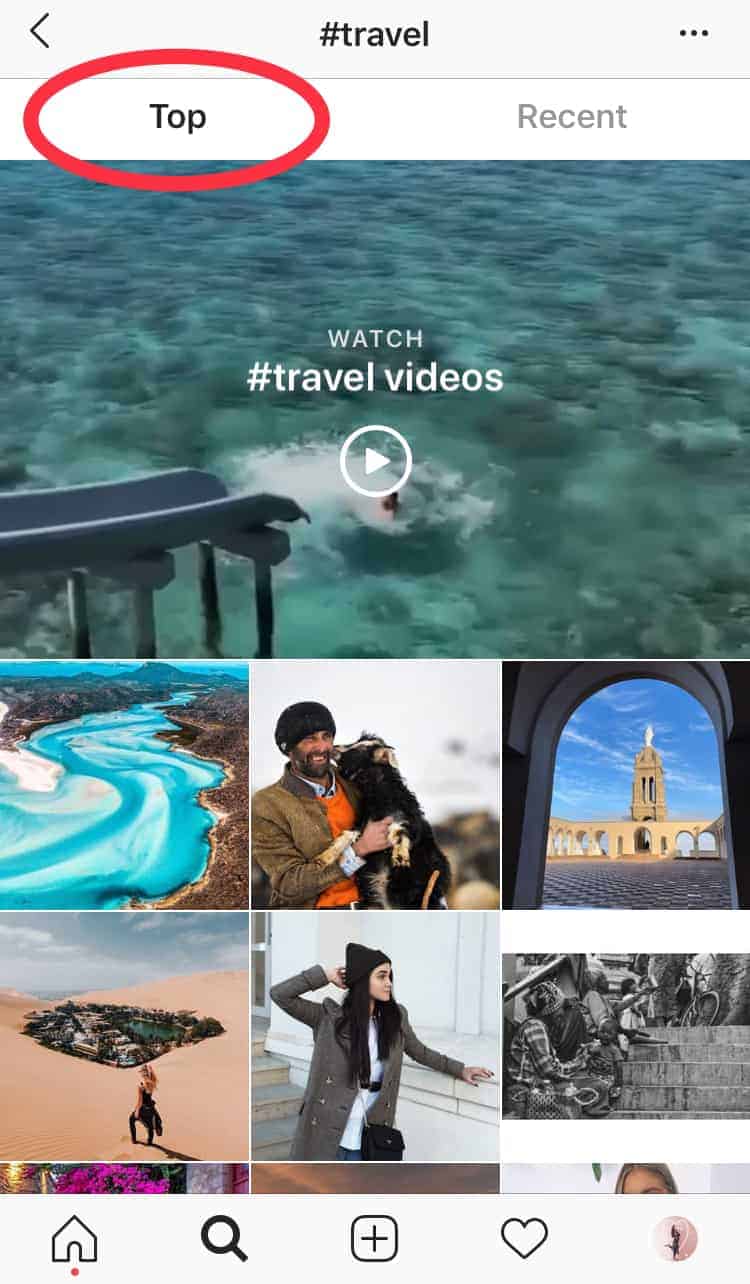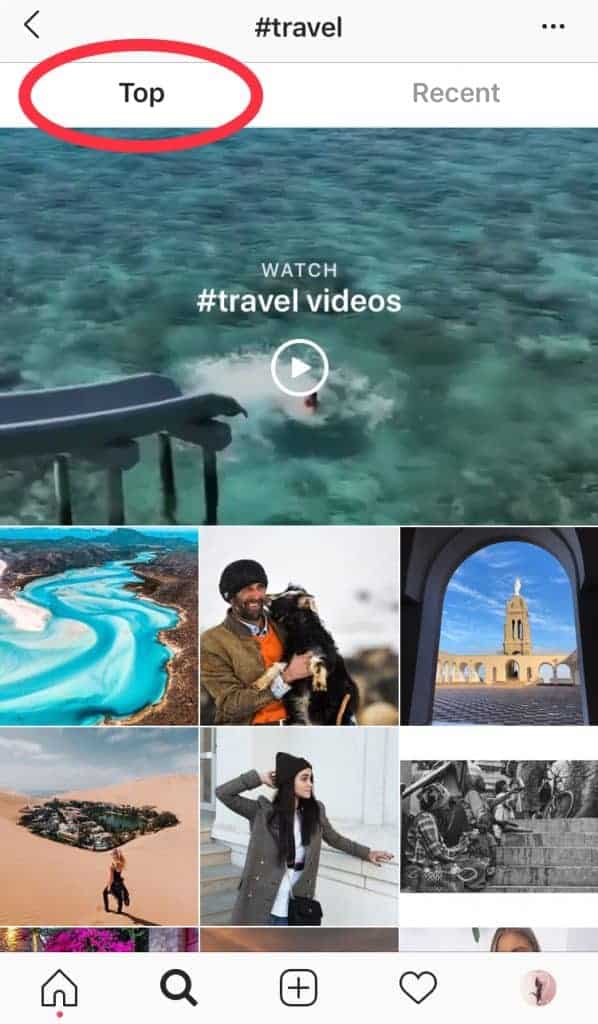 But you also know that if you can land there, you're going to get a lot of likes and new followers.
Your goal during your takeover should be to try and land in the "top" category for as many hashtags as possible.
Tailwind has one of the best hashtag finders I've used! Each hashtag is color-coded based upon how competitive it is.
You can get a free Tailwind account by signing up with your Instagram.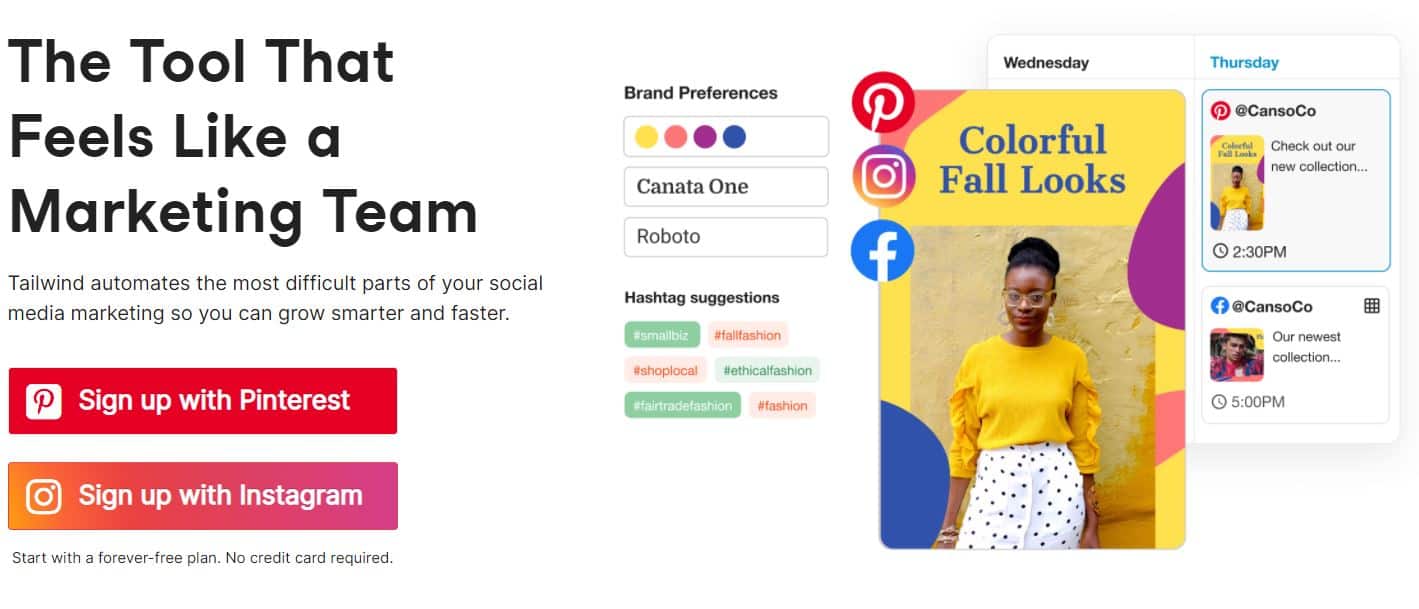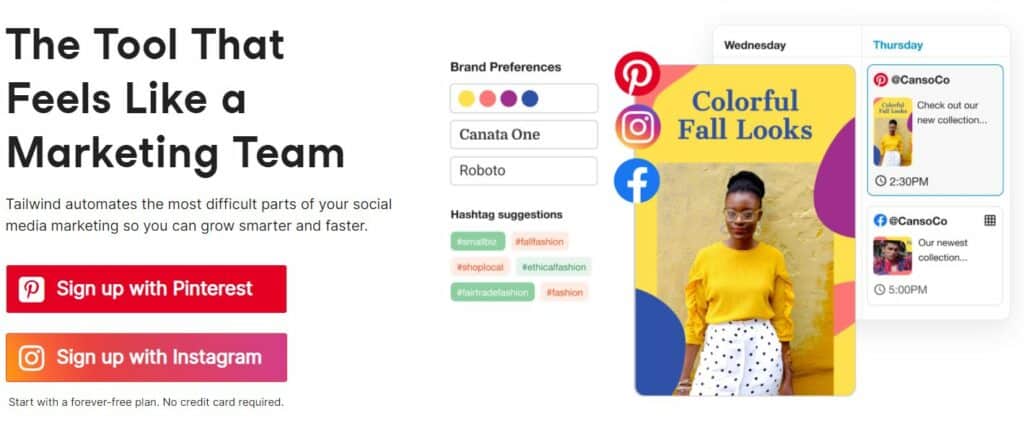 What Should You Do During an Account Takeover?
The actual takeover itself is the best part and is the time where you will potentially go viral.
During the takeover, I like to get to know the followers of the account I'm going to be running.
I've found the best way to start a takeover is to ask their followers a question about themselves when you post your first photo.
This will usually generate great engagement and build a rapport with your followers. As you know, photos with high engagement rates tend to make the top posts on Instagram as well.
During my takeover with @govisitdenmark, on my first photo, I asked everybody where they were from.
On average I noticed that they usually received 20-30 comments per photo, and for my photo where I asked where people were from, I received nearly 200 comments in less than 24 hours.
Asking questions is such a great way to get followers engaged. This also gives you a great opportunity to reply to everyone from your own account – hence driving traffic to your account (double-check with the account you are taking over if you are allowed to reply from your own account).
As a bonus, getting their followers to engage with you will make sure your future takeover posts are showing in their feeds, as the Instagram algorithm loves to show content to the people engage with it.
During my takeover with @govisitdenmark, I was given permission to use Instagram stories as well as videos.
For my first post, I created a video in the story introducing myself. The video-story was to help their followers put a face to my photos, and be able to build a strong connection with me.
I also tried to make my takeover engaging by posting stories that would lead them to my post in order to build up engagement: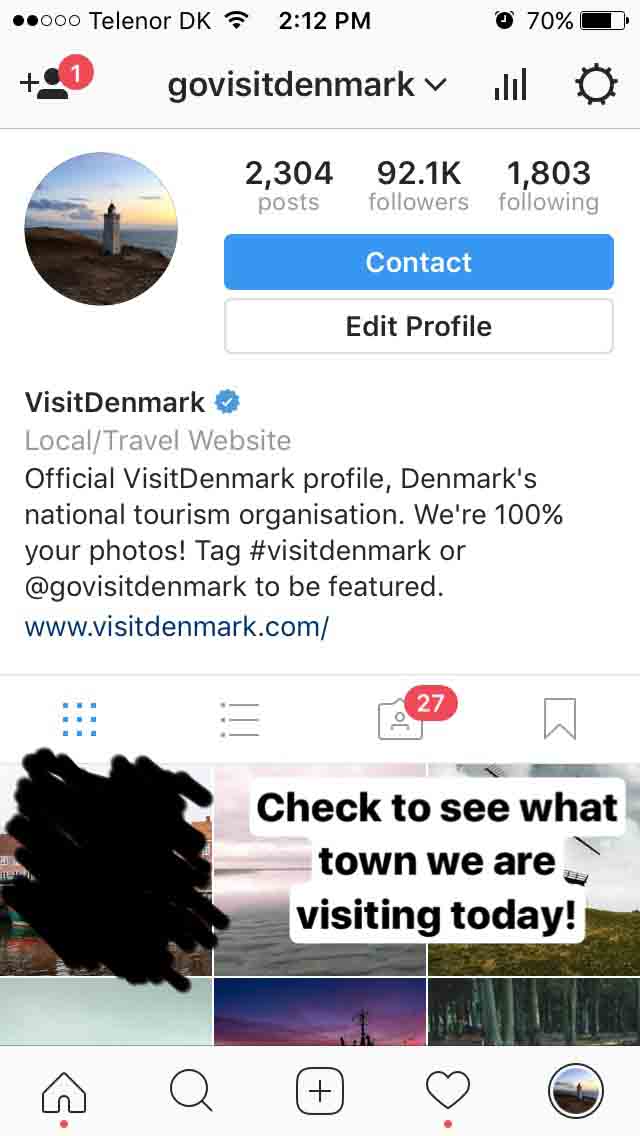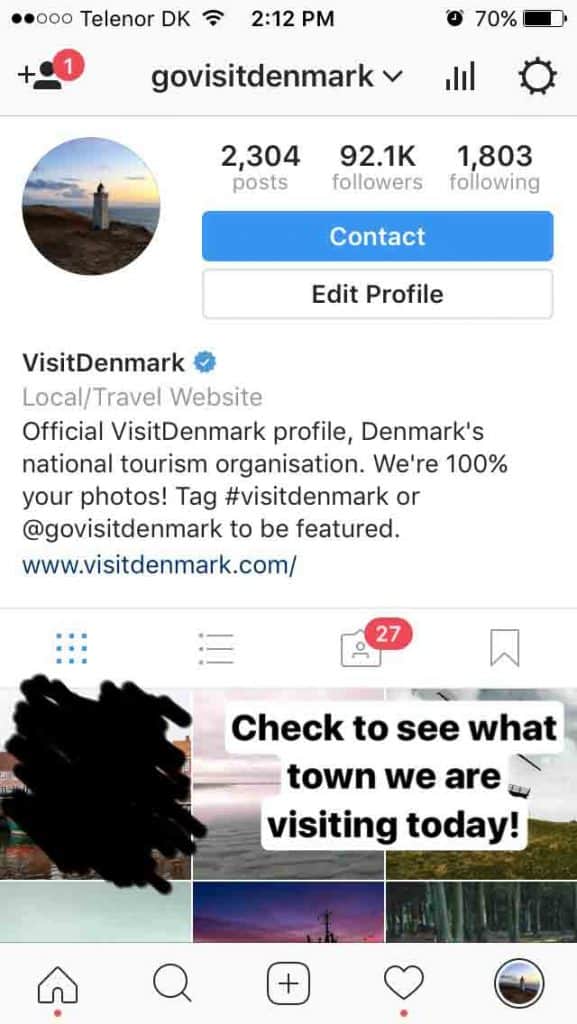 How an Instagram Takeover Will Help You Go Viral
When you takeover a large Instagram account, your content is going to be seen by a large number of eyes. The chances that it will land on the explore page are much greater and if you are using branded hashtags, you also have a great chance of appearing in the top posts for those hashtags and getting re-posted by even more accounts.
Doing an Instagram takeover will skyrocket your chances of going viral. And even if you don't go viral, you are still being exposed to a large audience.
Beyond Viral: How to Make Money From Your Instagram
It's a struggle to understand how to make money and grow your Instagram account.
Here are a few ideas to get you started:
Brand collaborations
Promote affiliate links
Ask for compensation for takeover
In Conclusion: Doing an Instagram Account Takeover to Get More Followers
On top of growing your account, takeovers are also a great way to network and collab with others in your industry.
Make sure that you:
are taking nice photos
plan your captions
plan your hashtags
collect your results and analytics to use for future takeover pitches
---
Did you enjoy this point? I'd love a social share!
Pin me: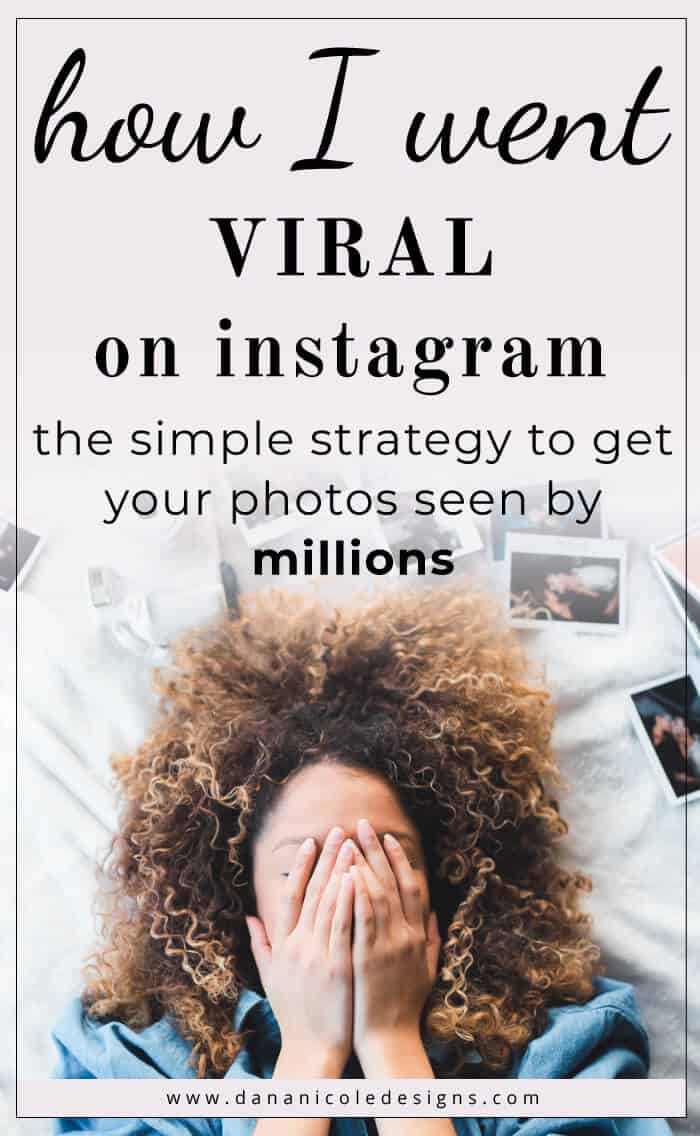 ---
This article may include affiliate links. As an Amazon Associate I earn from qualifying purchases.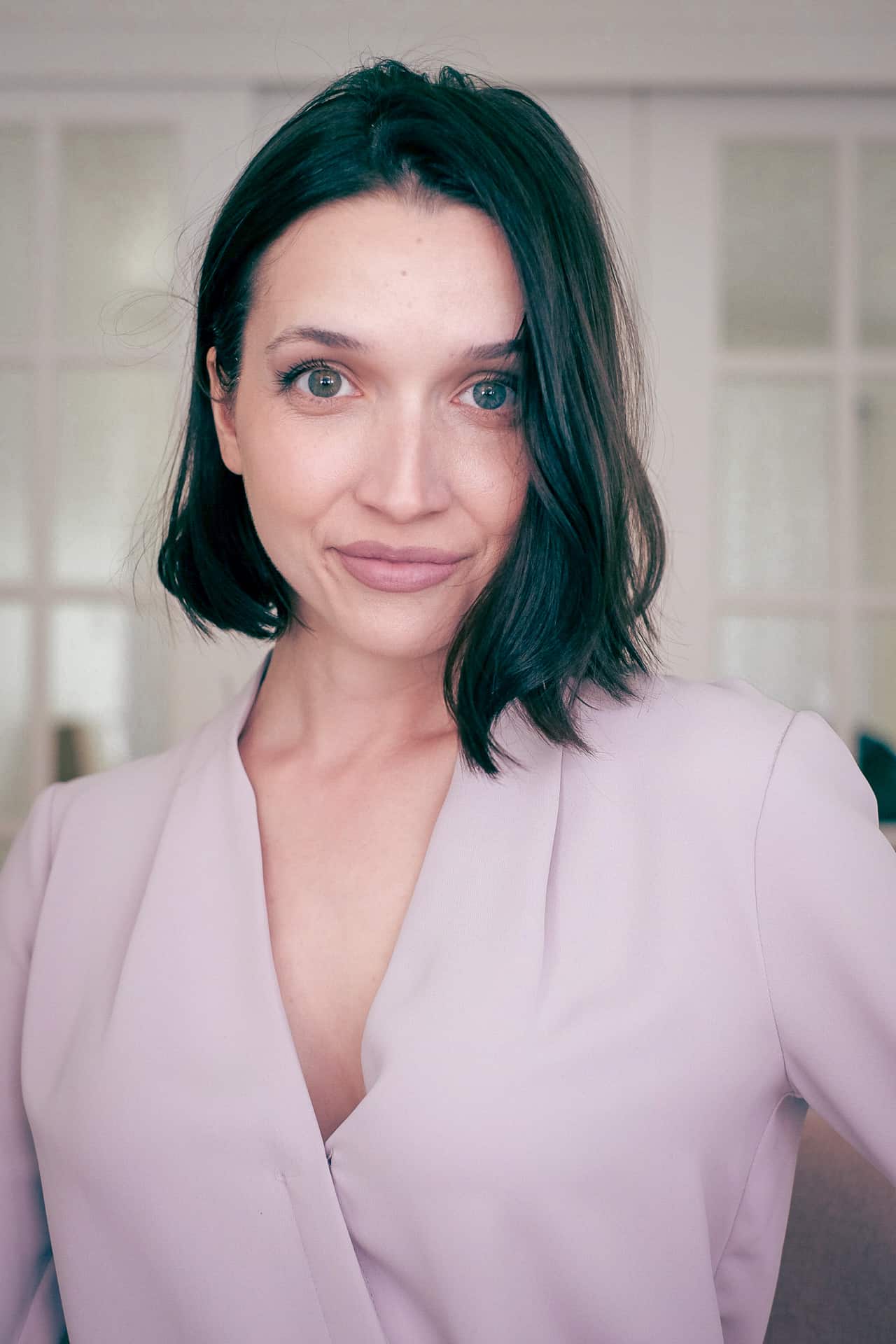 Dana Nicole is an award-winning freelance writer for MarTech/SaaS who was rated one of the best SaaS writers by Software World. She specializes in writing engaging content that ranks high in search engines and has been featured in publications like Semrush, ConvertKit, and Hotjar.
Dana holds a Bachelor's degree in Business Administration and has over 15 years of experience working alongside national brands in their marketing departments.
When Dana's not working, you can find her dancing en pointe, cooking up new recipes, and exploring the great outdoors with her two big dogs.