Last Updated on
Imagine you are scrolling through Instagram, and you see a mouth-watering food dish posted by a friend. They've tagged the restaurant's account, so you go check out their Instagram page and decide to give them a follow. Maybe you'll even stop by for lunch one day!
It's not too hard to imagine this scenario because it happens often. People take photos of their food all the time and tag the restaurants where they are eating, leading to free exposure for the restaurant.
So if you own a restaurant, a food truck, a catering company or any other business in the food industry, it's high-time to learn Instagram marketing so that you will be able to drive more foot-traffic through the door, get more local followers, and get more customers, fans, and diners.
Why Instagram is Important for Restaurants
Instagram has transformed from being a photo-sharing app into something so much more. Instagram isn't just an app to share photos anymore. It's an app to share experiences, and it's an app to research new places to go.
Millennials Dine Out Five Times Per Week
Millennials account for 32% of Instagram users and dine out five times per week.
As a restaurant owner, Instagram is the app you want to be on if your target market includes millennials (who range in age from 22-37).
Millennials Are Sharing Your Food
On top of millennials eating out more often than other demographics, 69% of millennials take photos of their food, meaning your customers will help you marketing your restaurant on Instagram!
Instagram is Becoming a Search Engine
Searching for local hashtags and locations can help Instagram users find new places to check out. Take the hashtag #YYCfoodie, one of many local hashtags to discover food in Calgary, Canada.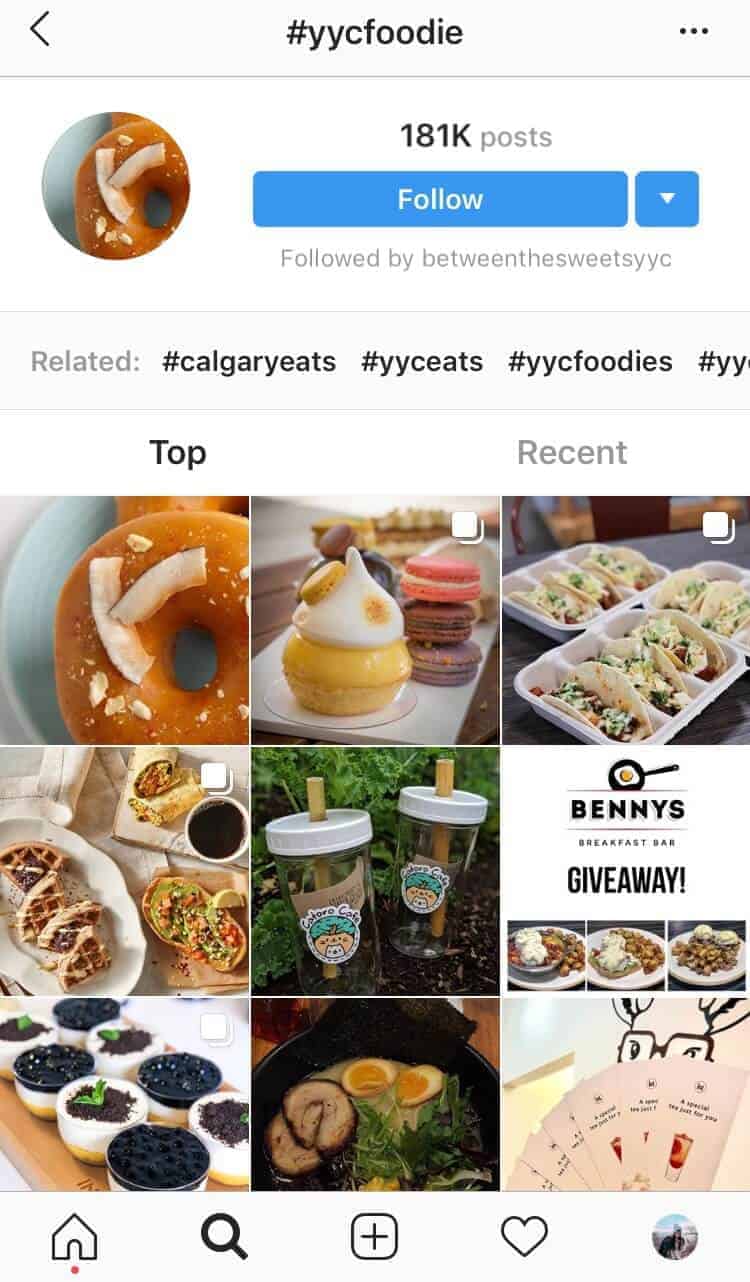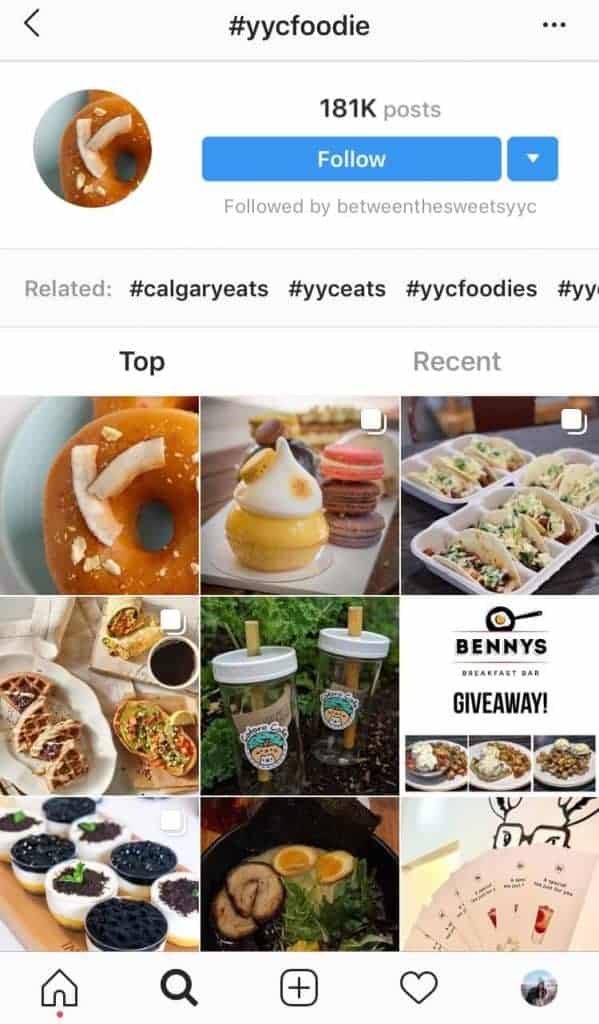 Imagine having your dishes show up on hashtags, like #YYCfoodie, where you could get in front of thousands of Instagrammers who are searching for an excellent place to eat!
Instagram Influences Eating Habits
The search for "most Instagrammable restaurants in London" yields over 350,000 search results. For many people, dining out at a place is no longer just about the food. It's about the food, the aesthetic and whether or not they'll be able to post about it later on Instagram.
Instagram Marketing Ideas for Restaurants
Instagram marketing for restaurants is quite simple if you know what to do! Now it's time to figure out what to post on Instagram!
1. User-Generated Content (UGC)
User-generated content (UGC) is when a brand shares customer photos to their own social media account (giving proper attribution).
User-generated content is a surefire way to grow your Instagram account, and since we know that your diners are likely taking photos of their food and tagging you in them, why not share those on your Instagram?
UGC drives up to 6.9 times more engagement than brand posts, making it an excellent Instagram marketing strategy for restaurants!
2. Use Local Hashtags
People use hashtags to search for things in their area. Finding local hashtags related to your restaurant is incredibly easy!
You can start by searching for your city or area. For example, let's say you are from Chicago.
Search for "chicago" in the tags search. Scroll down until you see a hashtag that is related to food. In this case, the first hashtag related to food when I searched was "#chicagofood".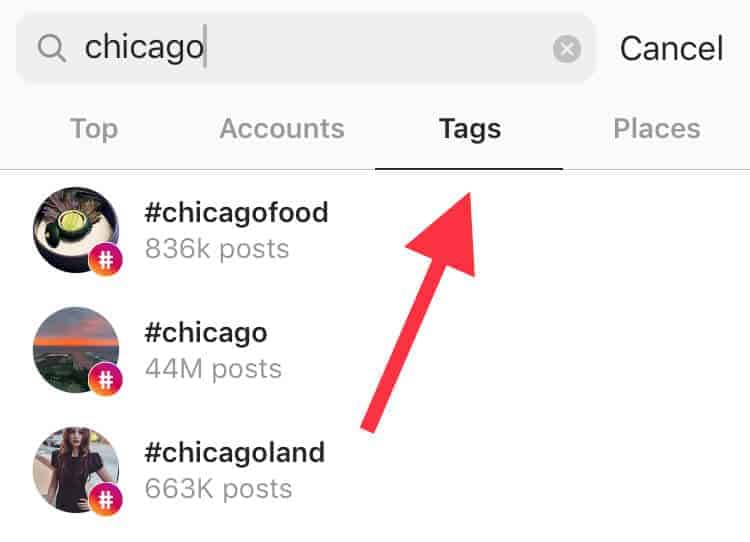 To find even more hashtags related to #chicagofood, click on it and scroll along the top! You have now found a goldmine of restaurant-related hashtags for your area.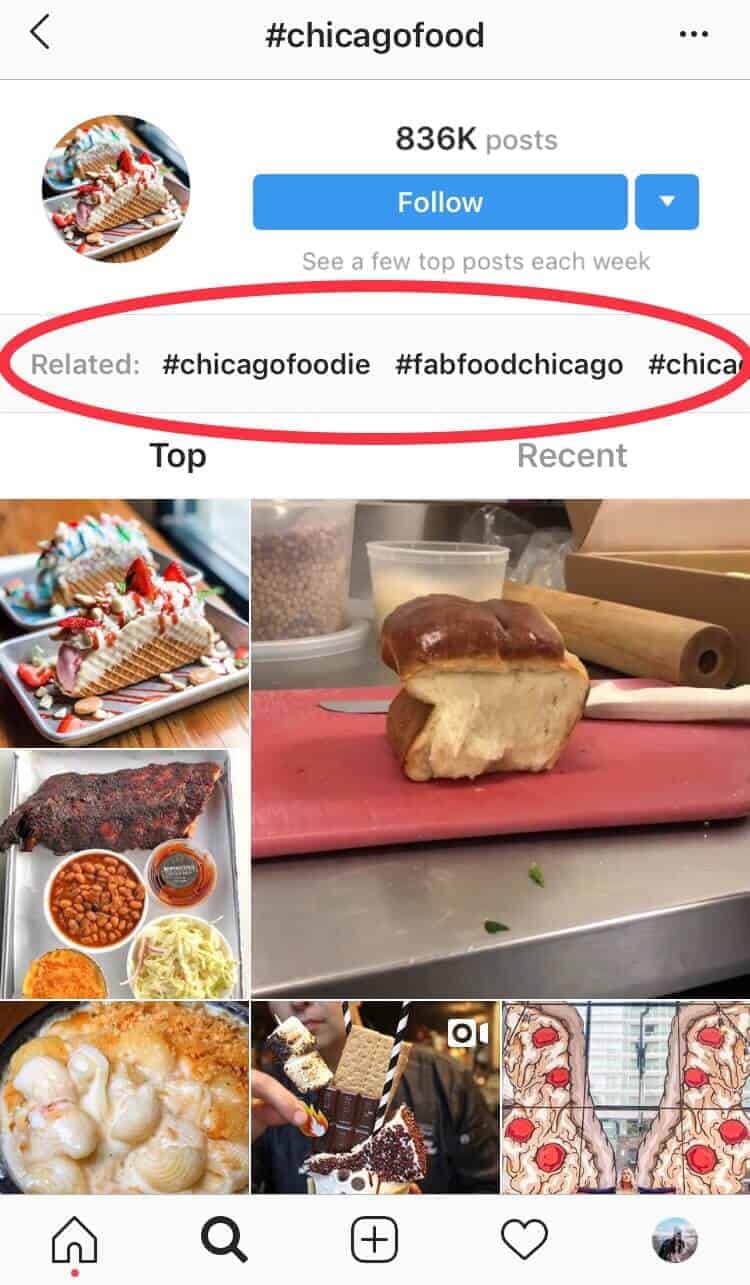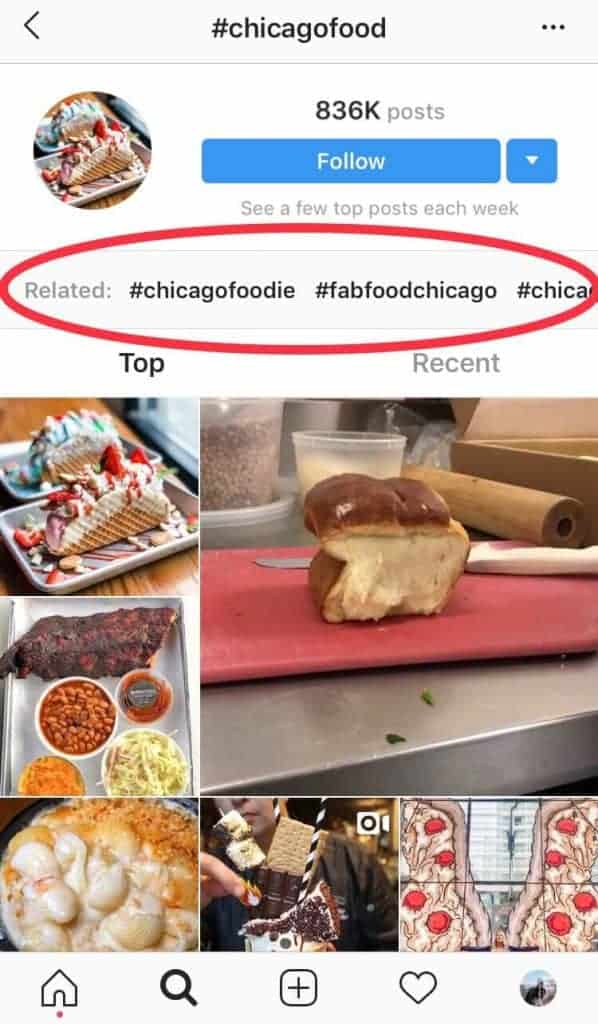 It's best to use local hashtags since you are going to want to target the locals.
3. Incorporate Instagram Stories
There are a ton of Instagram story features that can help you increase your sales, and being that Instagram stories are pretty interactive, they are a great way to connect with your audience and get their opinions.
Here are some ideas on how to use Instagram stories for your restaurant marketing:
Use the poll sticker to help with new recipe development and find out what your audience would like to see on the menu next
Use the question sticker to find out your followers' favorite menu item
Use the countdown sticker when releasing a hot new item
4. Partner with Food Bloggers
80% of marketers find influencer marketing effective. You can find food bloggers in your area by Googling "food bloggers + YOUR CITY" or by looking to see if any bloggers have tagged your competition in any photos.
5. Write Mouth-Watering Captions for Your Restaurant
Writing Instagram captions for your restaurant doesn't need to be challenging. Adding adjectives into your captions will help describe your food to your followers and entice them to stop by.
Let's take this photo as an example and caption it: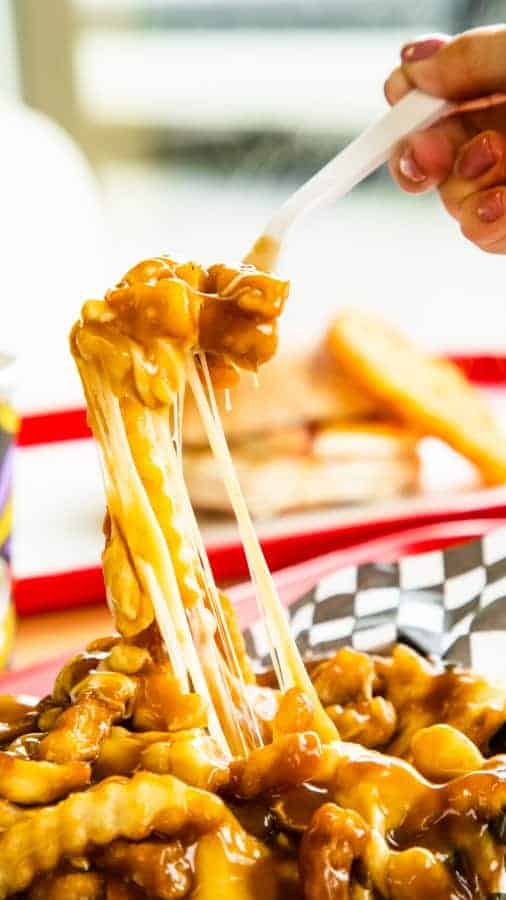 Now, we could write something like, "come in and try our poutine today!", but that doesn't pack much of a punch.
Let's add some adjectives in and spice it up a little:
"Are you a fan of crispy fries and gooey, melted cheese topped with hot gravy? 😍 Our poutine is calling YOUR name!"
The second caption has the same gist as the first caption but is much more impactful.
You can get a list of adjectives for restaurants here to help you write punchy captions.
And don't be put-off from using emojis in your Instagram caption. Emojis can increase engagement by 15% on Instagram, but don't overdo it.
6. Geotag Your Photos
Adding a location to your photos (also known as "geotagging") is an easy way to let your followers know where you are, and will help other restaurant-goers in your area find you.
You can easily tag your location by adding it in before you post your photo.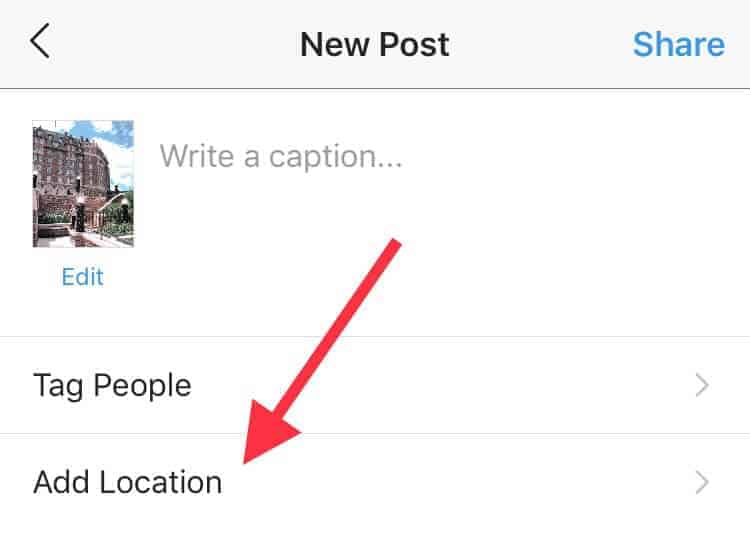 You can also add a location after posting your image (if you forgot to do it beforehand). Click on the photo –> tap the three "…" in the right-hand corner of the post –> Edit –> "Add Location…" (which is located right under your username).
7. Do a Giveaway
Giveaways are easy ways to encourage users to tag one another in your photos!
Rules for most giveaways on Instagram usually require the user to tag a friend in the comments, follow your account and like the photo to be entered.
Some giveaways require participants to share the photo to their feed or story, but I don't recommend doing that. Making your entry requirements too complicated could put people off from entering.
However, you can make sharing an additional entry!
8. Partner with Other Small Businesses
There is power in collaboration! Partnering with other small businesses who may share a similar target market that you do can be a great way to get the word out about your business.
You can use Instagram to talk about your collaboration and share details about it.
How to Brand Your Restaurants Instagram
An essential component of marketing your restaurant on Instagram is branding. There are a couple of different ways you can improve your branding on Instagram.
Instagram Highlight Covers
Instagram highlight covers should reflect your brand. They are one of the first things that new potential followers see when they land on your profile as they appear above the fold (i.e., the user doesn't need to scroll to see them).
You can use a free tool, such as Canva, to make your own, or you can purchase Instagram highlight icons on online marketing such as Etsy.
Cohesive Instagram Theme
Sticking with an Instagram feed theme (made possible through different Instagram theme apps) will make your Instagram more aethetically pleasing and encourage people to follow you.
My Instagram feed theme (below) is soft and feminine. You can see how pleasant it is to look at something cohesive.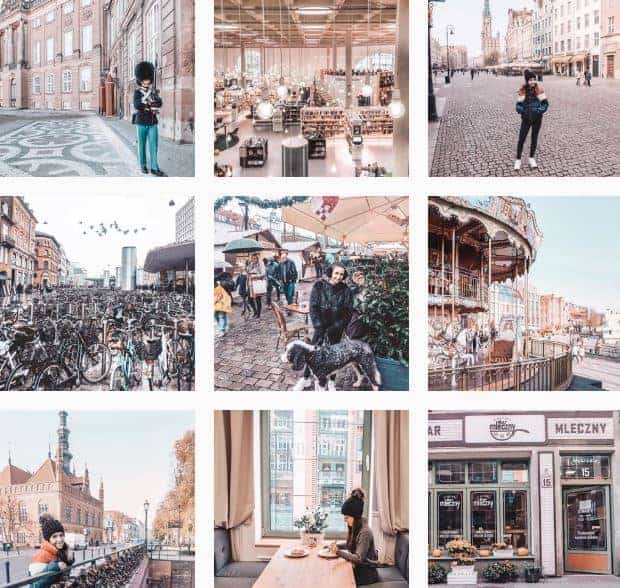 Instagram Bio
Your restaurant's Instagram bio should contain important information that someone would want to know.
Important things to consider including:
your hours
location
phone number for reservations
the kind of cuisine you serve
Instagram Restaurant Marketing Best Practice
As a restaurant, there is no room for mediocore photos. Your followers aren't able to taste how delicious your food is, so your job as a business on Instagram is to show how delicious it is through photography.
Food photography is challenging. A poor photo can ruin a great dish. With that being said, you have two choices when it comes to creating content for your restaurant's Instagram page: hire a professional or DIY.
Hire a Photographer
If you don't own a high-quality camera, consider reaching out to a photographer to take professional photos for you.
50-100 photos taken by a professional photographer can go a long way, especially if you aren't posting to Instagram every day.
Take Your Own Photos
If you have a good camera and a creative eye, you can try taking your own photos!
Here are some quick-tips for taking your own photos:
shoot in natural light
keep in mind the composition of the photo
take photos from different angles
test flatlays
Using Lightroom mobile presets to edit your photos after can help you achieve a gorgeous, coehsive Instagram feed without having to know very much about photo editing. Lightroom is a free mobile app that you can download to your phone! With each preset of mine that you purchase, you'll also receive step-by-step instructions (written and video) showing you how to use your presets.
My preset "Minimal" is a great preset for food photography. When you purchase my presets, you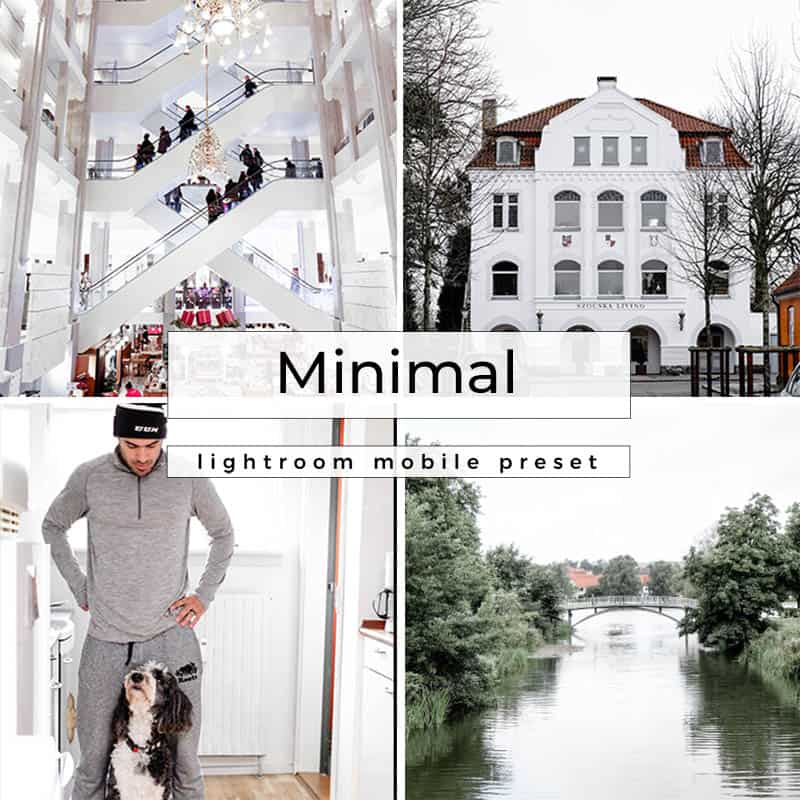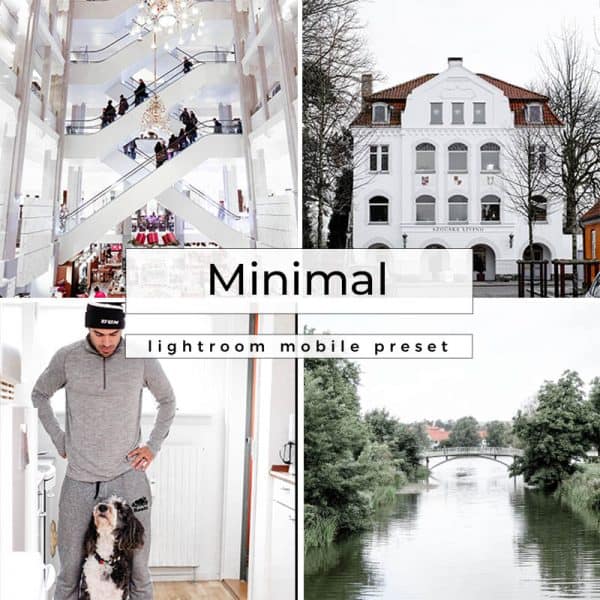 In Conclusion: Instagram Marketing for Restaurants
The potential to market your restaurant on Instagram is huge. A mouth-watering photo paired with a descriptive caption has the ability to put your restaurant on the map.
And don't forget to use Instagram stories as well! They can be an excellent tool for connecting with your audience on a daily basis.
Pin me: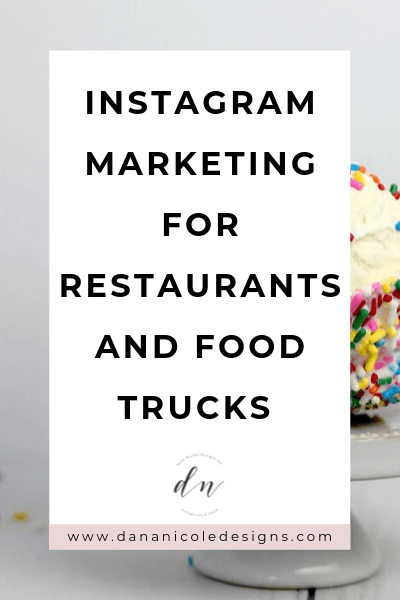 ---
This article may include affiliate links. As an Amazon Associate I earn from qualifying purchases.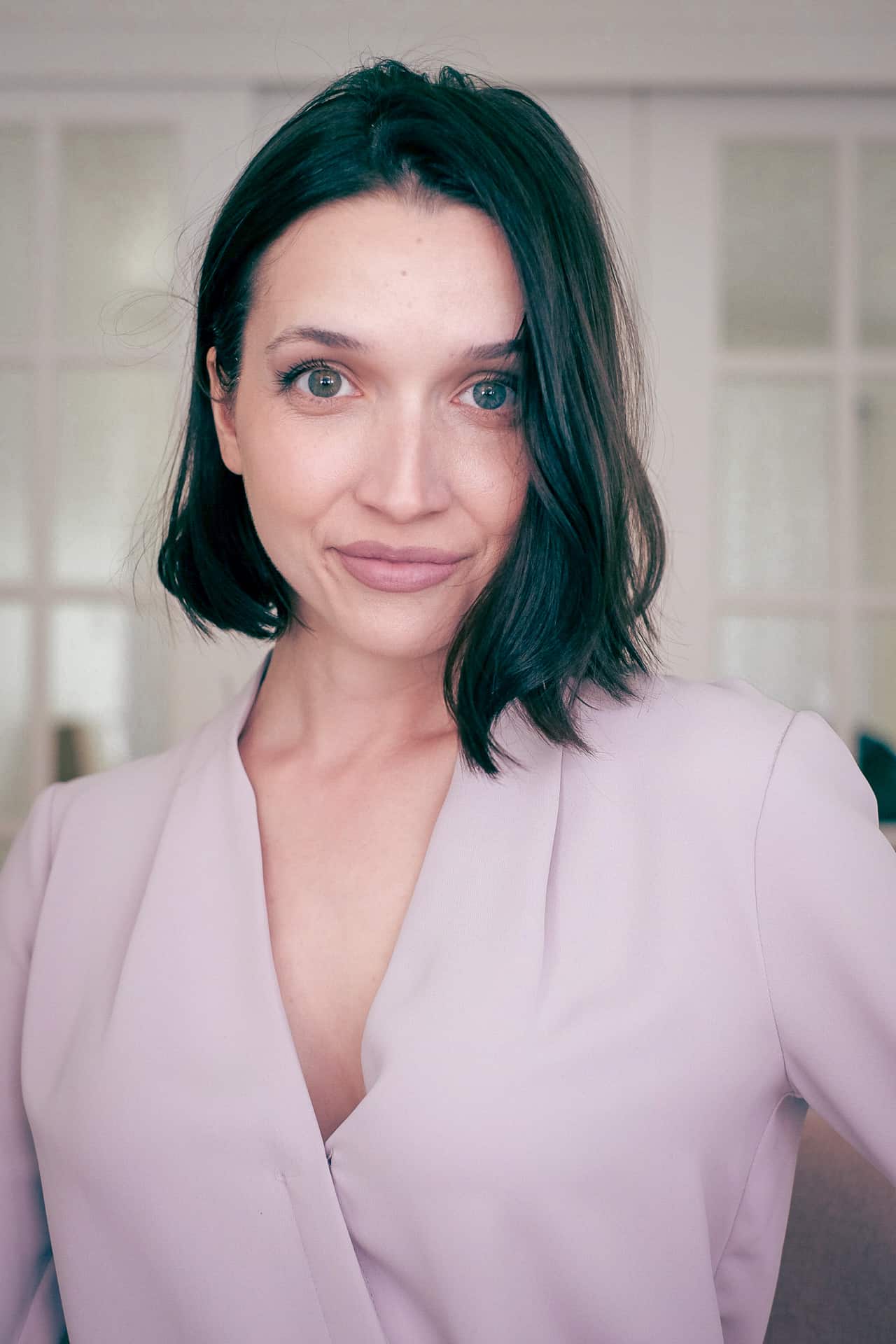 Dana Nicole is an award-winning freelance writer for MarTech/SaaS who was rated one of the best SaaS writers by Software World. She specializes in writing engaging content that ranks high in search engines and has been featured in publications like Semrush, ConvertKit, and Hotjar.
Dana holds a Bachelor's degree in Business Administration and has over 15 years of experience working alongside national brands in their marketing departments.
When Dana's not working, you can find her dancing en pointe, cooking up new recipes, and exploring the great outdoors with her two big dogs.