Last Updated on
So you want to get more followers on TikTok! Maybe it's because you want to increase your brand awareness. Or perhaps you want millions of followers simply to be TikTok famous.
Whatever your reasons are, I'm here to show you easy strategies to get new followers.
I began using TikTok several months ago. At first, I thought TikTok was mostly for dancing and lip syncing videos, but boy was I wrong. After only a few weeks of uploading my videos to TikTok, I began to get hundreds of followers overnight (no dancing or lip syncing required). I now have over 10 000 followers and use TikTok daily to grow my brand!
Also read:
14 ways to get followers on TikTok
Here's the good part: growing your TikTok, in my opinion, is currently easier than getting followers on any other social media platform (including Instagram)
And why is that?
When I personally spoke to TikTok, they told me that TikTok is a content graph, which means good content is rewarded.
Simply put, you don't need millions of followers to grow your TikTok account (you don't even need a high number of followers). You just need to make sure you're creating high-quality original content and the followers will flow in.
Which leads us to the main question is: how do you get more followers on TikTok for free, without downloading any apps (or buying them).
Here's how!
1. Define your target audience
Any marketer will tell you the first step to a successful social media strategy is to define your target audience.
And if you want to get followers on TikTok, you are going to need to narrow down on your niche.
I've seen lots of great content go viral, but the users often didn't get many followers from it, and I'll explain why.
Let's imagine you're on TikTok and you come across a really great recipe on your "For You" page. For the sake of this example, we're going to pretend that cooking is something you are highly interested in.
Because this recipe was so great, you decide to check out this user's profile and see what other recipe videos you can get from them.
But after clicking over to their profile, you don't see any other videos with food. In fact, you see a cat video, a video of them dancing, another video of them cutting their hair and a few other random videos.
So, do you decide to follow this person?
Probably not.
But now let's say that when you arrive on their profile, you are greeted with hundreds of amazing TikToks of mouthwatering recipes.
You're going to hit that follow button pretty fast!
The same logic applies to your account. If your plan is to be a mixed bag of videos, you won't be able to grow as quickly.
TikTok user @breakwrk agrees. When I asked what their number 1 tip was to get more followers on TikTok (and how they grew their account to over 300,000 followers) they said, "know your audience and post content tailored to that segment of individuals."
Let's look at a quick example.
@jeremyscheck is an account I recently discovered and instantly had to follow! Most of his content is centered around Italian cuisine, and as a pasta-lover, I couldn't pass up the chance to learn about my favorite carb (and neither could his 1.6 million followers).
Now that we know the importance of defining a niche, here are a few questions you can ask yourself to make sure the niche you've chosen is right for you:
Am I knowledgeable enough in this niche to create lots of content around it?
Do I have an interest in this and can I create content around it?
Do other people have an interest in this, or is it an obscure and unpopular niche that probably won't attract many followers?
I made this TikTok explaining how you can easily find hundreds of different content ideas within your niche. I recommend watching it!
2. Create viral content
When looking at TikTok vs Instagram, going viral on TikTok isn't as difficult as going viral on Instagram (at the current moment).
After you've defined your niche, your next goal is to create something viral to attract thousands of potential followers.
Users on TikTok spend an average of 4.9 minutes per session. In comparison, users on Instagram spend 3.1 minutes per session.
Longer user session durations coupled with the fact that users can quickly consume lots of content in a small amount of time makes it easier for content to quickly rack up tons of views, comments and likes on TikTok!
Criteria of viral content
Viral TikTok videos (normally) fit into five main criteria on TikTok:
educational
comedic
relatable
entertaining
personal stories
Educational
Educational content is killing it on Tik Tok right now. Doctors, health professionals, coaches and consultants have flocked to TikTok to provide their audience with 60-second videos that are jam-packed with helpful tidbits and info.
Take Dr. Austin, for example. Dr. Austin is one of the many popular doctors on TikTok sharing fun, fact-based videos to help break popular health myths and inform both young and old viewers.
His videos have amassed millions of likes and views, such as videos like this one:
Another example is content creator Dr. Janine Kreft, a psychologist sharing her tips to help her audience learn how to stand up for themselves, quit overthinking and many other helpful skills.
If you have expertise in some areas your audience wants to hear from you on TikTok. I've seen viral videos in other niches including:
Sexual health
Art
Cooking/baking
DIY
Home improvement tips
Home care tips (such as how to fix a clogged drain)
Business
Awareness for disorders
Sign language lessons
Language lessons
High school tutoring (such as quick grammar tips)
The list goes on and it's safe to say that educational content is highly popular and relevant on TikTok.
Here's another example of a video with over 2 million views that teaches viewers how to fix a door frame.
I asked TikTok user @marina.b.style (currently at 147,000 followers) how to get more TikTok followers and she said "people want to see fresh ideas, educational and informative content that they can get inspired by and learn from in the most fun and easy way!"
I completely agree! Teach your viewer's something quick and easy and you'll be able to get more TikTok followers fast.
Comedic
Comedic content shines on TikTok. You don't have to go far to find it, because chances are, your "For You" page is likely loaded with tons of great comedic content.
Short, humorous and relatable skits have the capacity to explode in popularity and don't require any heavy production.
Take this one for example:
While this video is very simple, it resonated with a lot of people and amassed millions of views.
Relatable
Brand loyalty stems from shared values, and when you are able to relate to your audience on a deeper level, they are going to be more willing to interact with your content.
TikTok videos are more relatable than a carefully curated feed full of perfect images.
Social media users are excited to see content that puts an emphasis on relatability over being overly polished.
Here's a very simple example of someone trying to clip her dog's nails:
Most dog owners know the struggle of trying to accomplish this task and therefore, can easily relate to it!
Entertaining
Dance and lip sync videos certainly do have their place on TikTok and they always do quite well because they are fun to watch and also fun to record!
There are certain TikTok dances that you can learn on YouTube (such as the Renegade), or you can make up a dance yourself. When it comes to dancing on TikTok, there are no rules other than to have fun.
Another highly popular trend was the "rat tat tat tat" trend where TikTokers lipsynced to a viral video. You can watch a compilation of the videos here to get an idea of what I mean.
Personal stories
Personal stories (whether relatable or not) shine on TikTok. In a world where we often feel lonelier than we'd like, seeing videos that make us feel a certain type of way.
Stories on TikTok can elicit many different emotions. Some are meant to be touching and sweet while others are meant to create strong feelings and get viewers to take action.
Another type of stories that viewers like is wholesome and relatable stories such as the one below:
From a business perspective, telling stories has always been one of the strongest marketing tactics you can use.
When you tell stories, your audience is able to envision themselves in a certain situation. Branded storytelling is a fantastic way to include your audience in your narrative.
3. Use a catchy intro
You have mere milliseconds to capture the attention of your views. If you don't successfully capture their attention right away, they are going to swipe on to the next video.
The first couple of seconds of your TikTok should draw the viewer in.
For example, rather than start a story time with an "I" statement, i.e., "I really like this new thing I just bought," use a "you" statement, i.e., "you need to see what I just bought! It's going to make your life so much easier."
In the below TikTok, I've used a "you" statement to draw my viewers in:
Using "you" statements are more effective in convincing someone to listen to what you have to say.
Another popular intro is to tell people to stop scrolling. I know it might not seem that effective, but whenever a TikTok comes on my For You page and the person says, "stop scrolling, you need to hear this!" I ALWAYS stop.
At that point, my curiosity has taken over and I want to hear what the creator has to say.
Pro tip:
go on your For You page and see what videos have racked up thousands of views and likes. Write down the very first sentence the creator used. Do this with 20 or more videos and experiment with those sentences (and variations) to see if they are effective in drawing in more viewers.
4. Post frequently
If you aren't uploading videos frequently, your account will have a difficult time growing. When it comes to TikTok, many users post multiple videos a day.
Unlike other social platforms, where multiple posts per day might feel overwhelming, uploading several videos a day works well on TikTok.
Posting daily quality content, will help you grow your reach and get more followers.
I recommend experimenting to see how often you need to post. Try and upload once a day and see how quickly your account grows versus uploading multiple times per day versus a few times per week!
Once you experiment, you'll have an accurate idea of how frequently you should upload videos.
Update: I stopped posting content to my TikTok account over the summer. If I'm being honest, I got busy and COVID has made it hard for me to focus on too many things at once.
So, what happened to my account during the months I wasn't posting?
Nothing! I neither gained a lot of followers nor lost them and when I uploaded my first video, I gained over 100 new followers within 48 hours.
5. Use trending sounds
Just like videos, sounds also have their own little section on TikTok, and have the ability to go viral on their own.
To view popular sounds that you should create videos with, click on the "+" button along the bottom of your screen. This will start a new video.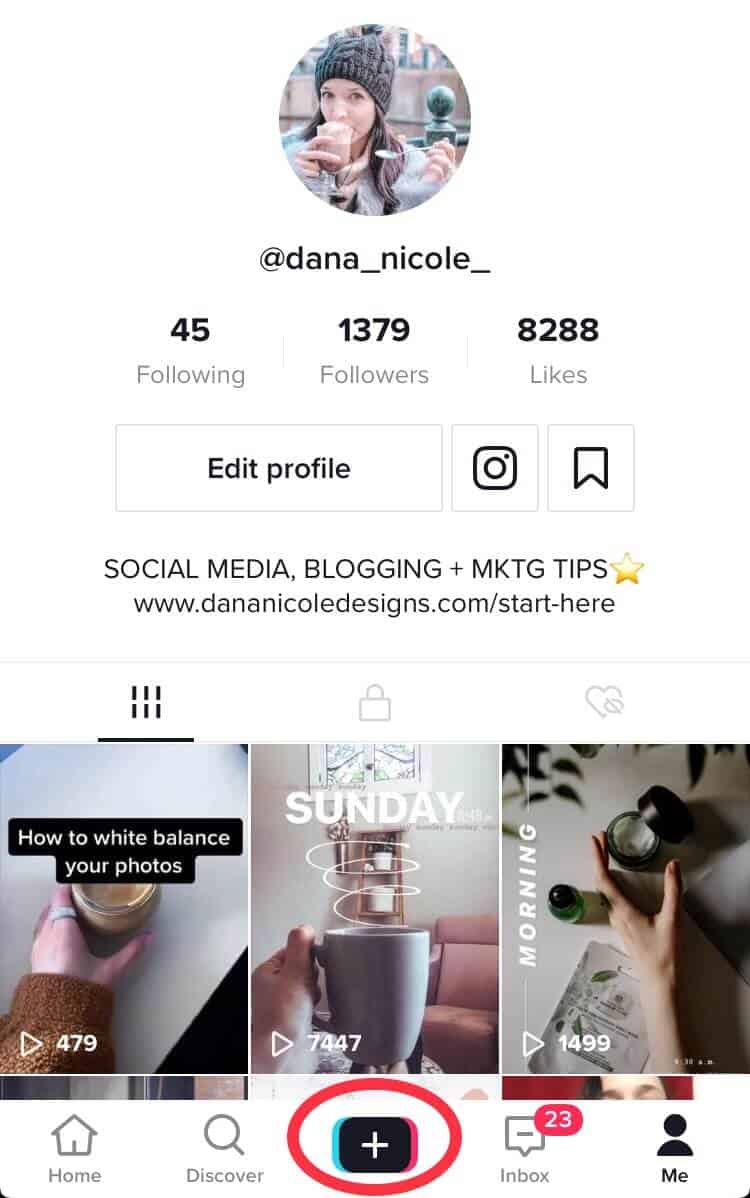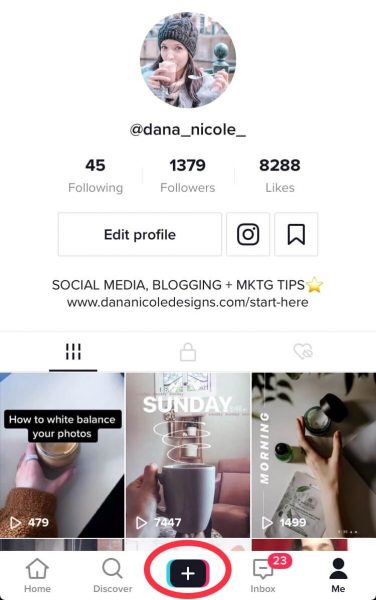 Next, click on "sounds" at the top of the screen.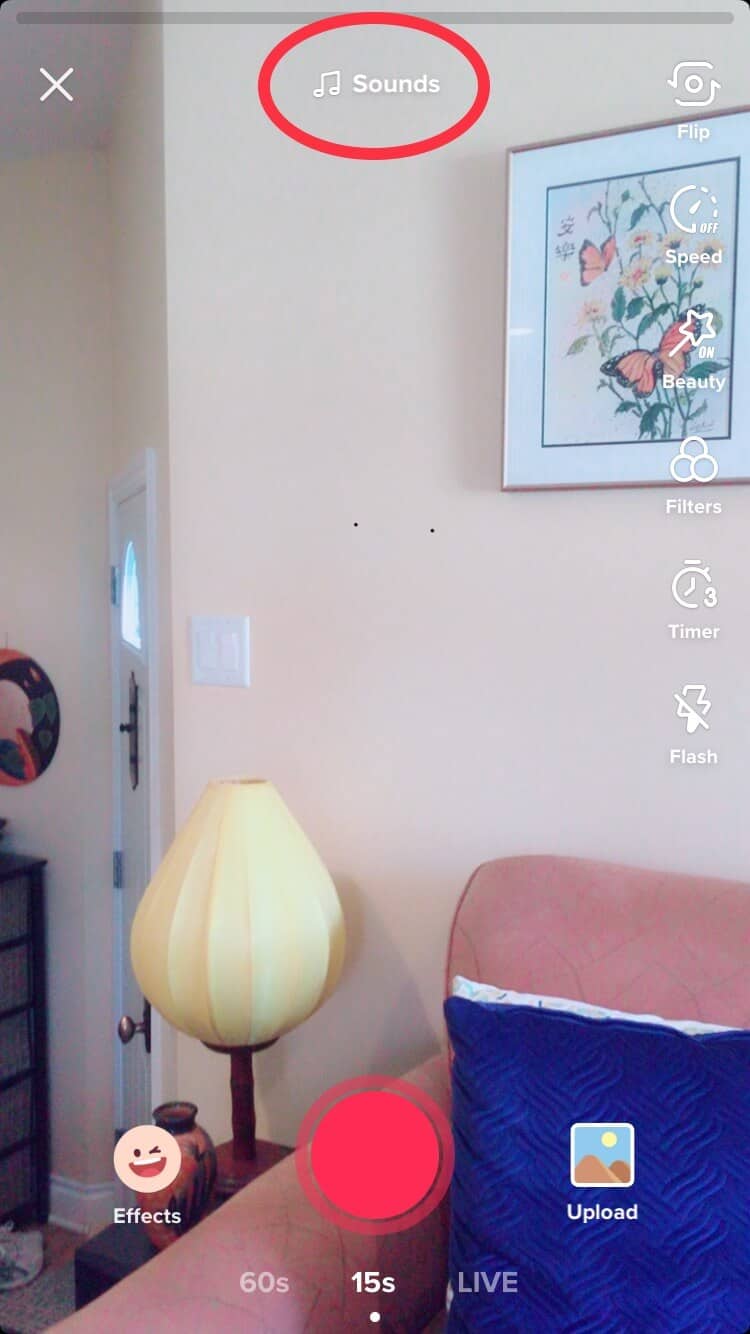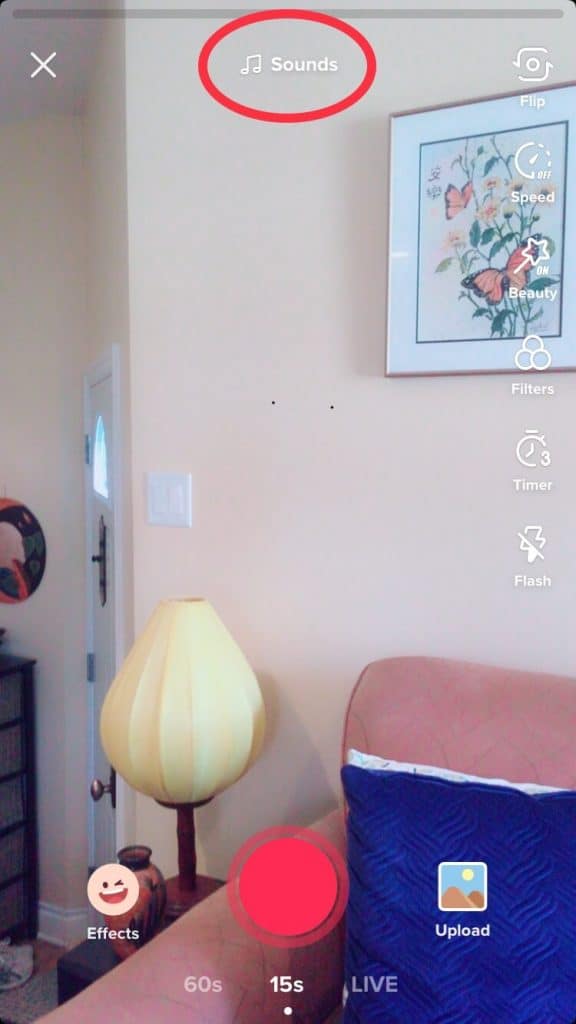 Now you'll be on the sound page where you can view trending sounds and choose which ones you'd like to apply to your video. You can also save these sounds as "favorites" to come back to later.
Another way to use popular sounds is by using the sound from other videos.
For example, this TikTok video is lipsyncing to someone else's sound. The sound they are using is funny, which encourages users to click over to view other videos that have been created using it.
If you want to use a sound from someone's video, click on it as it scrolls by: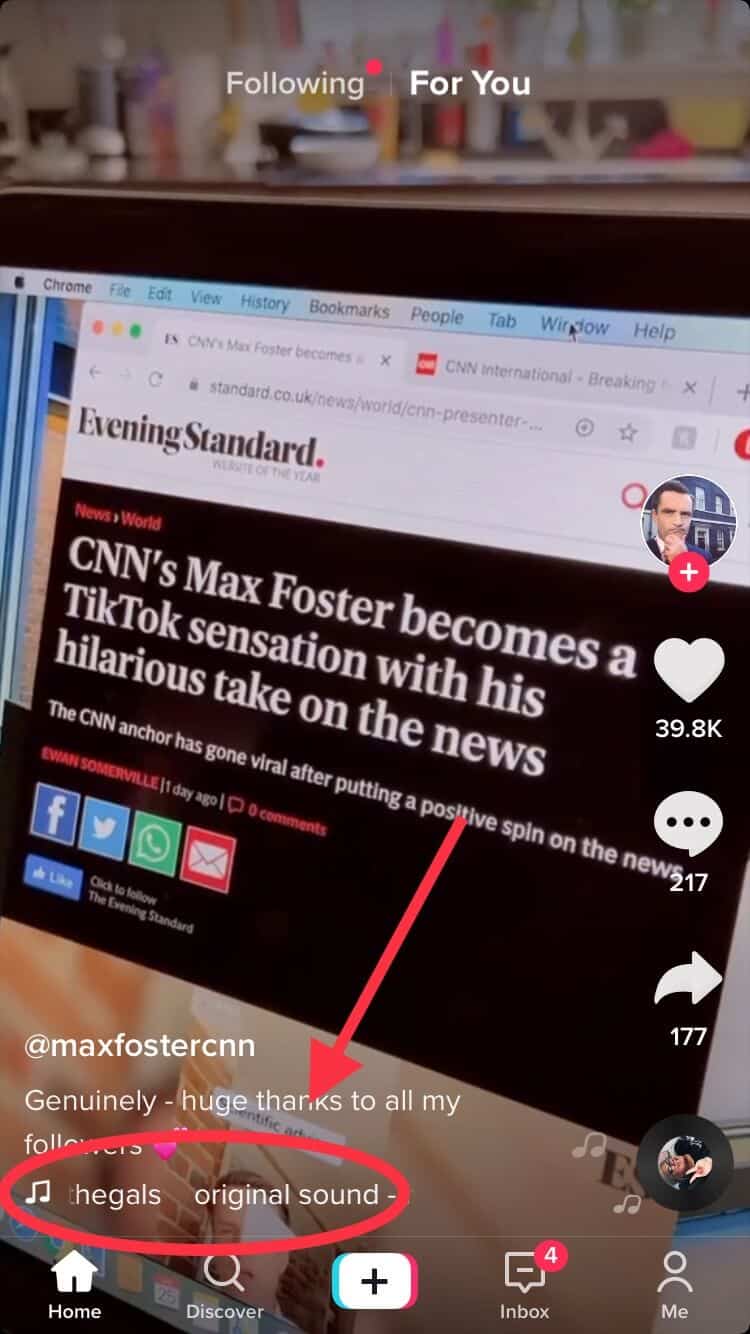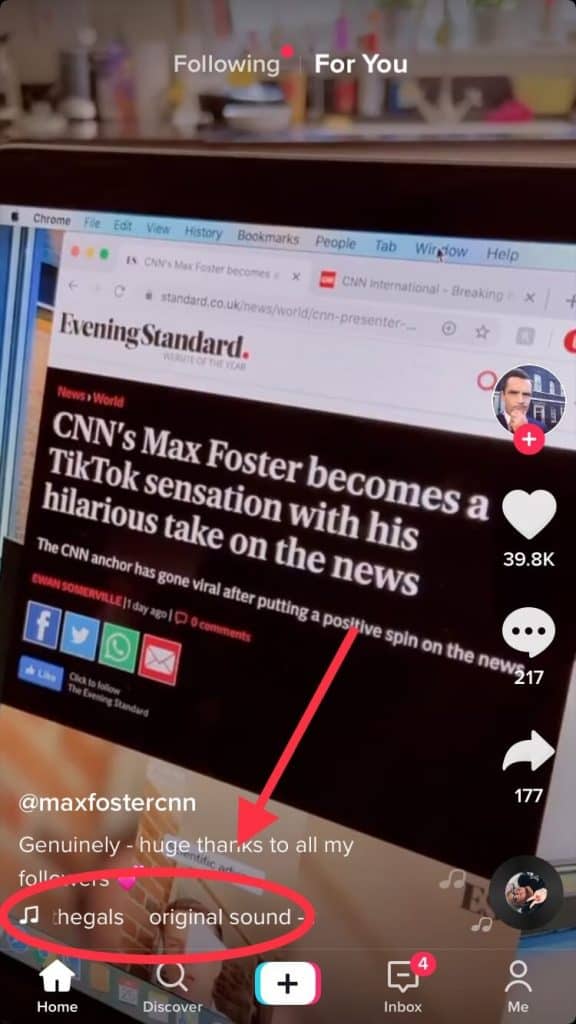 Next, click "Use this sound" or add it to your favorites to find it later.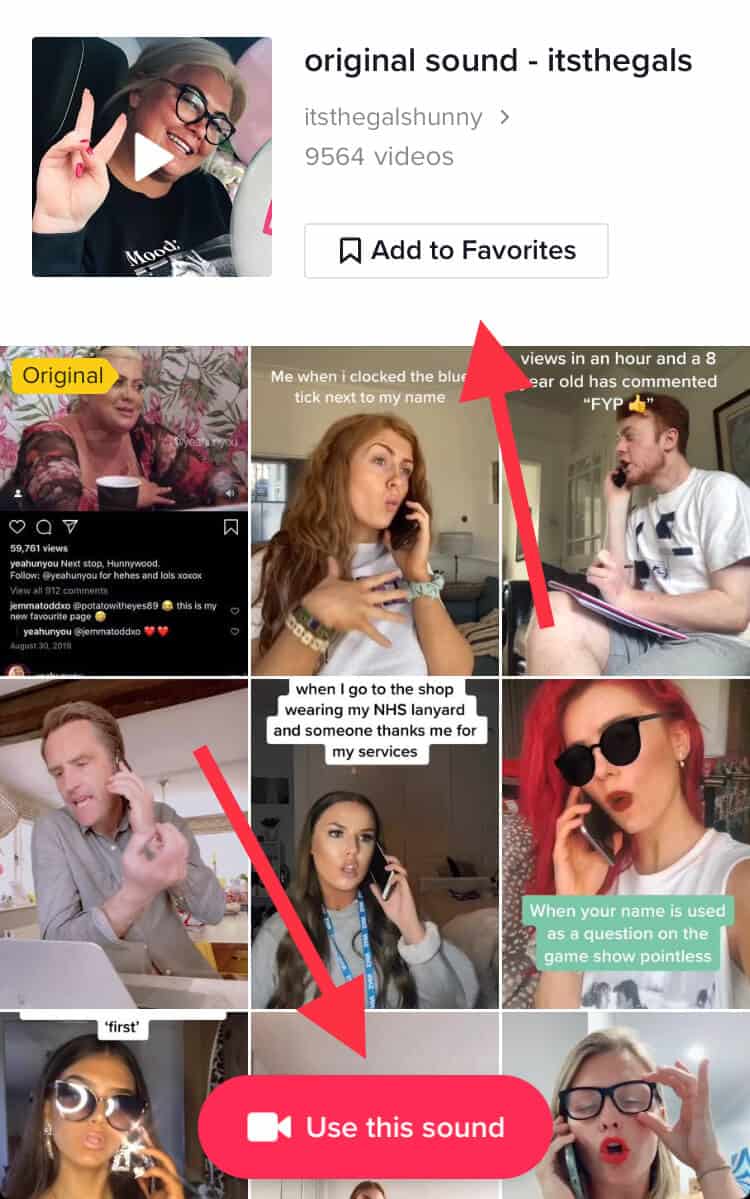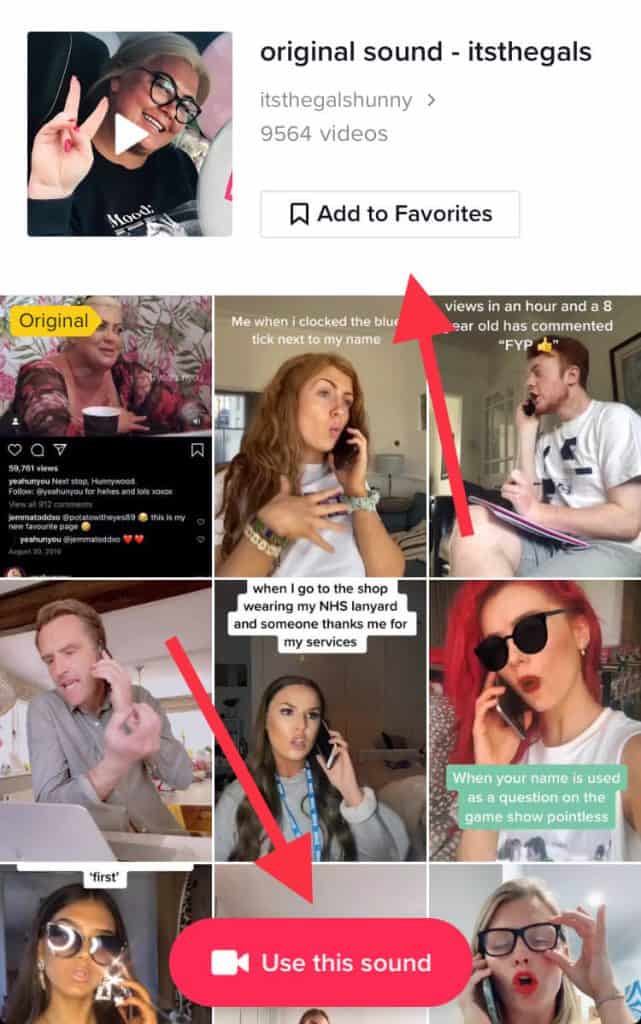 Using popular sounds and hopping onto trends will help you get TikTok followers very fast.
6. Use popular content created by other TikTok users
Another fast way to get more TikTok followers is through user generated content (UGC). Essentially, UGC is content created by other TikTok users, such as sounds and videos. TikTok encourages the use of UGC through the duet feature and the ability to use other people's sounds.
To duet with a video, click on the arrow circled below: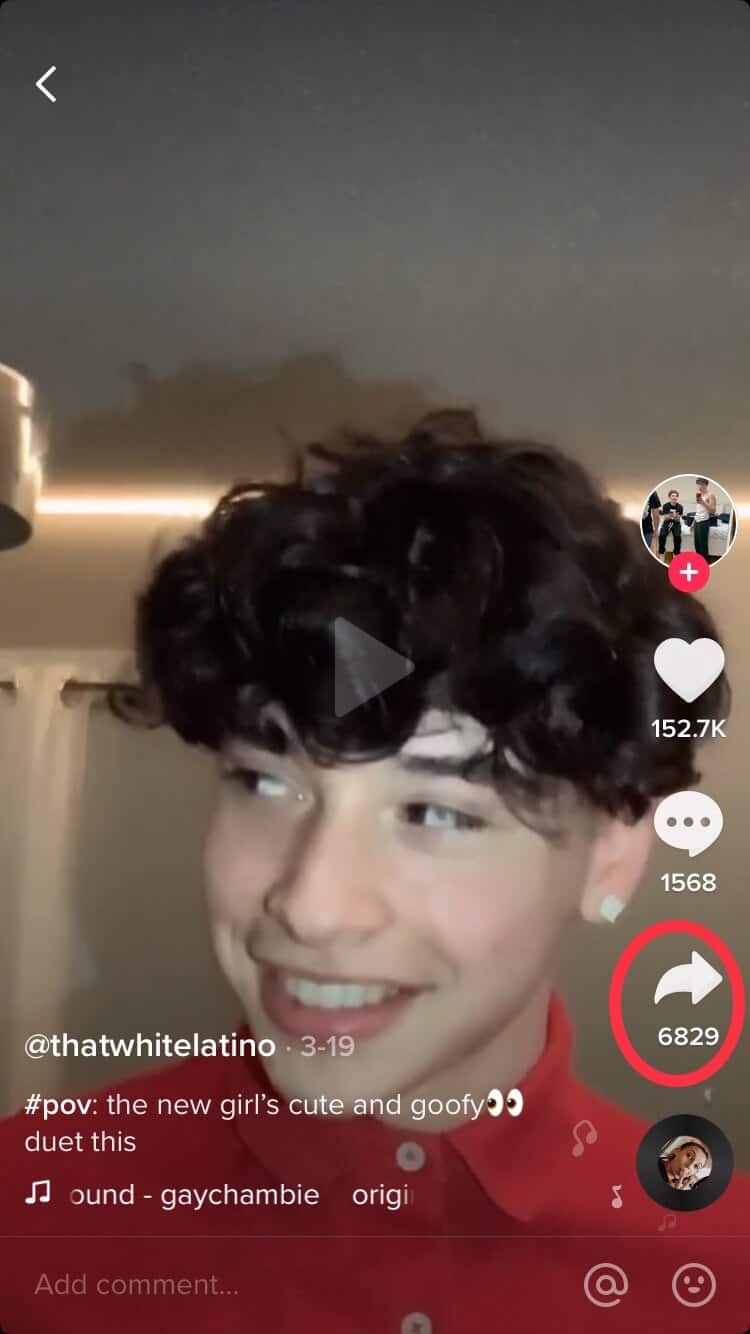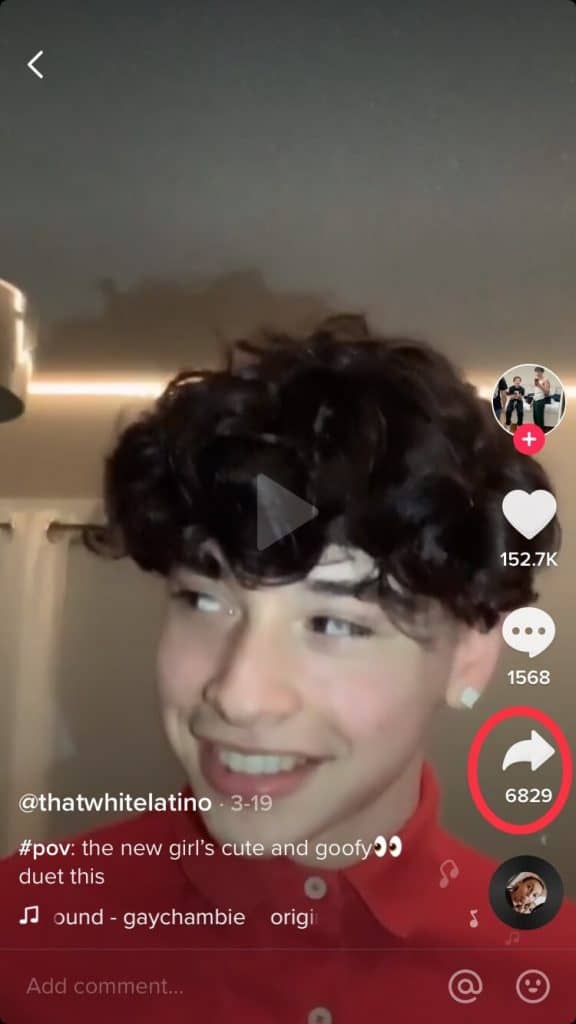 Next, click on "Duet".
When you duet a video, both the original video and your video will be shared in a split-screen: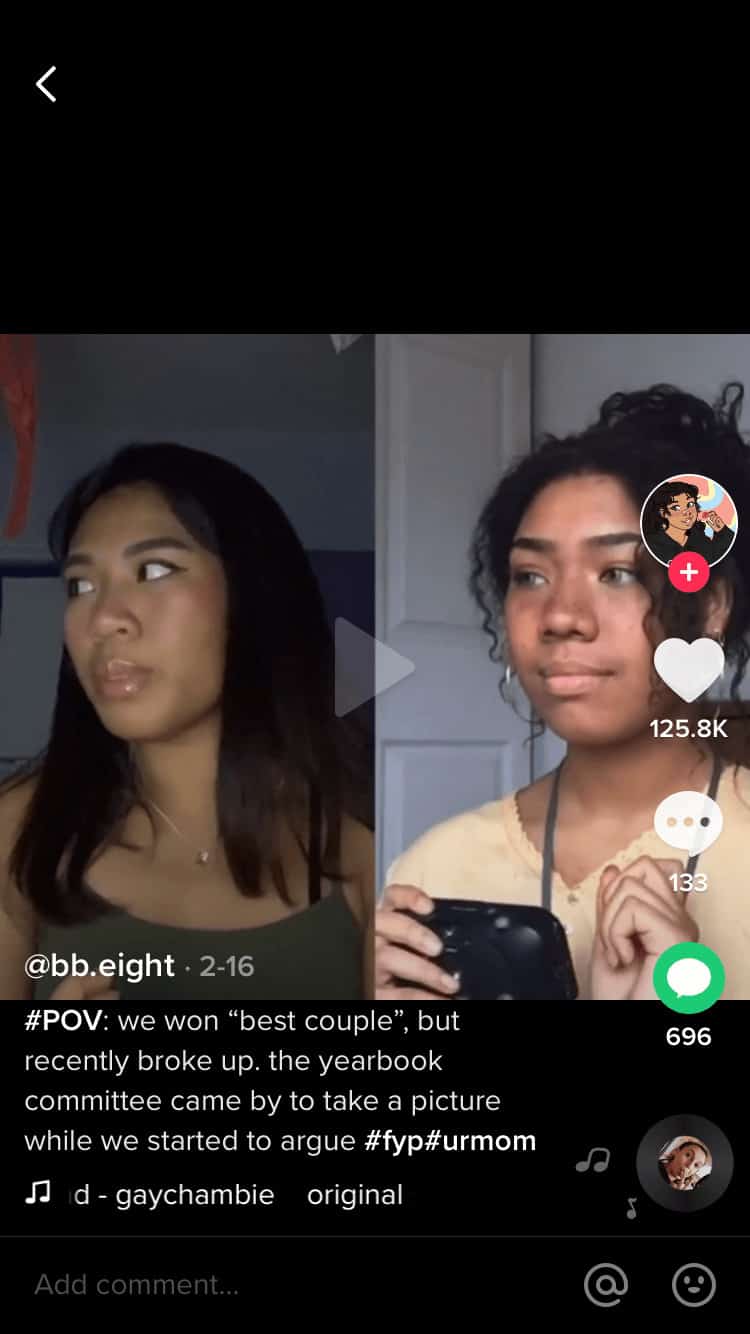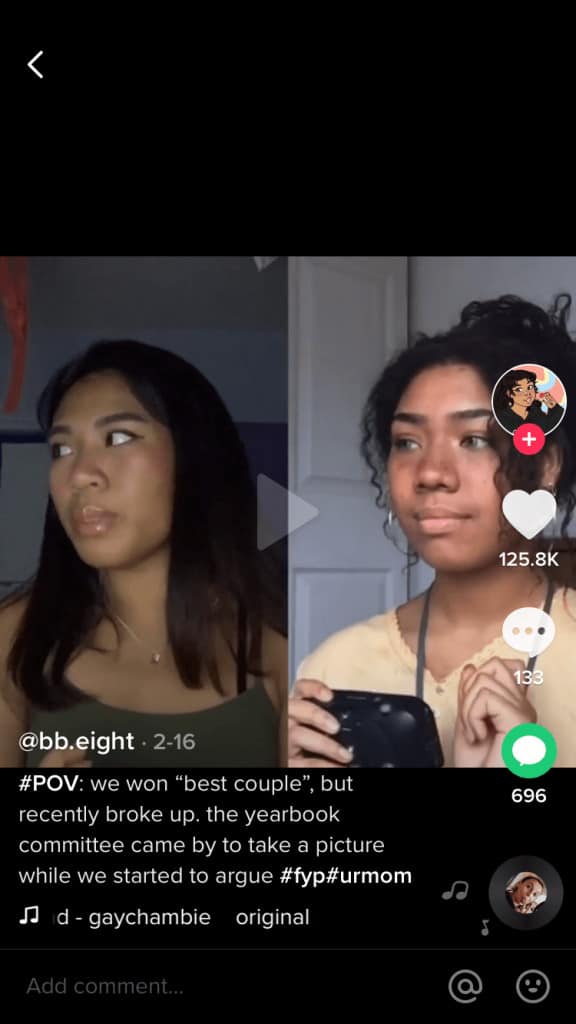 7. Find popular hashtags
Just like hashtags on Instagram, hashtags on Tiktok are a way to organize content. There are many general hashtags you can use (like #foryou, #fyp, and #foryoupage) but if you want more TikTok followers, you should use relevant , trending and niche hashtags.
You can find trending hashtags by clicking on the "Discover" magnifying glass.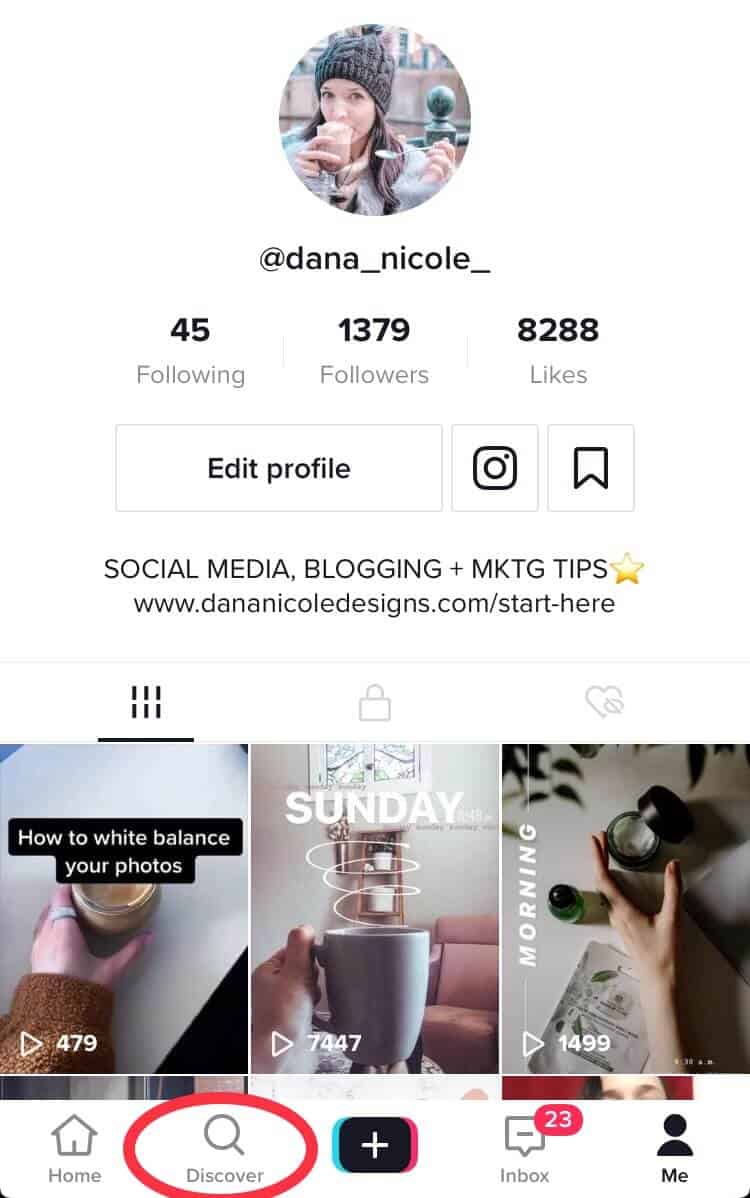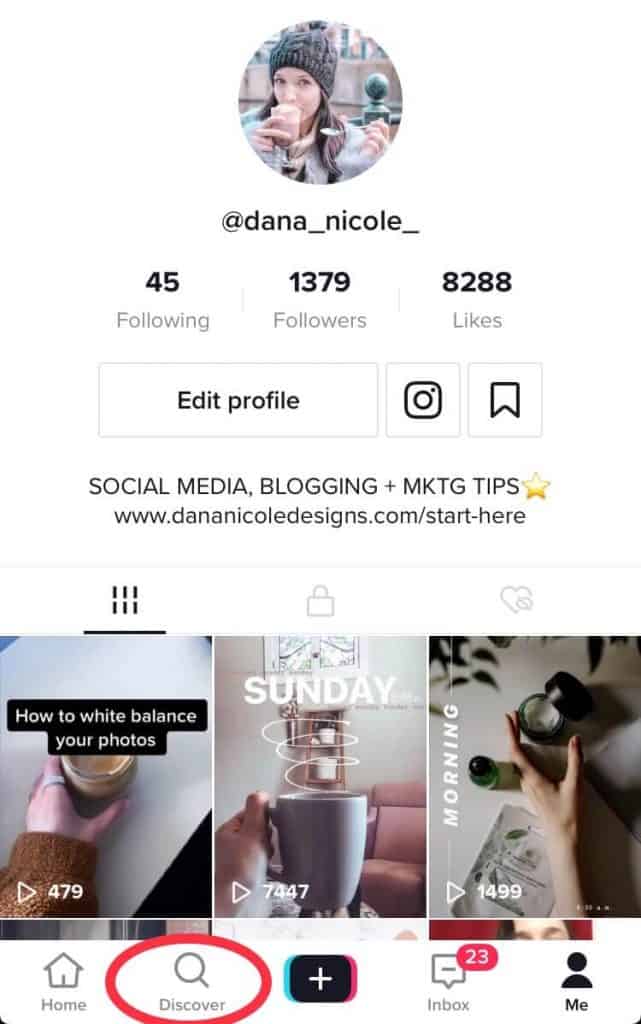 This page features tons of hashtags that are currently trending. You can either use these hashtags in your videos if they are relevant or use the hashtags to get inspiration for future content you plan to create.
8. Take part in challenges and viral trends
Want a quick way to reach more TikTok users (and get more followers)? Hop on TikTok trends and challenges. A TikTok challenge is when a user asks viewers to complete a task and upload their attempt on TikTok. Dance challenges are the most popular, but there are so many other TikTok challenges you can use to attract your target audience.
Challenges are created by users and brands and while there's no spot on TikTok to find a list of all the current challenges, you can google "TikTok challenges" to see what challenges there are.
Sometimes, brands and businesses will create challenges and advertise them. When this happens, the ad for the challenge will be shown when you open the TikTok app.
Otherwise, you can find challenges by watching videos, Googling them or searching for "challenges" within TikTok.
9. Reply to all comments
Like Instagram and its algorithm, the TikTok algorithm rewards posts with high engagement. Currently, comments are the best way for you to connect with your audience. If you want to grow your following, you should be replying to every comment you receive.
Look at it this way: if someone leaves a comment on your video but doesn't follow you, replying to their comment might bring them back to your profile, increasing the likelihood that they will give you a follow.
Not to mention, people like feeling as if they've been heard! Replying to comments will show your audience you care and can encourage others to follow you when they realize that you truly want to foster a connection with them.
10. Cross-promote on other social media platforms
If you have followers on other social media channels, you should use it to your advantage. Your current followers would likely love to follow your content on other platforms!
I always upload my TikTok videos to Instagram Reels. Not only can I reach a wider audience, but it's a great way to repurpose my content. As a bonus, my TikTik videos contain my username, so when I upload them to other social media platforms, my viewers know how to find my TikTok profile.
11. Hop on trends
There are lots of different trends to help you get more followers. The best place to find trends is to head to your Discover page and swipe through the different trends along the top.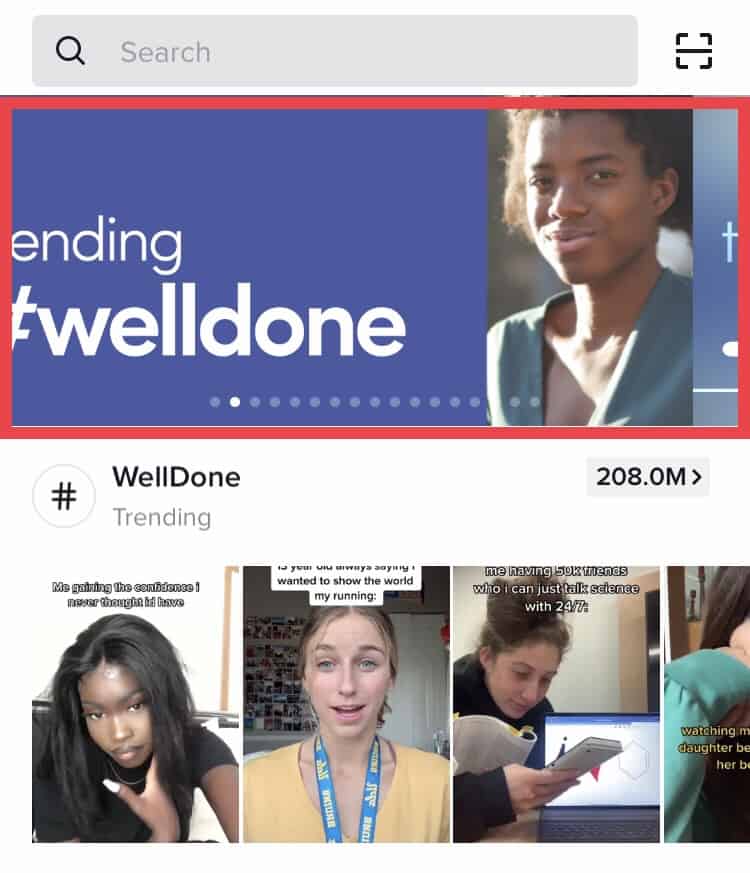 12. Be consistent
You should post consistently, but having videos with a consistent feel can also be used to your advantage.
Take @theparadise.bartender, for instance.
She has amassed a following of over 2.4 million by sharing drink recipes.
Each of her videos follows a similar format and script. Her famous "shake, shake, shake, shake, shake" and "fun, right?!" have gone viral. She's done a fantastic job of branding herself by being consistent.
And now, when I want drink recipes, I head over to her account because I know that I'm going to find great recipes that are easy to follow.
13. Create your own sounds
Earlier, I mentioned that sounds have the ability to go viral.
When you create a viral sound that others add to their videos, your video will be showcased as the original video for that sound.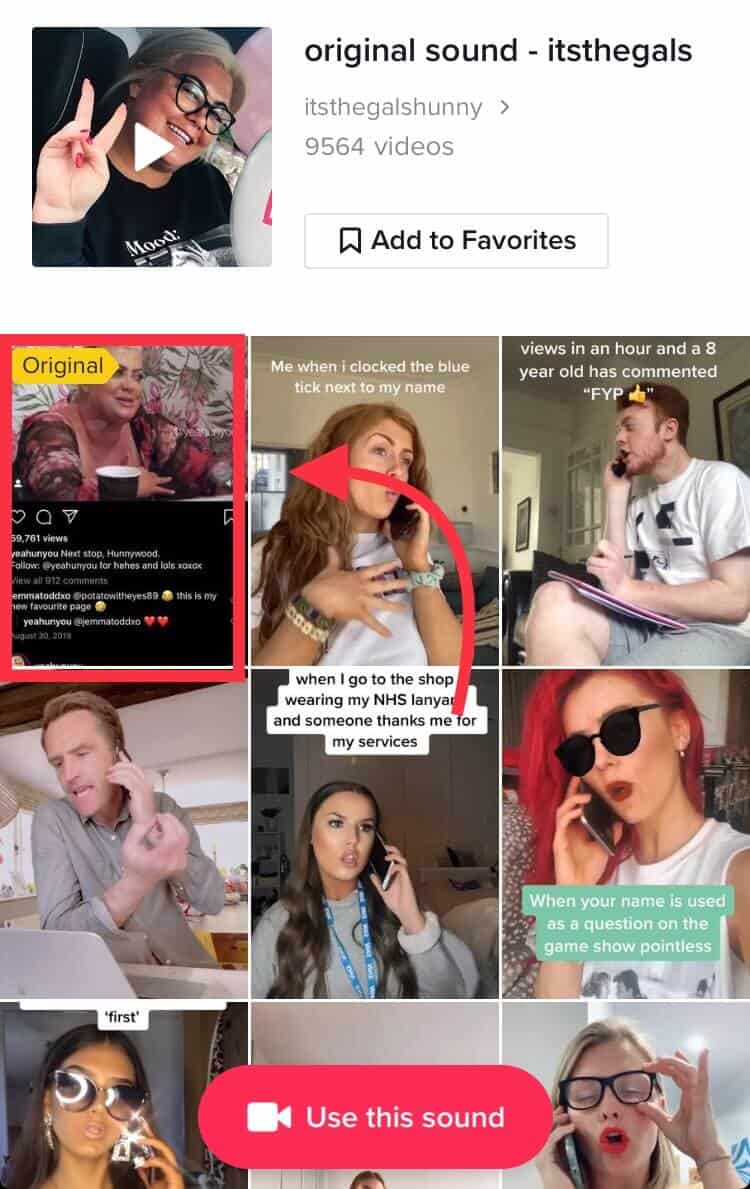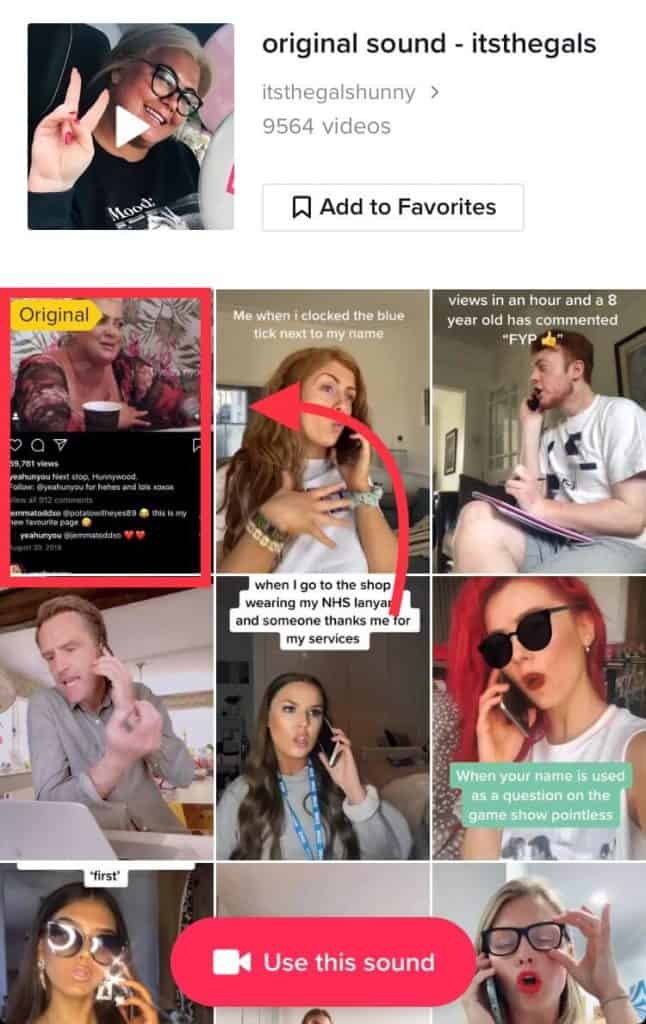 Your video will be featured in this spot when others use your sound.
If you have experience creating song mashups or other interesting sounds, you should definitely use those skills to your advantage.
This can bring you tons of additional traffic and followers to your account!
14. Find the right time to post
Timing matters. You'll want to find the right time to post on TikTok (the peak times are usually when your audience is most active) if you want to go viral and gain followers.
Getting more followers on TikTok
Using TikTok is a great way to grow your brand, connect with more people and reach your target audience. As you can see, it's easy to grow your TikTok following without downloading any apps or buying followers. The methods mentioned in this article are free and require no fancy knowledge!
As long as you can create memorable and quality content, you'll be able to grow your following (and maybe even become TikTok famous in the process).
Now that you know how to get followers on TikTok, you should take a look at my article on how to get likes on TikTok, so you can explode your popularity.
Are you on TikTok? Drop your username in the comments and don't forget to give me a follow, @dana_nicole_.
Pin me: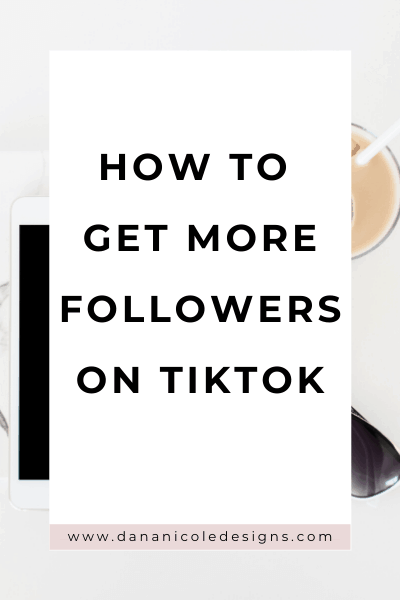 ---
This article may include affiliate links. As an Amazon Associate I earn from qualifying purchases.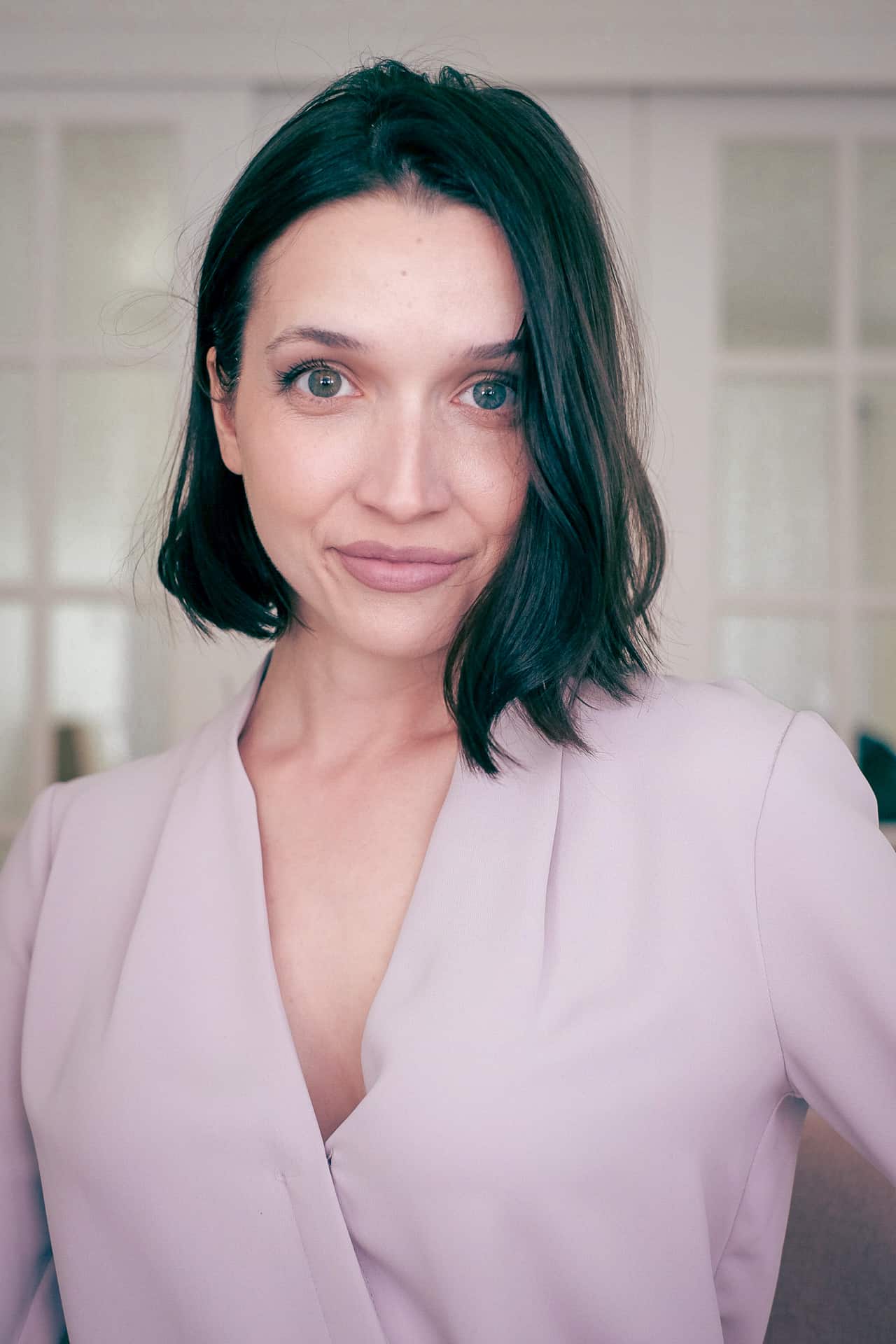 Dana Nicole is an award-winning freelance writer for MarTech/SaaS who was rated one of the best SaaS writers by Software World. She specializes in writing engaging content that ranks high in search engines and has been featured in publications like Semrush, ConvertKit, and Hotjar.
Dana holds a Bachelor's degree in Business Administration and has over 15 years of experience working alongside national brands in their marketing departments.
When Dana's not working, you can find her dancing en pointe, cooking up new recipes, and exploring the great outdoors with her two big dogs.