Last Updated on
If you've been wondering whether or not TikTok is the new place to be, you're in good company! TikTok is taking the world by storm and marketers such as Gary Vaynerchuk are convinced that it's the platform to be on.
The most recently published TikTok stats shows us that TikTok has 500 million monthly active users.
But anytime a new app comes out, businesses are hesitant (and rightfully so) to pour their marketing dollars into something new?
So if you want to know more about how to use TikTok for business, keep reading!
What is TikTok?
TikTok is an app for iOS and Andriod where people can upload bite-sized videos that are 15-60 seconds long. You might remember the app Musical.ly. In November 2017, Musical.ly was acquired by Byte Dance, the Beijing company that created TikTok. After Musical.ly was acquired, it was merged with TikTok.
Most people know TikTok as being a lip-syncing app, which is partially correct. TikTok users have the ability to add various songs, sound bites and effects to their videos, so while some of them end up being lip-syncing videos, many of them aren't.
And if you're wondering whether or not 60 seconds is enough to create any memorable content, I encourage you to watch the above video to or download TikTok for yourself to see just how entertaining many of the videos are (and plain weird). TikTok is captivating and it's easy to get sucked into the endless loop of videos.
In fact, TikTok users spend more time on the app per session than Instagram users, with TikTok users spending an average of 4.9 minutes and Instagram users spending 3.1 minutes.
Also read: TikTok versus Instagram
To put it lightly, TikTok users are incredibly engaged and focused on the content they are consuming. But just because TikTok users spend more time on the app when they open it up, the daily engagement for TikTok is actually the lowest across all major apps.
TikTok users open the app the least amount and only 29% of active monthly users open the app every day. To put that into comparison, Facebook and Instagram's engagement rates are respectively 96% and 95%.
Who Uses TikTok?
If you are trying to determine whether or not TikTok will work for your marketing strategy, you'll need to figure out if your audience is on TikTok.
Here are some quick demographics of TikTok users:
Surprisingly, there are more men than women on TikTok (55.6% versus 44.4%) and the lowest two demographic segments are people in their 30's and 50's. While it might seem that usage decreases with age, it actually doesn't, and people aged 40-49 use TikTok more than people in their 30's and 50's.
How to Create a TikTok Account for Business
Whether or not you decide to use TikTok for business marketing purposes, I encourage you to create a TikTok account just to see what everything is all about.
Here's how to create a TikTok account.
Step 1: Download the TikTok App
TikTok is a free app that you can find in your app store.
Step 2: Open TikTok and Create an Account
Upon first opening TikTok, you'll be prompted to turn on or off notifications. Once you either allow or disallow, there isn't much instruction on where to go to next. The user experience with TikTok could be greatly improved, in my opinion.
To create your account, click on "Me" in the bottom right-hand corner. This is where you will be able to create your account through your Google, Facebook, Instagram or Twitter. To access your Instagram and Twitter accounts, click on the "arrow" beside the Facebook icon.
You can also sign up with your phone or email, and if you already have an account, you can log in.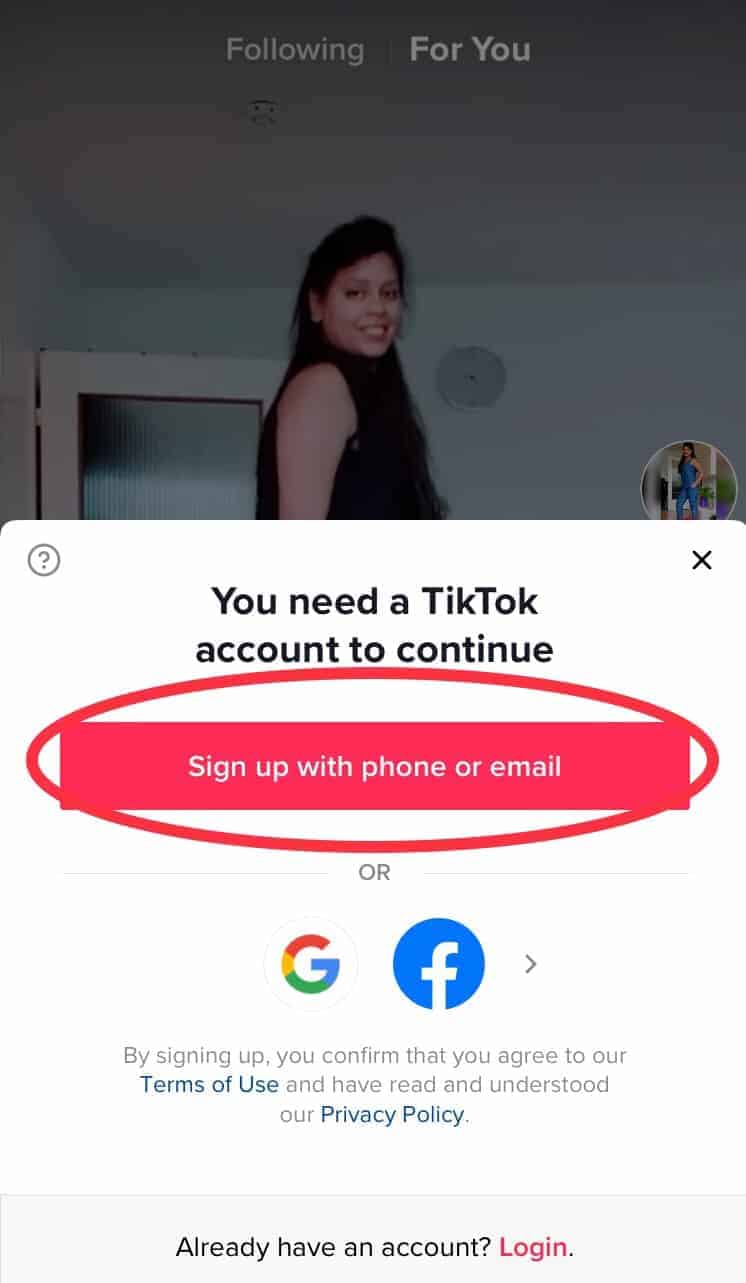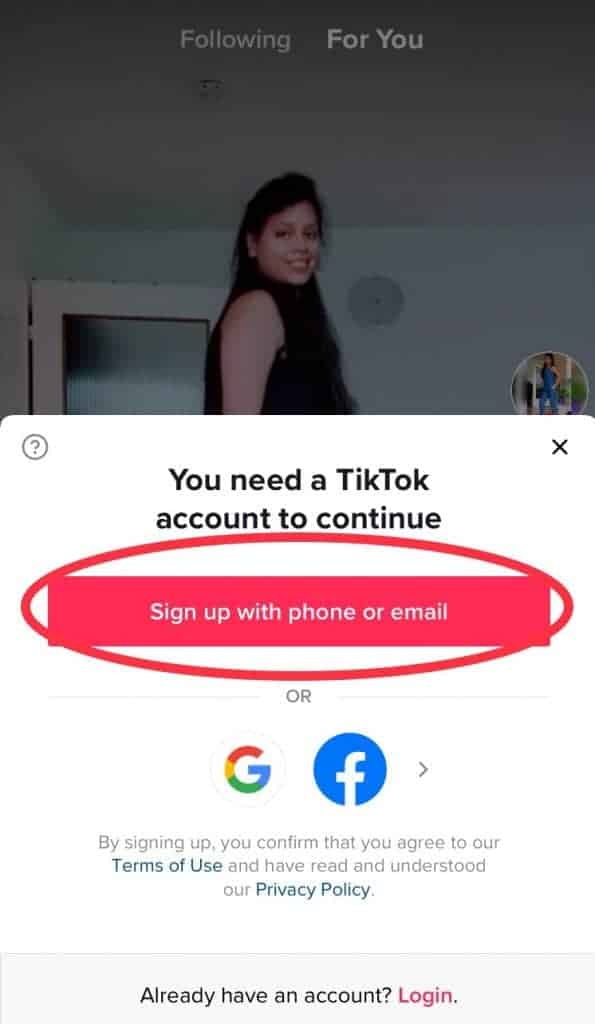 When you go to create your account, you will be asked to fill out some basic information such as your birthday, email/phone number, and password.
After you've successfully created your profile, you will be brought back to the home page.
Step 3: Change Your Username and Upload a Profile Photo
TikTok automatically generates a username for you based upon the email or phone number you provide, so you will likely want to change that. To change your username, click on "Me" to access your profile and choose "Edit Profile". You can only change your username once every 30 days, so make sure you have spelled everything correctly before saving it.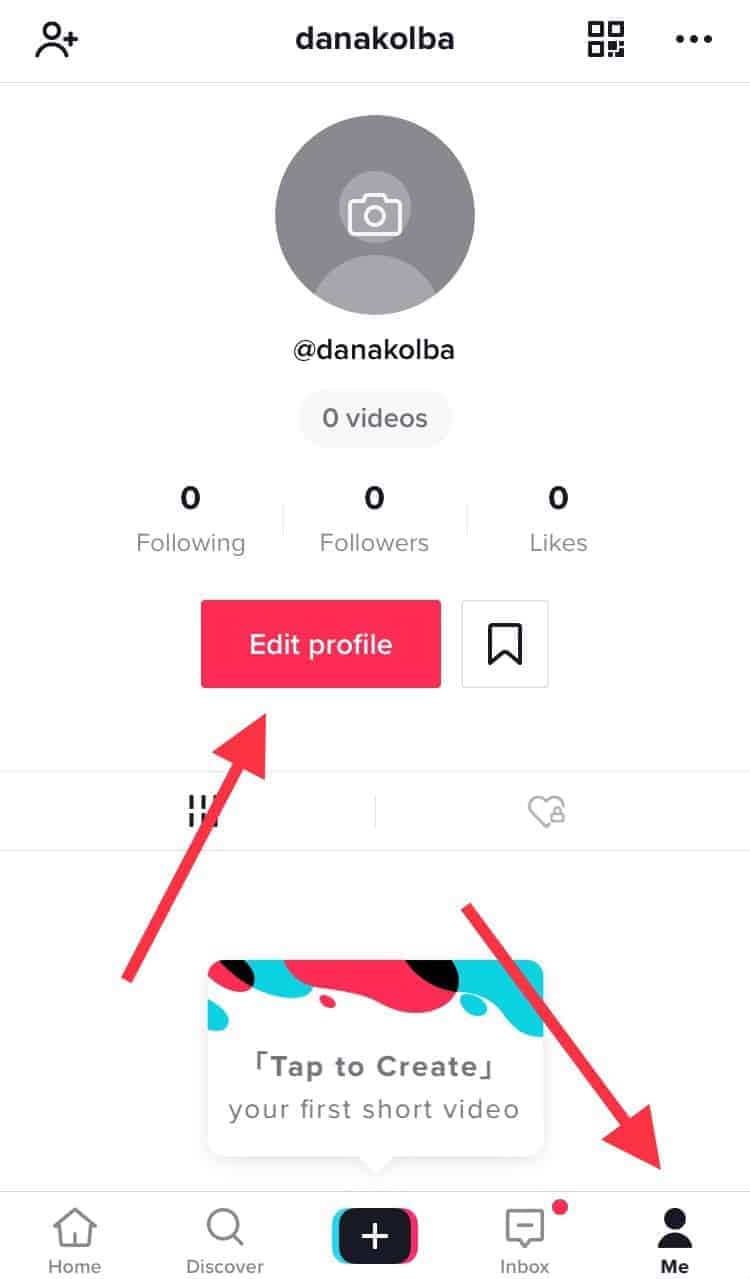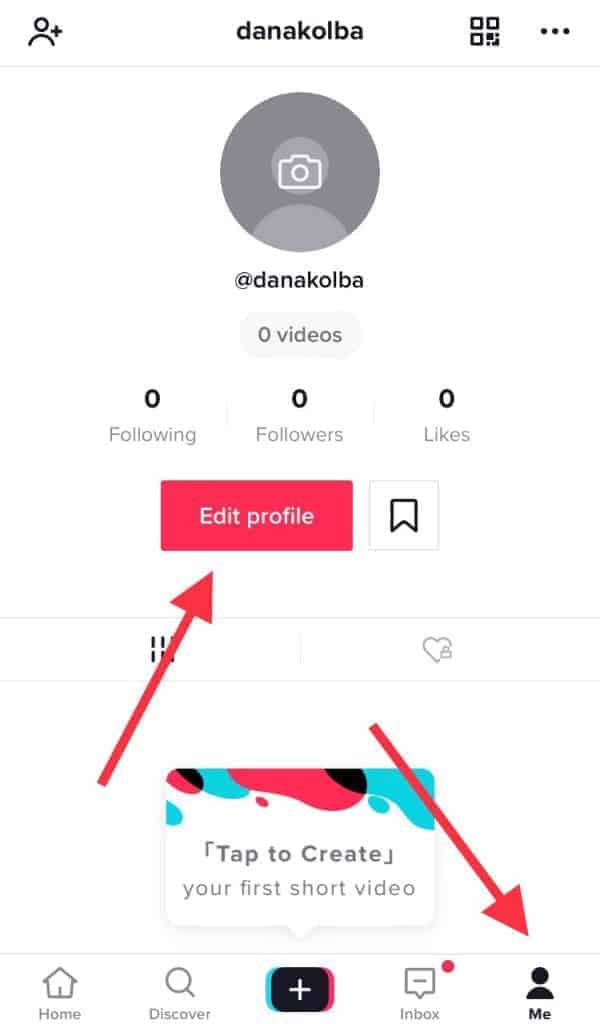 You also have the option to choose between a profile photo or a profile video, which you can upload in the "edit profile" screen as well.
Lastly, you can edit your bio here and add a link. As of writing this, links aren't available to everyone.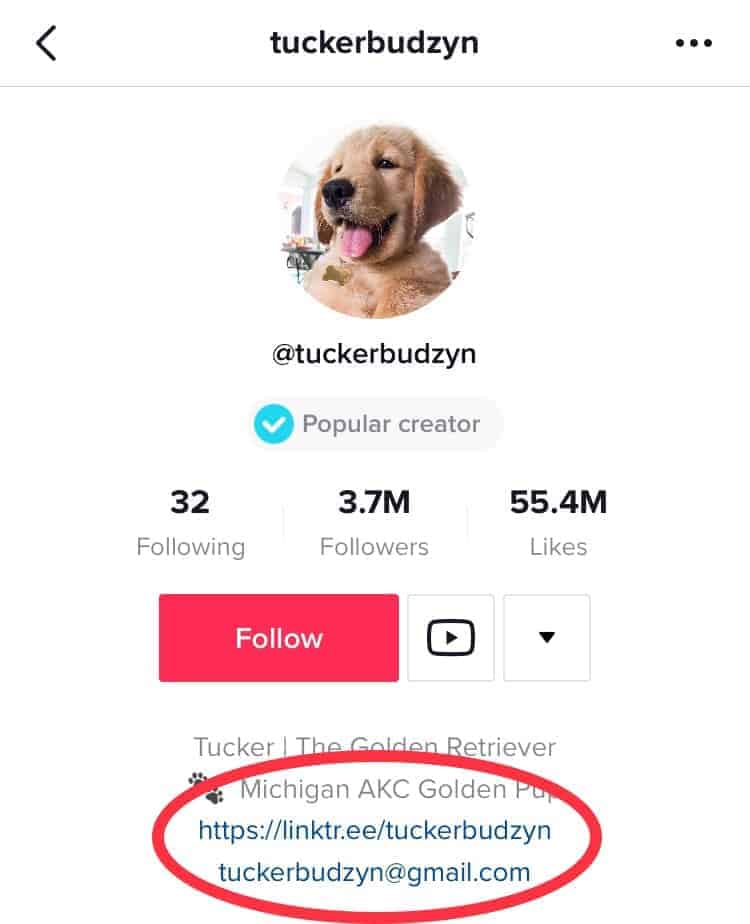 Step 4: Review Your Additional Settings
As a business, it's unlikely that you'd want to make your account private, but you can put limitations on your account by heading into the privacy and settings area through clicking the three "…" in the upper right-hand corner.
Within this page, you can verify your email and restrict your account to your liking by turning off the ability for other users to partake in duets with you, leave comments, send you messages and more.
Step 5: Switch to the Free Pro Account
A pro account on TikTok will let you view analytics that can help guide your TikTok marketing efforts.
On your profile page, click on the three "…" in the upper right-hand corner, and then click on "Switch to Pro Account".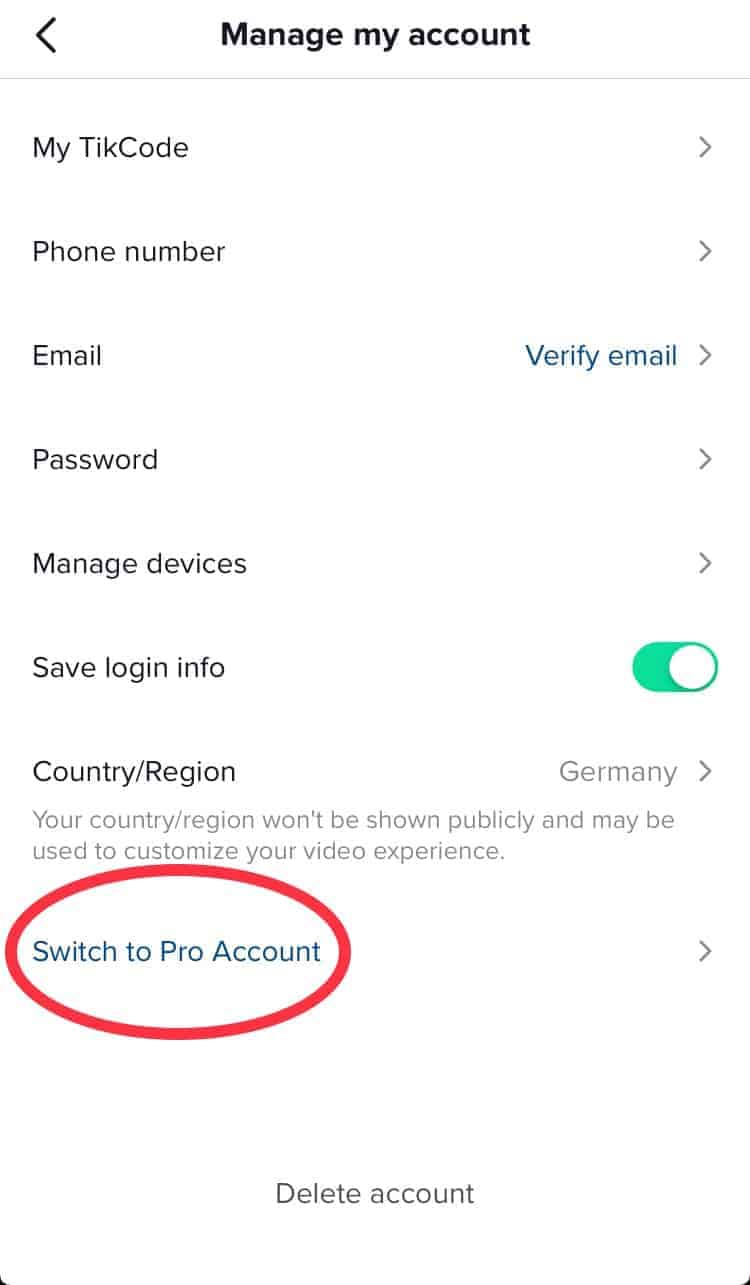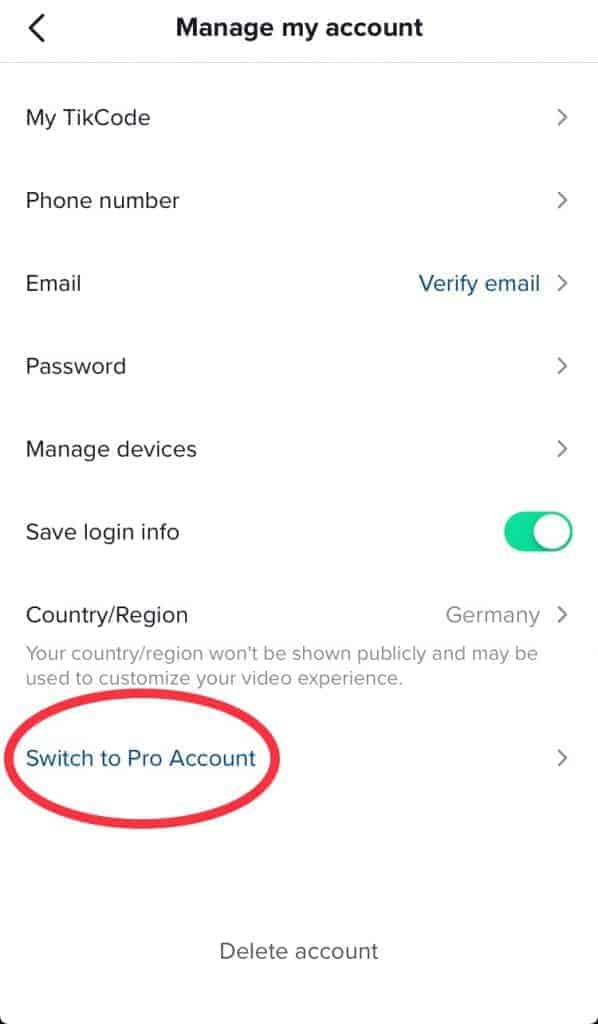 You are now ready to use TikTok!
Ways to Market Your Business on TikTok
Generation Z wants short and snappy content, delivered to them across a variety of devices, making TikTok an ideal place to test out some new strategies if you market to this generation.
If you can create content that this demographic loves, not only will you be able to get more likes on TikTok, you'll also be able to acquire some passionate brand fans.
But as we discussed above, there is still quite a large number of users older than generation Z for you to connect with via TikTok. Let's discuss some of the different ways you can form a TikTok marketing strategy.
Challenges
A challenge is when a user records themselves doing something in an attempt to perform some kind of activity. Challenges are widely popular on TikTok and can often go viral and become famous.
The travel challenge is a great example that shows the difference between Instagram users and TikTok users. While Instagrammers are looking to take the perfect travel photo, TikTokers are participating in the travel challenge as a way to mock humblebragging travel photos. In this challenge, users used ordinary objects and tried to create pictures that made it look like they were somewhere extravagant.
Another challenge is Jimmy Fallon's #TumbleweedChallenge, which you can watch here.
As a brand, you can create challenges and encourage your followers to partake in them in order to build your community.
@glambymilly (a makeup artist) did a unique challenge by recording a sound bite of herself instructing her followers to get their favorite eyeshadow palette and use Google's random number generator to select three random colors from the eyeshadow palette.
Users were then told to film their results by using @glambymilly's sound bite. You can see below that there have been nearly 6,000 videos uploaded to her challenge, which links directly to her account!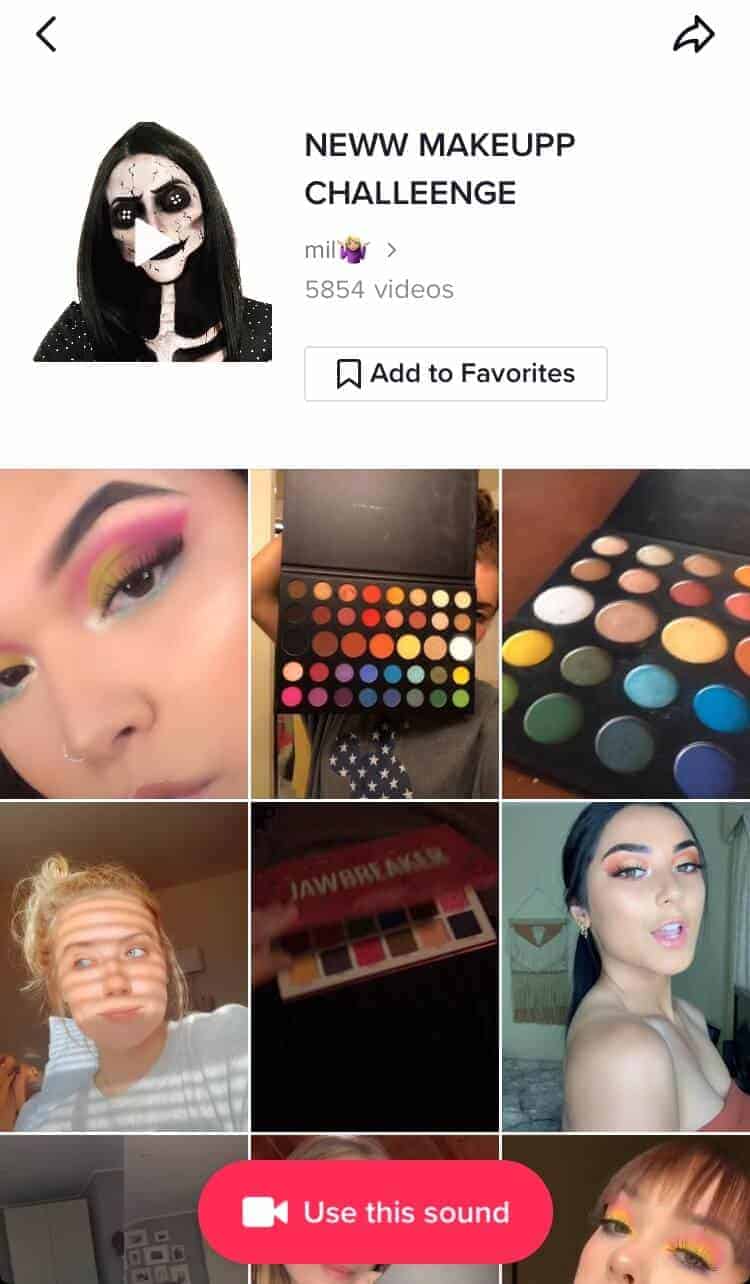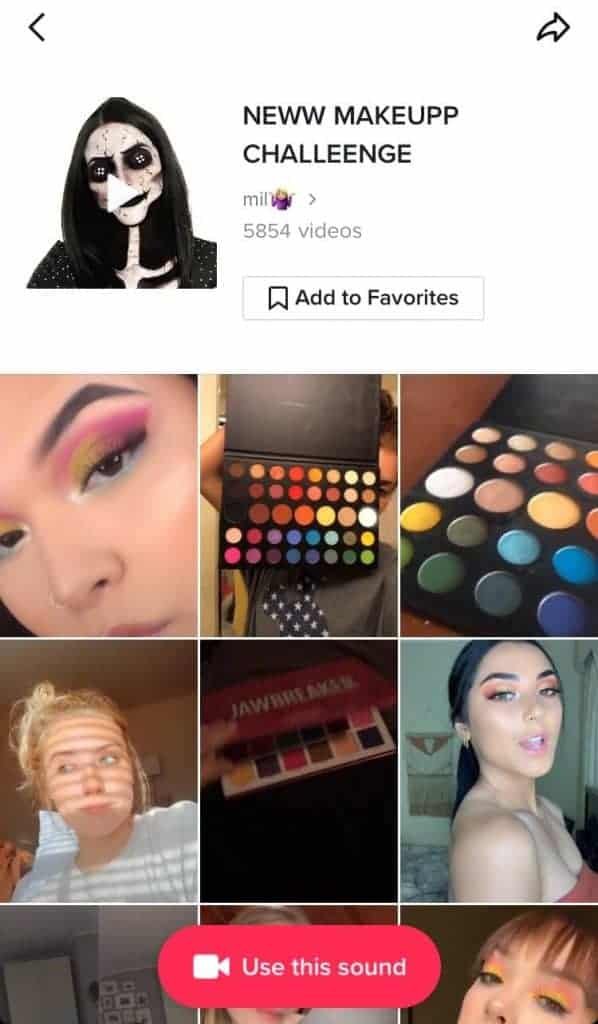 Comedic Memes
A meme is generally thought of as a photo with funny text. Meme content on TikTok is similar, except instead of being in the form of a photo, it's now in the form of a video.
Creating humorous and relatable content makes up the bulk of videos on TikTok.
Duets
Duets are a fun and interactive way to connect with other users on the platform. Unless duets have been turned off by the user, every video can turn into a duet! When a user goes to "duet" with your video, they will film their own video on a split-screen. You can see below (I am on the left, and the video I would be dueting with is on the right).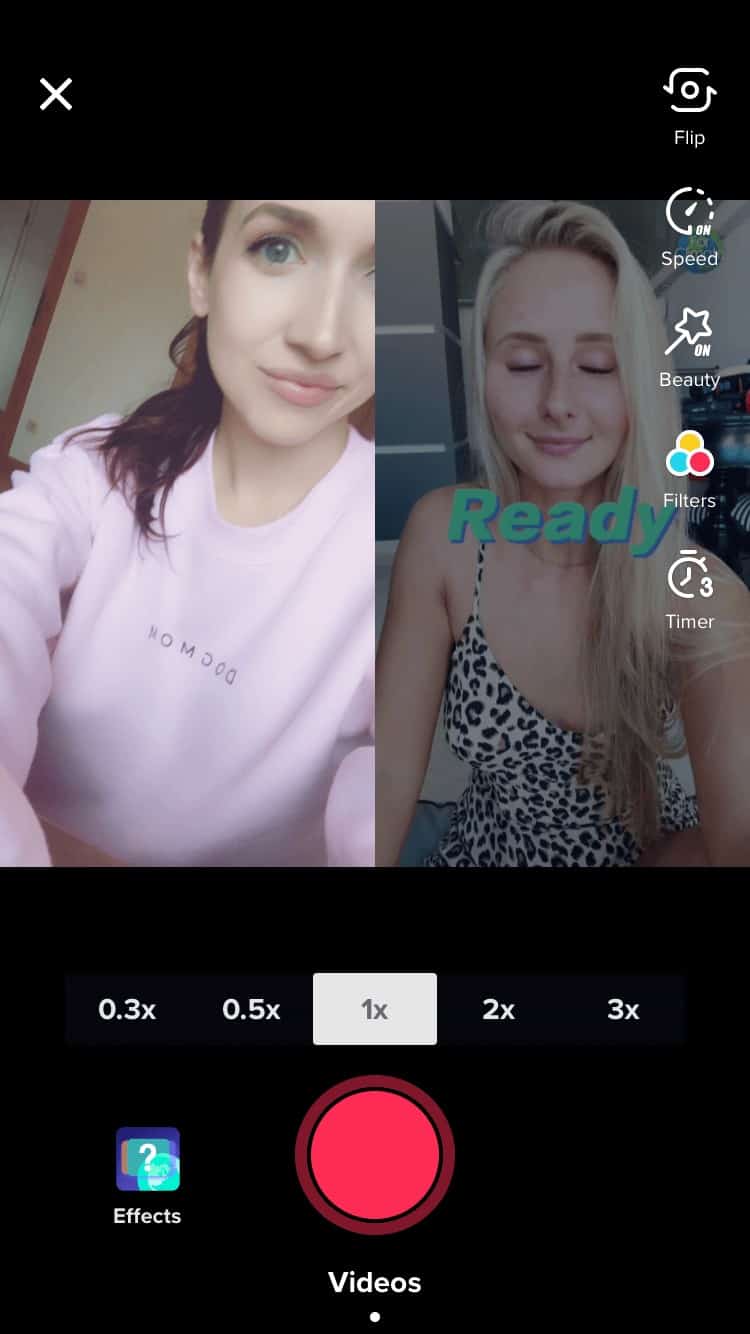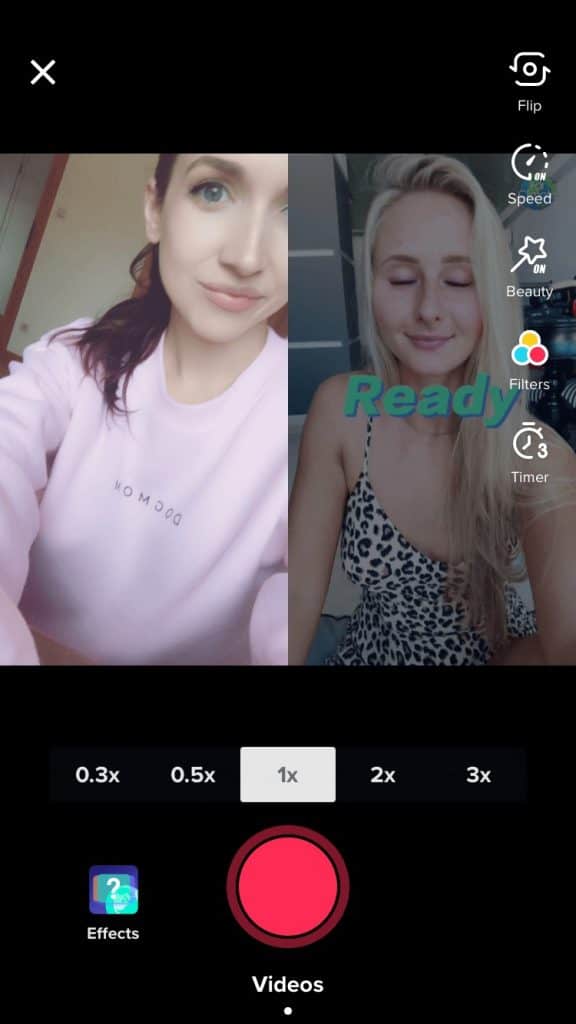 Influencer Marketing
Just like Instagram, influencer marketing has huge potential on TikTok. Influencers on TikTok have amassed millions of followers.
But what I found interesting on TikTok, was the ability for just about anything to go viral. Likes and video views aren't as hard to come by as they are on other social platforms.
In fact, when I posted my first video to TikTok, I had zero followers but was able to get 851 views, 66 likes and 1 comment on my very first video. Something that likely wouldn't happen on other social platforms until I had the chance to grow my audience.
@thebaileybakery is an influencer on TikTok who says most of the brands she works with ask her to use a particular song or sound bite. Due to the viral nature of TikTok, creators will often re-create videos inspired by their favorite influencers.
If your brand had a sound bite that could be used on influencer content, chances are high that it could easily go viral, leading people to use your sound bite in their own videos.
Aside from sound bites, influencer marketing could be experimented with through product placement within TikTok videos.
Paid Ads
TikTok currently offers four different ad types:
In-feed Ad
Detail Page
Post-roll Ad
Story Ad
When advertising with TikTok, you also have the ability to advertise with TIkTok's sister company, Vigo Video. As of now, TikTok advertisers have to be vetted and accepted on a case-by-case basis. You can check out the application process here.
I personally haven't seen many ads during my time spent on TikTok (and I've spent an embarrassing about of time scrolling through the app). However, something interesting to note with TikTok is that users can buy coins within the app which can then be used to purchase emojis or diamonds to send to creators (as a token of appreciation).
In other words, TikTok users are already making purchases (albeit small) within the app.
Could encouraging purchase-behavior through emojis and diamonds be a telling sign that users will be more likely to make a purchase on ads they see? We will have to wait and find out!
Will TikTok Marketing be an Effective Strategy?
Brands who are able to figure out new social media platforms before the rest can often reap the rewards. Adding a TikTok marketing component into your social media strategy could pay off immensely if you are able to figure out how to increase your reach and grow your following on TikTok.
TikTok is still very new and users aren't spending nearly as much time on the app as other platforms. As a smart marketer, it's best to test and see if marketing on TikTok is in your best interest.
Pin Me: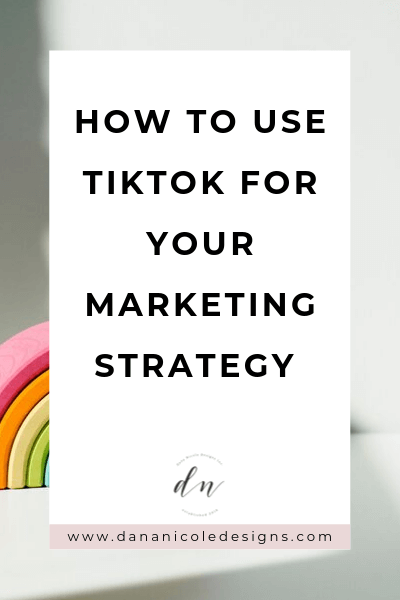 ---
This article may include affiliate links. As an Amazon Associate I earn from qualifying purchases.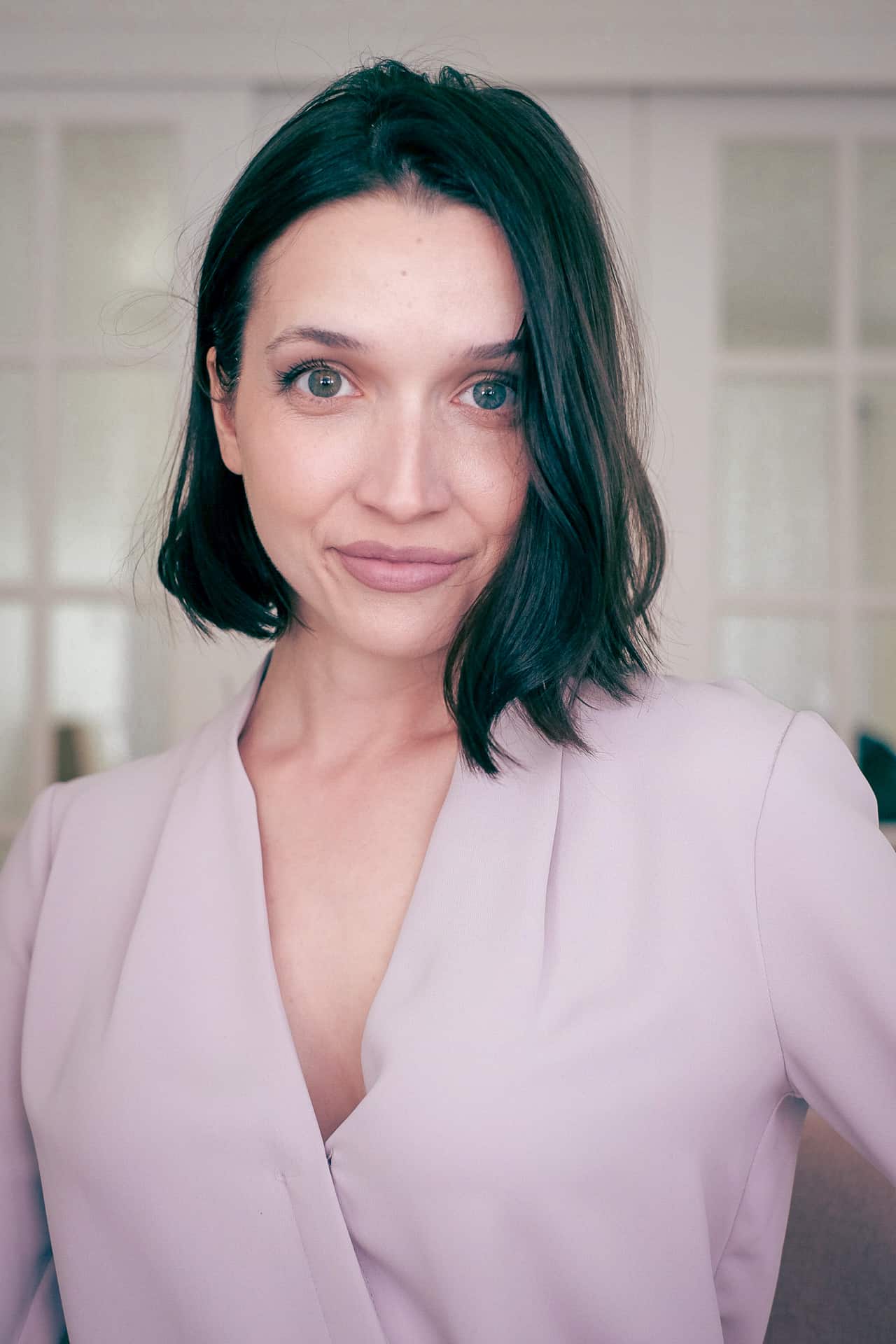 Dana Nicole is an award-winning freelance writer for MarTech/SaaS who was rated one of the best SaaS writers by Software World. She specializes in writing engaging content that ranks high in search engines and has been featured in publications like Semrush, ConvertKit, and Hotjar.
Dana holds a Bachelor's degree in Business Administration and has over 15 years of experience working alongside national brands in their marketing departments.
When Dana's not working, you can find her dancing en pointe, cooking up new recipes, and exploring the great outdoors with her two big dogs.