Last Updated on
Coming up with Instagram post ideas can be a tiring process. Whether you are a business or just an individual who would like to post more creative content, these ideas will help you get more likes to your photos and make your account stand out!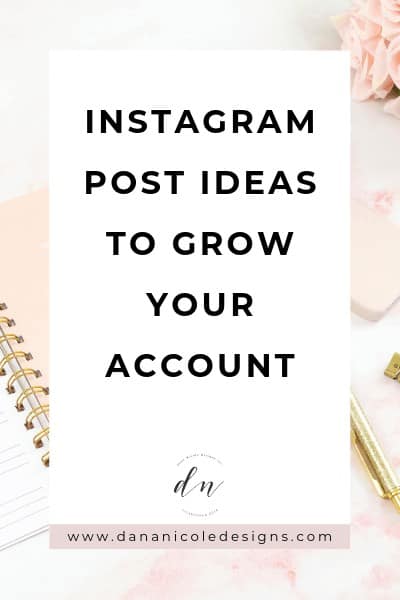 Are you in need of some high-quality Instagram post ideas to drive engagement? Trying to figure out what to post on Instagram can feel like a full-time job, but luckily, this list will help you come up with fantastic content ideas without breaking a sweat! Whether you are a business, blogger, influencer or just someone who is looking for things to post, this list will help. And aside from inspiring you, these creative Instagram photo ideas can also help you get more followers, more likes and grow your account.
Brands post on Instagram an average of 1.5 times per day. That's over 500 posts per year! You might think you have nothing to post (especially 500 times each year). With a little bit of help, you'll be coming up with new things to post on Instagram in no time!
If your business is brand new to Instagram, bookmark this post and then, head over to find out how to introduce your business on Instagram first!
Here are 20+ Instagram post ideas for those days (or weeks) when you are in a creative rut and need a little bit of extra help.
What to post on Instagram for business and personal accounts
These ideas will work for anyone. Whether you are a business, a blogger or just a personal user on Instagram, I'm inviting you to use these Instagram content ideas to boost your likes and engagement.
1. Panoramic Crop
The panoramic crop is a creative way to showcase your content. Let me explain how it works…
Instagram can post your photos in one of the three sizes or aspect ratios:
Square: 1080px by 1080px (1:1 aspect ratio)
Landscape: 1080px by 566 px (1.91:1 aspect ratio)
Portrait: 1080px by 1350 px (4:5 aspect ratio)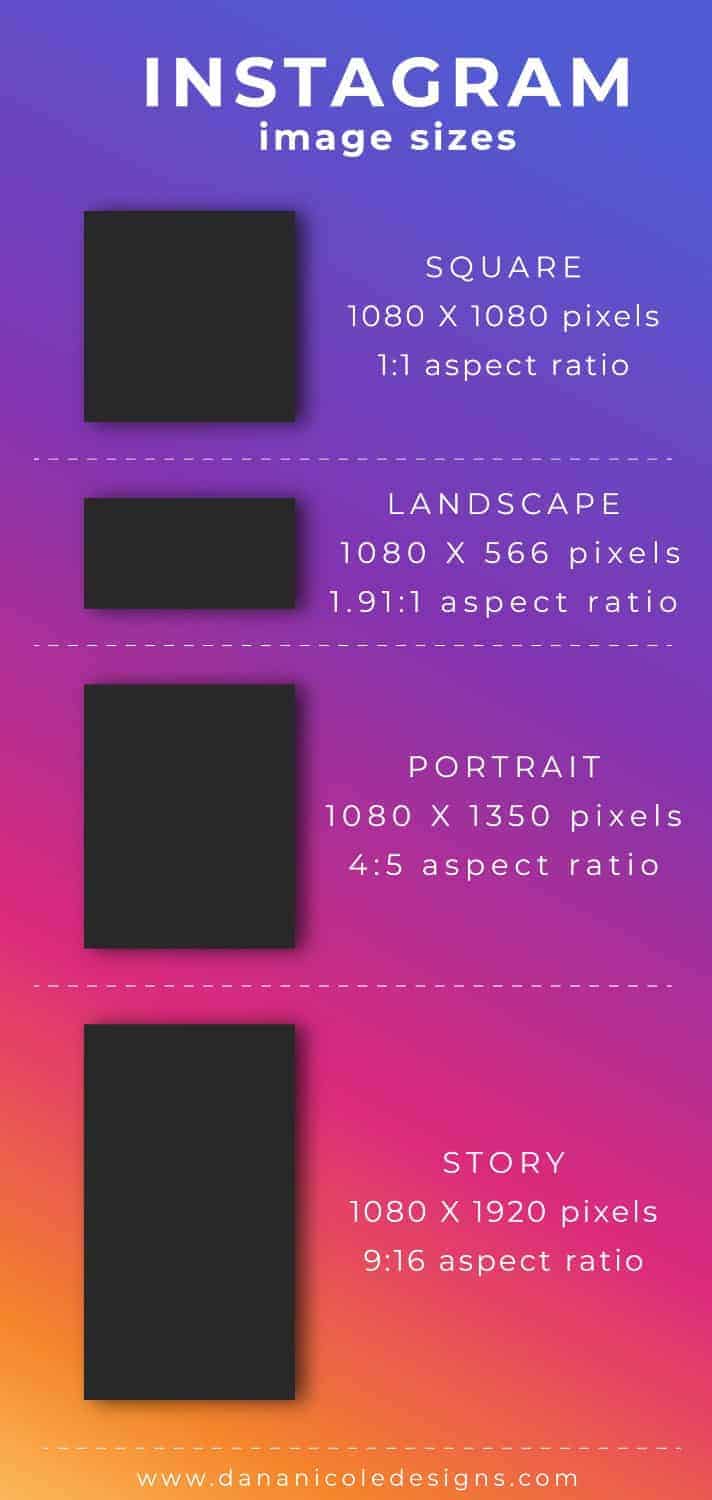 While this sizing allows for many different sizes of images, it doesn't allow for gorgeous panoramic images.
But since Instagram added the ability to upload multiple images at once, people got creative and realized that they were able to create panoramics through uploading multiple images!
Take a look at this post, for example:
When you scroll to image #2, you'll be able to see that it's a continuation of the first image. It's a very unique way to showcase panoramic images with an interactive component.
To post panoramic photos, you first must have a panoramic image or something that has been shot horizontally.
Next, you can download the app Unsquared for Instagram. This app will automatically turn your landscape photo into multiple square photos, allowing you to upload several images as one continuous panoramic!
2. User-Generated Content (UGC)
If you want your post on Instagram to get more engagement, user-generated content is for you.
User-generated content is when you post photos from your audience. UGC drives 6.9 times higher engagement than regular brand photos. Growing your Instagram account with user-generated content is an excellent strategy.
First, it allows you to connect with your audience. Second, it takes the stress off of having to continually create content since you will be sharing content that your audience has already created.
If you choose to repost content on Instagram, it's important to remember to give credit to the original owner of the photo!
Here is an example of UGC in action: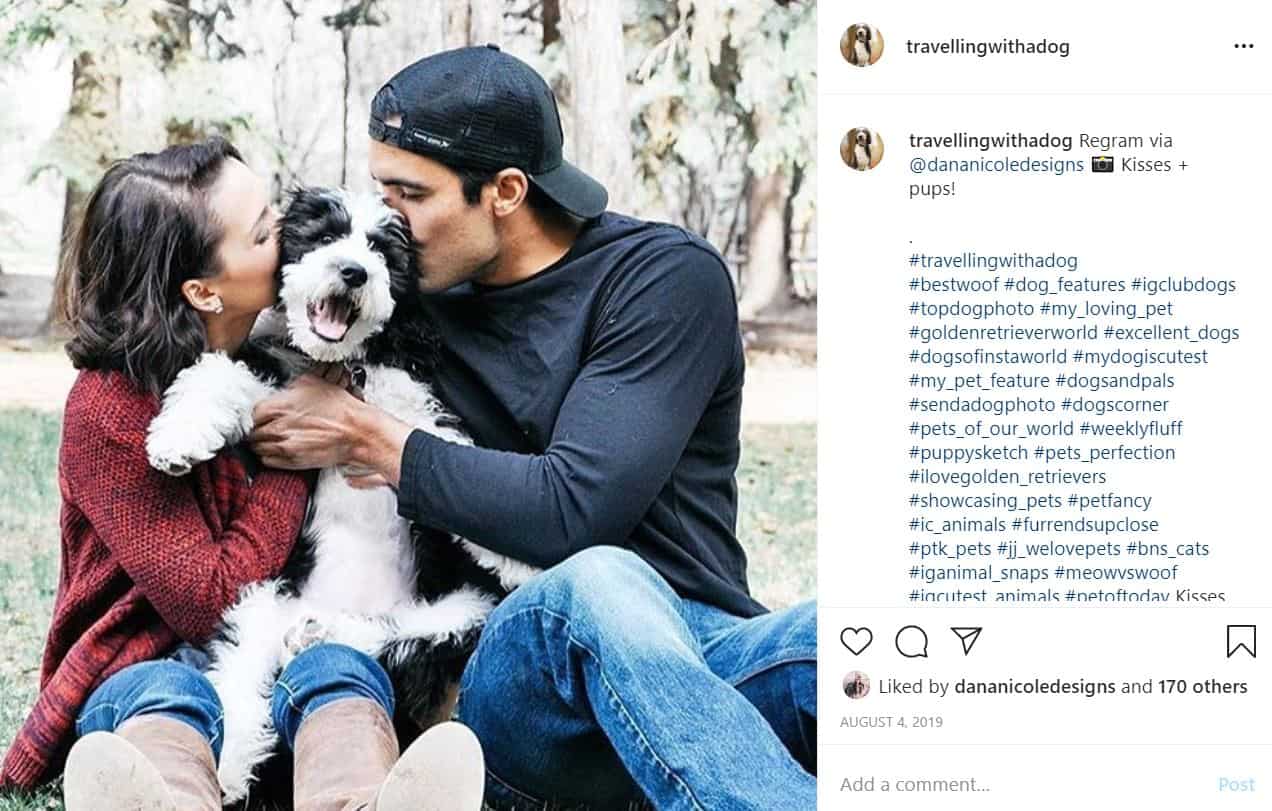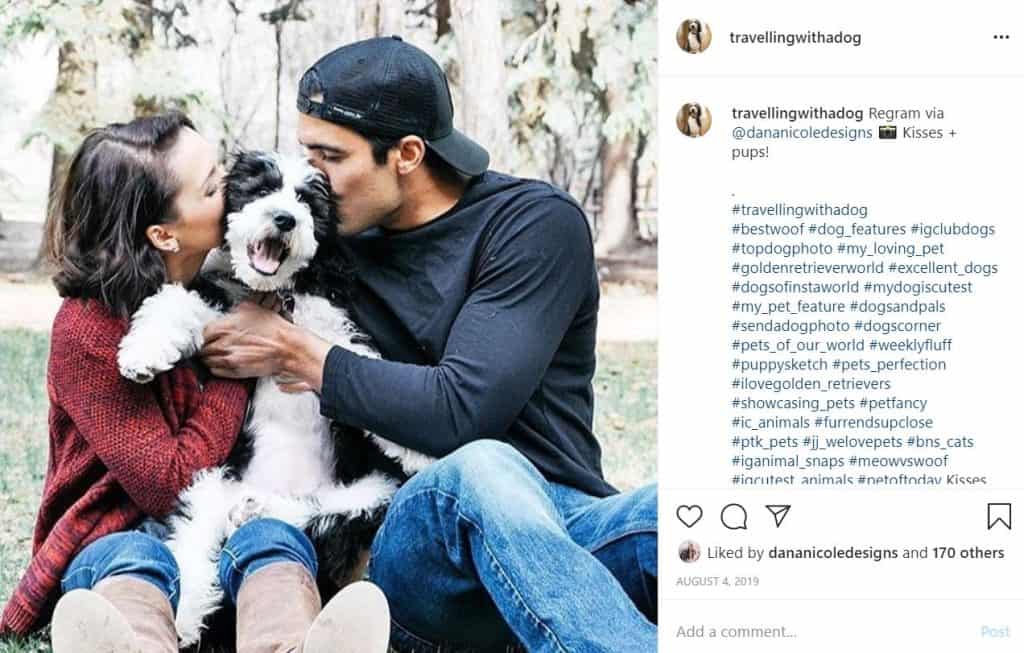 There are lots of repost apps for Instagram that you can use to easily repost content from your audience.
3. Collaborations
One Instagram post idea that will put your account in front of more followers is collaborations. By collaborating with other businesses and influencers, you're helping one another gain exposure by tagging each other in captions and photos. In fact, influencer marketing campaigns earn $6.50 for every $1 spent, so they are a great way to boost your business.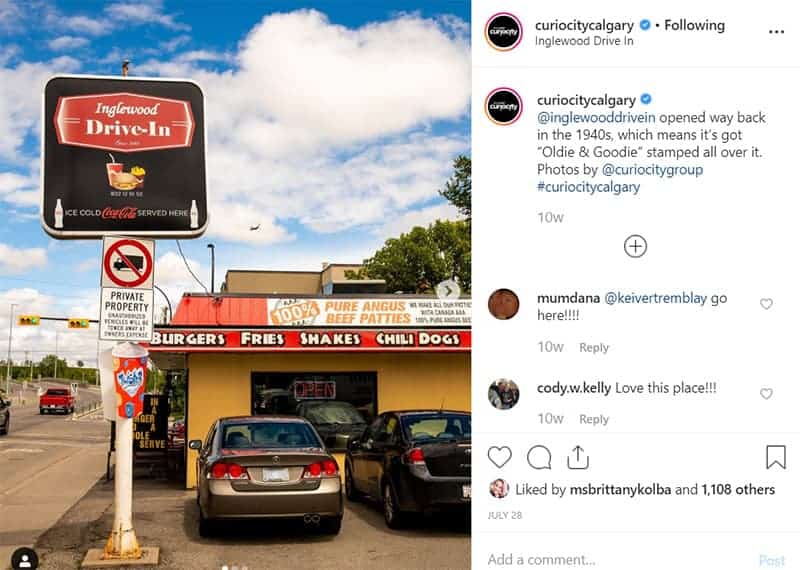 Curiocity Calgary regularly collabs with local businesses and features them on their social media accounts.
4. Throwback Photos
Who doesn't love a good throwback photo? Throwback photos work for both business and personal accounts! Chances are, many of your followers haven't been with you since you started on Instagram.
Sharing throwback photos is a great way to give your followers some insight into your past.
Instagram users use hashtags like #tbt, #throwback and #throwbackthursday when they are sharing photos from the past.
5. Holiday Content
There's a holiday for just about everything. From #nationaldogday to #nationaldonutday, if you don't know what to post on Instagram just check to see what holiday it currently is!
Holiday-themed content is an easy way to fill up your Instagram posting schedule.
6. Sales and Promotions
80% of users follow at least one brand on Instagram. What does this mean for you? It means your followers want to hear from you and hear about your latest deals! So don't forget to post your sales and promotions to your Instagram once and a while. If you have shoppable posts set up, your followers will be able to purchase directly from the app!
And if you have over 10K followers, you can use the swipe up feature on Instagram Stories to drive even more sales during your promotions. In fact, there are many great Instagram story features to help you sell more.
7. Tutorials
If you are bored with posting photos on Instagram, why don't you give IGTV (Instagram TV) a try? IGTV is a video platform right within the Instagram app that lets you upload videos up to 10 minutes long. Tutorials can be challenging to convey through typical Instagram image posts, which is why IGTV is the perfect solution for showing your followers a step-by-step process.
8. What's on Your Desk?
Here is one of the easiest Instagram post ideas. On YouTube, a popular trend was the "what's in my bag" for beauty and lifestyle vloggers. Put a small business twist on this simple concept and show your followers "what's on my desk."
This is an effortless idea that you can elevate with some simple Instagram props.
9. Daily Routine
Guess what? Your followers are following you because they are interested in something about you and your business. So it makes sense that sharing your daily routine would be of interest to them!
We all love getting a glimpse into how someone else works, lives and operates. Get real with your followers and share your daily routine through your Instagram story, Instagram Live, Instagram posts or a combination.
10. Outfit of the Day (OOTD)
You don't need to be a fashionista to share daily details such as your #OOTD. Outfit photos are popular on Instagram, with nearly 300 million photos for the tag #OOTD alone!
11. Quotes
Quotes are easy to make in software such as Canva, Photoshop or Quotes Cover. Quotes typically get shared widely over Instagram Stories, so if you are looking for some shareable content that resonates with your audience, quotes are the way to go.
12. Cozy Home Shot
Invite your followers into your home without having actually to host anyone by sharing this cozy shot.
13. Q&A
What better way to get to know your followers (and their needs) by hosting a Q&A? A Q&A can:
develop your follower/brand relationship
provide insight to your audience's pain points
help you better understand your audience
give you blog post ideas that can answer their questions
Hosting a G&A will also skyrocket your engagement rate on your posts with each question that gets asked. It can be a great way to try and increase the reach of your Instagram posts. Because often, Instagram posts with high engagement might make the explore page.
14. Flatlay
If you want an Instagram post that flexes your creative muscles, a flat lay is for you.
A flat lay is a chaotically organized photo from a birds-eye view. It can serve as a great idea to share products!
And did I mention it's a treat for the eyes?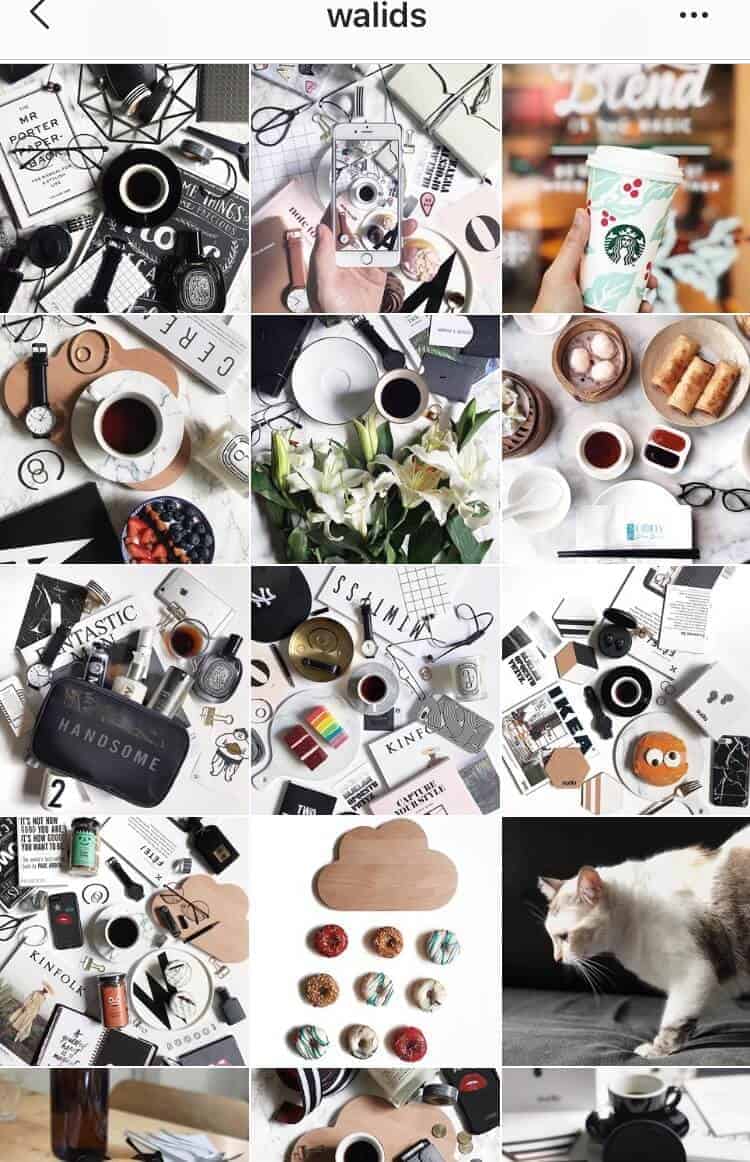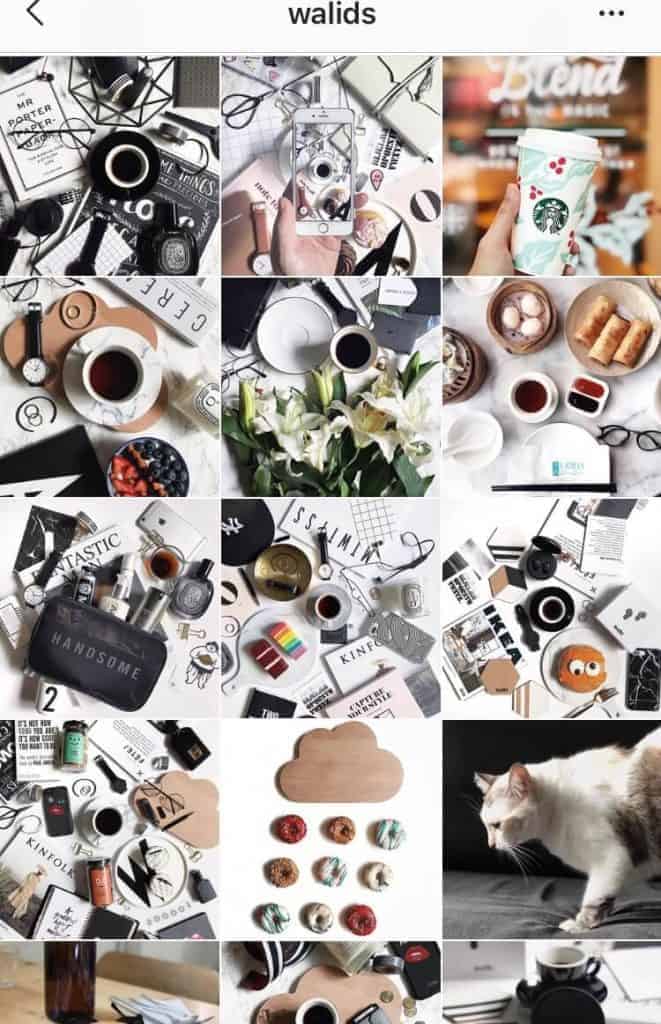 All you need to make your flat lay photo is a bunch of objects. Preferably, group them together into some kind of color palette so it doesn't turn out too messy.
Remember: they key to flat lays is organized chaos.
15. Pets
Nobody, I repeat, nobody can resist smiling when they see an adorable photo of your pet!
Taking a photo of me and my pooch is my go-to idea for when I don't know what to post on Instagram.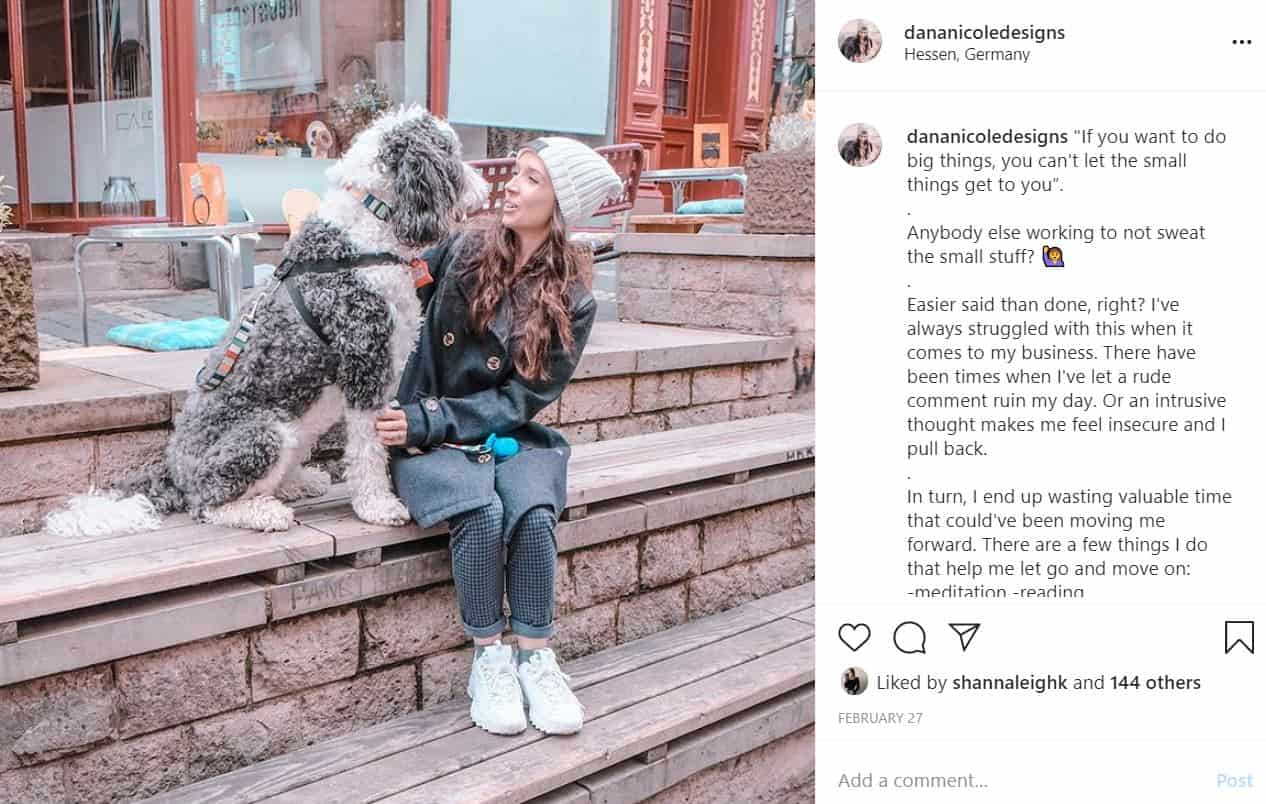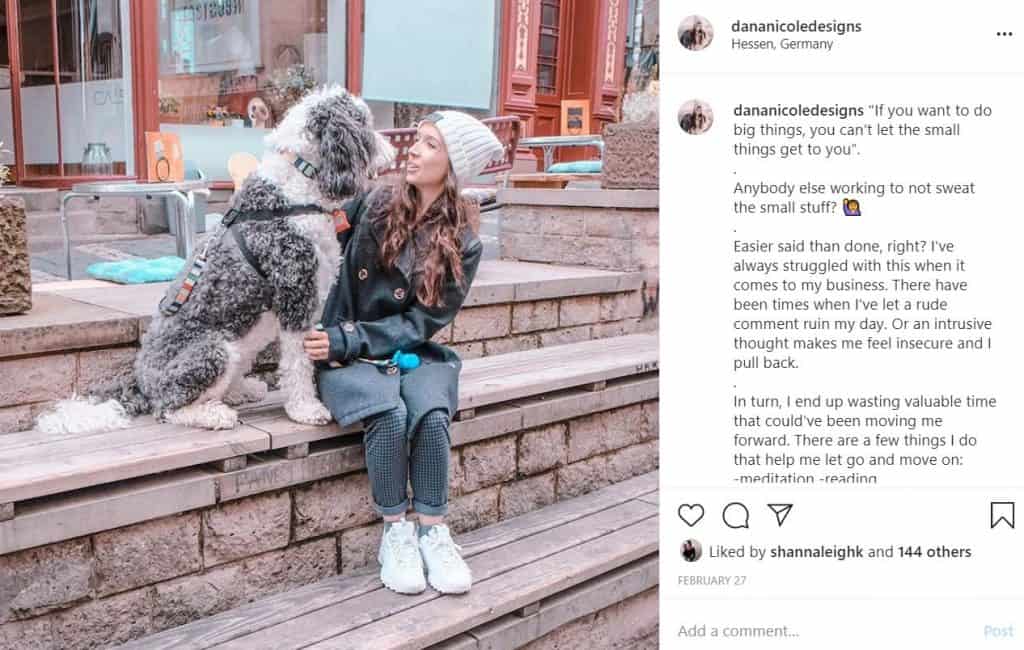 16. Top Recommendations
A really simple Instagram post idea is putting together your top recommendations for that week (or month) and sharing them with your followers. We all love finding new products, so share your favorites. To further the engagement, ask your followers to share their favorites with you!
Even better, arrange them in a flatlay!
17. Your Food
Remember when Instagram was widely known for only being photos of all our lunches? While we've grown and have expanded our horizons, we can still share what's on our plates!
This photo works well to share tiny "behind-the-scenes-moments" to your Instagram feed.
18. DIY Projects
Instagram is a truly inspiring place! Next time you need some Instagram post ideas, perhaps share your latest DIY. Your followers will enjoy getting the chance to see what you like to do outside of your regular postings.
19. Art Around Your City
Many people would love to travel around and see different unique spots the world has to offer. Bring some of those trendy pieces of art to your Instagram and share some of it with your followers!
20. Be Funny
Stop your follower in their tracks by posting content that will get brighten their day! It's a breath of fresh air to see brands and influencers who know how to have fun and not take themselves *too* seriously.
21. Audience Takeover
If you are looking for an Instagram post idea that will guarantee you reach more people (and even possibly make your content go viral), an Instagram takeover is the way to go! A takeover is when you "takeover" someone else's account for the day and post your content, putting you center stage in front of their audience! You'll be able to reach a larger audience that you might not have had access to otherwise.
22. Get Real
Instagram is often criticized for being a place full of carefully curated content and captions. Personal Instagram posts help your audience see the real you – and they'll love it!
Being raw and real is a quick way to connect with your audience.
23. Your Work
Share what you are currently working on with your followers! It doesn't need to be a real client project, either. You can simply share something that you are using for practice. If you are a freelancer, sharing your work is especially important. This type of post can help get you more clients by showcasing your talents on the 'gram.
24. Contest
Contests are great ideas for generating buzz around your brand, growing your following and connecting with your audience. All you need to do is find content your followers would like, and create some entry requirements for the giveaway.
Such requirements can be:
commenting on the post
following your account
tagging a friend
sharing your post
or a combination of the above! You don't need a huge following to run contests.
25. Re-introduce Yourself
New followers are always flowing in. By introducing yourself often, you aren't only giving new followers a backstory on who you are, but also providing details about yourself for your current followers. It also helps to show who you are by posting a picture of your face! Your followers will love to get a behind-the-scenes look at who runs the show.
26. Sneak Peek
If you are working on a new product or service, you can drum up excitement on social media by sharing a sneak peek of your latest project!
27. Tell a Story
Story telling is a powerful marketing tactic. You can use your Instagram caption to tell an engaging story to your audience. Here are some story prompts ito get you started:
how you came up with your first product or service
an example of a time when you failed (but a big lesson you learned)
your most embarrassing moment
the proudest of yourself you've ever been and why
You can tell a story about anything!
Summary: What to post on Instagram
The above Instagram post ideas are versatile and will help you figure out what to post when you need some fresh ideas! You can use different Instagram theme apps to edit, plan and promote your Instagram posts! When choosing from the above list, make sure what you are posting is still inline with your brand.
What are you going to post on Instagram next? Let me know in the comments.
Pin me: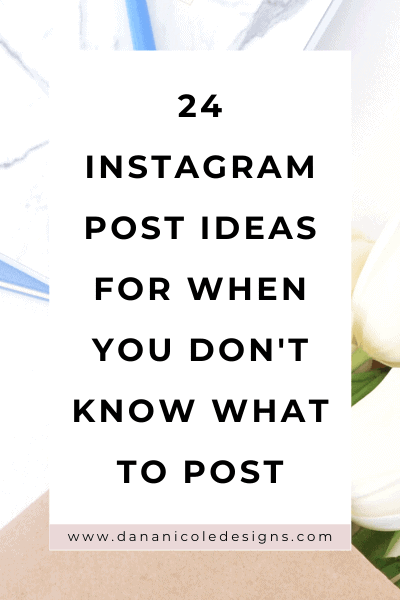 ---
This article may include affiliate links. As an Amazon Associate I earn from qualifying purchases.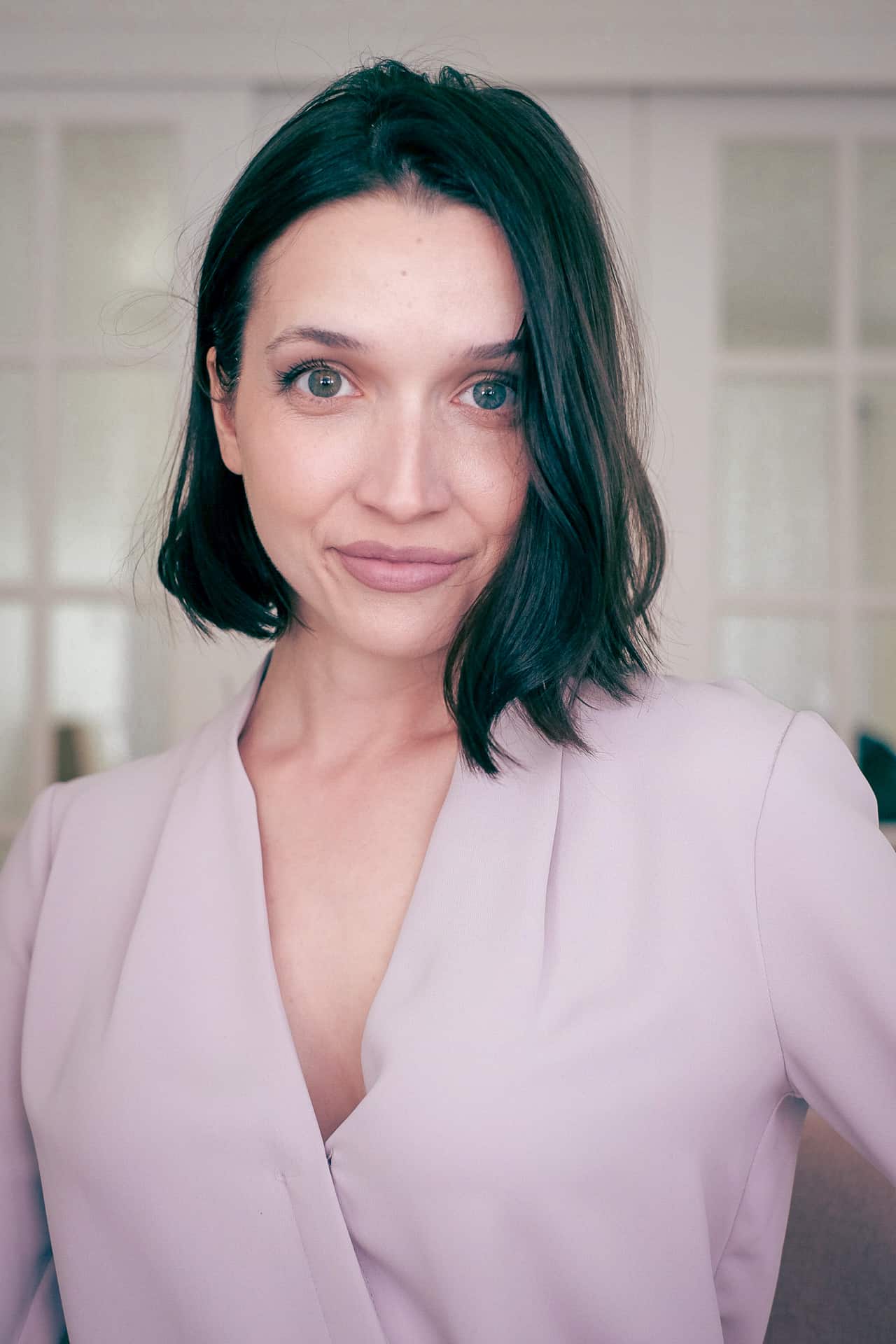 Dana Nicole is an award-winning freelance writer for MarTech/SaaS who was rated one of the best SaaS writers by Software World. She specializes in writing engaging content that ranks high in search engines and has been featured in publications like Semrush, ConvertKit, and Hotjar.
Dana holds a Bachelor's degree in Business Administration and has over 15 years of experience working alongside national brands in their marketing departments.
When Dana's not working, you can find her dancing en pointe, cooking up new recipes, and exploring the great outdoors with her two big dogs.