Last Updated on
There's always so much talk about the importance of building an email list and getting subscribers. And for good reason! For every $1 you spend on your email marketing efforts, the average return is $38.
But email marketing is tricky. Getting people to subscribe to your list is half the battle; getting them to stay on your list and interact with your content is a whole other challenge.
Now, if you've already got a lead collection method in place you may be wondering what to send your email list. I was in the same boat when I first started my email list, and in fact, I was only sending out a monthly newsletter that really didn't contain much value.
*womp womp*
But now, I've got an engaged list of awesome creatives and bloggers that I get to talk to each week through my emails, so I'm going to share with you 9 things to send to your email list that will keep them engaged and craving your weekly newsletters.
This article contains an affiliate link. If you choose to make a purchase through my referral link, I will make a small commission at no extra cost to you.
---
Exclusive Content
Email lists are a dime a dozen these days. If you aren't providing much value to your subscribers, they will unsubscribe. I don't know about you, but I'm on more email lists that I can keep up with. This stems from years and years (like 10+ years) of signing up for discounts, coupons, freebies and other items.
Sending exclusive content to your email list is pretty easy. It can be an extra download that won't be put up on your website or a blog post that you aren't going to publish anywhere.
If you are anything like me, you may have a handful of half-completed blog posts that you don't plan to finish. Use those as your exclusive content!
Why Your Subscribers Will Love This: If you're only sending your subscribers content that is on your blog, what's the point of being on your list? After all, they could just read your blog. Getting something a little extra gives them an incentive to stay subscribed and shows them you value having them.
A Behind The Scenes Look At Your Business/Blog
It's always interesting to see how things work for other people. I love seeing what processes people have in place that are different/similar to mine.
Take one specific aspect to your business, and really delve into the details of how it works and why it makes you be more efficient. You can go behind the scenes for areas such as:
How you create content for Instagram
How you write blog posts
How you balance life outside of work
What a day in the life of you looks like
Why Your Subscribers Will Love This: This will show a side to you that others might not get to see. Your subscribers will be able to form more of a relationship with you by being able to see you behind the scenes.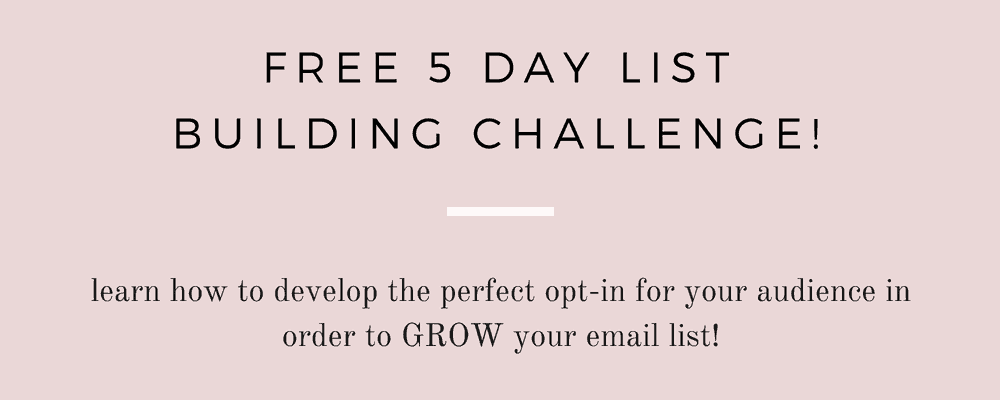 Click to sign up for my totally-free 5 day email list building challenge!
Popular Posts
As your blog grows, so does the amount of older blog posts that you have. You've likely already sent these posts to your list, so you can't resend them without risking annoying many of those already on your list.
Instead, you can send an email that contains links to your most popular blog posts of all time. This allows you to recycle your blog posts and continue sending them to people on your list who didn't see them the first time round!
Why Your Subscribers Will Love This: Your subscribers are given the opportunity to see some of your older stuff that they probably haven't seen yet (and wouldn't likely see unless you send it directly to them).
An Opportunity To Collab
I got this idea from an email list I was apart on and absolutely loved it. The sender was asking for expert opinions for an "expert roundup" she was going to be writing a blog post on. She asked a simple question and then asked her list to email her back with a 100 word answer. She would then be picking the top answers to feature on her blog.
If your list isn't in the tens of thousands, this can be a great way to get to know those on your email list. If your list is bigger, your inbox may get flooded with responses so make sure you're able to handle that!
Why Your Subscribers Will Love This: Each one of your subscribers brings something unique to the table. Recognizing their talents and finding a way to collaborate with them will help form lasting relationships!
Recap Of Your Blog Posts
Some weeks I write more than others. I don't have a blogging schedule like some content creators do because I find I work better without one. That means that sometimes I'll write 3-4 new blog posts in a week, and then when it comes time to send out my weekly newsletter I need to try and pick one to send to my email list!
If this is you, send your email list a recap of your posts!
Recaps are great because they allow the reader to get a glimpse of everything you've written, and then choose what post(s) they'd like the full scoop on!
Why Your Subscribers Will Love This: Your subscribers will appreciate a recap of everything you've written. They are busy people who sometimes don't have the time (or energy) to sit down and read all of your blog posts from that week.
A Q&A Series
I'm all for interacting with your email list when you get the chance. If your list is bigger, this becomes harder to do so if you have a smaller list try and take advantage of it!
If you have a bigger list but you still want to ask questions and get answers, you could always segment your list and speak to different segments at a time. That way your inbox isn't going to get flooded with thousands of emails all at once.
With a Q&A series, ask your list a burning question they have in regards to topic X. Let them know that during the next newsletter you send, you will be answering some of their questions.
This is great for two reasons:
First, you open up the opportunity to your list to speak directly with you which helps build solid relationships.
Second, you find out what your list is struggling with which can really help your content creation strategy!
It's a win/win for everyone!
Why Your Subscribers Will Love This: They get the chance to have their burning questions directly answered by a pro – what's not to love?!
A Special Offer
Sometimes people solely sign up for email lists because they want something in return that they wouldn't be able to get otherwise.
One thing I'll do is have flash sales in my online shop that are only meant for subscribers on my email list. Giving special deals only to your subscribers let's them know you appreciate and value having them on your list!
You can also offer things like a free 15 minute strategy call to a select number of people, an audit of something, or any type of mini-service that you offer at a discount.
Why Your Subscribers Will Love This: Nobody hates deals – nobody!
A Survey
Every now and then it's good to touch base with your list and see what types of content they want to see from you and what areas they are struggling with. Google Forms allows you to create surveys so you can ask question you think would be able to help you better understand your audience.
Plus, your audience will feel valuable knowing their voice will be heard by you.
Why Your Subscribers Will Love This: Being able to anonymously give feedback gives those readers who are too shy to email you directly a chance to voice their opinion.
A Loyalty Email
Let your subscribers know you value their patronage by sending out a special email on your "email-versary". With certain email providers, you can set something like this up automatically, or you can go into your list each month, filter your subscribers by the date they joined, and see who joined that month.
You can also set an email to send 365 days from the moment someone joins your list so that in a year from now, they receive a special email from you packed with deals and exclusive content! Just make sure you remember setting your email up and aren't offering any deals that you'll forget about!
Why Your Subscribers Will Love This: Emails like this show that you genuinely care about your email list, and pay attention to the small details.
Which E-Mail Provider Is the Best?
If you are just starting your email list, you've probably wondered which email provider you should go with.
There are tons of choices out there and it really depends on your needs as to which one you should go with.
I've put together this helpful guide comparing Mailchimp VS Convertkit. Personally, I outgrew Mailchimp and use ConvertKit for a couple of different reasons.
First, my open rates with ConvertKit are outstanding: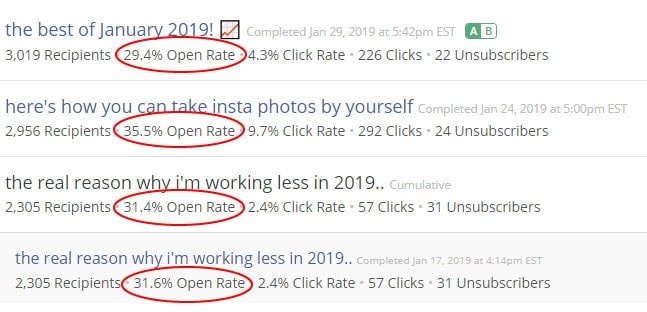 The average open rate is only 18%. Several reasons for a low open rate include things such as:
emails being delivered to spam
a list with inactive subscribers
poor subject lines
ConvertKit can help you solve all of the above problems by avoiding spam filters and landing in your subscribers' main inbox (instead of getting flagged by spam). ConvertKit also allows you to easily filter your subscribers based on those who are inactive and delete them so you aren't paying for subscribers who aren't opening your emails.
Also, ConvertKit won't add subscribers to your email list if their confirmation email bounced or if they didn't confirm to be on your list.
Lastly, ConvertKit allows you to A/B test your subject lines so that you can know for certain that you are sending out an email that will get the most opens! During an A/B test, ConvertKit will let you input two different email subject lines.
It will then send your email to a small sample. Half of the sample will get subject line A, with the other half getting subject line B. Once ConvertKit has enough data, it will send your email out to the rest of your list with the winning subject line.

This genius hack can help you increase those open rates every single time!
ConvertKit offers a free two-week trial to anyone who wants to give their software a try, but if you use my referral link below, you'll get a whole month to test and try different things out!


If you choose to sign up for 30 days, read my post on everything you need to test and try out during your ConvertKit trial so that you don't miss anything important.
---
Knowing what things to send your email list, and have a plan in place can help reduce the number of unsubscribes you have and help you provide your audience with valuable content!
Remember – it's best to email your newsletter once a week. Any less and they may forget you, and unsubscribe when you do email them, and anymore and you'll clog up their inbox and be seen as an annoyance (which we definitely don't want!).
Pin me: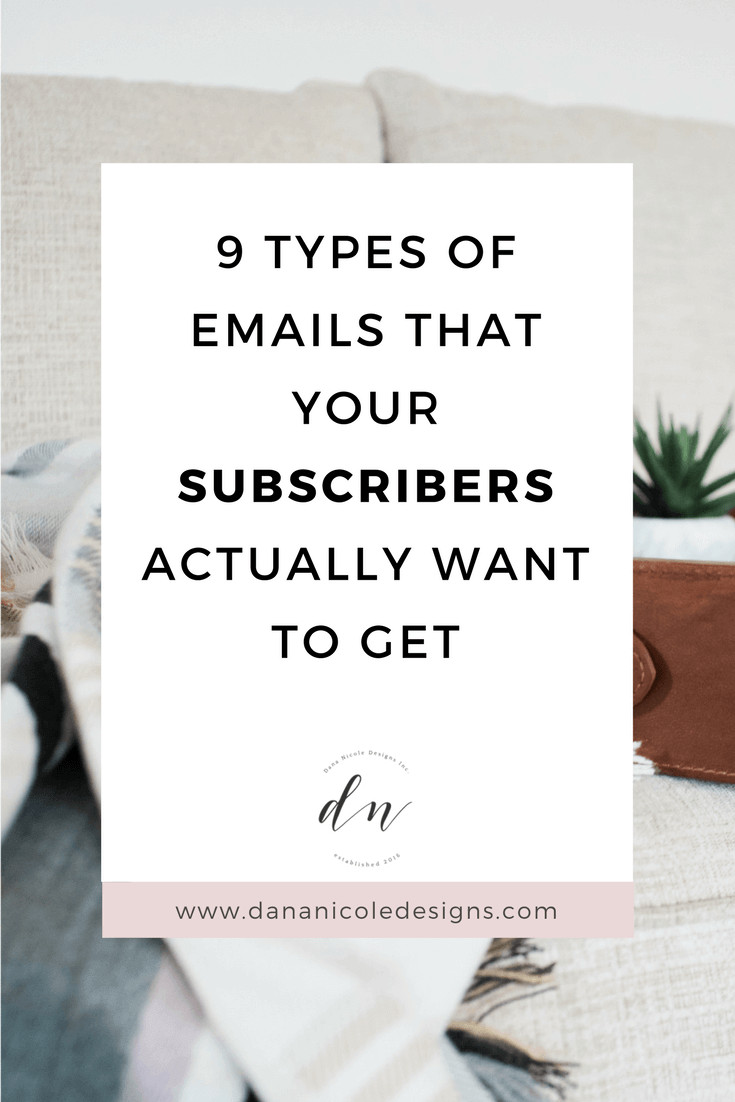 ---
This article may include affiliate links. As an Amazon Associate I earn from qualifying purchases.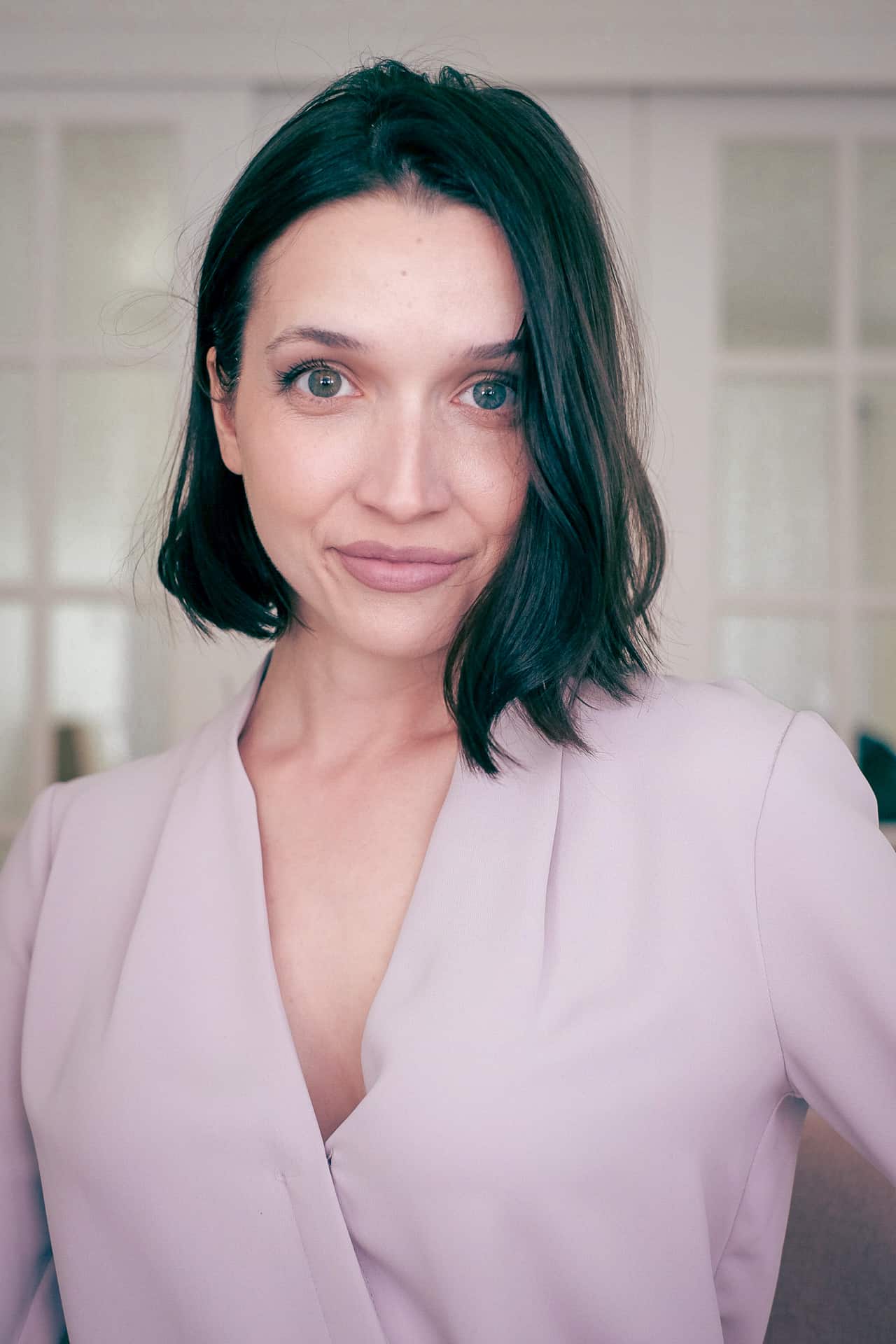 Dana Nicole is an award-winning freelance writer for MarTech/SaaS who was rated one of the best SaaS writers by Software World. She specializes in writing engaging content that ranks high in search engines and has been featured in publications like Semrush, ConvertKit, and Hotjar.
Dana holds a Bachelor's degree in Business Administration and has over 15 years of experience working alongside national brands in their marketing departments.
When Dana's not working, you can find her dancing en pointe, cooking up new recipes, and exploring the great outdoors with her two big dogs.