Learn to rank your website higher in the search results for more traffic! Sign up for my free SEO workshop!
Last updated on August 14th, 2020
We've all been there – you just wrote a killer piece of content and you're ready to post it but something is missing. Something that you need to have before you post. You've got your images and you've ensured your piece is SEO friendly but without this last piece you just can't post…and it can make or break your content.
This missing element, a mere handful of words is known as a title/headline.
"But my content is awesome" you say, "why does the title matter that much?"
Time is a sacred resource and there isn't enough of it (unfortunately) for your target audience to sift through a large amounts of content trying to find yours. When someone makes a quick Google search, they want instantaneous answers. That is why having a catchy article title that will stand out in a sea of bland titles and pique your reader's interest is so important.
Although we've all been told not to judge a book by it's cover, online readers are definitely judging articles by their titles. Your article could be full of revolutionary data but without a title that shouts "READ ME INSTEAD OF THOSE OTHER GUYS!" your piece of work could get lost amongst thousands of others.
Having a great title is one of the elements that will help your article gain traction which is why I created this handy step by step guide.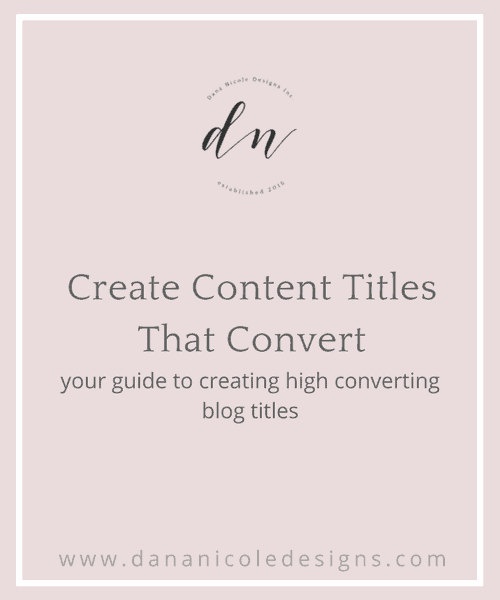 Step 1: Create a general title
Create a general title with your content's keywords in mind. Create a list of keywords you'd like your article to embody. As a general rule of thumb, write your title after you have written your content. Reason being is that your content can often shift and take on a different angle as you write. To keep your title as accurate as possible, create it after your article is complete. Write a "mock" title to start and go from there. For example, my mock title for this blog is "Blog Titles". This helps me keep my work organized but will definitely be changed upon publication.
Step 2: Write your content
Write your content with your keywords in mind. Focus on the blog and not the title. Having a neutral title such as "Blog Titles" helps ensure my work doesn't become influenced. I can easily focus on writing a quality piece of content without trying to ensure my content fits the title. The title is easier to revise to fit the content rather than revising the content to fit the title, which is why crafting the title last is important.
Step 3: Revision and re-reading
Go back and revise your work to see what your keywords truly are and how you can incorporate them into your title. Creating SEO friendly content is incredibly important and a way to do that is to ensure your keywords are in your title, headers and content (without keyword stuffing). Compare your actual keyword list with you drafted keyword list and see which keywords stand out. Use those keywords for your title and try to keep them near the beginning.
Step 4: Create 10 different titles
Create a list of 10 different titles that you could potentially use, ensuring you are using various keywords in each title. Below are some tips to help create your titles:
Alliteration: Alliteration makes titles attractive and gives them a punch.
Descriptive: Add descriptors such as [Infographic] or [Guide] to your title. Adding descriptors will help your readers know exactly what your article is about. Being specific is important.
Length: Keep in mind length when developing a title. Will you be tweeting your content? If so, you'll want to keep it around 120 characters. Will you be sending it out in an email and using it as a subject line? The Ideal Length for All Online Content is a great resource to help you determine how long your titles should be.
Question: Looking to change your titles up? Turn them into a question rather than a statement.
Suspense: Some of the best titles I've come across are ones where curiosity gets the best of me and I just can't help but click to see what the article is about. Be careful when going down this avenue though – sometimes these types of titles can come across as "clickbaity". Avoid clickbait headlines at all costs. Clickbait annoys readers and could damage your reputation as being reliable.
Accuracy: Keep it accurate. The reader should know exactly what he/she will be learning about just by reading the title. If you're writing about a job interview don't title your article "Job Interviews", or "Interview Tips". Ask yourself, "what about job interviews am I writing about". Narrow it down with something like "11 Tips & Tricks to Ace Your Next Job Interview" or "Common Mistakes Everybody Makes At Job Interviews (and How to Avoid Them)".
Strength: Use strong adjectives: Avoid weak sounding titles by eliminating words like "good" or "bad" and replace them with words such as "fantastic" or "horrid". An online thesaurus can help you find stronger adjectives.
Juxtaposition: Use actual numbers instead of typing them out. The human brain tends to notice when something is different, making it harder to pass over. "The 10 Tastiest Eateries in San Francisco" stands out better than "The Ten Tastiest Eateries in San Francisco".
Step 5: A/B Testing
A/B test two of your top choice titles to see which performs better in order to select the final title. This A/B title test from Hubspot has some informative information – check out the results.
After learning about the importance of good blog titles, I went back and revised some of my own. Although they weren't awful, the certainly weren't creative or catchy and didn't draw me in hoping to learn more. They were "matter of fact" and a little boring. You can be straight to the point but still ensure you have clever titles at the same time.
Here are a couple examples of my titles that I needed to revise. I included keywords in the titles and "jazzed" them up a little bit.
How to use the Super Bowl (and other big events) to your marketing advantage –> How to use the Super Bowl (and other big events) to Your Advertising Advantage
How Facebook Reactions Will Help Your Business –> How Facebook Reactions Will Boost Your Business
Big Customer Data –> Are You Being Spied On? Learn About Big Customer Data (And How it Affects You)
Starbucks & Winning At Social Media –> Instagram: How Starbucks Just "Gets It"
The 3 Best Free Instagram Monitoring Tools –> 3 Fabulous and Free Instagram Monitoring Tools
So there you have it. A quick reference to when you need that perfect title. Comment your best title below to help others with a little inspiration!
---
This article may include affiliate links. As an Amazon Associate I earn from qualifying purchases.