Last Updated on
Blogging is competitive. In fact, today, there are over 600 million blogs.
All that extra competition means it's incredibly hard to get your content noticed. So it's easy to understand why businesses might ask themselves, "is blogging dead?"
But is blogging really dead, or has the landscape just evolved?
If you ask me, it's far from being dead. As a B2B SaaS writer, I've been able to see firsthand how my work helps acquire traffic, leads, and sales for my clients.
But I wanted to speak with other content marketing experts to see what they had to say.
So I spoke with over 60 content marketing experts and asked them one question and one question only: is blogging dead in 2021? Here are some of the best responses to help you understand whether starting a blog is the right move for you!
Your Blog Must Deliver Value
If you want to start a blog, thrive, and make money in 2021, it must deliver value.
Gone are the days when you could write up a thin-piece of content with little value, stuff it with a few keywords and get traffic from Google.
We've known this for years now, but it's even truer in 2021 and beyond:
Quality blogging is stronger than ever, but it's not always easy to see that. Advances in how Google, Youtube, and Bing showcase blog content has radically changed over the last decade, and a big part of that is BERT. Having useful, comprehensive information for users helps show your expertise. The problem tends to come when you write for a keyword without knowing the purpose or intent.

For instance, a keyword like 'asset management' has a ton of different meanings, ranging from proper disposal of electronics to the buying and selling of capital assets for shareholders. Knowing the intent of a query means that you're answering the right questions. Even if you answer a question with high traffic, it's essential to know if its a question built for a sales funnel or not. There's nothing wrong with targeting a keyword that's not part of a sales funnel if you're doing it for the right reason, like creating a backlink opportunity.

This leads to many businesses hearing about how blogging and content marketing can be a fantastic, cost-efficient marketing strategy. However, many companies put out low-quality content directly targeting new keyword after new keyword, without any concern about the intent behind the keywords. This causes the entire point of blogging to break down, and many to abandon the practice. With a little patience and sound strategy, blogging can bring you a loyal base and high-conversion sales funnels.

Jeremy Clark, Chatter Buzz Media
Jeremy hit the nail on the head. Recognizing intent for your keywords should be at the forefront of your keyword strategy.
Let's take a look at a very basic example to illustrate this.
If someone searches for the term "apple" are they searching for the fruit or the brand? Targeting vague keywords will bring you untargeted traffic.
Now, if we take a look at the longtail keyword "refurbished apple products for sale" it's obvious that the searcher is looking for Apple products as opposed to the fruit.
Google developed Rankbrain to help improve the searchers' intent. And the better you identify the intent behind the keywords you are choosing, the more success you'll see with your blog.
If SEO isn't something you feel confident in, sign up for my free SEO training to get up to speed:
A Successful Blog Needs a Successful Strategy
Many of the responses I recieved indicated that blogging is not dead, it is simply more competitive than it was years ago.
Without a solid plan, your blog will fall into the graveyard.
I don't think blogging is dead, but it's harder and more competitive than ever. There are so many posts published every day that you truly need to create posts that are exceptional if you want to stand out, rank posts in Google and earn social shares.

To do that, we're seeing companies do many of the following things:

1. Competitive research – benchmarking against similar existing posts to see what's ranking in Google, what they cover, and how you can outdo them

2. Comprehensive content – a good way to outdo your competition is by comprehensively covering your topic. There are great tools out there like MarketMuse, SEMrush's content template, and Answer the Public that help you discover related subtopics you should cover to ensure your post is comprehensive.

3. Including experts – whether you have an expert write the content for you or include multiple expert opinions, both add an element of authority to your posts that is increasingly important for both Google and readers. Google's push to rewarding sites that score well with E-A-T last year is a testament to this

4. Focus on design – the days of publishing walls of text and seeing success are long gone. Focus on adding compelling visuals like photos, charts, tables, social embeds, video, etc throughout your post. Add a table of content for longer posts too.

If you're doing these things, you can still succeed with blogging. If you're not, you're likely to not see great results.

Eric Hoppe, Crowd Content Media Inc.
I was happy to see Eric discuss E-A-T as it's a term that is unfamiliar to many businesses just starting out in content marketing, but is incredibly important. E-A-T stands for:
Expertise
Authoritativeness
Trustworthiness
In short, Google does not want to put content on the first page that isn't reputable, especially if the content is about YMYL, or, your money or your life (i.e., financial advice, medical and health advice, etc.).
Instead, Google wants to ensure that blog articles ranking high for these topics are written by experts. If you are qualified to write on topics that fall within the YMYL category, you should take steps to actively boost your E-A-T score.
Blogging is not dead, but it's definitely not easy. To be successful, a company must be willing and able to dedicate enough resources to create in-depth, novel content at a frequent rate (think daily, not monthly). They must also be willing to wait months before they begin to see a return. If the company can't do that, there are likely better strategies for them than blogging, such as focusing on video content and/or publishing to other brand's platforms through guest blogging and podcast interviews.

Tyler Samani-Sprunk, Simple Strat
I've spoken to lots of businesses and bloggers over the years who have given up on their blogs because they didn't see an outcome right away. Tyler makes a fantastic point that blogging requires patience!
A consistent SEO plan can take anywhere from 6+ months before you start seeing results.
However, those results will begin to snowball in time, which is why having a long-term plan is so beneficial.
It took about 6 months for one of the first articles I ever wrote to gain momentum.
However, that single blog post has driven over 50,000 targeted readers to my blog. When you have a handful of good blog posts driving that kind of traffic, your business will start to grow rapidly.
Blogging is dead if you don't:

1. Already have a domain with a good "domain authority". If you have very little backlinks and don't rank with your site, there is a good chance you won't rank with your blog too.

2. If you don't do niche keyword research before creating a blog. The main problem is there are so many blogs out there. You need to find a niche and do keyword research too see what the search volume is for keywords.

3. If you don't make a commitment. You have to make a detailed strategy on what you will blog about, would people be interested in it and how would you get others link to your blog.

Filip Silobod, Honest Marketing
Filip makes a wonderful point when he mentions that blogging is dead for those who don't have a healthy backlink profile, perform keyword research or commit to building a strategy for their blogs.
It's simply not enough to write your blog posts and leave it at that. You must have a healthy SEO strategy.
Having a strategy for your blog is also echoed by Jake:
Blogging has been a key part of our growth strategy since we were founded in 2013, and there's no forseeable end to that happening. I can see how B2C companies might be focusing more on creating content through social media, but in our case we rely heavily on our company blog plus an extensive network of blogger outreach on other websites to keep our marketing funnel moving.

So the short answer is: blogging is still a cornerstone for marketing this year, and there's no end in sight to it being relevant to most B2Bs as a way to increase brand relevance, educate our target audience, and close leads.

Jake Rheude, Red Stag Fullfillment
Blogging is a Cost-Effective Practice That Provides an Excellent ROI For Small Businesses
Allison points out how necessary blogging is for small eCommerce businesses:
Blogging is still beneficial for growing a business. It's especially great for small businesses because it's one of the most inexpensive ways of driving more traffic to your site and attracting more potential customers.

Shoppers use the internet to search for products, especially locally. For example, a shopper might search Google for "sequined handbag + their city" to find stores to shop at. So, if you can create engaging content that includes relevant local keywords, shoppers can discover your site and your business online easier.

Allison Hott, OptinMonster
The reason why blogging is so important for your business is that when you have a proper strategy in place, your blog will work FOR you by driving targeted leads and customers to your website.
The better your strategy, the higher your ROI.
The simple fact is that the cost to ROI for having a great blog is so massive it is simply not comparable to other sources. The amount of money that needs to be spent to make an effective blog is barely anything compared to the amount of people you can get looking at your product. Everyone should be blogging.

Alexander Kehoe, Caveni Digital Solutions
I agree with what Alexander has mentioned. A long-form blog post written by a skilled copywriter can cost anywhere from a couple of hundred dollars to a couple of thousand dollars, however, if it delivers a steady stream of leads, it's invaluable.
In comparison, hiring a salesperson to find leads would be much more costly and would likely deliver less. Your blog is working 24/7 and you'd be hardpressed to find a person who can deliver the same, consistent results.
But with that being said, as these next experts point out, your industry and niche are highly relevant to whether blogging will be effective for you.
I don't think blogging is dead – but I do think it's effectiveness will largely depend on the industry and acquisition. Blogging and content marketing will remain huge drivers of business for the B2B industry, SaaS, and nation-wide brands where research is necessary and the buyer's journey is long. Creating hyper-relevant content that ranks well on search engines and guides consumers through the buying process will win.

But will a sound blogging strategy change the game for a small, local hair salon? It's possible, but unlikely.

The decision to go with that hair salon will be a shorter process, and in a local context, more than likely influenced by friends, social media, and local advertising. Would some quality blogs help a local business? Sure, but the work won't result in the same impact that a larger brand might benefit from.

Brooks Manley, Brooks Manley
Just because blogging is alive and well, doesn't mean it's for everyone. As Brooks mentions, some niches may not see many benefits to blogging. Local businesses that want to attract local traffic will need to invest in a local SEO strategy, which will often focus on on-page SEO and less on creating blog content.
So how can you determine whether you should focus on a blog in 2021? Here's some great advice:
When it comes to growing a business, blogging isn't always the answer – but it's essential if you want to start ranking on search.

Most SaaS companies have a blog and publish a ton of relevant content because a significant portion of their users/clients discover them using search engines. They create blog content around different key terms so when potential users are hunting for a solution, their business is what shows up in search results.

Some businesses rely heavily on word-of-mouth, referrals and reviews (online or offline), Instagram and social media marketing, way more than ranking on Google.

That's why the value of a blog all depends on how your ideal customer or client looks for the solution that you happen to provide. If your business currently relies on ranking on Google, or can benefit from ranking on Google, a blog will definitely help.

A blog can easily become a pillar of growth for your business because of what it accomplishes through SEO. In fact, with Google's latest algorithm updates, businesses that provide helpful content and consistently update their content will be winning all day.

Jeilan Devanesan, Venngage
As Jeilan says, if your ideal customer is searching for queries related to your industry on Google, then a blog will definitely be helpful.
Blogging Complements Other Marketing Initiatives
The benefits of blogging extend far beyond your website.
Blogging is 100% still relevant for businesses and for the foreseeable future. People are still turning to search engines to find information and services and they're still finding the savvy businesses who are using blogging to put content in front of them.

The 3 keys to effective blogging strategy are SEO, proper keyword selection, and high quality content production. If you're blogging without regard for SEO, you're choosing the wrong target keywords, or publishing poor quality content, then blogging is unlikely to move the needle for your business.

On the contrary, if you're checking those three boxes then blogging can help you dominate your market. Sprinkle a little PPC and basic Facebook retargeting on top of high quality content and you've got yourself a pretty powerful little digital marketing strategy.

Kevin Geary, Hamon Creative
The last paragraph in Kevin's quote from above is what makes blogging that much more powerful;it complements other platforms like Facebook, Instagram and YouTube.
Having the power to retarget those who visit certain blog posts with Facebook ads can skyrocket your conversion rates.
Not only that, when you analyze your blog's Google analytics, you'll be able to uncover important information about your audience's behavior such as:
what topics do they care most about?
what gaps can your expertise fill? (if your website has a search function, you can view what your readers are searching for).
is your information relevant or is your audience bouncing?
Blogging Delivers Qualified Leads
A blog can be so much more than just a medium to drive traffic. As Ben mentions, a blog is a useful tool to build an email list with qualified leads:
Because we are an early stage B2B SaaS startup, content marketing has been a fantastic lead generation channel for us. Of course, this lends evidence to the fact that blog writing is still quite effective.

At every step of this process, we provide forms that allow potential customers to subscribe to our email newsletter, which we use to send whitepapers and similar content. As a result, we have an email distribution list of several thousand people, and we are able to retain them as engaged leads.

Ben Zeisloft, Qlicket
Consumers Still Use Blogs to Aid With Their Buyer's Journey
Blogs are still highly relevant for consumers who are performing product/service research.
Though blogging has been around for a while and might feel tiresome, it's still the best way to build authority for any website in any industry. Quality content helps you rank for keywords that are relevant to your business and your target market, and it's also an exceptionally useful tool for marketing and sales processes as well.

Even if blogging might feel old or boring, consumers still use blogs every day to find answers to their questions on a variety of subjects. If your website is the first to show up for that question they need an answer to, you're going to be their first choice when they're ready to make a purchasing decision, too.

Mackenzie Deater, Evenbound
Mackenzie helps illustrate a powerful point. If you go to Google to ask a question, the first page is dominated by blog posts. Take this search query for example: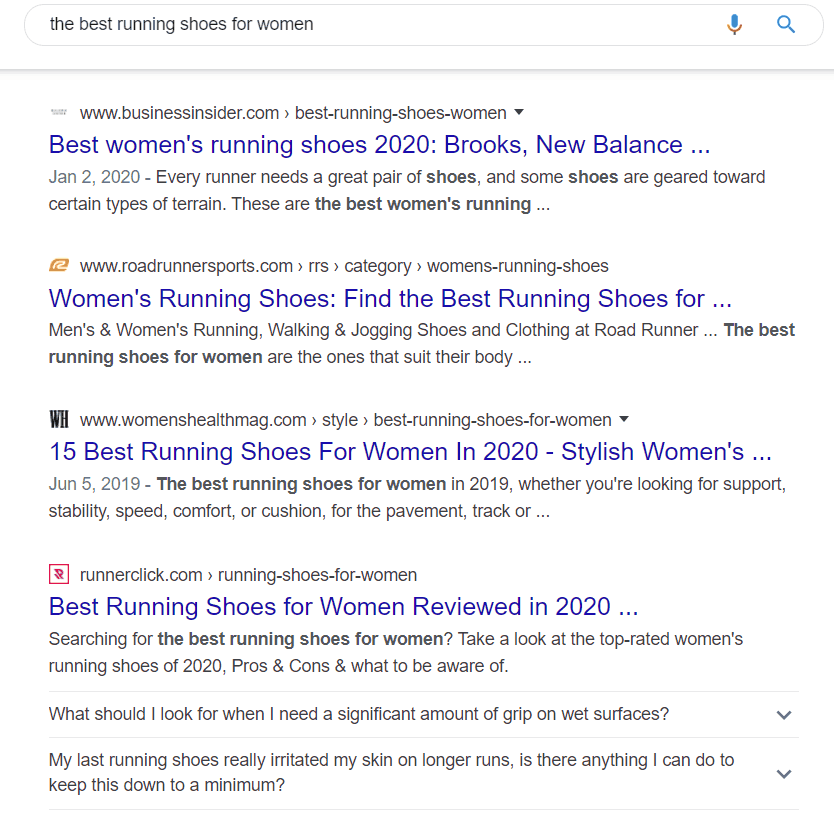 When searching for "the best running shoes for women" on Google, you can see that product pages from Nike and Adidas don't actually make the first page.
All the results are blog posts comparing and reviewing some of the top running shoes.
When consumers are doing research for the buyer's journey, it's very likely they will be reading blog posts, which is why having a blog can help put your products in front of your prospective customers.
While many brands are turning to Instagram and other social media platforms, the SEO value gained in blogs can be really meaningful. A blog is the ideal forum for a brand to really apply keywords in long-form, evergreen content. Adding video content to blogs will allow business to grow even further.

Tami Nealy, Find Your Influence
Social media marketing is a great tool (and often complements blogging). Tami reminds us that blogs are an excellent form of evergreen content that will continue to provide an ROI for us, sometimes years after they've been written.
Social media posts, on the other hand, have much shorter lifespans. Blogs are powerful, especially when used with social media.
Blogging Gives You More Control Than Social Media
Business owners often forget that we don't own our social media posts. If any social platform shuts down, our content (and followers) go with it.
There are always cases of small businesses losing their social media accounts due to hackers or human error, and relying solely on social media for your business is a scary strategy.
When you blog, you own it all. Better yet, when you grow your email list, you also own those emails.
Blogging gives you much more control over your message and how you deliver that message to your audience!
What to do When Blogging isn't Working for Your Business
I've come across many businesses who have given blogging a try, only to throw the towel in a few months later because they didn't see any real, tangible growth to it.
So, what gives? If all these experts are praising blogging, why doesn't it work for everybody?
Here's my honest take.
Blogging is a lot of work. And it goes beyond stellar writing. A good blog post needs a better marketing strategy.
And marketing isn't just tweeting out a link to your article a few times here and there.
You should also be actively building backlinks to your blog posts and writing great content that generates backlinks on its own.
Muhammad had this to say:
[b]y having a blog on your website, it is easier to generate links. This is because sites tend to link back to blogs rather than product pages. Therefore having more links to blog pages a business can pass on the link juice to product pages, and improve their search engine visibility.

Muhammad Farasat Khan, Is It WP
We also discussed that some niches might not see a strong benefit to blogging in 2021. Many businesses might say that blogging is dead simply because:
Their niche really isn't going to benefit from blogging at the end of the day
They aren't putting in a proper method to distribute and market their content
But that certainly doesn't mean that blogging is dead.
In Conclusion: Is Blogging Worth It?
So, is blogging dead and should you stop blogging? It's safe to say that blogging is alive and when coupled with a proper social media strategy, can be more powerful than ever.
If you're thinking of starting a blog, I say go for it. The time has never been better! And if you want your blog to make money and drive tons of traffic, make sure you follow the above advice.
I'd like to thank each and every one of the experts who took their time to share their take on blogging for this piece.
TL;DR
Is blogging dead?
No. Blogging is not dead in 2021 but it's definitely changed a lot over the years and according to our experts, there are certain tactics that no longer work.
What can I do instead of blogging?
Alternatives to blogging include white papers and case studies, videos/vlogging, forums, guest blogging, influencer marketing, podcasts, and more.
---
This article may include affiliate links. As an Amazon Associate I earn from qualifying purchases.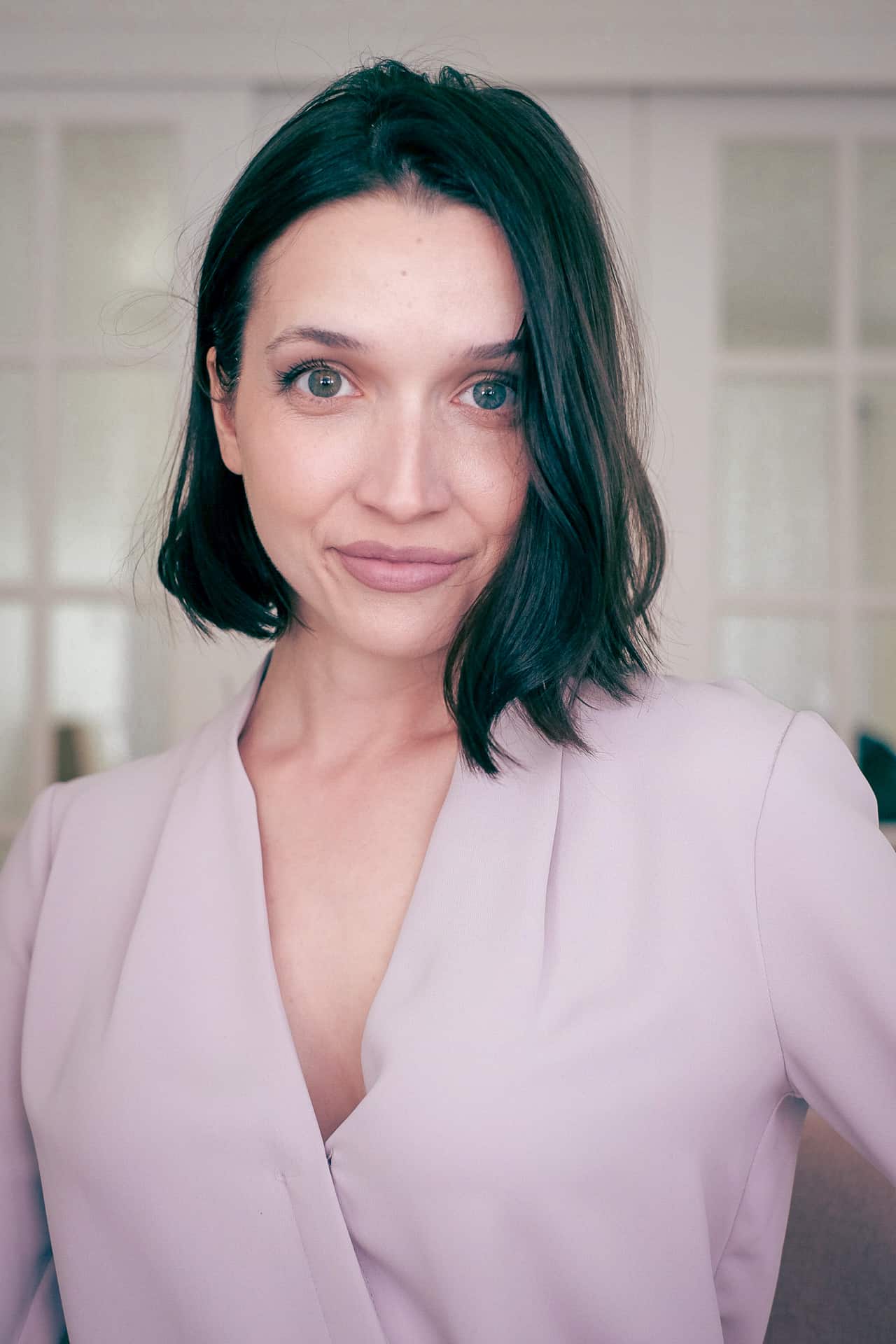 Dana Nicole is an award-winning freelance writer for MarTech/SaaS who was rated one of the best SaaS writers by Software World. She specializes in writing engaging content that ranks high in search engines and has been featured in publications like Semrush, ConvertKit, and Hotjar.
Dana holds a Bachelor's degree in Business Administration and has over 15 years of experience working alongside national brands in their marketing departments.
When Dana's not working, you can find her dancing en pointe, cooking up new recipes, and exploring the great outdoors with her two big dogs.