Last Updated on
Did you know that there are over 1,500 Instagram business categories you can choose from for your Instagram business account?
That's right—over 1,500!
Instagram business categories can help your followers understand what type of services or products you offer. And with over 1,500, there's no shortage of categories to describe your business.
What are Instagram Business Categories?
An Instagram business category is the category listed under your name on Instagram, right above your Instagram bio.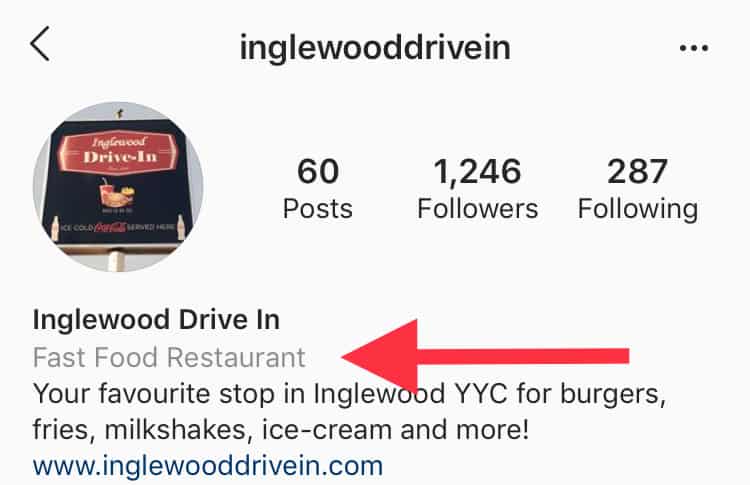 For example, if you own an Italian restaurant, your Instagram business category might be "Restaurant", "Italian Restaurant" or even "Lombard Restaurant". For the category of "Italian Restaurant", there are over 20 different sub-categories you can choose from.
Being able to get specific about what type of business you are running will encourage potential customers to follow you as they'll know exactly what your business is just by looking at the category.
How Do You Add Instagram Categories to Your Account?
First thing first, there's a specific type of Instagram account you need to have before you can attach any categories to account:
Creator account
Business account
A personal account does not allow for business categories, so it's necessary to make the change before you can move forward.
There are many advantages and disadvantages of Instagram business accounts, but one of the major benefits is gaining access to analytics and other features necessary to grow your account.
Luckily, setting up an Instagram business account is free and easy.
First, click the hamburger menu in the top right-hand corner of your profile page and go to your settings.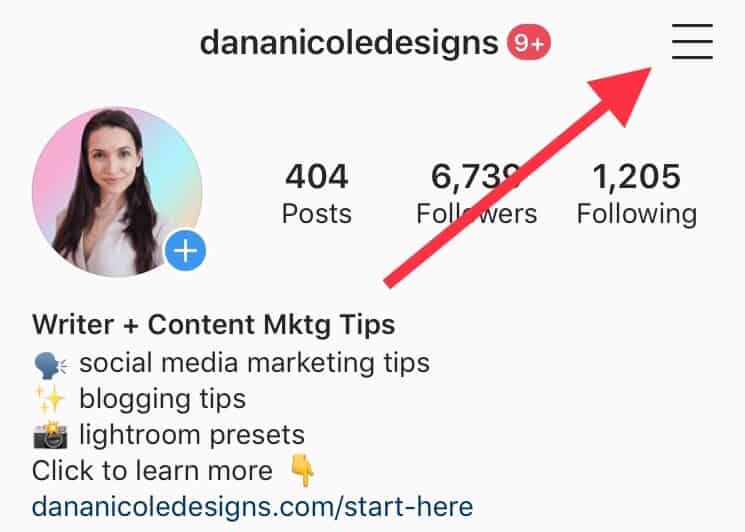 Next, click on "Account".
At the very bottom, click on "Switch to Professional Account".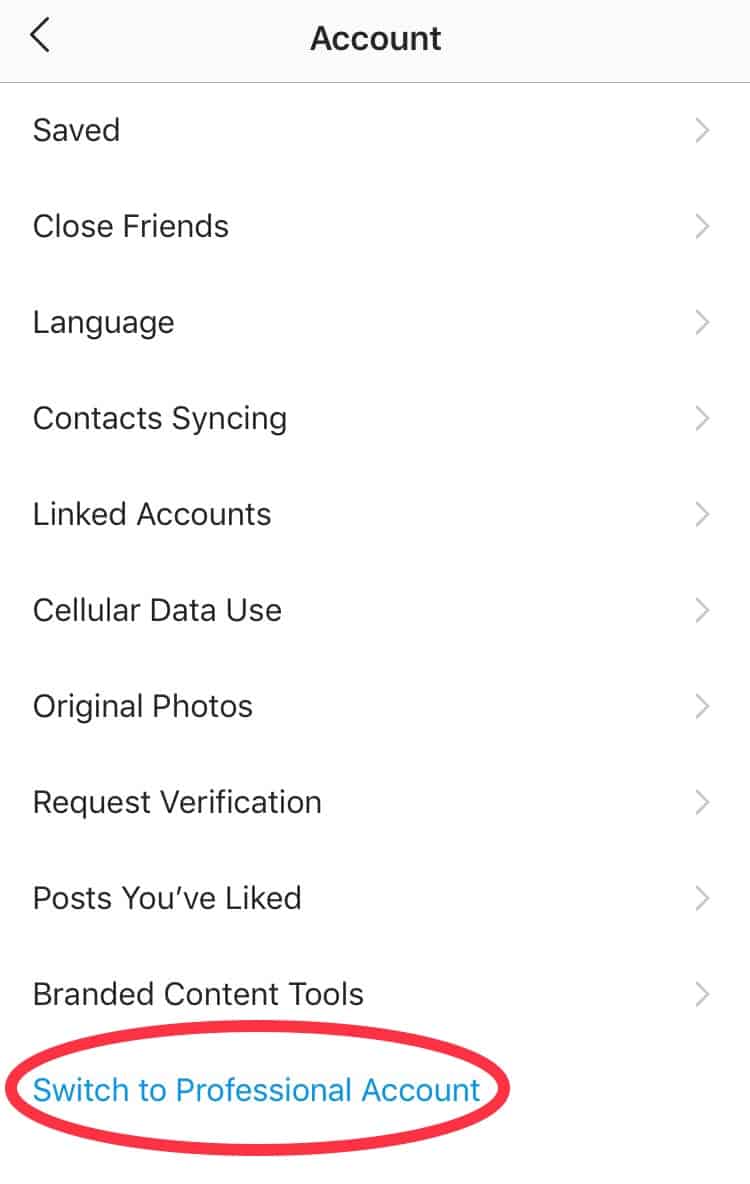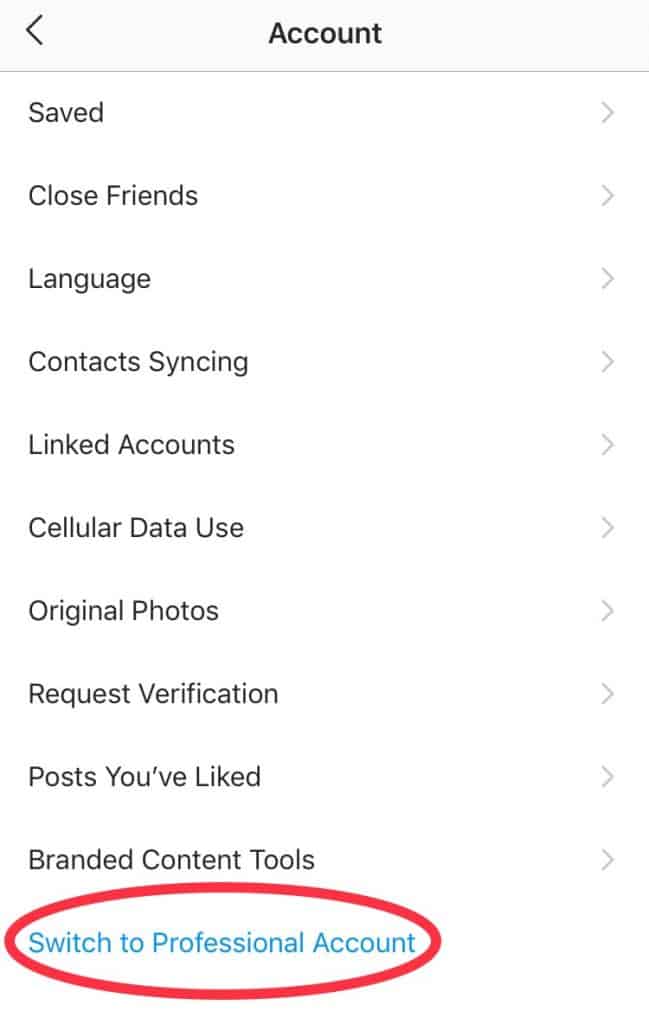 Now, tap on "Business".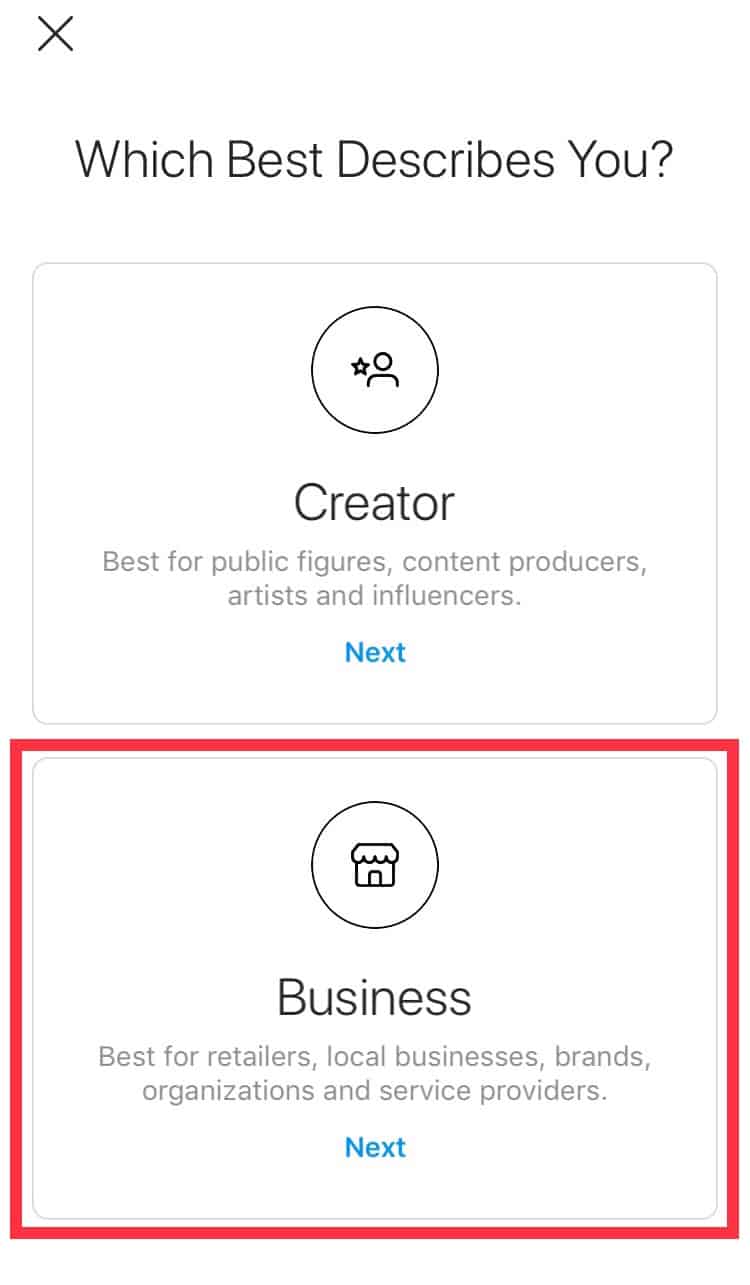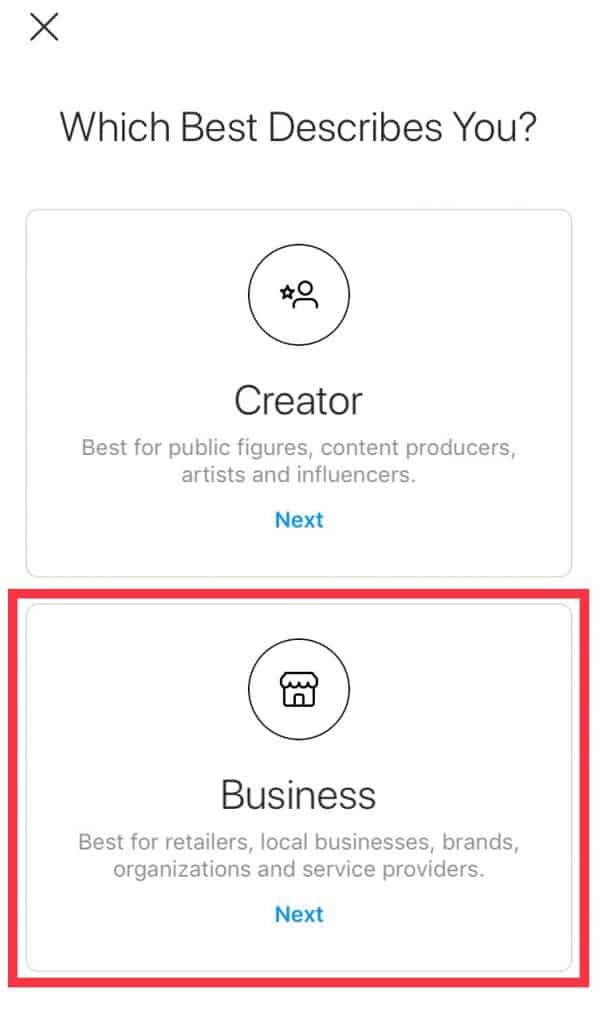 From here, Instagram will guide you through the next steps. You are going to need to have a Facebook business page set up to get your Instagram business account up and running, so if you don't have one, you'll need to quickly create on.
After creating your Instagram business account, Instagram will ask you to select a category for your business.
Remember — there are hundreds of different business categories to choose from! Feel free to try and be as specific as possible. Instagram will suggest some of the top Instagram categories for you to pick from, but you can also search for others.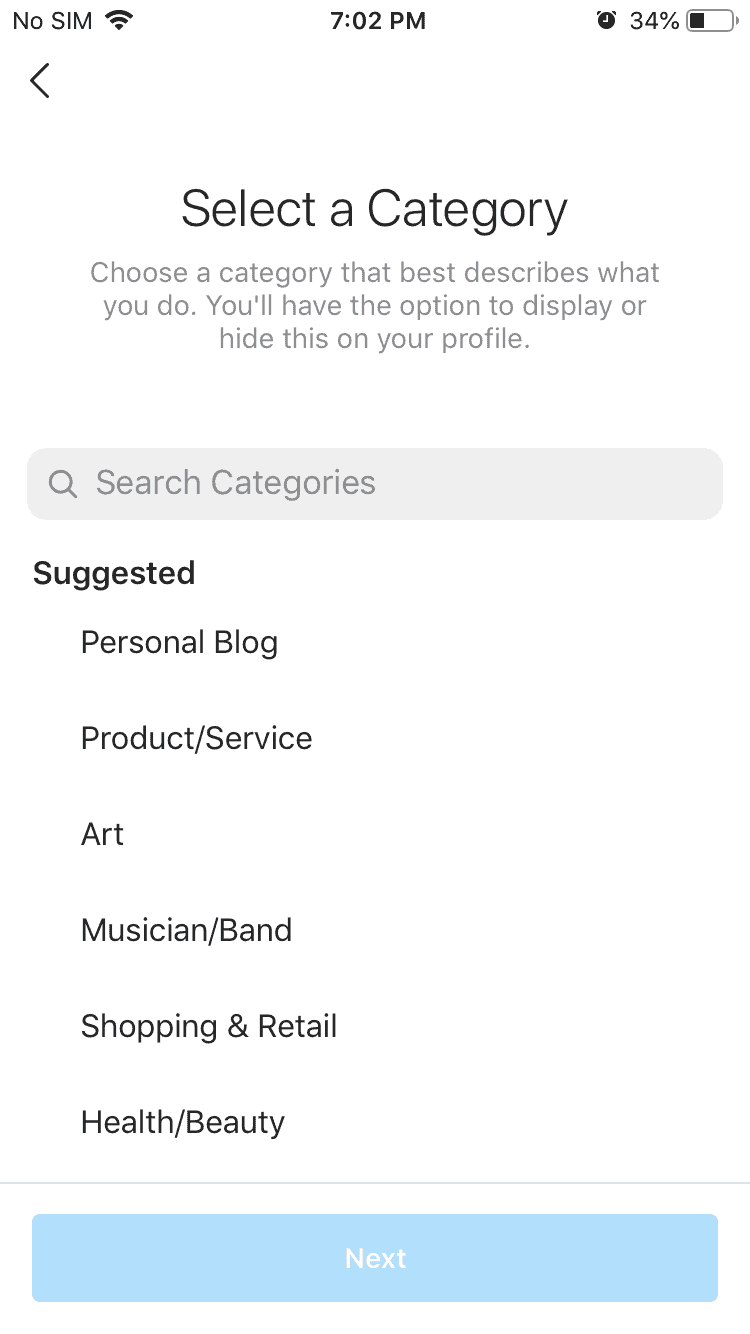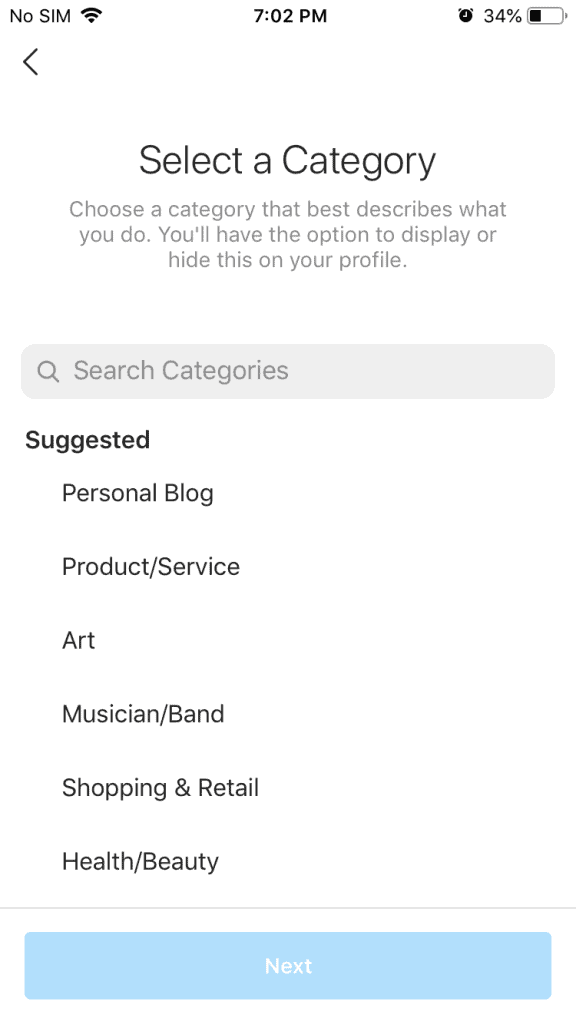 Once your business account is complete, your profile will display your category below your name.
How to Remove Your Business Category From Instagram
There are many reasons why you may want to remove your category from your Instagram profile and luckily, Instagram has made it simple to remove it.
To remove your business category, click "Edit Profile".
Under "Profile Display" you can toggle off the category label. When you turn this off, it will disappear completely from your profile.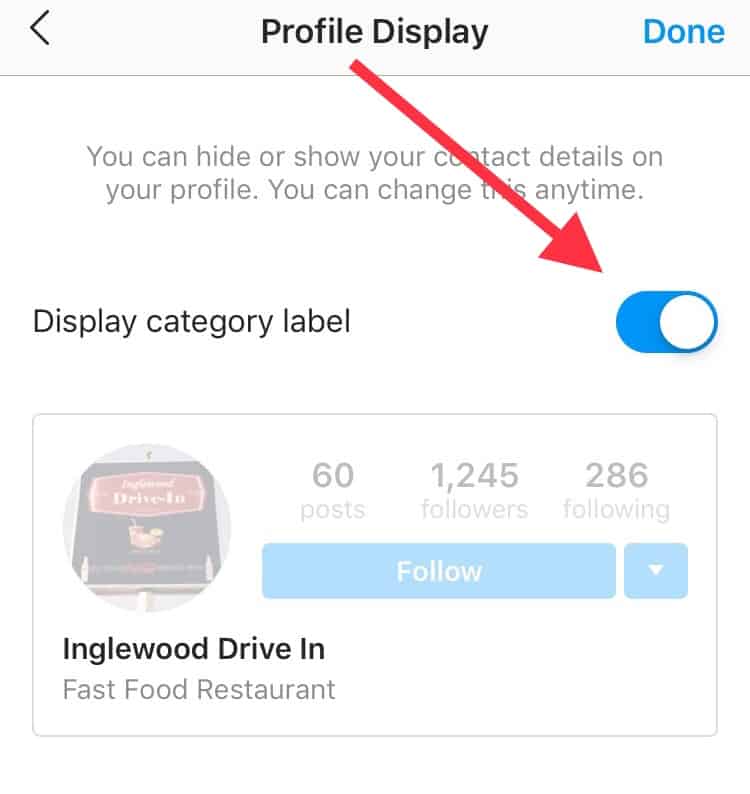 To show it again, all you need to do is turn it back on. Easy!
How to Change Your Instagram Business Category
Changing your category is also easy and can be done as many times as you'd like (although, I don't recommend changing it often as it could confuse your audience).
Under "Edit Profile" click on your current category.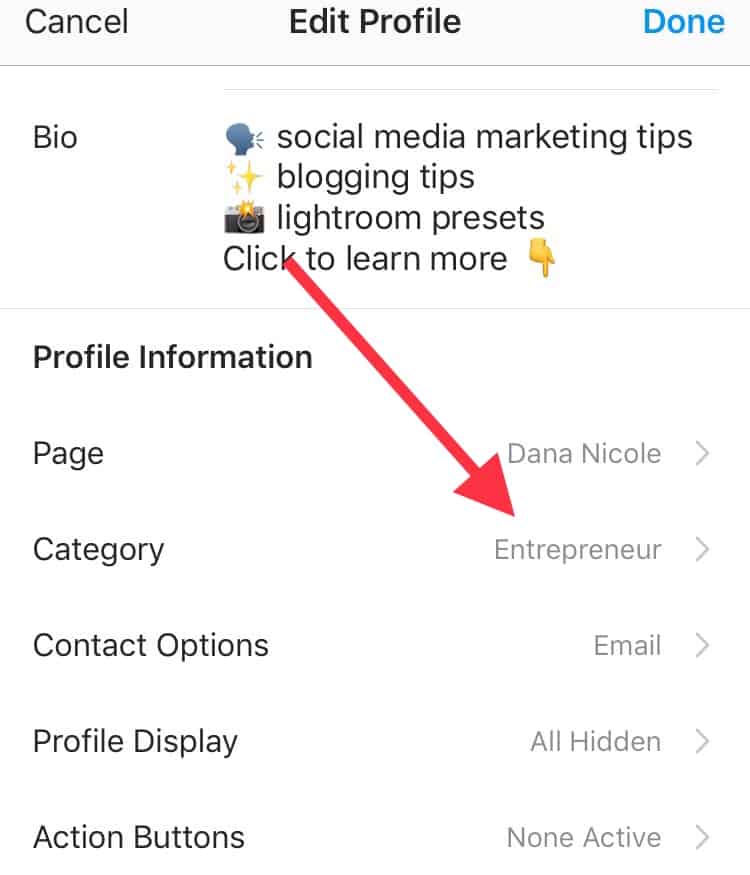 Once you are in the database, you can search for a new category.
Does Your Instagram Category Matter?
Having the right category will help people understand what your business is about. As you can change your category as many times as you'd like, it's alright if you feel that your category doesn't reflect your business and you'd like to change it. For example, I used to have "entrepreneur" as my category, but I eventually decided that the best category for me was "writer", so I ended up switching it.
List of Instagram Business Categories
There are currently over 1,500 Instagram business categories.
Feel free to take a look at all this list of Facebook and Instagram business categories to view all 1,500+. Here are the main Instagram business categories:
Advertising/Marketing
Agriculture
Arts and Entertainment
Automotive, Aircraft and Boat
Beauty, Cosmetic and Personal Care
Commercial and Industrial
Education
Finance
Food and Beverage
Hotel and Lodging
Legal
Local Service
Media/News Company
Medical and Health
Non-Government Organization
Nonprofit Organization
Public and Government Services
Real Estate
Science, Technology and Engineering
Shopping and Retail
Sports and Recreation
Travel and Transportation
Armed Forces
Charity Organization
Community Service
Country Club / Clubhouse
Environmental Conservation Organization
Labor Union
Private Members Club
Religious Organization
Social Club
Sorority and Fraternity
Sports Club
Youth Organization
Art
Book and Magazine
Music
Show
TV and Movies
ATM
Campus Building
City Infrastructure
Landmark and Historical Places
Locality
Meeting Room
Outdoor Recreation
Public Toilet
Religious Place of Worship
Residence
Brand
Cause
Just for Fun
Public Figure
Model
Writer
And here is an assortment of 200+ different Instagram business categories in alphabetical order:
Advertising Agency
American Restaurant
Aquarium
Aquatic Pet Store
Arabian Restaurant
Arcade
Art Gallery
Asian Restaurant
Automotive Window Tinting Service
Baby & Children's Clothing Sto
Bankruptcy Lawyer
Beauty Store
Beauty Supply Store
Betting Shop
Big Box Retailer
Bingo Hall
Boat Dealership
Boat Service
Bookstore
Boutique Store
Cabinet & Countertop Store
Car Dealership
Car Wash
Career Counselor
Carpet & Flooring Store
Casino
Chicken Joint
Circus
Clothing Brand
Clothing Company
Clothing Store
Coach
Collectibles Store
College / University Bookstore
Comic Bookstore
Commercial Equipment
Commercial Truck Dealership
Computer Company
Computer Repair Service
Condo Building
Contemporary Art Museum
Contract Lawyer
Copywriting Service
Corporate Lawyer
Cosmetics Store
Costume Museum
Credit Counseling Service
Criminal Lawyer
Currency Exchange
Dairy Farm
Dating Service
Day Care
Decorative Arts Museum
Design & Fashion
Design Museum
Divorce & Family Lawyer
DUI Lawyer
Elementary School
Emergency Roadside Service
Endodontist
Engineering Service
Environmental Consultant
Escrow Service
Exotic Car Rental
Financial Aid Service
Financial Consultant
Financial Planner
Fireplace Store
Fish Farm
Fish Market
Fitness Trainer
Food Bank
Forestry & Logging
Franchise Broker
Fruit & Vegetable Store
Furniture Store
Garden Center
Gas Station
General Dentist
Geologic Service
Glass Manufacturer
Golf Cart Dealership
Golf Course & Country Club
Golf Instructor
Government Service
Gun Range
Gymnastics Center
Hair Removal Service
Hang Gliding Center
Hardware Store
Hat Store
Health Food Store
High School
Historical Tour Agency
Hockey Field / Rink
Home Goods Store
Home Inspector
Hookah Lounge
Horse Riding School
Horse-Drawn Carriage Service
Horseback Riding Center
Hospital
Hot Air Balloon Tour Agency
Hotel Bar
Housing & Homeless Shelter
Ice Skating Rink
Independent Bookstore
Information Technology Company
Internet Marketing Service
Irish Pub
Jazz & Blues Club
Jet Ski Rental
Jewelry & Watches Company
Jewelry & Watches Store
Jewelry Wholesaler
Juice Bar
Junior High School
Kayak Rental
Kiteboarding Center
Korean Restaurant
Laser Hair Removal Service
Laser Tag Center
Law Enforcement Agency
Library
Limo Service
Live Music Venue
Livestock Farm
Loan Service
Local Business
Lounge
Machine Shop
Marine Service Station
Market Research Consultant
Marketing Agency
Masonry Contractor
Massage School
Maternity Clinic
Media Agency
Medical Lab
Medical School
Modern Art Museum
Motorcycle Dealership
Motorcycle Repair Shop
Music Lessons & Instruction School
Nursing Home
Nursing School
Obstetrician Gynecologist
Occupational Safety and Health Service
Occupational Therapist
Office Supplies
Opera House
Oral Surgeon
Organic Grocery Store
Orthodontist
Osteopathic Doctor
Otolaryngologist (ENT)
Painting Lessons
Parking Garage / Lot
Party & Entertainment Service
Party Entertainment Service
Paving & Asphalt Service
Pediatric Dentist
Pediatrician
Pedicab Service
Performance Art Theatre
Periodontist
Pest Control Service
Pet Groomer
Pet Sitter
Photography Museum
Physical Therapist
Plumbing Service
Pool & Billiard Hall
Pop-Up Shop
Portable Building Service
Portable Toilet Rentals
Poultry Farm
Pregnancy Care Center
Private Plane Charter
Psychotherapist
Pub
Race Track
Real Estate Agency
Recreational Vehicle Dealership
Recycling Center
Religious Bookstore
Religious Center
Rent to Own Store
Reptile Pet Store
Restaurant Supply Store
Retail Company
Retirement & Assisted Living Facility
Rideshare Service
RV Rental
Sake Bar
Scooter Rental
Scuba Instructor
Sightseeing Tour Agency
Speakeasy
Specialty Grocery Store
Sports Bar
Sugaring Service
Sunglasses & Eyewear Store
Taxidermist
Textile Museum
Threading Service
Tiki Bar
Trade School
Traffic School
Trailer Dealership
Trailer Rental
Visual Arts
Waxing Service
Wig Store
With over 1,500 categories to choose from, you can get incredibly specific so your audience knows exactly what type of business or creator you are.
Conclusion
Adding an Instagram business category to your profile is a simple way to let your audience know more about your business without needing to take up character space in your bio.
With so many Instagram business categories to choose from, you can be as general or as specific as you'd like!
Pin me: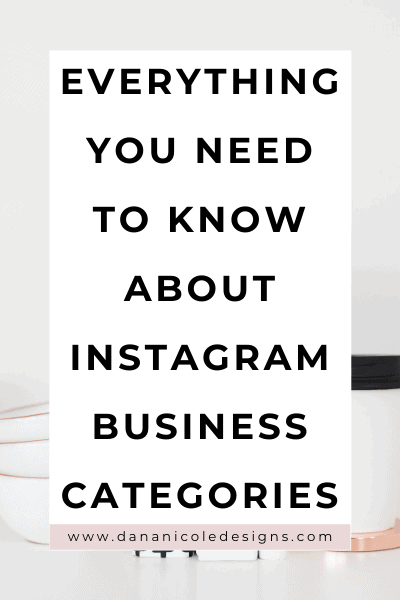 ---
This article may include affiliate links. As an Amazon Associate I earn from qualifying purchases.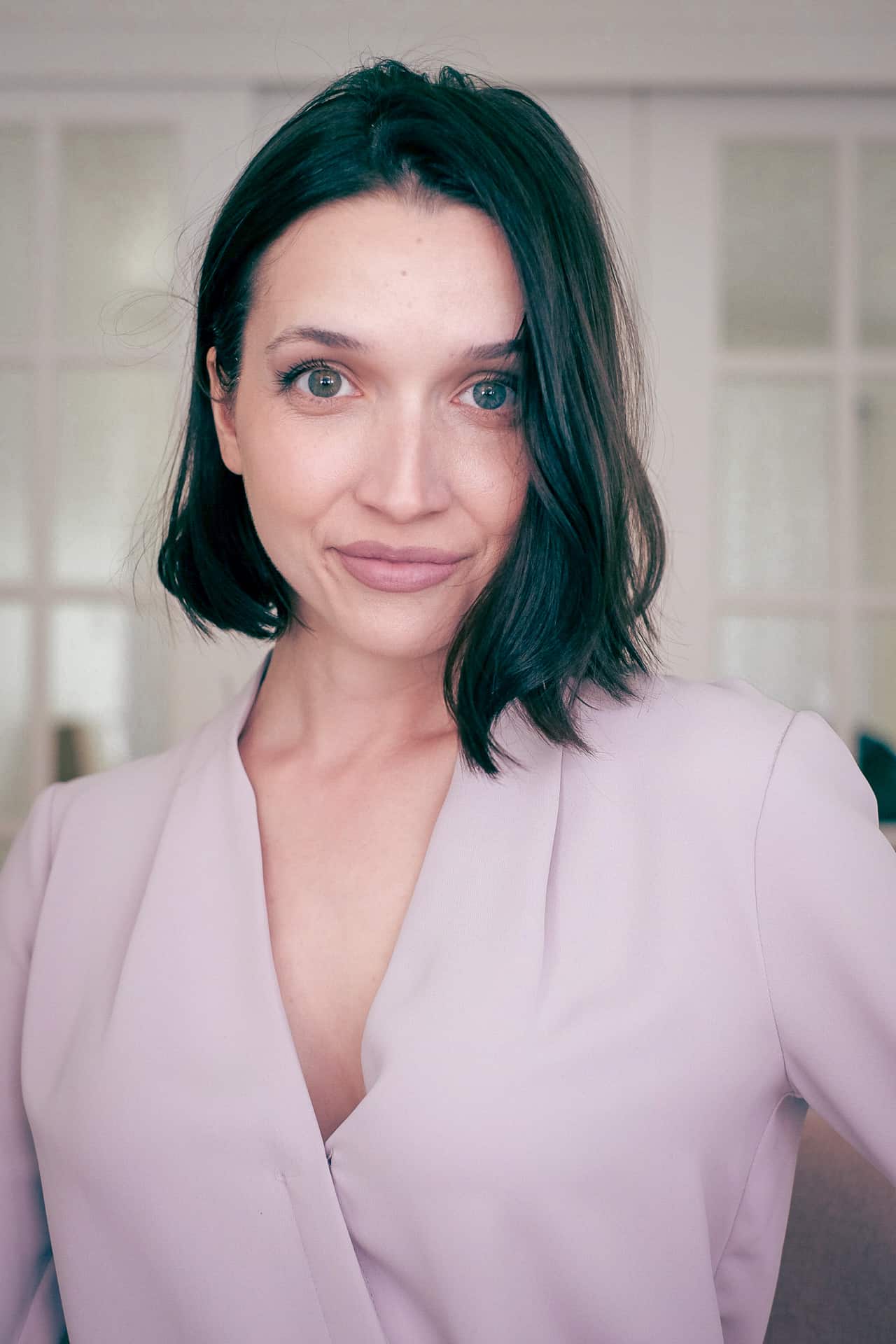 Dana Nicole is an award-winning freelance writer for MarTech/SaaS who was rated one of the best SaaS writers by Software World. She specializes in writing engaging content that ranks high in search engines and has been featured in publications like Semrush, ConvertKit, and Hotjar.
Dana holds a Bachelor's degree in Business Administration and has over 15 years of experience working alongside national brands in their marketing departments.
When Dana's not working, you can find her dancing en pointe, cooking up new recipes, and exploring the great outdoors with her two big dogs.