Last Updated on
Raise your hand if you've ever felt frustrated, overwhelmed and annoyed while trying to grow your business on Instagram.
🙋🙋🙋🙋
Instagram can be a tough nut to crack at times!
And we've all felt frustrated after a post we've put lots of thought into flops.
As a business owner, taking courses has always been something I've made time for. Learning from other experts has helped me grow my business faster than if I was testing out strategies on my own.
But when it comes to Instagram, I've always felt a bit let down by the courses I've taken.
It seems that many courses promise to help you grow your following, but then focus on beginner strategies (such as how to find the right hashtags) and promote iffy practices such as Instagram comment pods.
In other words, I've struggled to find a good Instagram course that teaches more than the basics.
While there's nothing wrong with beginner Instagram courses, I'm at a point in my business where I need strategies that go beyond finding hashtags and comment pods.
And if you're thinking about joining IGA, I know you're beyond that, as well.
So after reading some more information on BossBabe's Insta Growth Accelerator course, I was incredibly excited because it seemed as if I had finally found an Instagram course that was going to teach me a lot of new information.
Now, before you read my IGA review, I need to point out a couple of things:
I was given complimentary access to the course to check things out
I was not required to write any review or give any testimonial
This review is not sponsored by BossBabe, I am writing it on my own accord
This is not an affiliate post and I make zero commission whether you sign up or not
My BossBabe IGA Review
What is IGA?
Insta Growth Accelerator (IGA) is a 12-week program designed to show you how to grow and monetize your Instagram.
It was created by BossBabe's Natalie Ellis, who has built up the BossBabe Instagram account to over 2 million followers.
In other words, Natalie knows her stuff.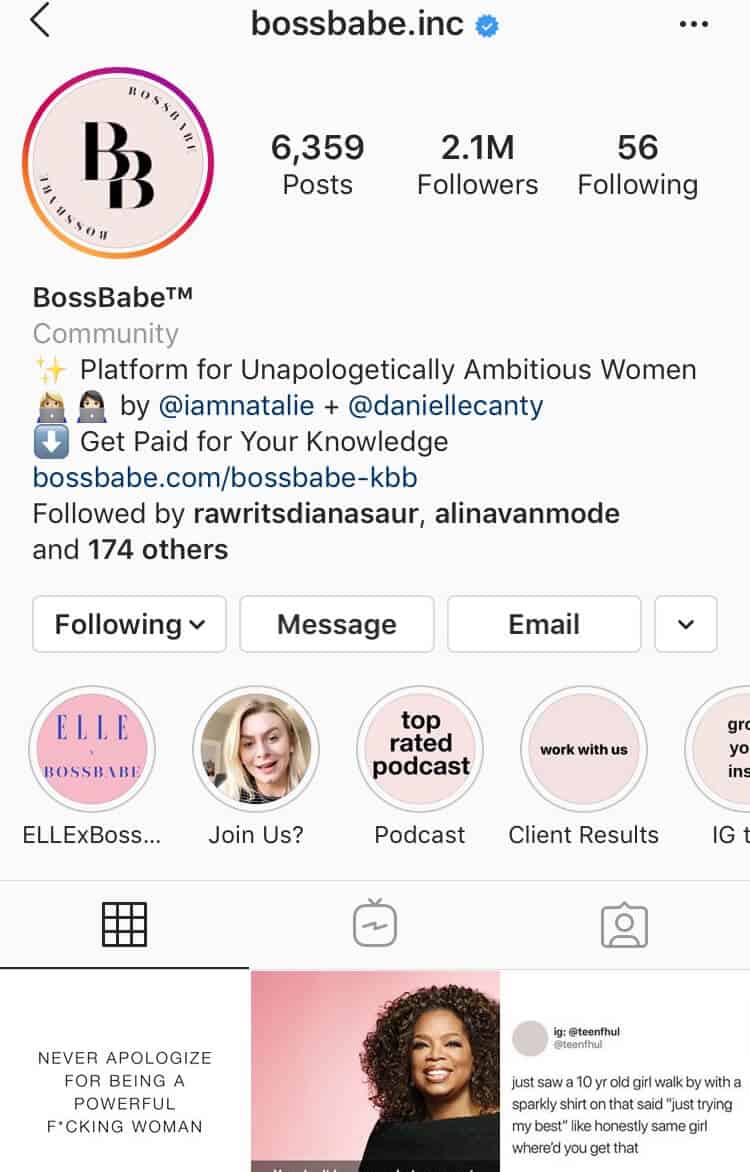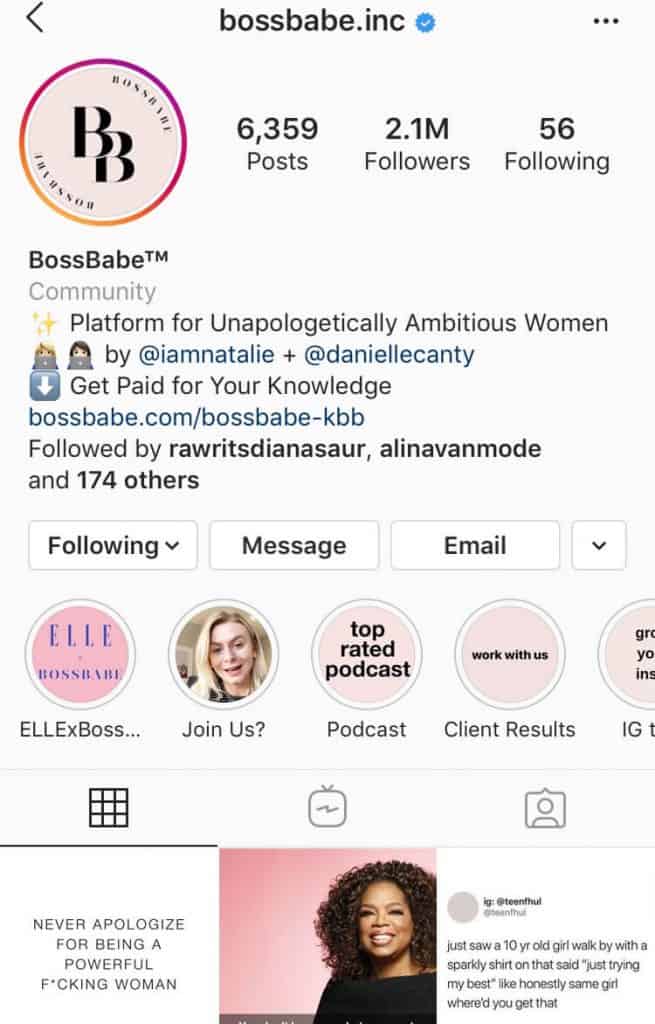 How I Felt Prior to Taking IGA
Let's be honest: before taking BossBabe's Insta Growth Accelerator course, I felt as if I was wasting my time with Instagram and that my efforts weren't paying off.
Obviously, it was very frustrating.
So when it came time to enroll in IGA, I had three goals that I wanted to achieve:
Increase my engagement
Increase my following with targeted followers
Drive more conversions (leads/sales) through the increased engagement/followers
And I wanted to achieve all of this without being told I needed to comment and engage with accounts for hours every day.
I'm going to take a wild guess and say that you probably have one or more of the same goals as I did.
So, how does BossBabe's IGA stack up and do the strategies it teaches actually work?
What Makes IGA Different From Other Instagram Courses?
IGA isn't your basic Instagram course (thankfully!) and here's why:
1. IGA Teaches a Holistic "Business-First" Approach
Insta Growth Accelerator goes WAY beyond Instagram! It teaches you other important business strategies that are going to help you not only grow your Instagram account but your BUSINESS as a whole.
When you enroll in IGA, you'll be coached in areas such as copywriting and email marketing. I can't say that any other Instagram training I've taken has even gone that deep into Instagram.
And here's why that matters.
When you grow your Instagram, you need to know how to convert those followers into paying customers, which can be done through compelling copy and nurturing/growing an email list. IGA teaches you different methods to get more followers and then turn those followers into raving fans (who are buying your products and using your services).
Because of that, IGA isn't just an Instagram course – it's like a mini business school (without the costly tuition) with Instagram at the core.
2. IGA Members Have Access to Worksheets, Templates, Live Calls and More
IGA gives you complete access to a whole bunch of templates and worksheets developed by Natalie Ellis to help you uncover everything you need in order to grow your Instagram account and your business.
The spreadsheets and worksheets have been so helpful as I've been able to understand what type of content I need to create in order to grow my Instagram account, plan it out and execute it.
But beyond that, you will also have access to recorded coaching calls where you can see the IGA strategies put into practice as Natalie guides actual students/entrepreneurs and answers questions they may have.
I personally loved the exclusive coaching calls found in IGA because there was A LOT of juicy info shared.
In fact, research has shown that we might learn better by watching someone else as opposed to learning from experience. The coaching calls in IGA are a fantastic way to learn by watching someone else, which will really strengthen your Instagram strategy for your own biz.
3. IGA Covers Everything You Need to Know About Instagram
While IGA does have a strong focus on business, IGA hasn't left out anything about Instagram.
Some of my favourite modules taught me things like:
how to go viral
how to quickly create Instagram Story content
how to increase conversions and sales
And of course, you'll also learn how to infuse your personality into your brand on Instagram, how to cohesively edit your photos, how to sell through posts and Instagram Stories and sooooooooo much more.
4. IGA Helps You Map Out Your Strategies, Content and Growth
One major reason why I've been hesitant to spend more time focussing on growing my Instagram is that it was always so time-consuming.
And without seeing results, sometimes the time-commitment just didn't feel worth it…
Going through IGA has taught me how to come up with new content ideas in a snap and how to re-purpose that content so that I don't need to spend hours glued to my phone.
Not only that, the content I'm putting out there is the right type of content that is acting like a magnet for my ideal followers!
My IGA Results
Ok, here's what you are waiting for!
After taking some time to go through the course, complete the worksheets and set up a plan of attack, I was delighted to see immediate results and also excited for what was to come!
Engagement Rate Increase
My reach skyrocketed after implementing the strategies found in IGA. As you can see, when compared with the previous week, my reach was up 1,260 and my impressions were up by 632.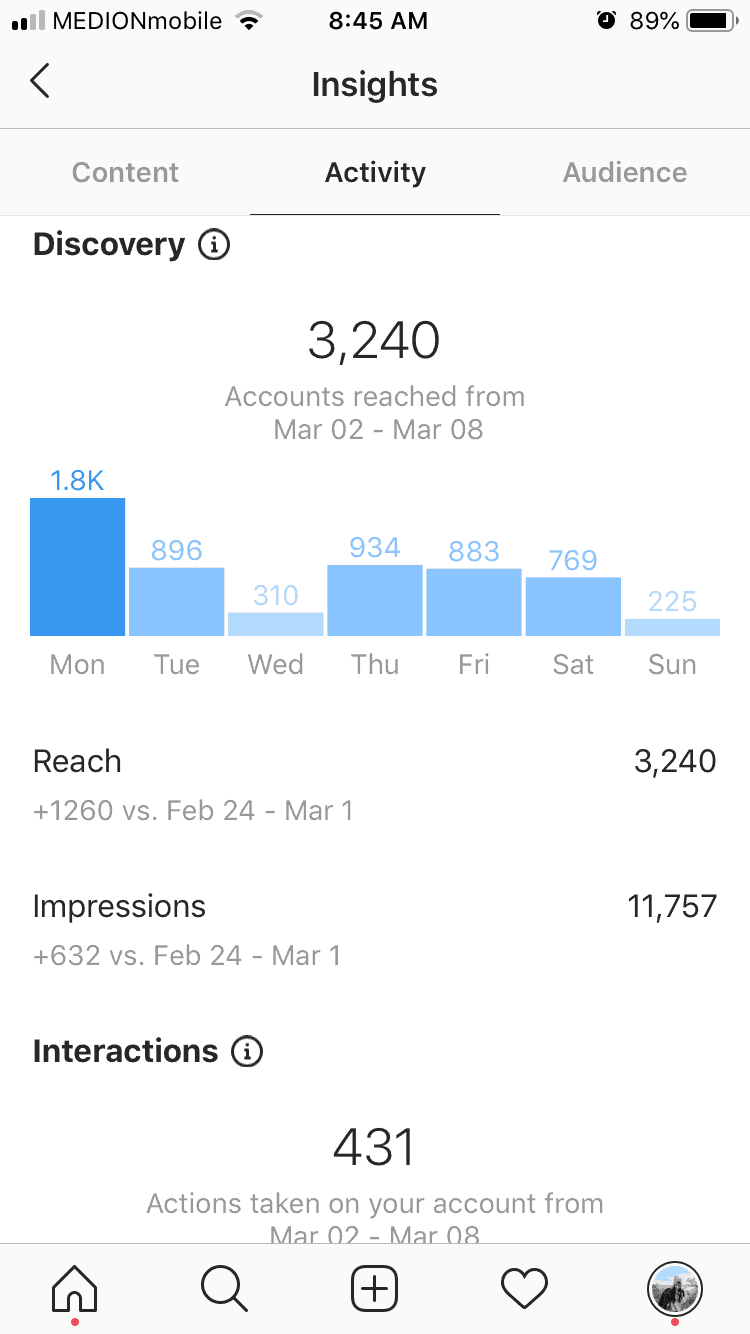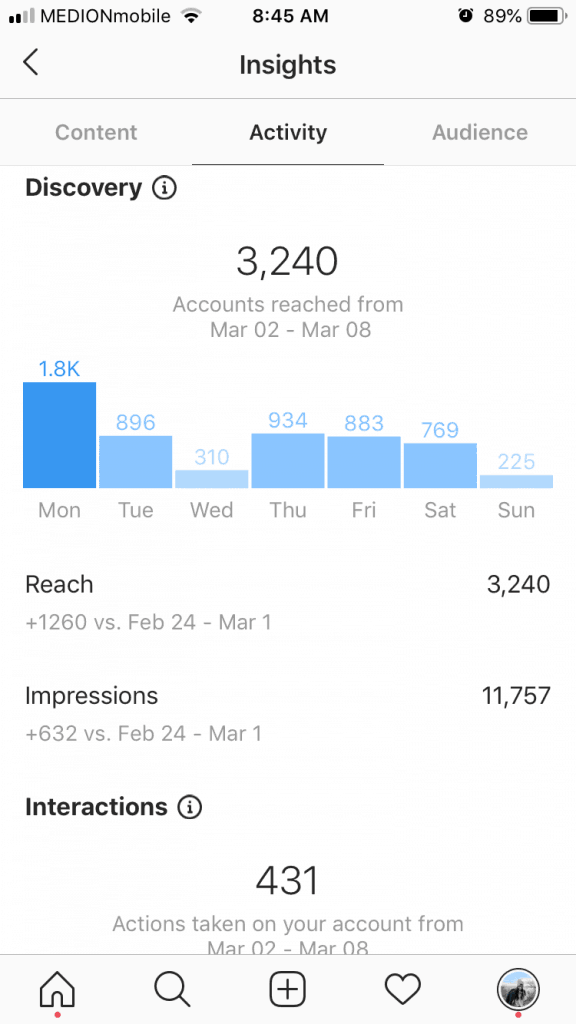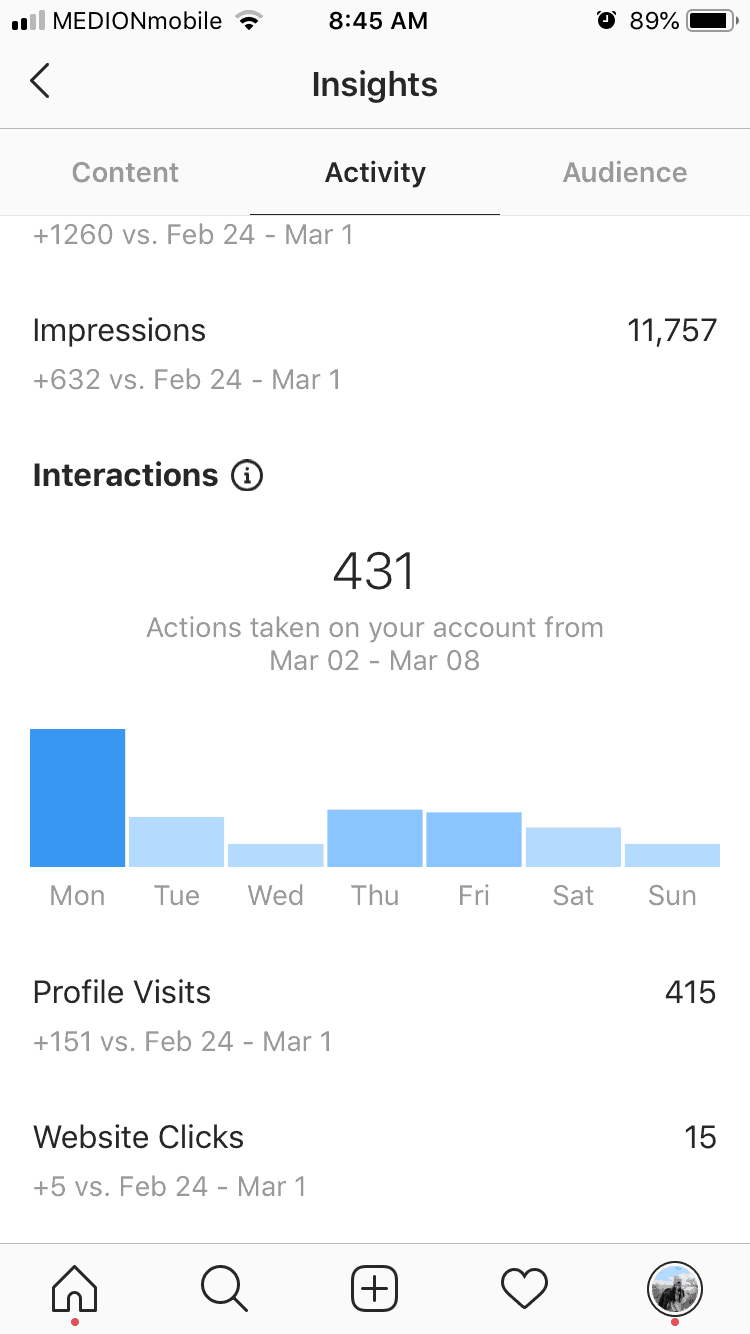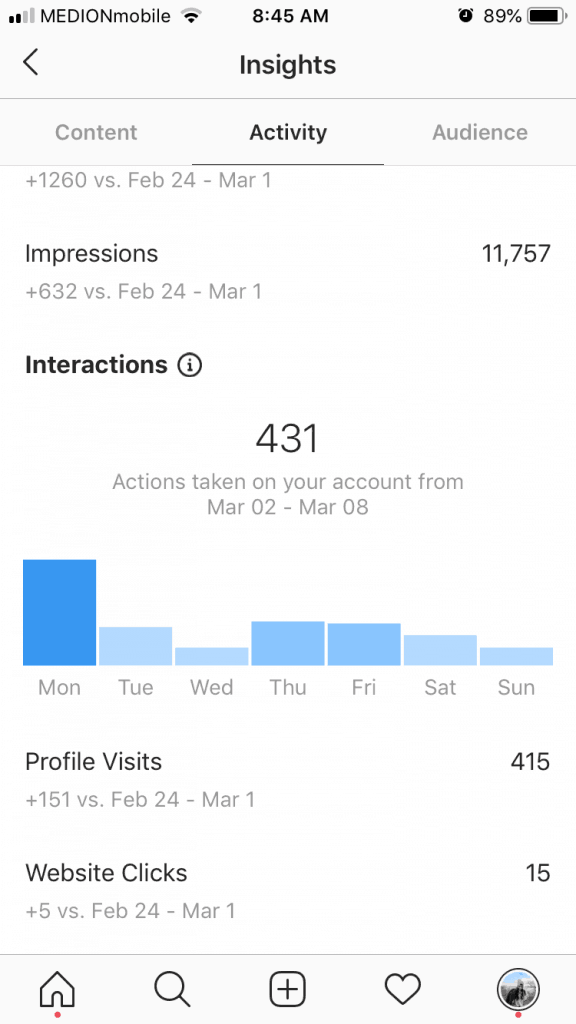 After taking IGA, I carefully planned my next Instagram post with the goal to generate engagement. As you'll learn in IGA, there are a few different goals that each post can have (you'll learn exactly what to do to reach each of those goals).
Here's a screenshot of the analytics of a post before I enrolled in IGA: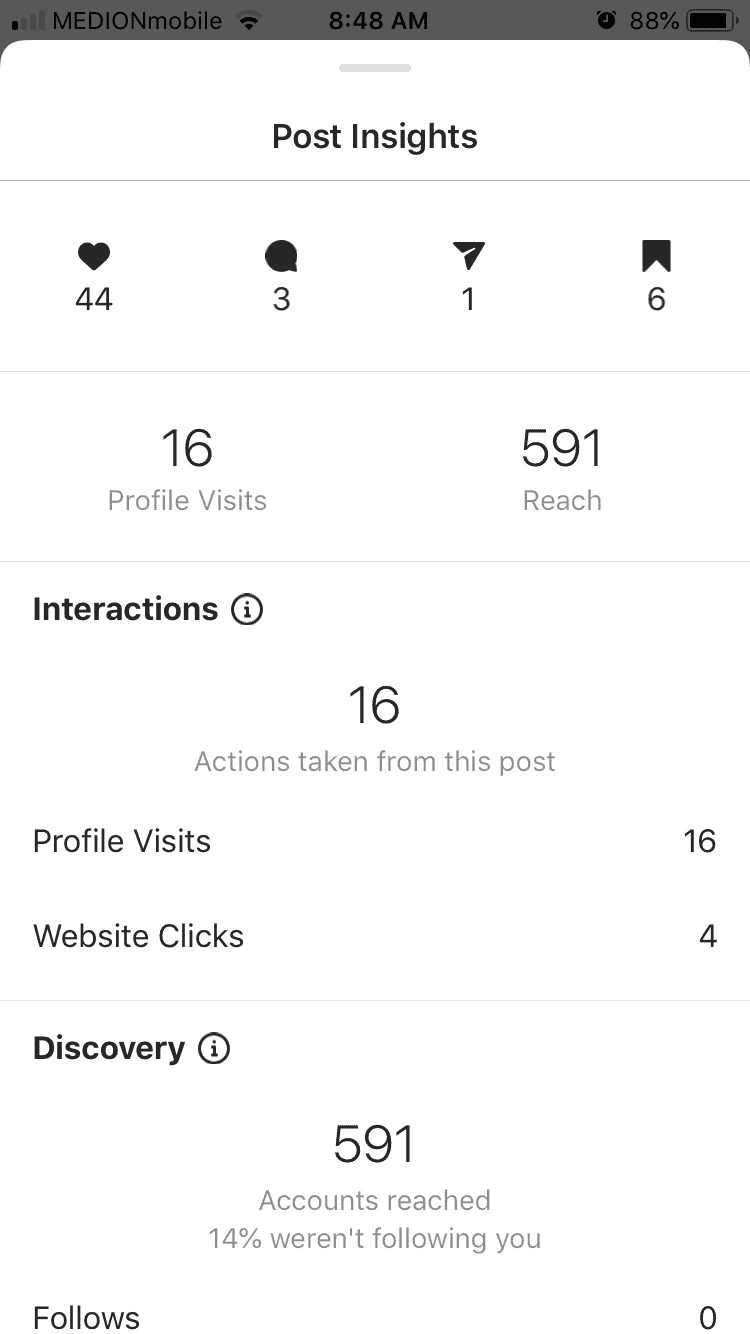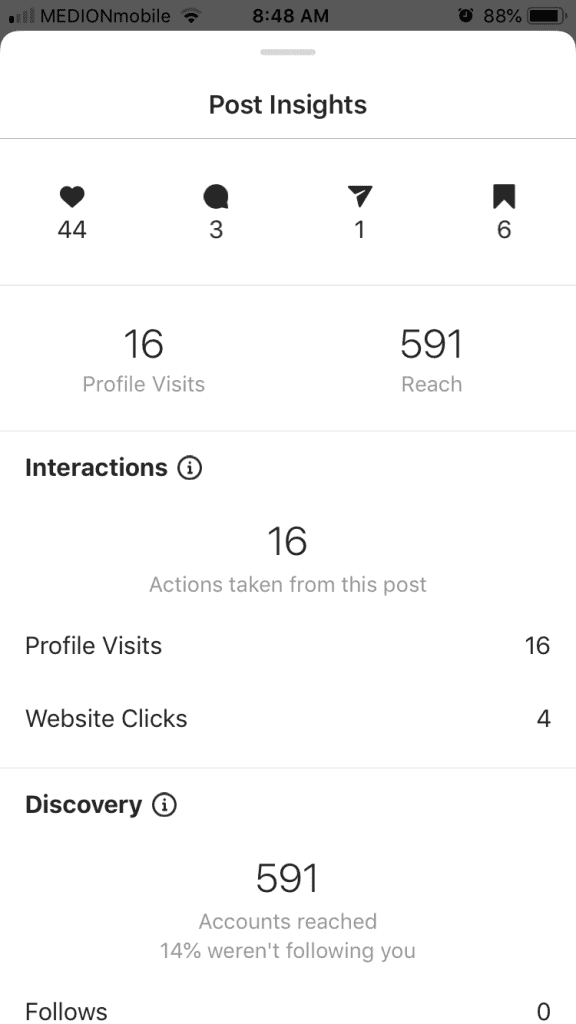 You can see that the reach is quite low (coming in at 591). I knew that if I wanted to grow my account, I first needed to increase my reach.
With that in mind, I decided that the goal of my next post on Instagram would be to increase my reach and engagement.
After applying the techniques I learned in IGA, my reach drastically improved.
Here are the analytics for that post: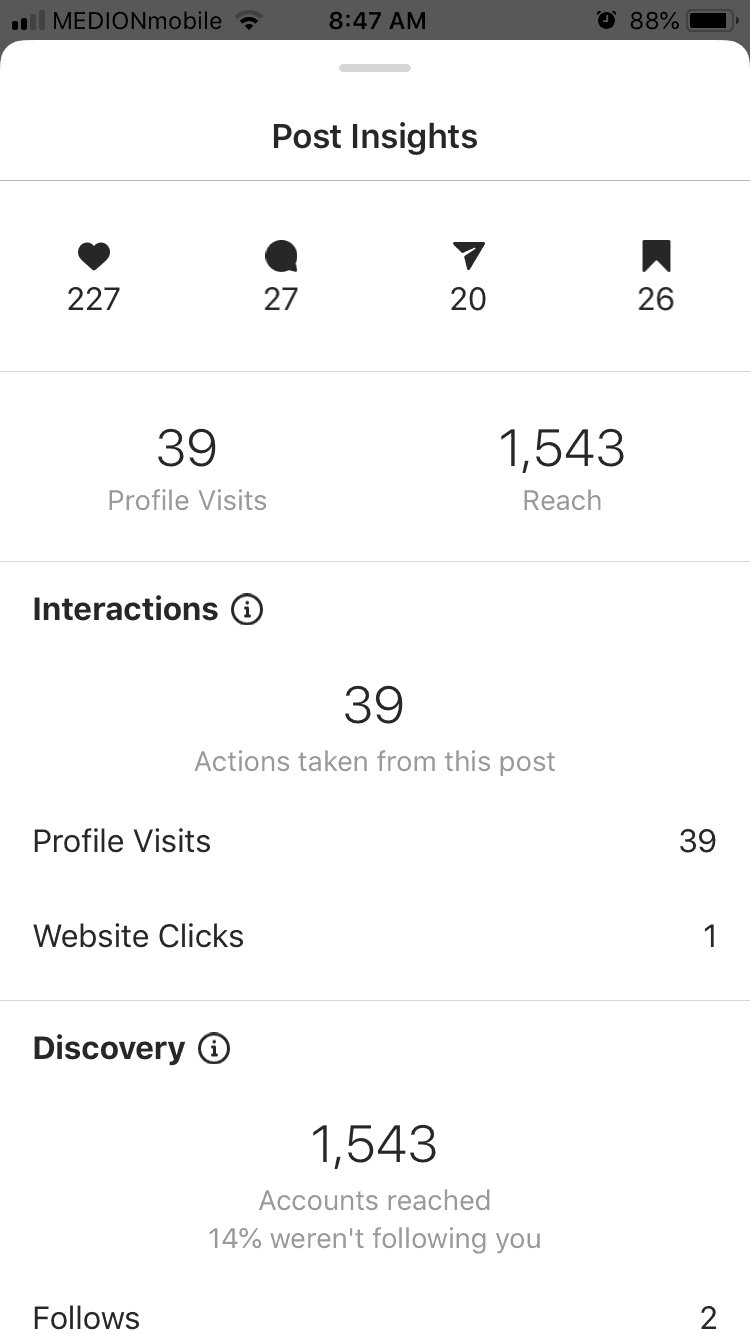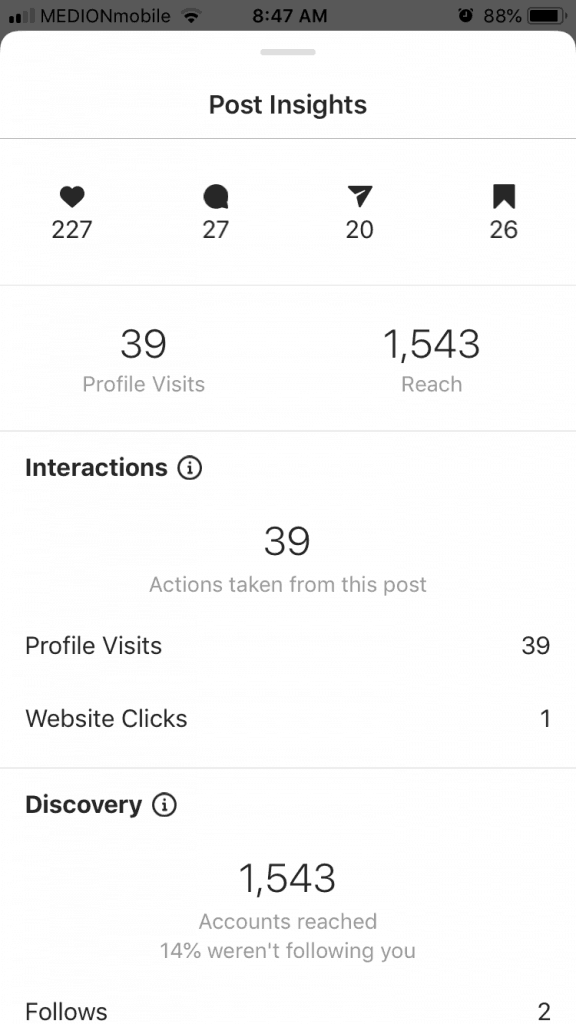 The reach is three times the amount which meant I got more shares, saves, likes and comments.
You might notice that the website clicks on this post are actually less than the previous post, but that's because the previous post included a call-to-action that asked people to click the link in my bio.
This particular post didn't ask for that, which is why the link clicks are slightly less.
Follower Increase
Prior to taking IGA my follower growth was stagnant. Let's take a look at my net followers gained/lost from November to May.
| | |
| --- | --- |
| Month | Net followers gained/lost |
| November 2019 | -87 |
| December 2019 | -218 |
| January 2020 | +13 |
| February 2020 | +52 |
| March 2020 | +21 |
| April 2020 | +169 |
| May 2020 | +240 |
Prior to taking IGA, I was not attracting my ideal followers in the way I'd like to be. As you can see, November and December were especially rough months.
I powered through IGA at the beginning of March and started to implement what I had learned. I actually gained a lot of followers in March, but because I shifted my strategy so drastically, I also lost a lot, so in March, I only net 21 new followers.
However, that's totally fine because those followers I lost were not my ideal customer/reader, so it was a good thing that I lost some followers!
Now, take a look at April and May. I net 11 times the number of followers in May than I did in March. I haven't seen growth like that in months!
Not only that, but these followers also are my people. They DM me and reach out to me, they click the link in my bio and read my blog posts and they actually want to see my content.
Other IGA Reviews and Testimonials
Here are a few other Insta Growth Accelerator reviews: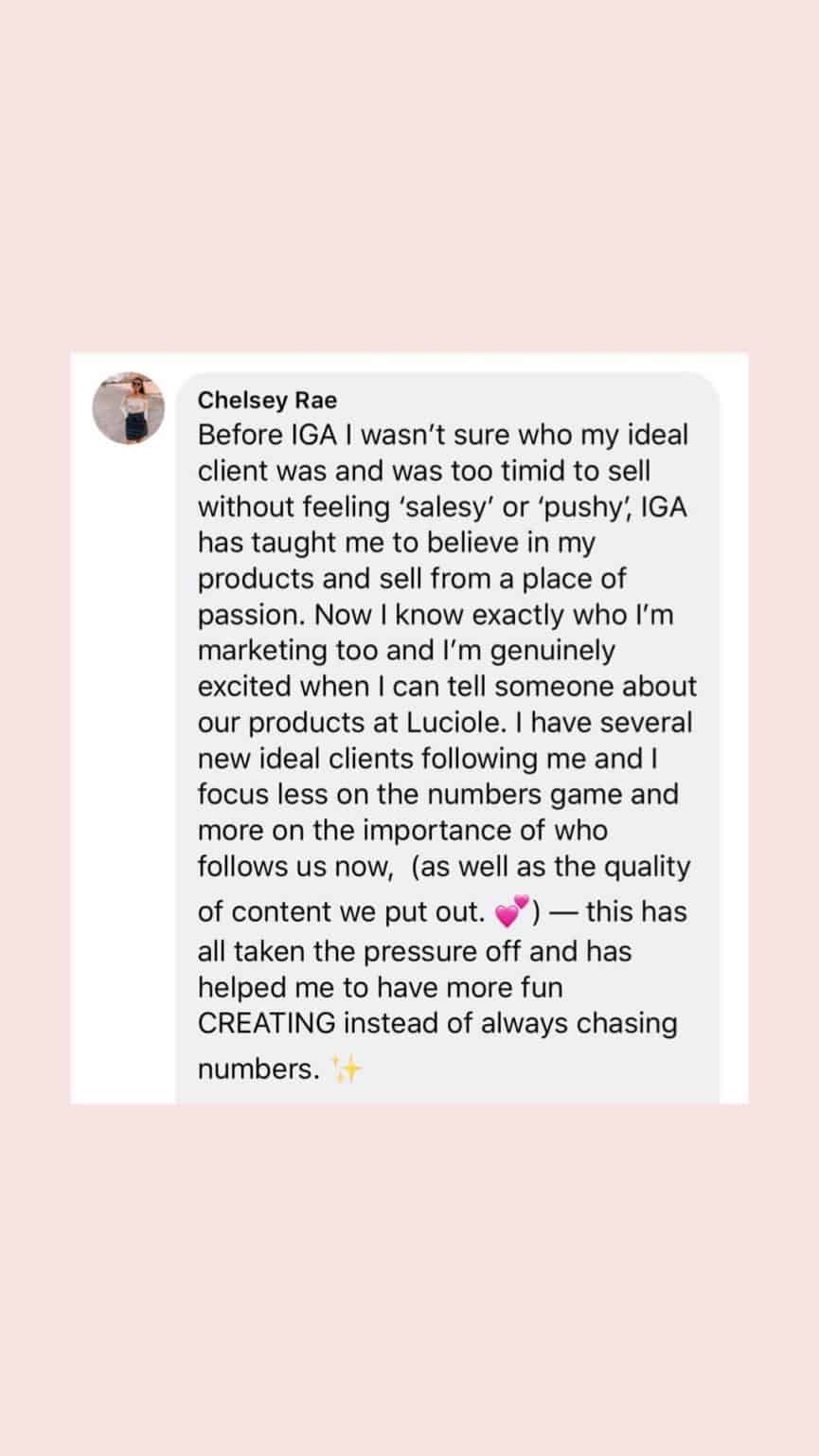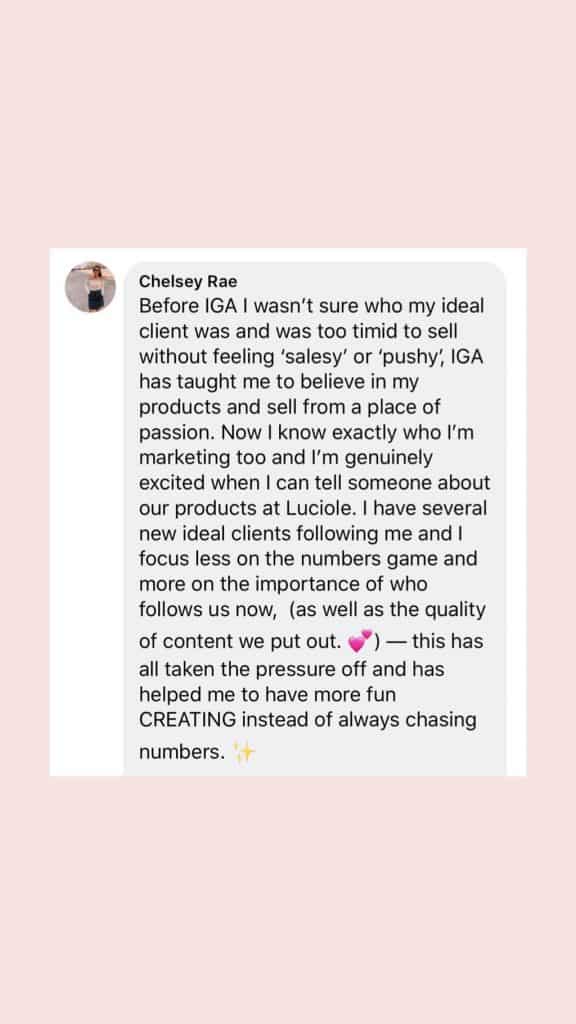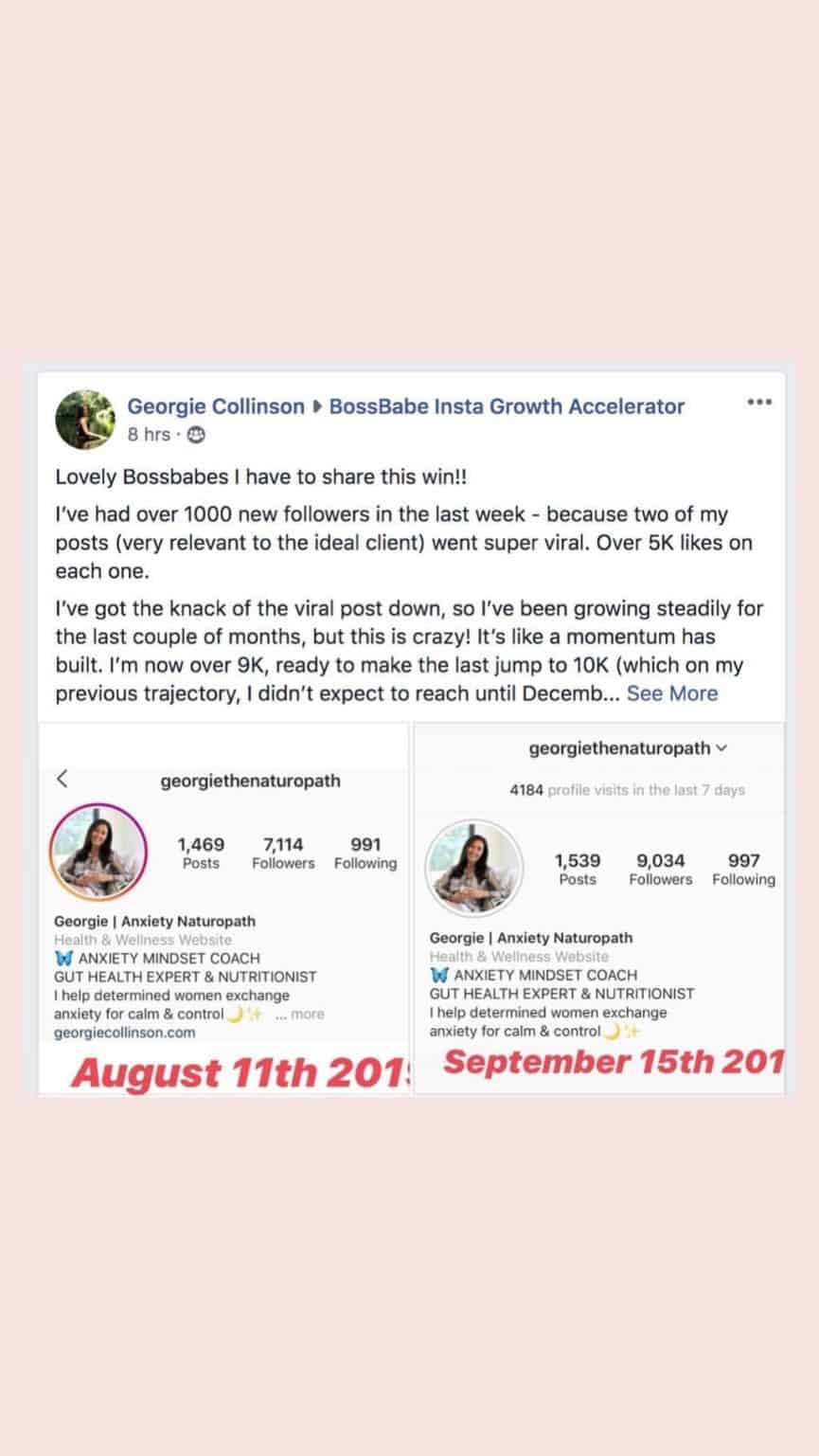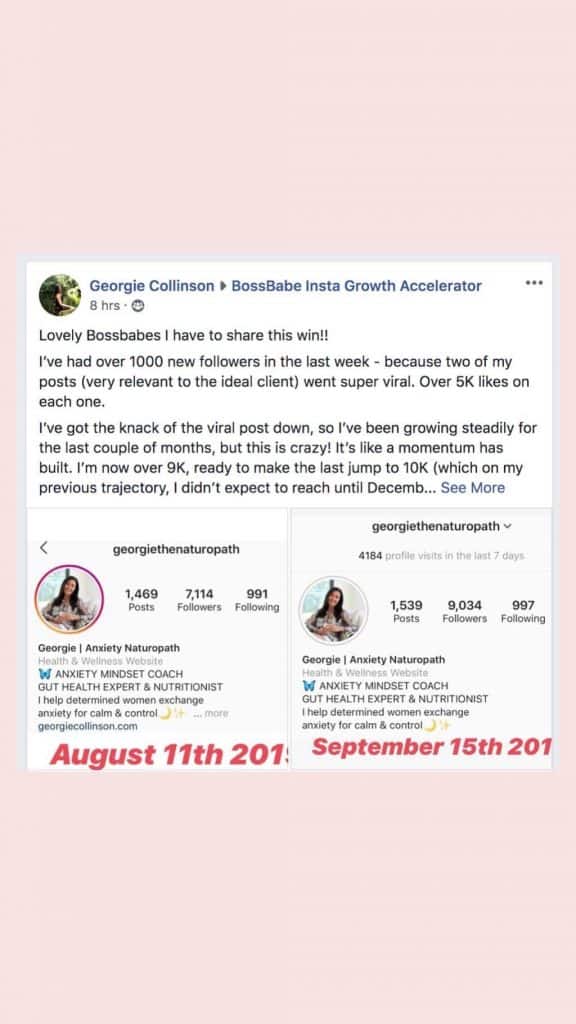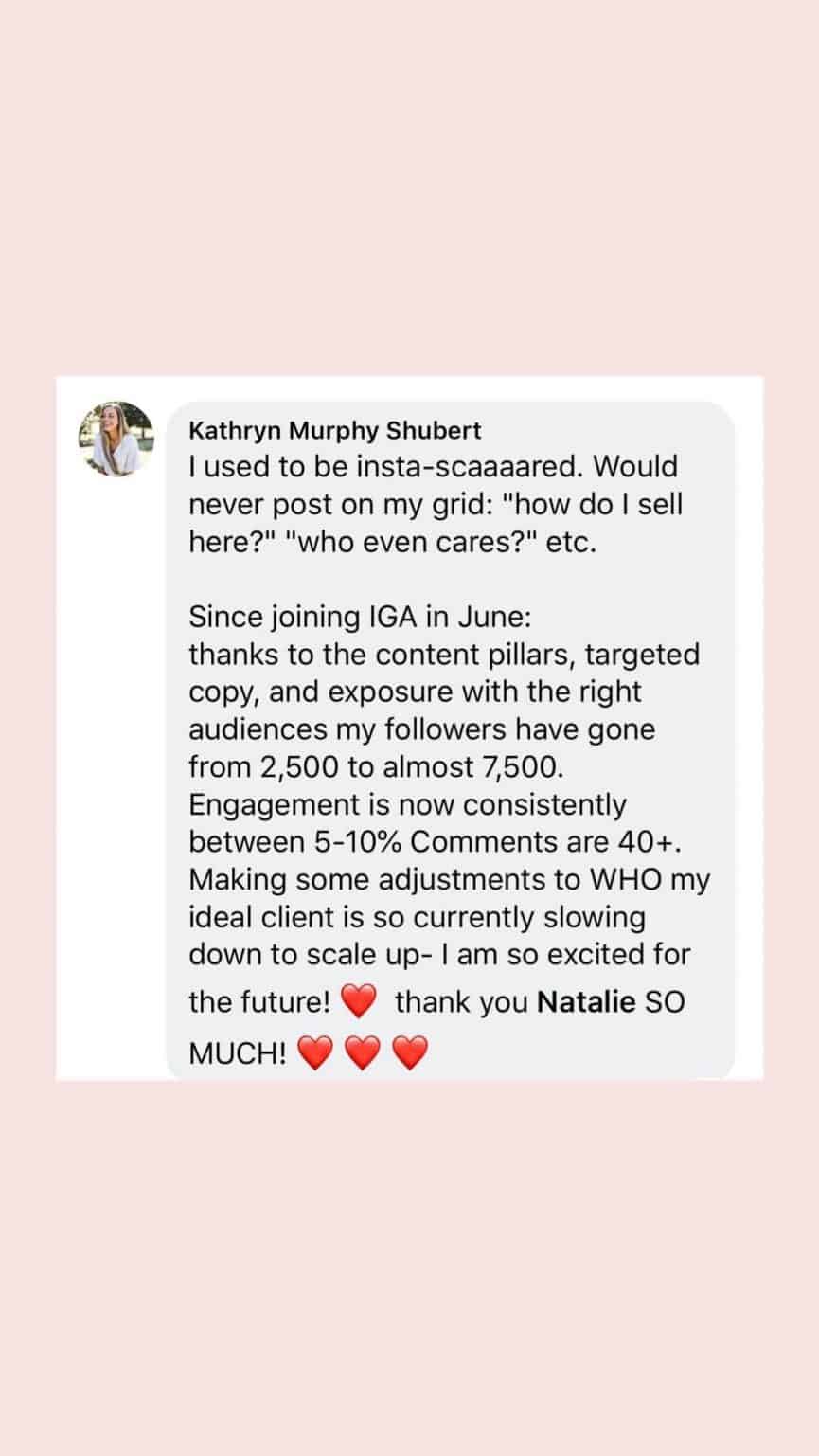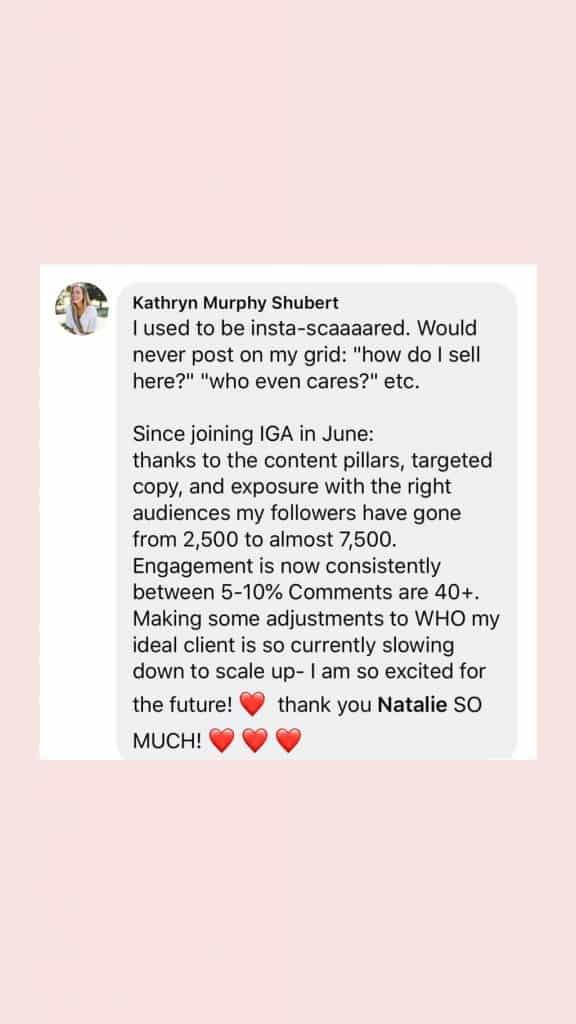 Conclusion: My Insta Growth Accelerator Review
BossBabe's Insta Growth Accelerator was truly an incredible, no-BS course that taught me strategies I had not considered before.
Remember my goals?
Increase my engagement
Increase my following with targeted followers
Drive more conversions (leads/sales) through the increased engagement/followers
After only one week of implementing IGA's strategies, I achieved goals #1 and #2, and I am confident that I will check goal #3 off once I begin to focus more on conversions and sales!
BossBabe's IGA definitely has my stamp of approval!
---
This article may include affiliate links. As an Amazon Associate I earn from qualifying purchases.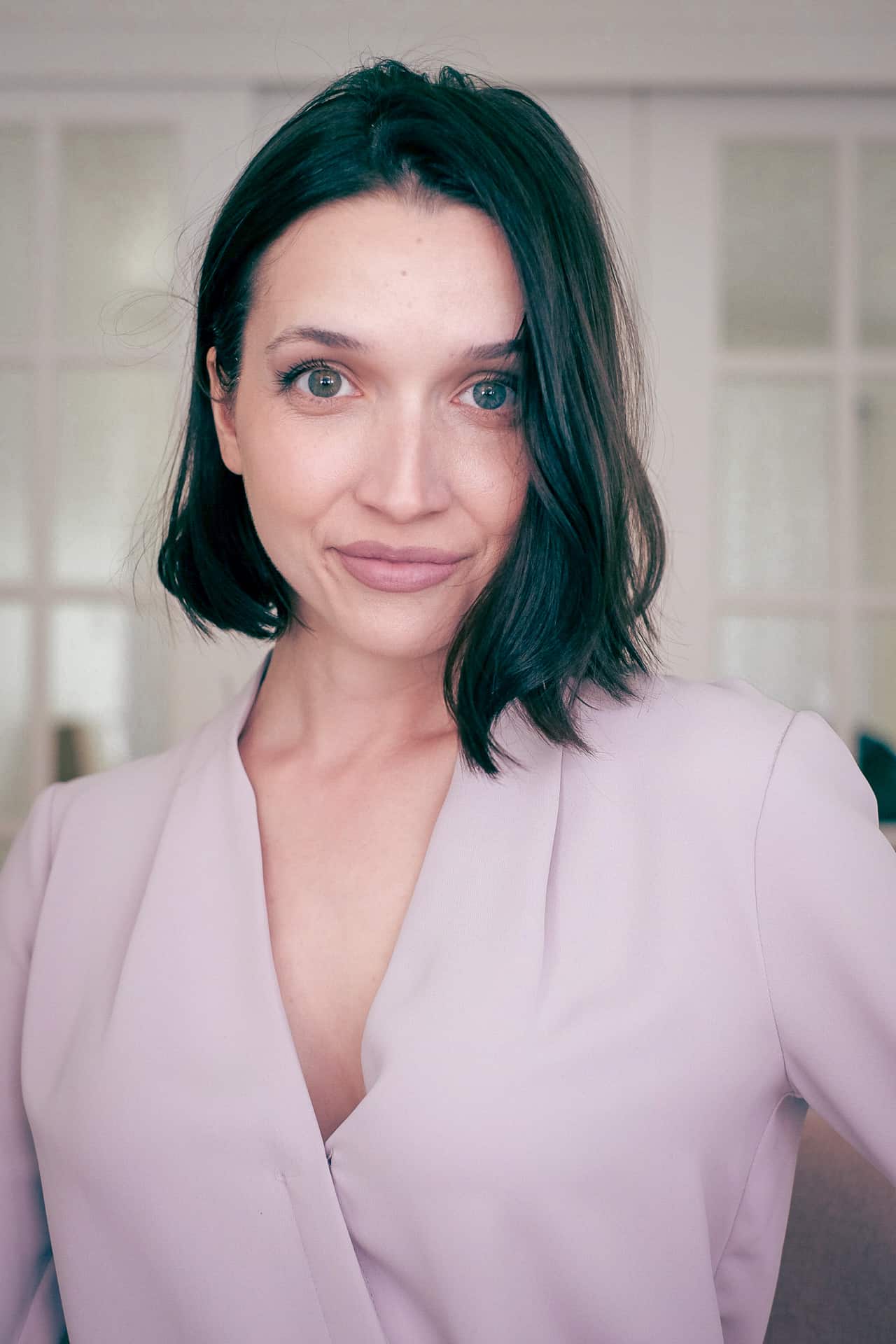 Dana Nicole is an award-winning freelance writer for MarTech/SaaS who was rated one of the best SaaS writers by Software World. She specializes in writing engaging content that ranks high in search engines and has been featured in publications like Semrush, ConvertKit, and Hotjar.
Dana holds a Bachelor's degree in Business Administration and has over 15 years of experience working alongside national brands in their marketing departments.
When Dana's not working, you can find her dancing en pointe, cooking up new recipes, and exploring the great outdoors with her two big dogs.