Last updated on August 14th, 2020
Learn to rank higher in Google with my free 

SEO for Beginners

workshop!
This list of blog post ideas is ideal for any type of blogger. Whether you are looking for lifestyle ideas, business ideas or something fun, these ideas will be able to help you out!
Have you ever been stuck at your keyboard, wondering what to blog about? I know I have, which is why I've put together a list of blog post ideas so you never run out of topics to blog about!
And maybe you're wondering, "well, why do I care if it's a trend noted by Pinterest?". 250 Million people use Pinterest each month. It's a fantastic search engine (yes, Pinterest is in the same category as Google!) to help you understand what types of content is treading.
And If Pinterest isn't part of your marketing strategy yet, you'll want to check out my quick-start guide to setting up the ultimate Pinterest marketing strategy.
Pinterest is an incredibly research to help us find blog post ideas and plan content. And here's a quick tip before you get planning: Pinterest users begin looking for content months before you might think they do.
As you can see from the below graphic, Pinterest users begin pinning holiday content in July! Take a quick look at this list to help you decide what seasonal content you need to be writing about, and when you should be promoting it on Pinterest. For example, as Pinterest users start pinning holiday content in July, you will want to get your blog's holiday content up in the summertime so it has enough time to gain traction!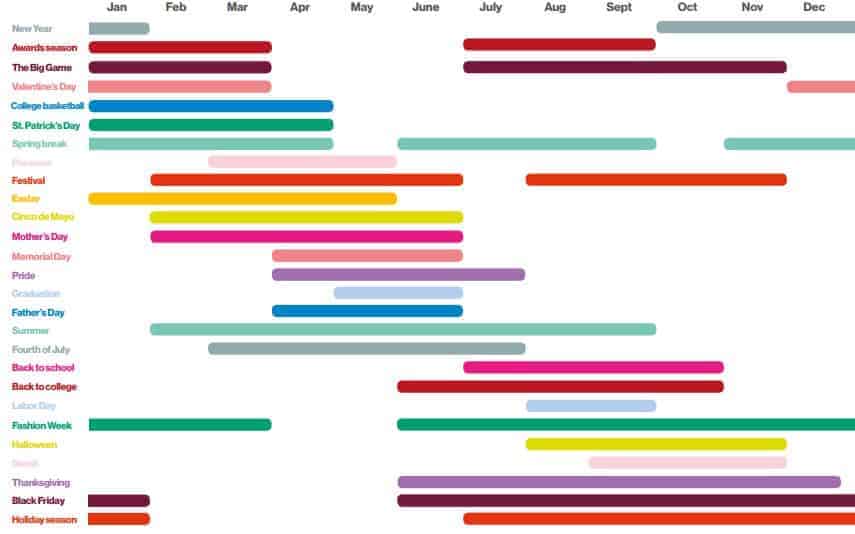 Source: https://business.pinterest.com/sub/business/business-infographic-download/pinterest-possibilites-planner-2018.pdf
Blog Post Ideas Index
To make it easier to find different blog post ideas, you can click below to be taken directly to each category! I will be updating this list periodically, and taking ones out that I don't believe are relevant anymore!
Personal Blog Post Ideas
Personal blog posts are some of my favourite posts to read. I love getting a glimpse into my favourite blogger's lives from time to time!
Here are some personal blog post ideas to get you started:
1. Fun facts about you
2. Interview a family member who has an interesting story to tell
3. Write about an experience you had growing up
4. Write about what you originally wanted to be when you grew up
5. Write about your pet peeves
6. Create a post written from the point of view of your pet
7. Talk about your favorite places to go in your town or city
8. Review the top shows on Netflix (bonus: you get to spend time "researching" aka binging on Netflix)
9. Talk about your biggest mistakes and how you learned from them
10. Describe your favorite meal to cook and give your reader's the recipe
11. Talk about a recent failure of yours and how you grew from it
12. Describe your favorite place to go on vacation
13. Talk about how you meal prep for the week
14. Write down your favorite ways to stay motivated for the gym
15. Review the books currently on Amazon's best seller list (you can find that list here)
16. Tasty soup recipes using in-season vegetables
Blog Post Ideas for Beginners
If you are a beginner blogger, you might be feeling overwhelmed with blogging. It's totally normal to feel this way when just starting out (hey, I even feel it still)!
These blog post ideas are ideal for beginners who have just begun blogging:
1. Play "20 questions" and pick 20 of these questions to write about on your blog
2. Write about why you started your blog in the first place
3. Interview your blogging idol – send them a list of a few questions and showcase their answers to your audience
4. Review your favorite and least favorite products that you use daily (i.e. makeup, cleaning products)
5. Showcase various outfits for different occasions:
first date
business casual
business formal
girl's night out
lazy Sunday
6. Take one thing out of your life for a month and discuss the experience with your readers (i.e. no cell phone for a month, no T.V. for a month)
7. Show how you can style different pieces of clothing (i.e. 10 different ways to wear a scarf)
Lifestyle Blog Post Ideas
If you write a lifestyle blog, you have the advantage of writing on a wide range of topics. Here are some blog post ideas to get you started!
1. Hold a photography challenge with various themes and post your photos each day to your blog
2. Try and limit your waste/garbage for one week and talk to your readers about your experience
3. Share your hacks for completing different tasks more efficiently
4. Do a blog takeover with a blogger friend and let them guest post on your blog while they guest post on yours
5. Create a workout hits playlist
6. Review the best books you've ever read
7. Review the worst books you've ever read
8. Find the best vegan recipes and do a round-up
9. Do a one-day vacation in your own city or a nearby city and write a travel guide for those who are planning a future visit
10. Create a self-care staycation
11. Find the best street-art in your city and showcase it
12. Home decor trends
resort-inspired decor
bone inlay
herringbone
colorful doors
mixed metals
13. Natural cleaning for your home
Halloween Blog Post Ideas
Halloween is a popular western holiday. If you live in a country where Halloween is widely celebrated, your readers will love to read these blog posts:
1. Show alternatives to carving pumpkins such as painting them
2. Do a round-up of the best-carved pumpkins you've seen
3. Ask your readers to submit their Halloween costumes and feature your favorites
4. List different ideas for couples costumes
5. List different ideas for pet costumes
6. Write what you think is going to be the most popular costume of the year
7. Write about your past Halloween costumes that you wore when you were younger and whether or not you'd wear them again
8. Do a post showing how to make certain costumes using only items from your closet
9. Create a costume using only items from your closet OR purchased second-hand
10. Post round-up of the best Halloween recipes you've come across (bonus: you get to make all the recipes and test them out for your readers!)
Holiday and Christmas Blog Post Ideas
For many bloggers, holidays contribute to massive spikes in blog traffic! You can use these holiday + Christmas blog post ideas to ensure you aren't missing out on any extra traffic:
1. Talk about different holiday traditions around the world
2. Write about your family's holiday traditions
3. Create your own Starbuck's holiday drink (bonus: actually make the drink and try to come up with a recipe you think your readers will love)
4. Find a more efficient way to wrap presents and share it with your readers
5. Talk about how you can save money over the holidays
6. Set up a Christmas-themed tablescape and share your creation process
7. DIY ornaments
8. Talk about your favorite holiday memory growing up
9. Volunteer and give back over the holidays and write about your experience; encourage your readers to do something similar
10. Write a gift-guide (i.e. gift guide for dog lovers)
11. Air-fryer holiday h'orderves
New Year Blog Post Ideas
Another popular holiday is New Years. Many people are trying to figure out what the trends for the upcoming year will be and what their resolutions should be. Here are a few ideas to help you come up with New Years-themed content:
1. Write about how to have the ultimate New Years Eve staying-in
2. Write about the worst New Year's Eve you've ever had
3. Talk about whether or not you believe in making New Year's resolutions
4. Discuss whether or not you stayed on track with your resolutions from last year
5. Write about your resolutions for the upcoming year
6. Take a guess at what the biggest trends of the upcoming year are going to be
7. Talk about what you enjoyed about the past year and what you can't wait to leave behind
8. Discuss what areas of your life you saw the biggest growth in the past year
Valentine's Day Blog Post Ideas
Valentine's Day isn't just for couples (although there is a lot of Valentine's Day blog post ideas centered around couples-content):
1. Date ideas for new couples
2. Date ideas for long-term relationships
3. Date ideas for newlyweds
4. Galentine's Day (i.e. a day just for you and your best girlfriends)
5. Gift guide for him
6. Gift guide for her
7. Write about the best date you've ever been on
8. Write about the worst date you've ever been on
9. Valentine's night in ideas
10. Post round-up of the best desserts to make for Valentine's Day
11. Create a list of cocktails and mocktails
12. Valentine's day decor ideas
13. Children's DIY for Valentine's day
Fashion Blog Post Ideas
Fashion is always changing, and as a fashion blogger, you'll need to be on-top of the latest trends if you plan to come up with Fashion blog post ideas that are trending.
1. Your favorite makeup
2. The best makeup for different skin-types
3. A guide to help people find the best lipstick shade for themselves
4. How to style ________ (take an item that is currently trending, for example, wide-legged pants)
5. How to layer properly (and fashionably)
6. Large earrings for different face-shapes
7. DIY all-natural shampoo or hair treatments
8. Anything on incorporating vitamin C into your skincare (vitamin C is incredibly popular right now)!
9. DIY makeup palettes
10. DIY Embellished shoes
11. Anything lashes – how to grow them, how to apply false lashes, how to make your lashes thicker etc.
---
On top of all these ideas, there are also many alternatives to blogging that can still bring you in lots of traffic (such as video, podcasts, etc)! If you are looking for different ways to spice up your blog, take a look at some of the alternatives and get creative!
Related: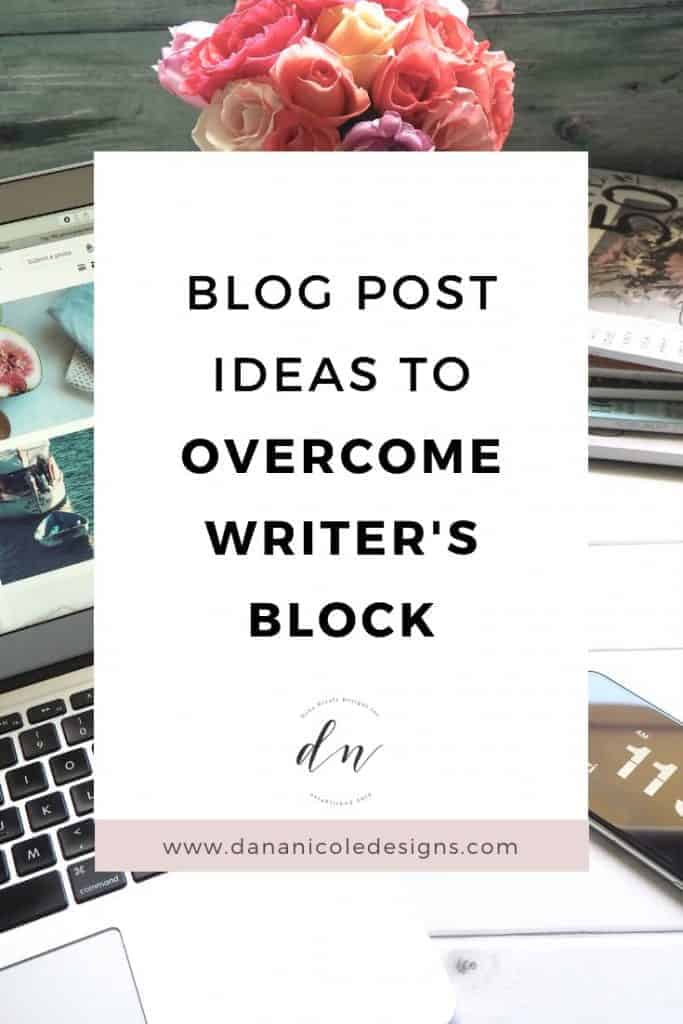 Learn to rank higher in Google with my free 

SEO for Beginners

workshop!
---
This article may include affiliate links. As an Amazon Associate I earn from qualifying purchases.