Last Updated on
Securing relevant and notable subject matter experts (SMEs) for your content is easier than you might think.
From authors to industry leaders, adding insight from SMEs in your niche lends your articles extra credibility.
And, even though we're sick and tired of hearing about A.I., adding credibility to your writing is crucial when you're up against OpenAI.
I've sourced hundreds of SMEs and have learned a trick or two along the way, and today, I'm sharing my exact process so you know how to snag valuable insight to give your articles a bit of oomph.
*Note: this article is centered around gathering SME for quotes and insight for a piece you're writing rather than in-depth interviews or case studies.
How to gather SME for your content
Step 1. Identify where an SME will bolster your piece
As a writer, there's a good chance you'll be hired to write about a topic that isn't within your realm of expertise. That's not to say you can't write on the topic, but you're likely not the right person to share personal expertise throughout the piece.
Here's an example.
I had to write a piece for Wordtune on summarizing research papers. In one section, I wanted to tell the reader how long a summary should be (500 words? 1,000 words? I honestly didn't know the answer because it had been a while since I had to summarize a research paper).
I had two choices: I could either research something and put together a guestimate based on other sources, or I could try to find someone with experience to give the reader a concrete answer.
Luckily, I knew someone who fit the bill. Take a read:

Thanks to Charlene, I had a precise answer backed with expertise.
As you outline your article, note which areas having SMEs will add credibility to your claims. Here are two things to look for:
Areas where Google doesn't give a cut-and-dry answer
Areas where someone's personal story can drive home your points
Step 2. Identify relevant SMEs
Finding the right SMEs is key if you want your work to be authoritative and creditable.
For example, if you're writing a piece about copywriting, you'll want insight from a successful copywriter. Not a copywriting student. Not a content writer. Be critical of who you source, otherwise, you might end up with insight that dilutes your main thesis.
Once you know which areas of your article will benefit from SME, you can start sourcing people to help.
There are two different ways to gather SME for your content:
Source it yourself (i.e., find and reach out to relevant experts)
Collect it through third-party platforms (i.e., put out an SME request and sift through responses)
Each method has its place, and I recommend using both to find the perfect source for your work.
#1. Source SME yourself
First, we'll go over how to source subject matter experts yourself.
Start by listing people who might be able to help you. Here are some ideas:
✅Find authors who've published a book on the subject (even better if you've read the book)
✅Reach out to people who regularly tweet about the subject you're writing on (search through niche hashtags to find experts)
✅Ask your client if they have anyone internally who can answer some questions for you
✅Find people who blog on the subject you're writing about
1. Craft your pitch
Ok—you've got a list of people who might be able to help. Time to craft your pitch.
Crafting a request that captures the attention of an SME can be tricky. It's important to be clear and concise in your request and provide as much information as possible.
After years of sourcing SME, I've developed an email template that hits all the points and answers every question potential SMEs usually ask. This template helps get replies faster with less back and forth. Feel free to use this template and customize it to your liking:
Subject: Can I feature you in [the publication you're writing for]?
Hi [name],
My name is [your name] and I'm a writer with [the publication you're writing for].
I'm currently working on a piece on [topic of your piece] and know our audience of [describe the audience i.e., creators/designers/founders etc.] would love to hear your expertise about [topic]. [Include one sentence on why you chose to reach out to them. i.e., you admire their work, you recommend their book to all your coworkers, etc.].
If this is something you'd be interested in, I can send you a list of 2-4 questions to answer. You can write as much or as litle as you like, but typically, a few sentences per question is perfect (nothing too labor-intensive!). And in exchange for your insight, you'll recieve a link to your website along with your quote in the article.
I'm working on a tight deadline, so I'd need to have your insight by [date you need the insight by].
Is this something you're interested in or have capacity for?
If you write your own email, make sure to hit these key points:
Include who you're writing for
Describe the audience
Mention what the source gets in return (dofollow backlinks are fairly standard, but some publications don't allow this. Make sure you speak with your client beforehand so you don't promise something you can't deliver.)
The due date
Something personal to build rapport with the person on the other end
Be explicit about what's required from them (i.e., a few sentences per question)
Ask if they're interested or have the capacity (doing so lets them know it's ok if now isn't a good time)
2. Contact your SME
Contacting SME is a balancing act. You may have a list of ten people you think could help you out, but you shouldn't contact everyone right away, and here's why: Imagine you send your SME request to ten people. Eight excited people get back to you and send over their insight.
Now you have insight from eight different people that you need to cram into your article. After all, you told each person that in exchange for their time, you'd feature their insight in your piece.
In most cases, featuring this much insight is overkill. Typically, you'll want to include one to three pieces of insight for an average article. Unless, of course, the purpose of the piece is to feature a range of insights (take this old post of mine titled "Is Blogging Dead? 14 Content Marketers Weigh In").
When you have too much insight in your articles, it tends to feel like a block of constant quotes. As a reader, it's too much. Not to mention, extracting value from that much insight is challenging.
Instead, I drip my requests. If I have a list of ten people to contact, I contact the top three I'd like to speak with. Typically, I ask if they can get their insight back to me by a specific date.
If I still haven't heard from them after that date passes, I reach out to my next batch of people on the list. Here's how that might look if I have a two-week turnaround for a piece:
March 1: I am assigned a piece due March 14.
March 2: I complete a rough outline where I can see which SME I'd like. I create a list of people to contact and send off a few emails. I ask the first batch of SME to have their insight to me March 7.
March 7: If the SME don't get back to me, I reach out to a few more people. I ask this group to have their insight to me by March 11.
3. Collecting insight
If someone agrees to answer your questions, you can either send them an email with your questions or a form.
I like using Google Forms because it's a clean way to collect insight and it allows for file uploads—perfect for asking your SME to upload a headshot that you can use alongside their quote.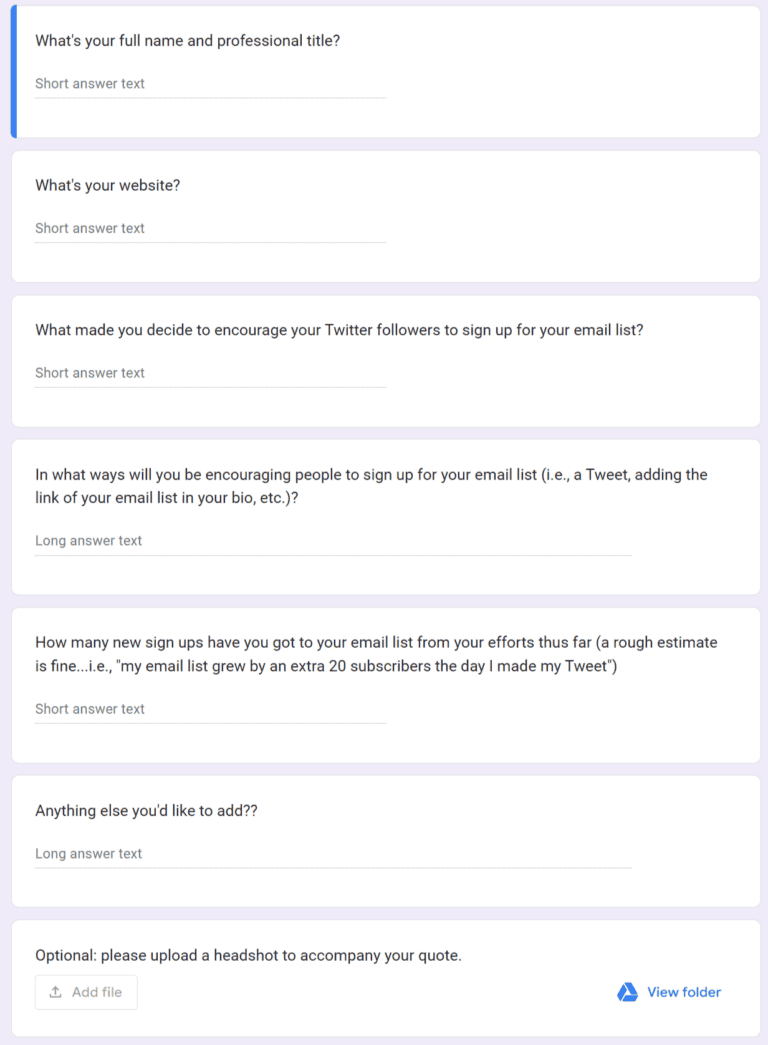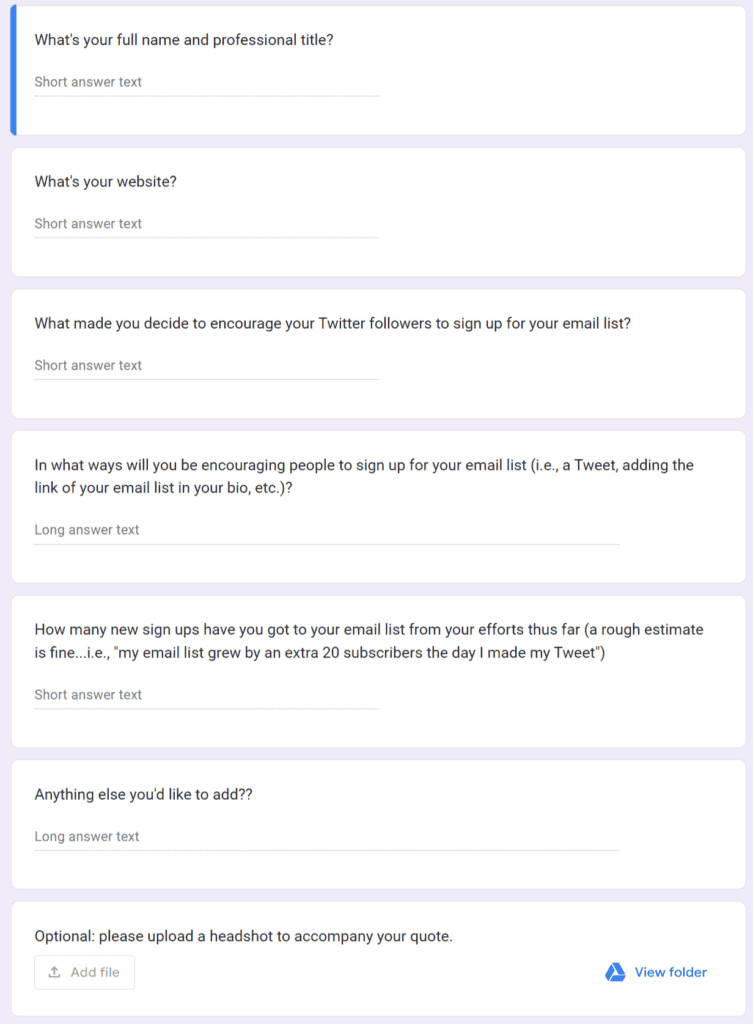 #2. Collect SME through a third-party platform
Collecting SME through third-party platforms is another great way to add insight to your pieces, but be prepared to dig through a lot of responses to find what you need.
However, you can always find a diamond in the rough with these platforms. I turn to third-party platforms when:
I don't know anybody personally
My SME falls through
None of my prospects were able to meet the deadline
When this happens, I use these places:
1. Qwoted
Qwoted is my favorite place to gather SME. It's easy to use, and the responses are high-quality. Even better, you can put out a request for SME and search through Qwoted's database of experts to find people to message directly.
When searching through sources, you can sort through different industries, companies, locations, and more.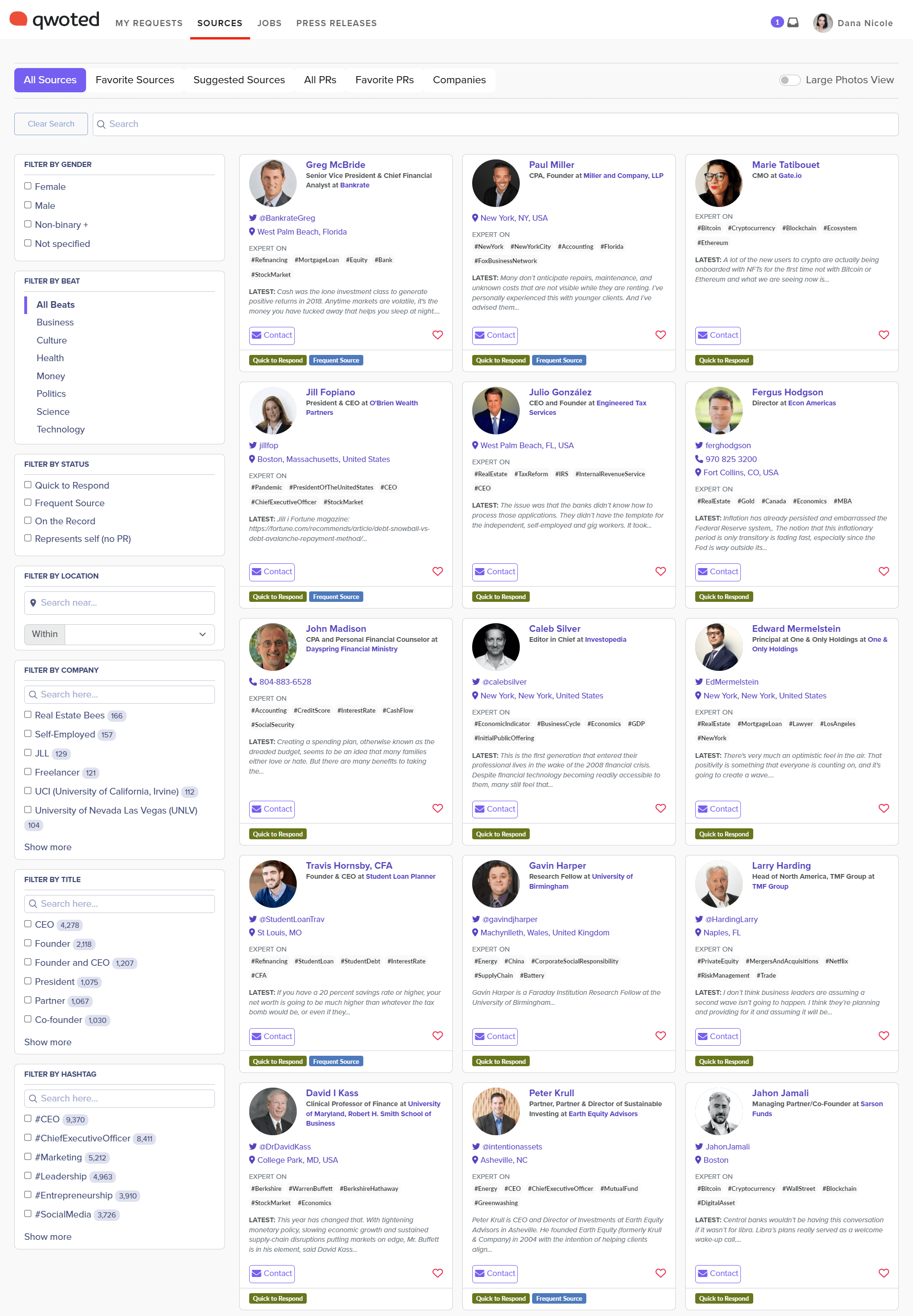 2. Twitter
Even if you have a small audience, Twitter can also be a great place to get in touch with experts.
Tweet out who you'd like to speak with and use the hashtags #PRrequest and #journorequest in your tweet. With these hashtags, @PRJournoRequest will retweet your tweet, helping you reach a wider audience.
You should also ask for rewteets, like writer Marijana did, which can help you reach the right people even if they aren't in your audience.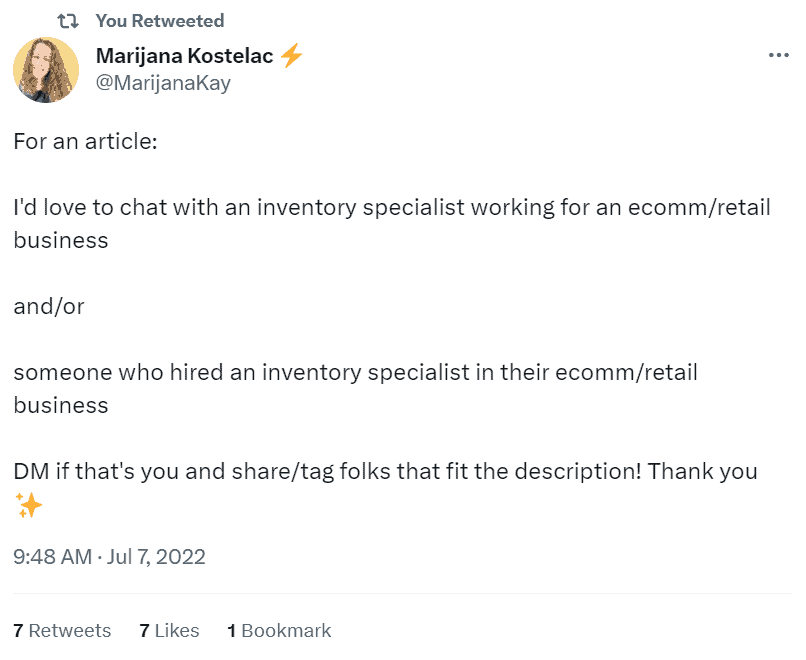 3. Help A B2B Writer
Help A B2B Writer is another great resource for writers in the B2B space.
All you need to do is fill out the form and wait for responses to come to your inbox.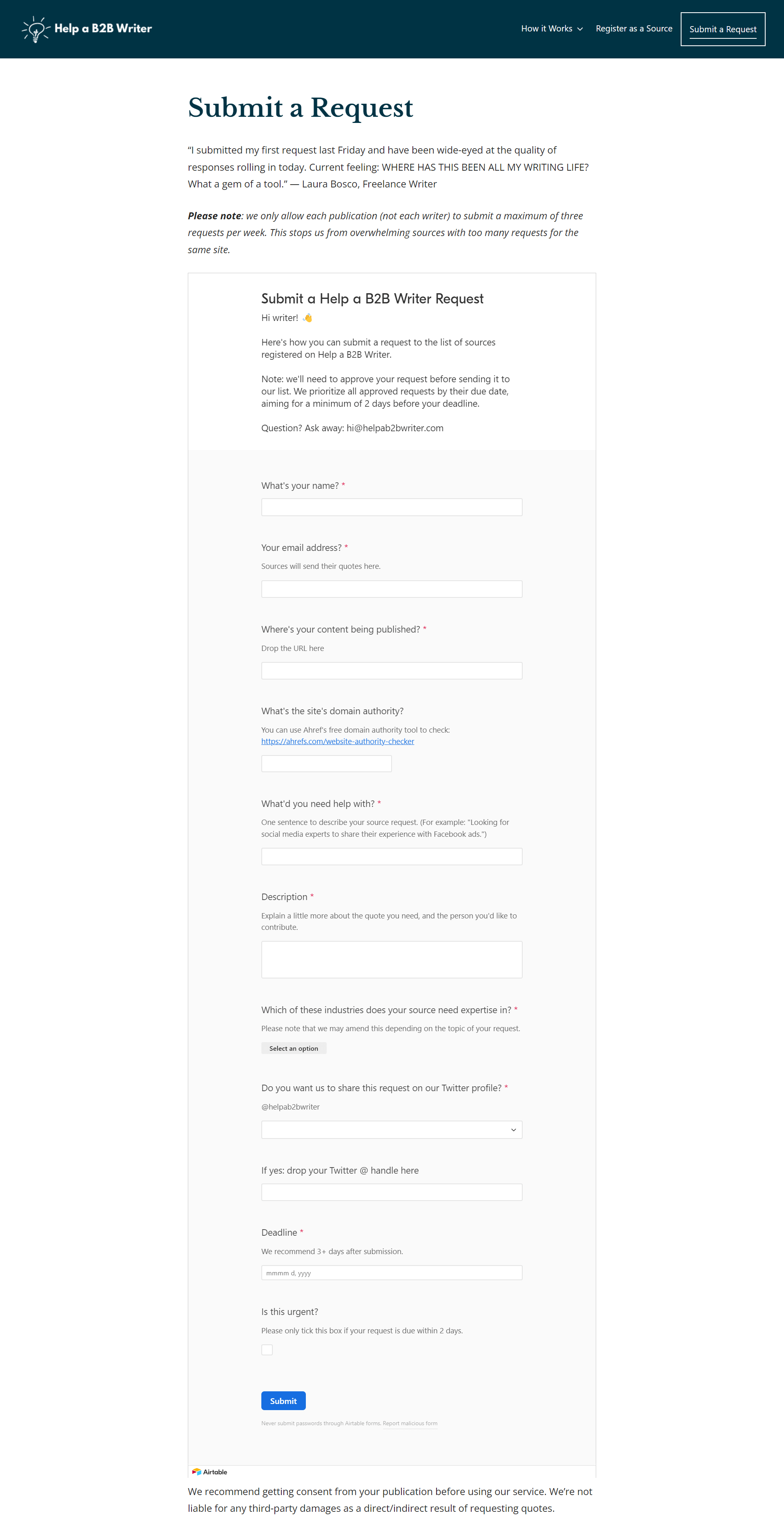 4. HARO
HARO is the last place I go to find SME. Truthfully, HARO hasn't been great as of late, and I find myself sifting through over 100 responses to find maybe one suitable response.
However, if time's on your side and you're ok sorting through replies, you may find a useful nugget on HARO.
Step 3. Thank your SME and build out a database
After receiving insight from someone, be sure to thank them. If possible, let them know when the piece will be live and where they can find the published piece.
If you're really on the ball, you can email them when the piece is live.
Secondly, ask if you can contact them for more quotes in the future. If they say yes—which they most likely will—add their name to a spreadsheet. Use this spreadsheet to start building out your own database of SME that you can reference in the future.


In my spreadsheet, I include their name, email, and a few notes describing their area of expertise. Now, when I need SME, I can go straight to people with whom I've previously built a relationship.
Other factors to consider when choosing SME
When adding SME to your piece, it's essential to research your sources and ensure their values align with the brand's values of whom you're writing for.
Some publishers don't even allow SME because they worry about featuring someone who may impact their brand.
Make sure you speak with your client before sourcing SME to confirm that they allow external experts to provide quotes and if they have any criteria for selecting SME.
In summary
Finding the right subject matter expert to add to your blog posts can be a challenging task.
However, with some research and a few simple steps, you can easily identify and contact SMEs who can provide valuable insight into your topics.
Good luck, and happy blogging!
---
This article may include affiliate links. As an Amazon Associate I earn from qualifying purchases.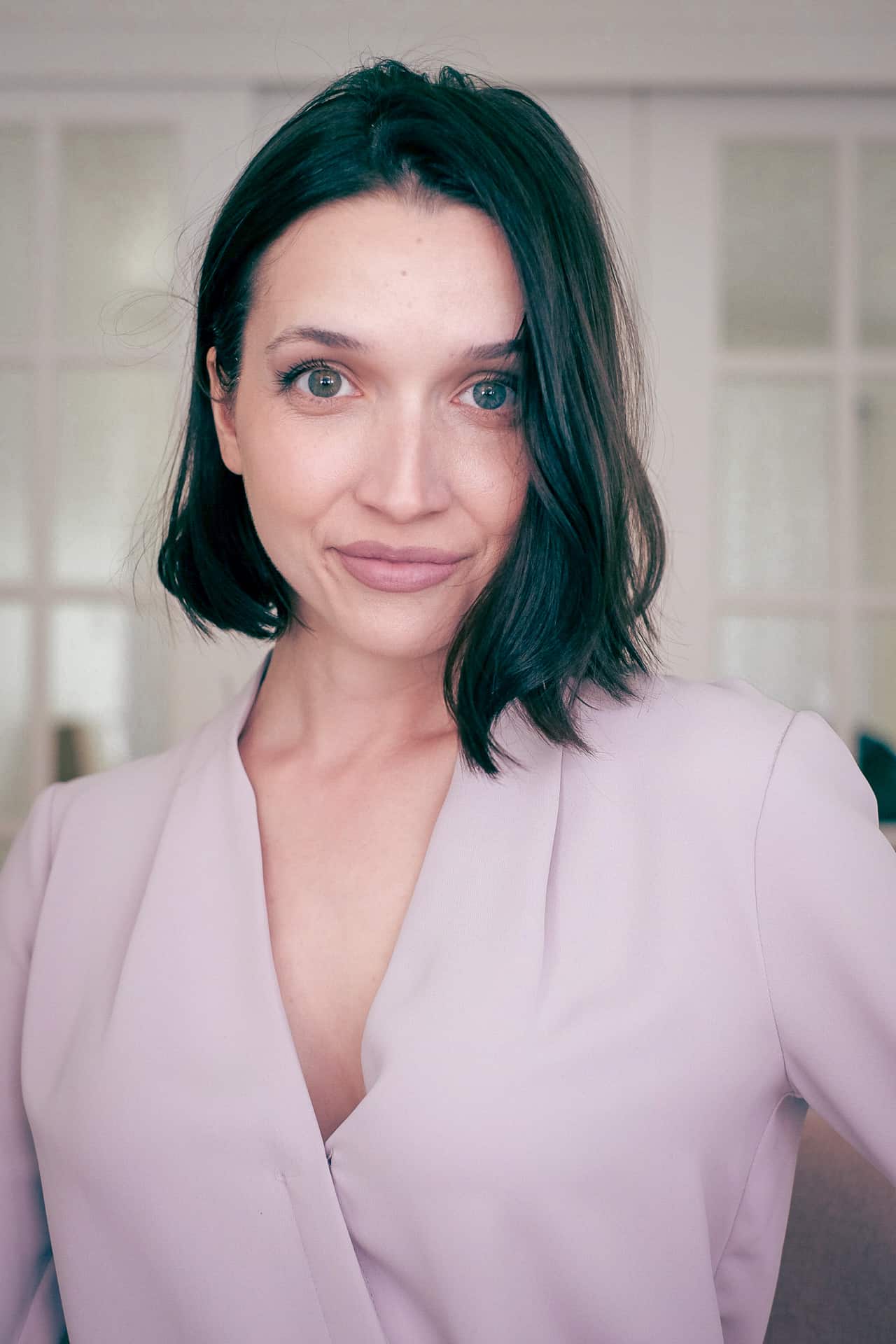 Dana Nicole is an award-winning freelance writer for MarTech/SaaS who was rated one of the best SaaS writers by Software World. She specializes in writing engaging content that ranks high in search engines and has been featured in publications like Semrush, ConvertKit, and Hotjar.
Dana holds a Bachelor's degree in Business Administration and has over 15 years of experience working alongside national brands in their marketing departments.
When Dana's not working, you can find her dancing en pointe, cooking up new recipes, and exploring the great outdoors with her two big dogs.