Last Updated on
There are plenty of Grammarly reviews. So why read mine?
As a professional writer, I've used Grammarly a lot. In fact, I've used Grammarly to review over 10 million words (10,930,364 words as of writing this, to be exact).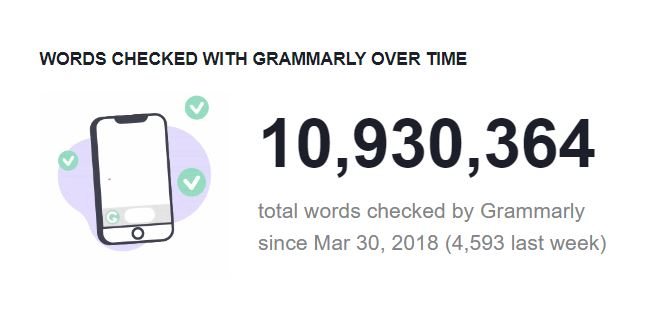 So, if anyone knows whether Grammarly is worth the money, I'm confident it's me.
But before I dive into my complete Grammarly review, let's quickly go over what Grammarly does.
This post contains affiliate links. I've been using Grammarly since 2018 and wouldn't recommend it if I didn't love it.
What is Grammarly?
Grammarly is a popular AI-powered editor that edits and refines your writing.
It has three plans: free, premium, and business.
Grammarly's free version helps detect spelling, grammar, and punctuation errors, helps you remove unnecessary filler words, and detects your tone so you know if you're writing style is appropriate for your audience.
The free plan is a great place to start to get familiar with how Grammarly works.
But today, we're talking about Grammarly Premium, and as you'll soon discover, Grammarly Premium does much more than check for misspellings and grammatical errors.
Who is Grammarly for?
In short, Grammarly is for anyone who writes. But from my experience, there are a few groups of people who get the biggest bang for their buck from Grammarly:
✔️Students: students of all ages can use Grammarly to edit papers and other written homework. The Citation Generator is particularly useful for generating citations (something I wish I had back in my day as a student).
✔️Bloggers: bloggers will find Grammarly useful to help them edit and polish blog posts and other writing, like landing pages, social media posts, or brand pitches.
✔️Writers: writers will find all of Grammarly's features helpful, especially those to catch minor mistakes before passing their work off to their human editors.
✔️Marketers and content teams: marketers can use Grammarly to review and edit any content and copy they receive from freelancers, along with the plagiarism checker to ensure everything they publish is 100% original.
✔️Business owners: business owners can use Grammarly to review and edit emails they send, like pitches, proposals, and any other written work they need help refining.
Why I swear by Grammarly as a professional writer
As a writer, I have high expectations for the writing tools I use.
After all, my clients pay me to write, and I need to deliver exceptional results. My fingers soar over the keyboard faster than my brain can keep up, and I'm not embarrassed to admit that I need Grammarly to catch those pesky errors that fly under my radar.
Not to mention, Grammarly saves me time. Instead of combing through 10 million words to ensure I didn't use apart instead of a part, I can do other things with the time I save. Much better things—like curling up with a heated blanket and watching When Harry Met Sally for the tenth time. Aside from errors, Grammarly helps me tighten my writing (I'll show you how in a bit).
But that's me. And I don't want to speak for you. So instead of telling you what I think of Grammarly, I'll show you actual screenshots and examples, and you can decide for yourself.
Write better with Grammarly Premium!
How Grammarly Premium will help you
| | |
| --- | --- |
| Grammarly Premium features: a quick overview | |
| Spelling + grammar checks | Notifies you of grammar and spelling mistakes so you can ensure your work is error-free. |
| AI writing assistance | Gives you quick tips to help you write and rewrite content. |
| Sentence structure revisions | Identifies weak writing and confusing sentences and suggests ways to re-write the sentence to it's stronger and leaves a lasting impact. |
| Plagiarism checks | Checks your writing with billions of other documents to ensure it's unique and one-of-a-kind. |
| Citation generation | Creates quick citations with Grammarly's Citation Generation (available for the premium and free versions) |
| Goal setting | Defines what you're writing, your intent, who you're writing for, and the level of formality your writing needs. |
| Tone detections + suggestions | Gives a quick snapshot of the tone of your writing to ensure you're on the right track. |
| Access to expert editors | On-demand editing from experts right within Grammarly. |
| Grading | Reviews your work to ensure you've hit things like word count, length and spots any other glaring issues you need to fix before finalizing your piece. |
| Free personalized emails | Weekly emails where you can discover how to improve your writing. |
| Tailored editor | Make the most of Grammarly by tailoring it to what you need most. |
Write better with Grammarly Premium!
Identify basic spelling and grammar mistakes
At its core, Grammarly checks for grammar and spelling mistakes. This feature isn't Grammarly's selling point but is still useful. Although, if I'm being honest, most computers have spelling and grammar checkers baked into their software, and this feature alone isn't enough to make Grammarly stand out.
However, basic spell checkers only look for spelling and can't identify instances where you may have used the wrong word.
Take the sentence below, for instance. It reads, "it would be great if you could have something to be before…" Grammarly immediately alerted me to this error, prompting me to change be to me. Funny enough, I didn't make that error on purpose for the sake of this review. But I'm glad my clumsy fingers made it so I can show you Grammarly's power.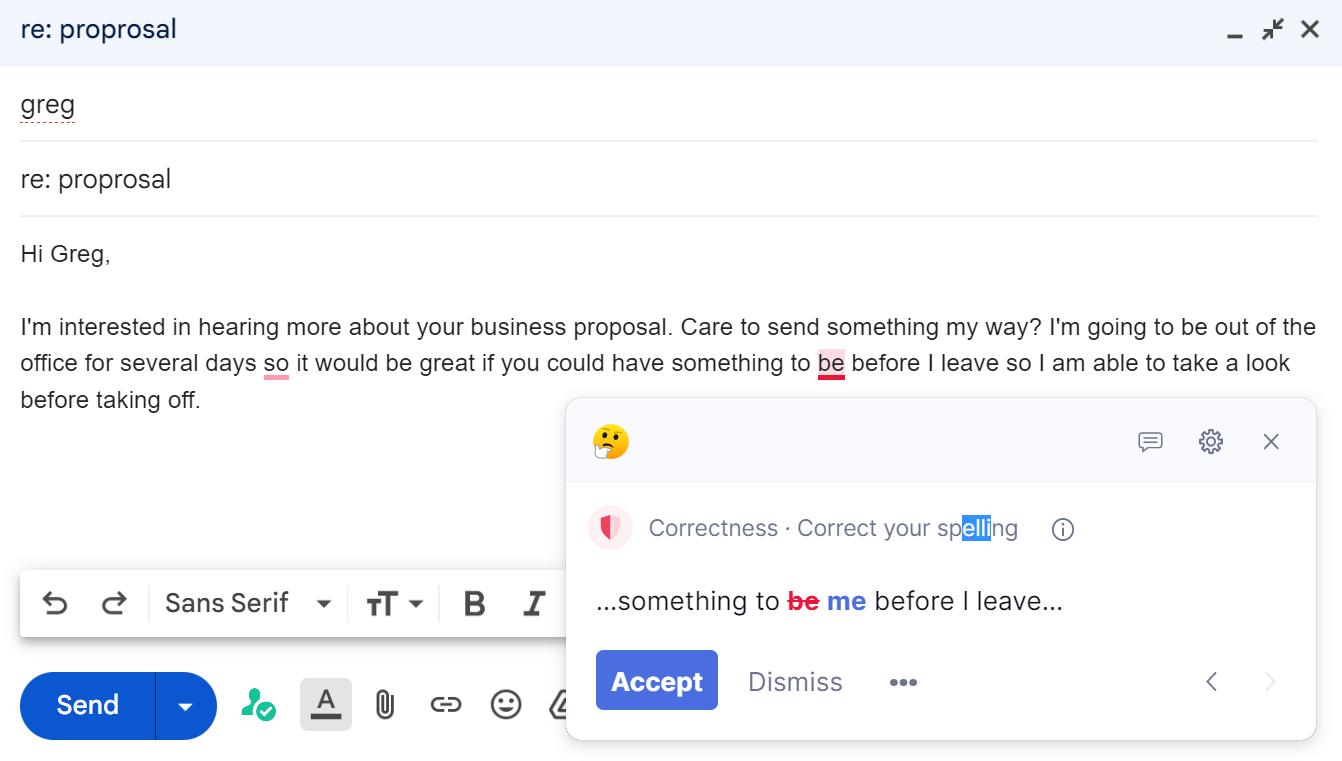 Grammarly also recognizes overused words and suggests something more impactful. For example, the word important. Grammarly suggests using stronger words like essential and vital. Let's see that in action:
😔Drab: "It's important to exercise for your health and well-being."
🤩Fab: "It's vital to exercise for your health and well-being."
Doesn't the second one pack a stronger punch? All we changed was one word, thanks to Grammarly.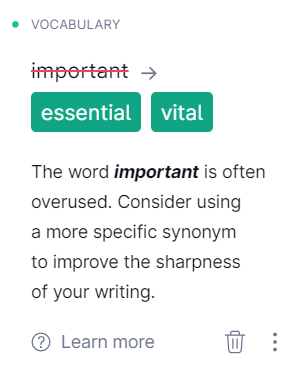 Most native spell checkers don't do this. They simply alert you when you've misspelled cheese as chese. But Grammarly does, which is why it outshines other grammar checkers.
Next, with Grammarly's extension installed, you can double-click on any word within your document, and Grammarly will provide a list of suitable synonyms (peep the screenshot below for a list of suitable synonmyns). With this feature, your vocabulary will expand, and you'll become a better writer.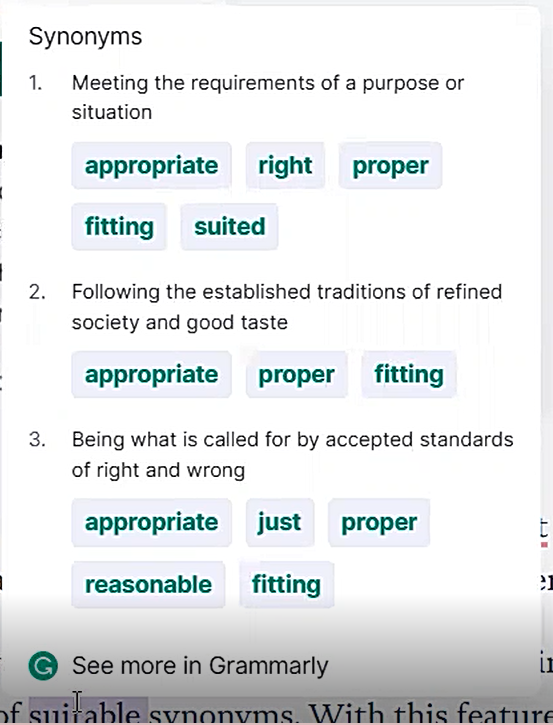 Finally, Grammarly checks if you're using the right spelling based on the geographic location you set. Although I'm Canadian, I write in US English for my clients, so I greatly lean on this feature.
You can toggle the editor between American, British, Canadian, and Australian English as needed.

❤️Why you'll love this feature: you no longer need to waste time looking for little mistakes that your computer's native spellchecker missed.
Improve writing with generative AI
GrammarlyGO is Grammarly's answer to generative AI.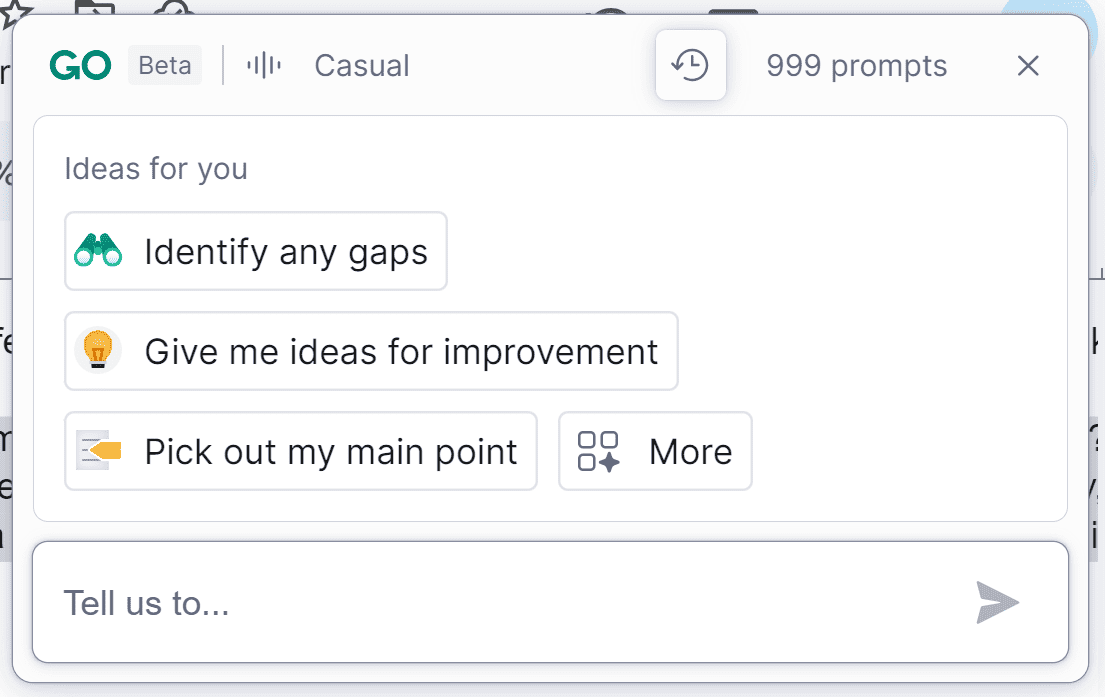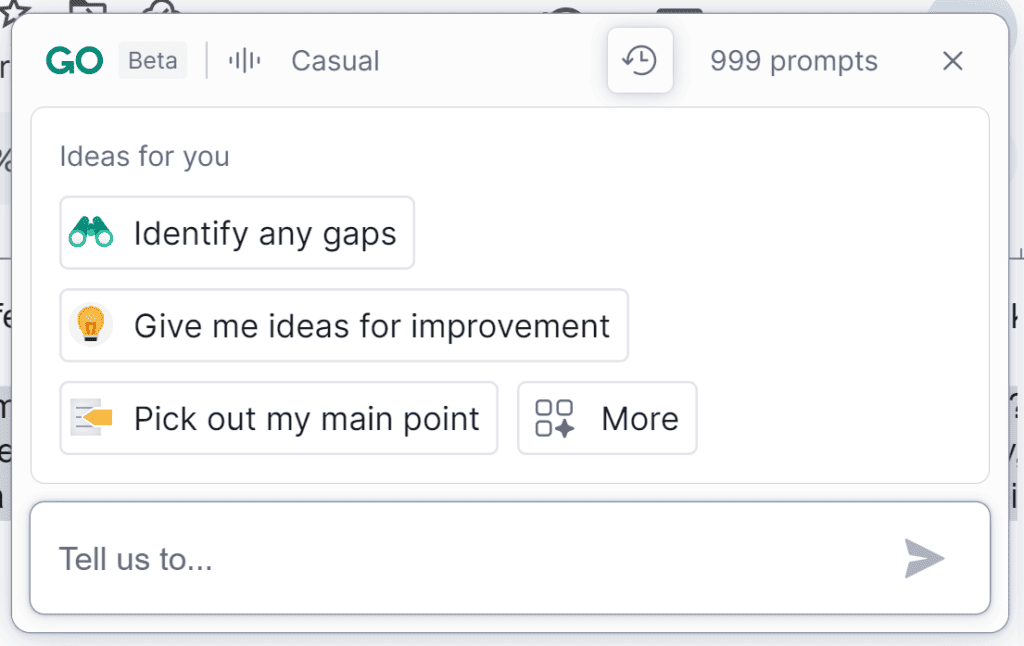 You can choose from pre-made prompts or write your own.
Some of my favorite pre-made prompts include:
Draft an outline: great for writing blog posts
Make it persuasive: ideal when writing sales copy
Identify gaps: to help you spot areas of improvement in your writin
❤️Why you'll love this feature: GrammarlyGO improves your writing at lightning speed. You can get your writing done faster and know it'll sound great.
Spot and fix poor sentence structure
Clunky sentences are hard to read and make it even harder to get your point across.
If you're a student, that might mean the person grading your paper has difficulty understanding what you're trying to say, resulting in a poor grade.
If you're a blogger, it could mean your reader leaves your site and doesn't become a subscriber.
But Grammarly can spot sentences with poor structure, highlight them, and suggest improvements.
Here's an example from this very blog post:

Grammarly also shows which words to remove in your sentence without rewriting it completely: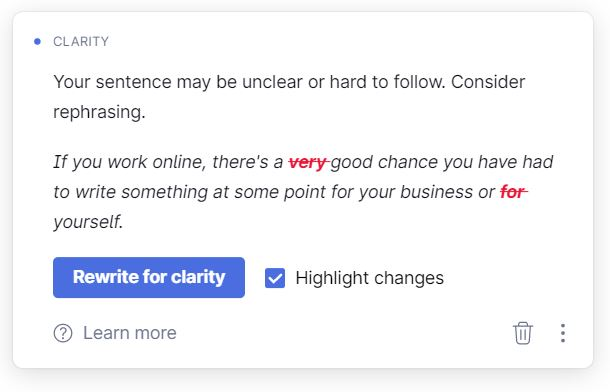 Another aspect I love about Grammarly is how it checks for active and passive voice and helps you turn passive sentences to active ones.
In the example below, Grammarly is flagging a sentence which reads, "…and then the pen was thrown."
To which Grammarly, suggests who or what threw the pen, to help you make the sentence active.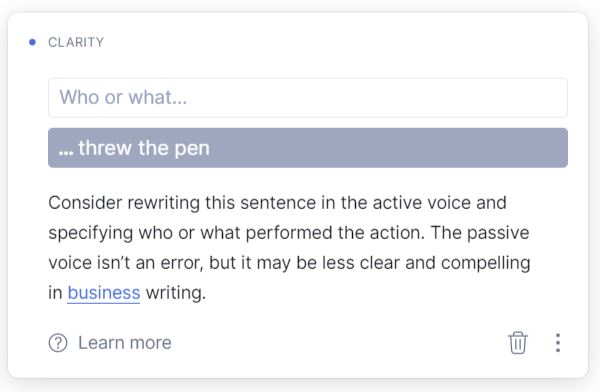 (Note: If you need to write with passive voice, you can turn off the active/passive notifications and Grammarly won't flag the passive sentences.)
Another feature I love about Grammarly is how it detects monotonous passages.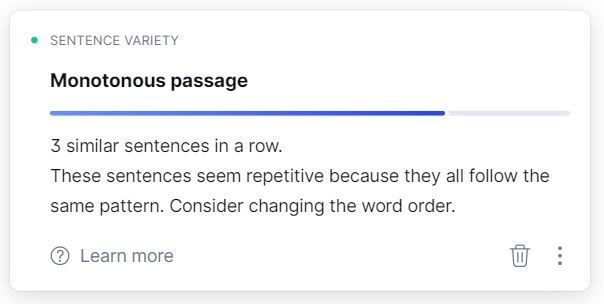 People who don't write for a living often find it difficult to make their words flow—that comes with lots of practice. But with Grammarly, you can make your writing sound silky and smooth.
❤️Why you'll love this feature: this feature takes Grammarly from a basic grammar editor to a buffed-up editing machine. As such, your writing will sparkle.
Check for plagiarism
Everyone needs a plagiarism checker, whether you think you do or not.
If you're a student writing papers, you may unintentionally use the same phrases from something you previously read that your brain stored away in your subconscious. If you're a content manager, you need to check every piece of writing that lands on your desk to ensure everything you publish is original.
Grammarly's plagiarism checker is both useful for everyone and easy to use.
In Grammarly's editor, I pasted some text from a published blog post of mine. The plagiarism checker identified the writing was 100% planarized and included the text and link to the original source.

Plagiarism checkers also help you find people who have stolen your own work. By entering your original text into Grammarly and running the plagiarism checker, you can swiftly find any website with the same text. This is a handy feature for bloggers, content marketers, and small businesses.
❤️Why you'll love this feature: Grammarly checks over 16 billion web pages to ensure your writing is 100% original. Your mind will be at ease knowing the words on your page are uniquely yours.
Cite your sources
Citing sources is a tedious task for students. There are different ways to format your citations, and remembering them is tricky.
To use Grammarly's Citation Generator, select the citation style, choose which piece of work you are citing, and enter the information. Grammarly automatically gives you the full citation along with the in-text citation.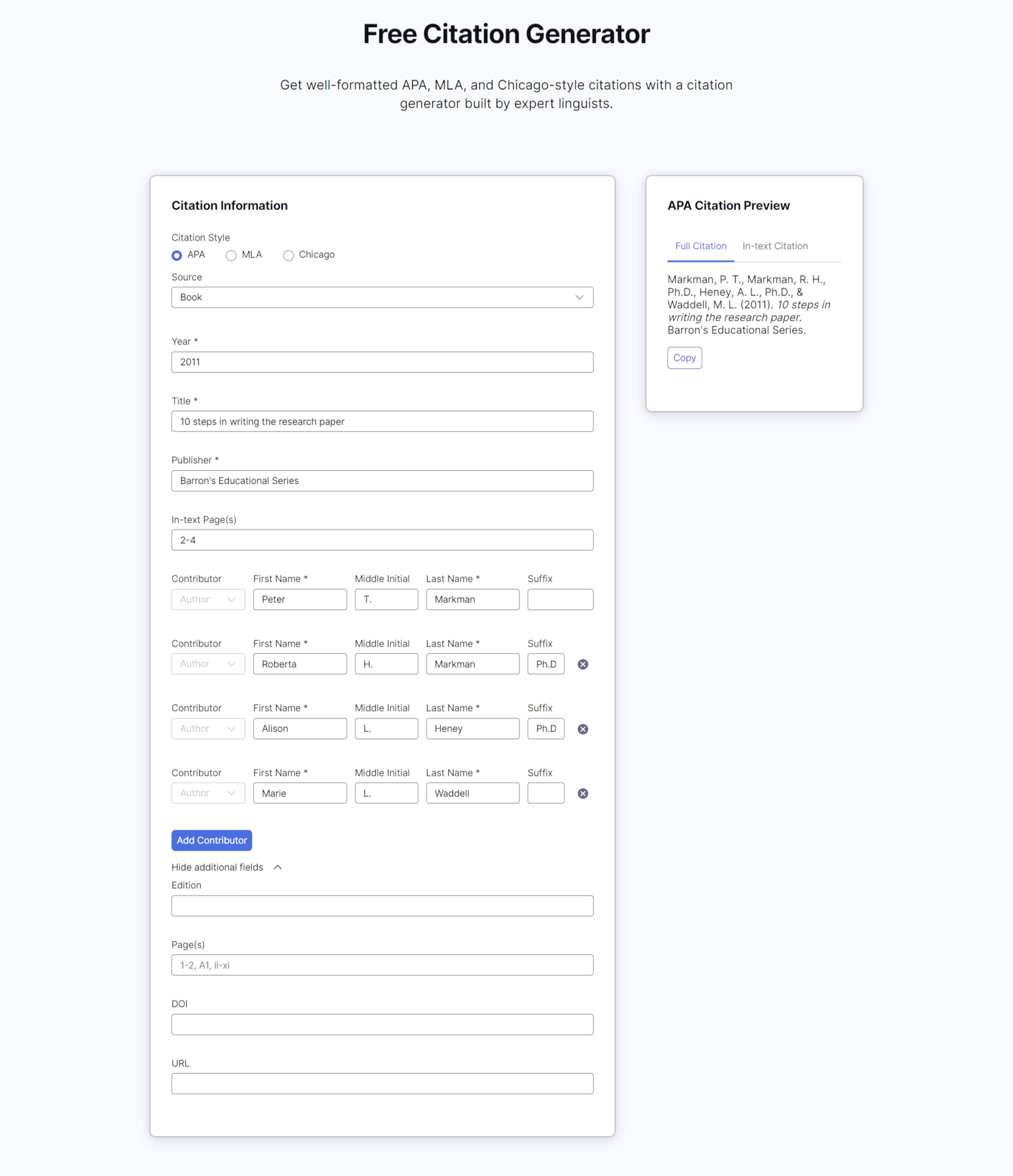 What's better is that this citation generator is free to use, and you don't need a Grammarly Premium plan to access it.
❤️Why you'll love this feature: 98% of people surveyed said they'd rather get a root canal than write their sources by hand. And although I 100% made up that stat, I think it's probably accurate.
Set goals for each project
It's highly likely you need to write for different types of people throughout the week. A student may need to write a paper for a science class, needing their work to be formal and academic, but in another class, they may need to write a story that needs to be creative and entertaining.
Grammarly's Goal Setter lets you define your goals for each project.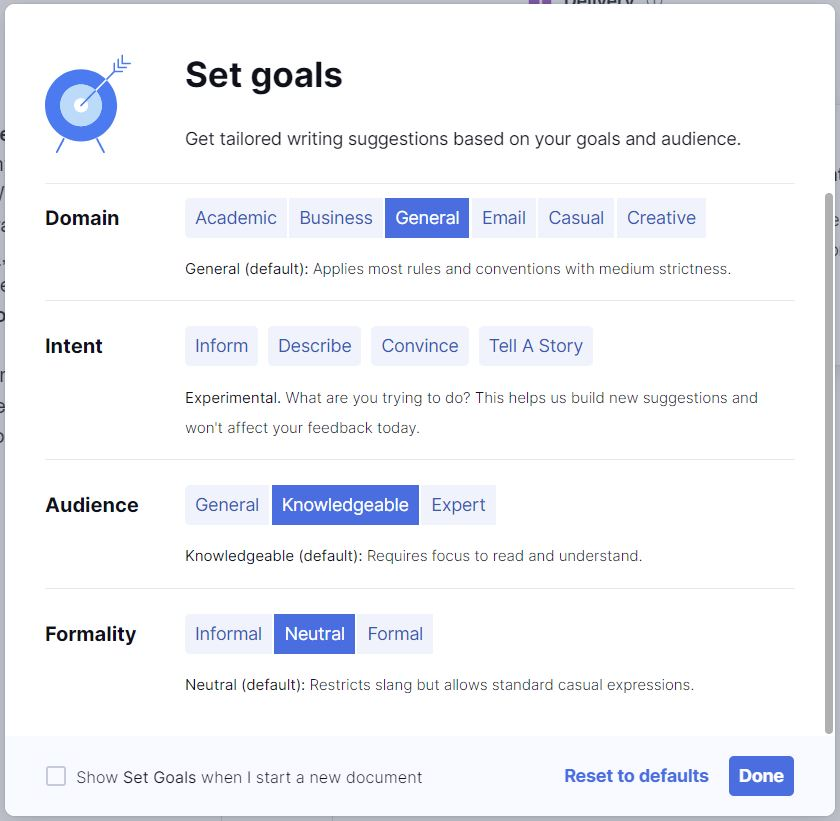 For each goal, you can set the domain (academic, business, general, email, casual, and creative), the intent (inform, describe, convince, or tell a story), the audience (general, knowledgeable, or expert), and how formal you want the writing to be.
After setting your goals, Grammarly will tailor the advice and suggestions so your writing is the best it can possibly be, no matter who or what it's for.
❤️Why you'll love this feature: Grammarly keeps track of all your projects and provides tailored feedback depending on the goals you set. You don't need to waste time remembering the goals for each piece you write.
Check your tone
Grammarly's Tone Insights helps you refine the tone of your text through Tone Detection and Tone Suggestions.
Tone Detection
Grammarly detects your tone and shows you how your text sounds via an emoji-snapshot.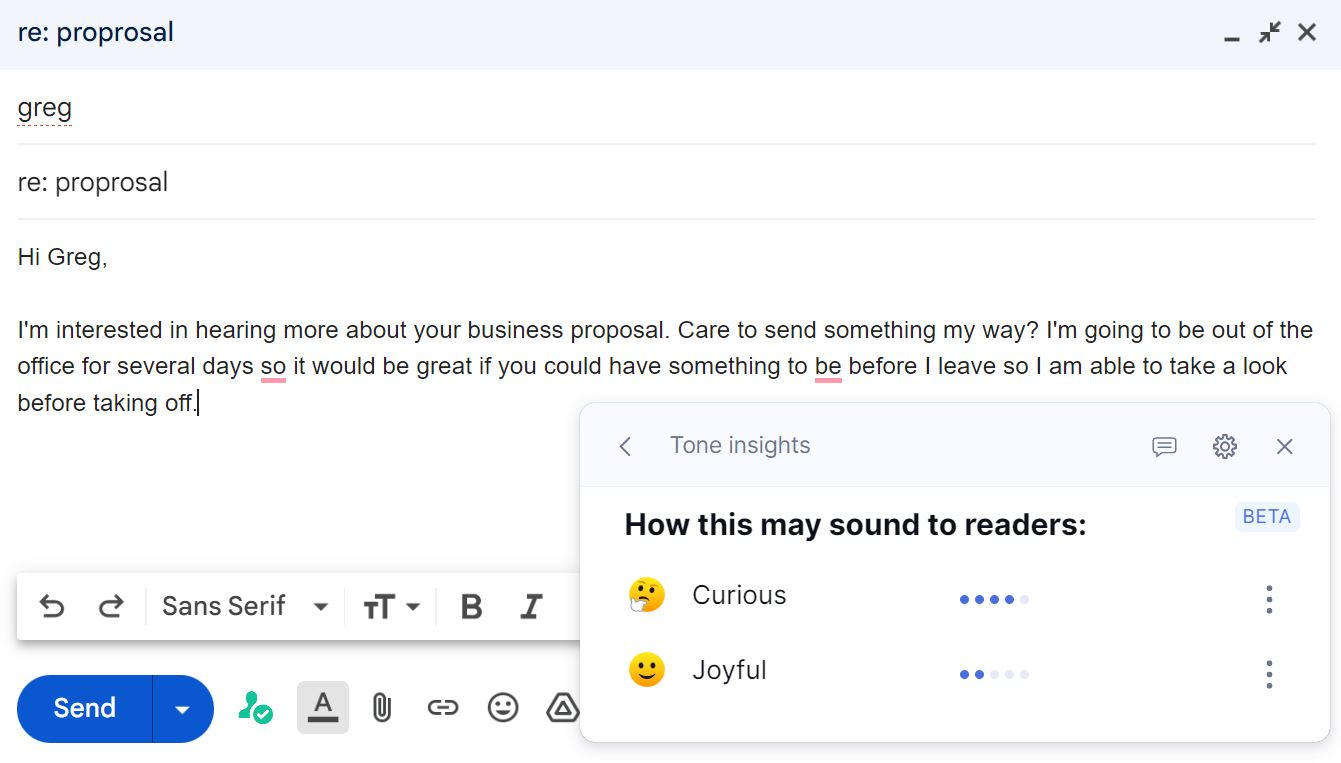 Tone Suggestion
Grammarly also gives you suggestions on your tone to help you sound more:
Diplomatic
Confident
Constructive
Friendly
Sincere
Formal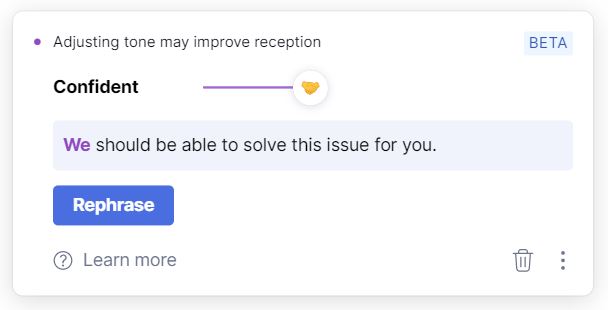 Plus while you're writing, you can adjust the tone slider to fit the style you want to achieve.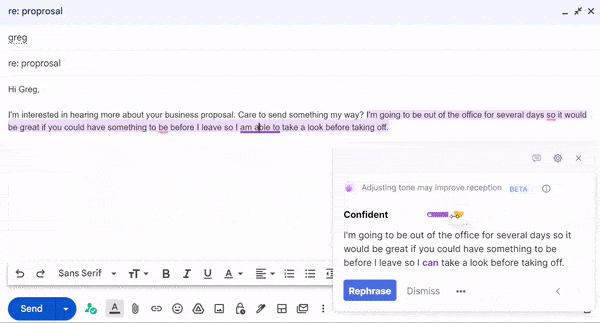 ❤️Why you'll love this feature: Grammarly tells you how your writing sounds before someone else reads it, so you never need to lay in bed stressing about whether that last email you sent was unprofessional.
Expert human editing
Grammarly isn't a replacement for human editors, and they know that. Which is why Grammarly Premium members can submit their text to actual editors for those who want an extra set of eyes to review their work.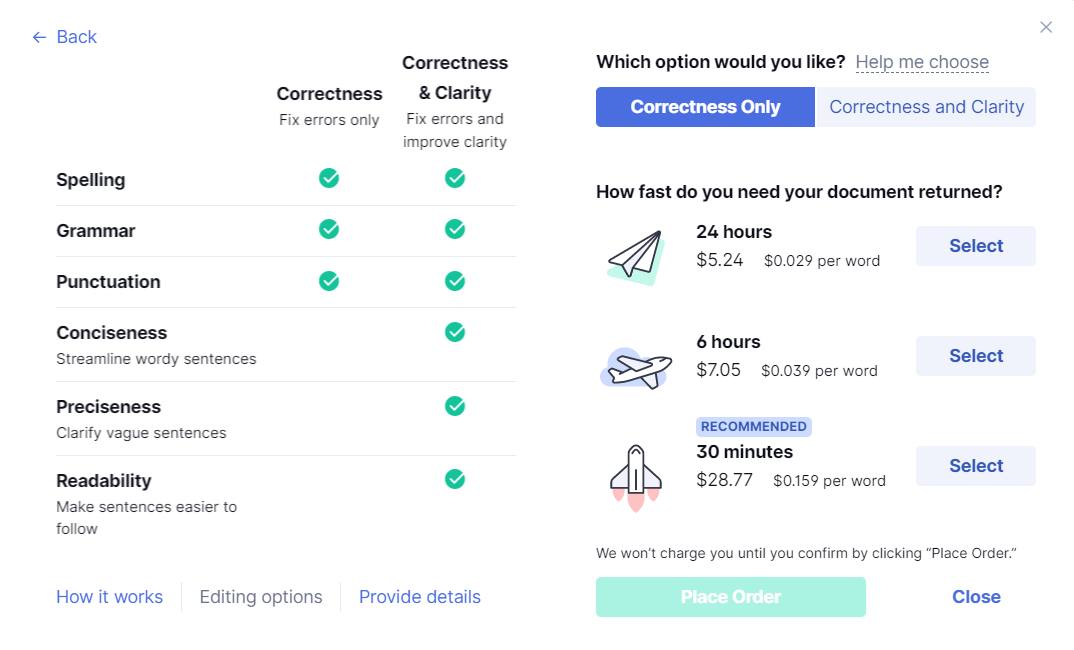 You can have your work edited in as little as 30 minutes. Talk about fast. With the editors, you can choose from two packages: correctness, where an editor only looks at spelling, grammar, and punctuation, or correctness and clarity and correctness and clarity, where an editor combs through your work and helps with sentence structure, readability, and more.
Many freelance editors are not available to get your work back to you within half an hour, so Grammarly's editors are an excellent option for those who need their work edited fast and affordably.
❤️Why you'll love this feature: A second set of eyes is fantastic for projects of great significance, like a piece of work you're publishing or something worth a large chunk of your grade.
Grading
Grammarly's grading tool gives you a quick look of your writing, including:
Length
Time to read/time to speak
Character, word, and sentence count
Readability scores
Vocabulary checker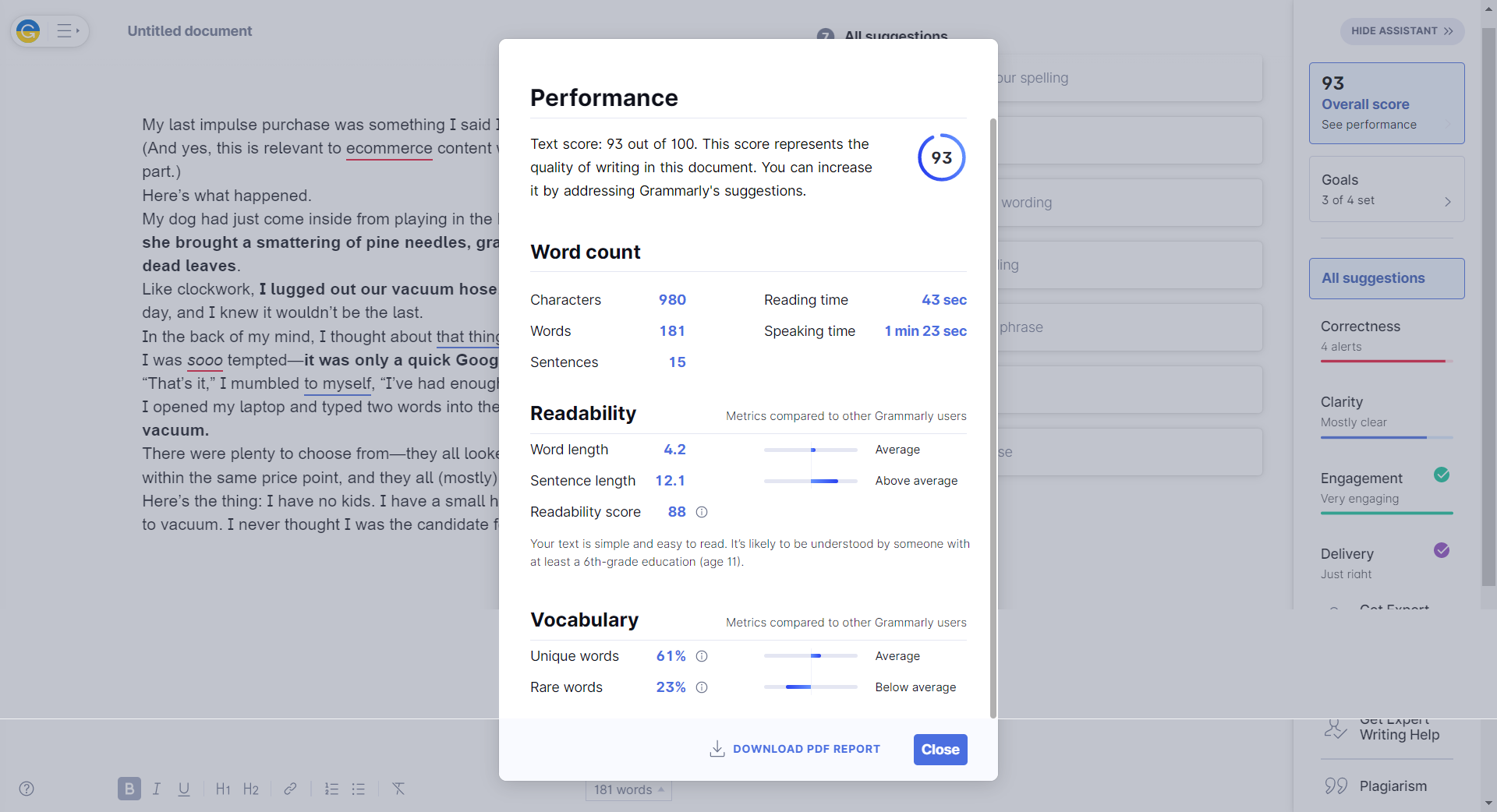 ❤️Why you'll love this feature: These stats align your writing with your audience, so you don't write something that turns them away. PS—did you know that for a broad consumer base, your writing should be at an eighth-grade level? Grammarly lets you quickly see where you're at so you can adjust accordingly.
Personalized emails with tips
If I could dogear my inbox, Grammarly's emails would have the most creases. Grammarly's newsletter opens your eyes to what you struggle with, where you need help, and give you resources to improve. They send out ultra-personalized emails packed with tips galore. Take a look at my latest:

❤️Why you'll love this feature: These emails are like a tutor laying out a roadmap to help you improve your writing skills. They make writing easy and fun, and with subjects like "Your writing was on point last week!" also give you a major boost of serotonin.
A tailored editor
Grammarly gives users the ability to tailor the editor to their needs in a few different ways.
First, accessibility: I was thrilled to see some accessibility features built-in (like larger font sizes and a colorblind mode).
But because I'm neither colorblind nor need larger text sizes, I'm unable to comment on whether these features are actually useful. If you're someone who would benefit from these features, I'd love to hear what you think. Feel free to drop a comment below.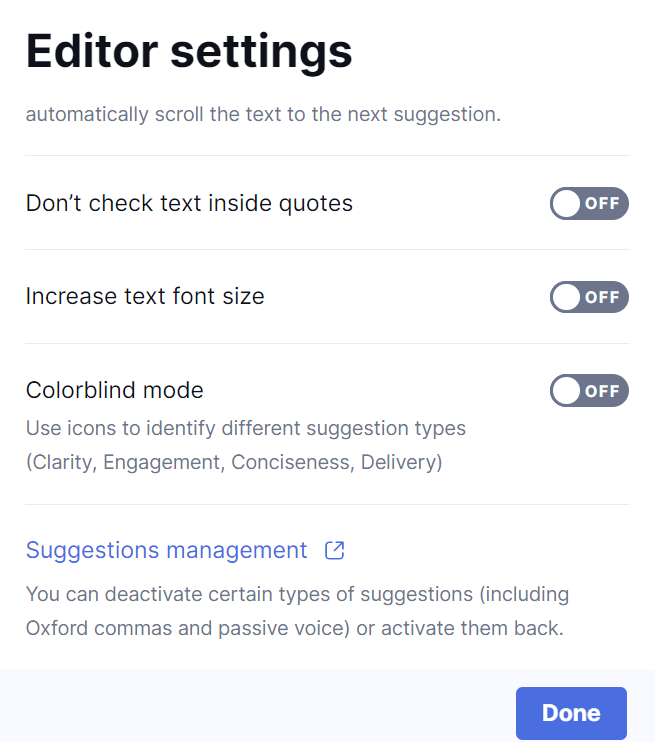 Next, you can add a list of words you don't want Grammarly to flag. This is useful if you're writing in an industry that uses jargon and terms Grammarly may not know.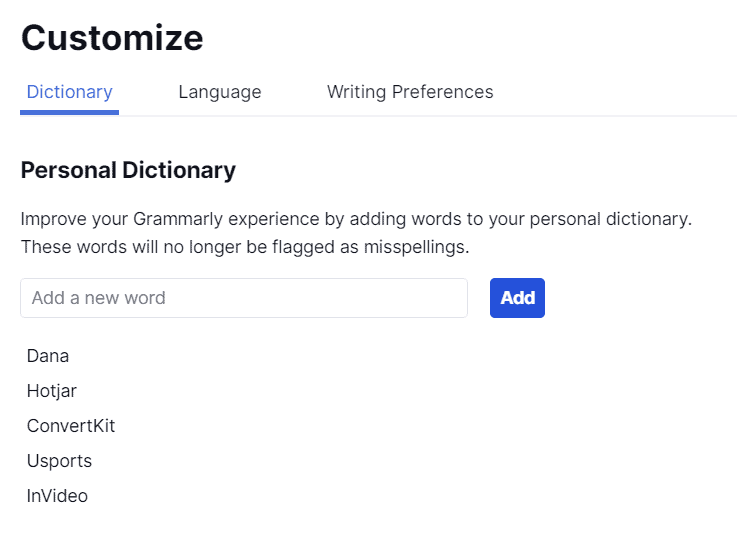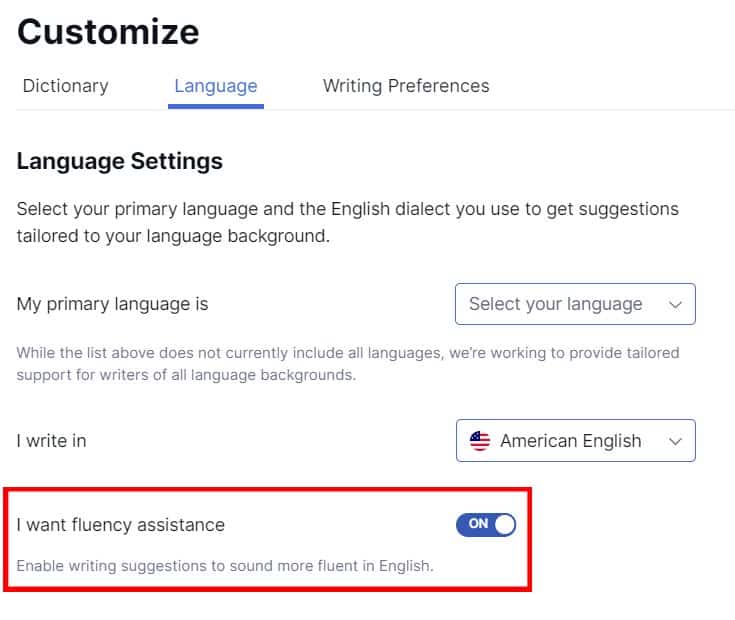 Lastly, Grammarly has a slew of other features you can toggle on and off, like flagging non-gender-neutral language and ableist language.

❤️Why you'll love this feature: Make sure Grammarly isn't wasting your time with suggestions you don't need or want. Tailor your editor so it's entirely yours.
Where can you use Grammarly?
Unlike your laptop's built-in editor, which only works in certain programs, you can use Grammarly just about anywhere.
Grammarly's editor
The first place to use Grammarly is within their editor. You can upload new documents, download your work, and even print your work.
You can also stylize your text within Grammarly's editor by adding bulleted and numbered lists, bolding, italicizing, and underlining text, adding links, and more.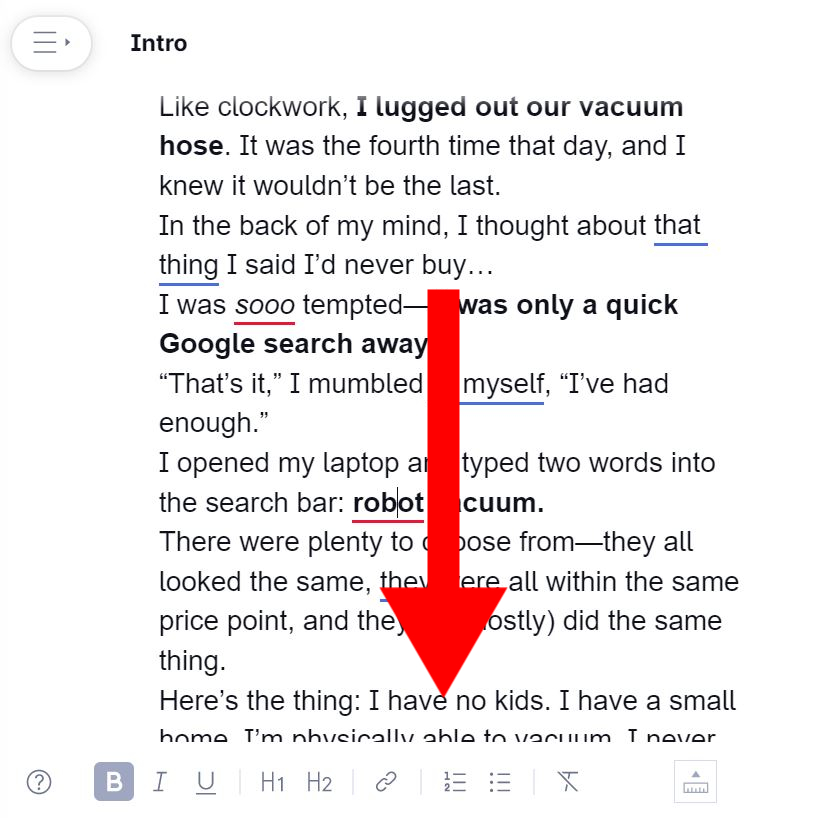 And, of course, you can use all of Grammarly's editing features. Grammarly also automatically saves your work into your account, so if your computer crashes, it'll be there when you come back.
Your internet browser
Grammarly has browser extensions for Chrome, Safari, Firefox, and Edge, making it easy to use Grammarly no matter where you are on the web.
Whether you're writing emails or updating your friends through a Facebook post, you can use Grammarly to check your writing before hitting "send" or "publish". The browser extensions are also available on the free version of Grammarly so anyone can use them.
Microsoft Word
Grammarly's Premium version trumps Word's native editor; luckily, you can use it within Microsoft Word to check your documents. It's easy to install and doesn't require any technical know-how.
Windows and Mac laptops
No matter which operating system you use, Grammarly has you covered. You can download the Grammarly desktop app to your Windows or Mac computer and use it whenever you need.
iPhone and iPads
With the Grammarly keyboard, you can check texts, emails, and other documents you draft with your iPhone and iPad.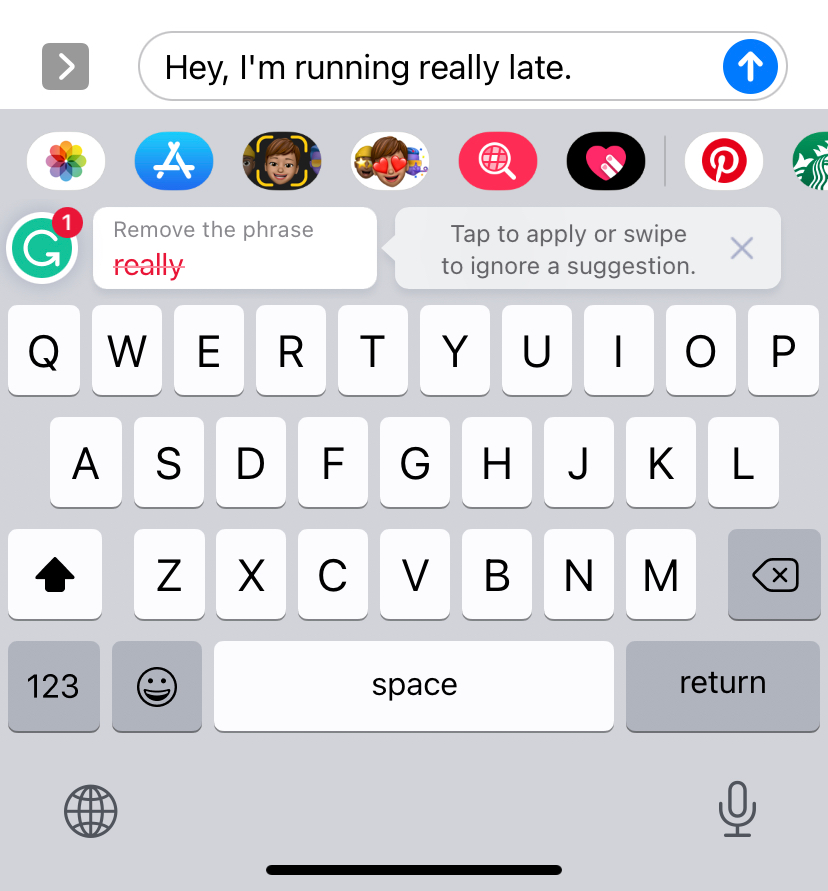 Google Docs
Although Grammarly's Google Docs extension is still in beta mode, it works perfectly fine, so I'm not sure why it's still labeled as beta mode (it has been in beta for as long as I can remember). To get Grammarly working in Google Docs, all you need is the browser extension.
Where Grammarly needs improvement
This Grammarly review wouldn't be complete without a list of improvements. Here's what I think they can improve:
Grammarly only supports English
Unfortunately, Grammarly doesn't work have multilingual capabilities. I hope this is something we can see down the road so more users can benefit from and use Grammarly.
Users might get too caught up with the grading systems
Some people get too caught up with grading systems and feel they need to reach a perfect score. And if they can't, they get stuck with analysis paralysis.
If you're new to writing or aren't confident with your writing chops, keep in mind that a good piece of writing doesn't need a score of 100 from Grammarly.
Grammarly for Google Docs is still in beta mode
To be honest, I'm unsure why Grammarly for Google Docs is still in beta mode as of 2022/2023. I've been using Grammarly for several years in Google Docs, and it works fine in most cases. Sometimes, it goes a bit wonky and I need to refresh the page to get it working again.
I guess that's probably why it's still in beta mode, but from a user perspective, it would be nice to see Grammarly's Doc extension exit the beta mode stage.
Grammarly lags in long documents
Whenever I need to edit long docs, like book manuscripts, Grammarly gets a bit slow. I don't edit books often, so this isn't a problem I encounter day-to-day.
Usually, the text I edit is around 3,000 words, and Grammarly doesn't lag at that amount. Still, it would be nice if it didn't lag when I open up a 90,000-word doc.
You can't update goals in the browser extension
I use Grammarly for a lot—client work, my portfolio of blogs, and the fiction book I've just started working on—and each project has slightly different goals.
I wish there was an easy way to update my goals directly from the browser extension so I didn't need to head into my Grammarly account each time I'm working on a new project.
Grammarly versus a human editor: which is better?
Grammarly isn't trying to replace human editors, nor could it. But Grammarly is still a highly-powerful tool that complements what editors do.
In my experience, editors are best when used to refine your writing and bring it to the next level. They ask critical questions, challenge your assumptions, and kill your darlings. Grammarly's purpose isn't to do that (and I'm not sure AI will ever be able to do that—which is fine).
Instead, Grammarly ensures your writing is squeaky clean. You don't need to worry about misplaced commas, funky misspellings, or run-on sentences that leave your reader out of breath. Grammarly handles it all for you.
As an added bonus, the more you use Grammarly, the more familiar you'll become with grammar rules and stylistic writing.
When I first started writing, I didn't know what passive voice was (I come from a marketing background, not a language arts background). Grammarly strengthened my writing by introducing me to concepts I wasn't aware of—like passive voice.
Grammarly Free versus Grammarly Premium: which one is right for you?
So, is Grammarly Premium worth it, or can you get away with the free version?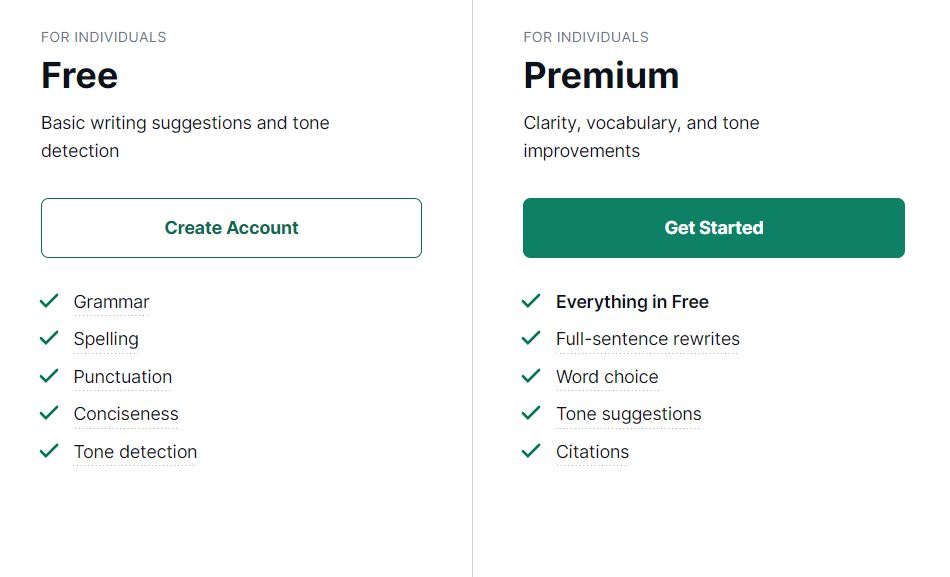 My answer is a very clear and resounding…it depends (I'll explain).
Grammarly's free version is fantastic for grammar errors, spelling errors, missed punctuation, and tone. If you want to spot writing errors quickly, and that's it, then the free version is all you need. The free version is perfect for people who don't write a lot.
But consider Grammarly's premium version if you want stylistic tips, tone detection, help to rewrite dull sentences, and so much more. The premium version will improve your writing over time and is, in my opinion, worth every penny.
Write better with Grammarly Premium!
| | |
| --- | --- |
| Review overview | Grammarly |
| Summary | Grammarly Premium is a fantastic tool to help writers and non-writers edit and strengthen their work. |
| Author | Dana Nicole |
| Rating | 4.5/5 |
FAQs
How much does Grammarly cost?
Grammarly is a freemium tool. The Premium version costs $12.00/month.
Is Grammarly a good grammar checker?
Grammarly is a fantastic grammar checker used by both professional writers and amateurs. Grammarly's grammar checker looks beyond spelling errors and grammar errors and helps you rewrite clunky sentences.
Is Grammarly a desktop app?
Yes, Grammarly is a desktop app, but it's also a browser extension, a phone app.
---
This article may include affiliate links. As an Amazon Associate I earn from qualifying purchases.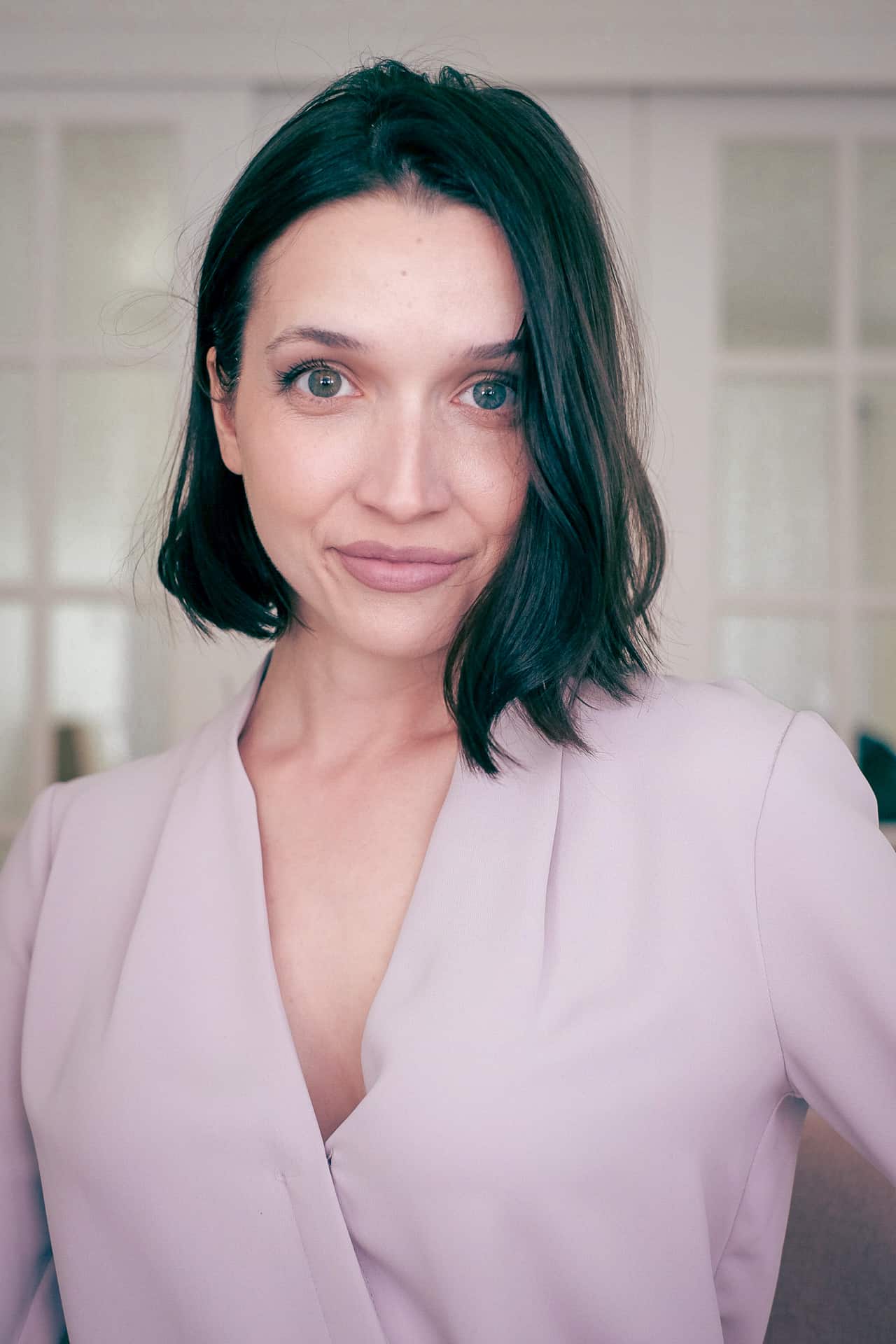 Dana Nicole is an award-winning freelance writer for MarTech/SaaS who was rated one of the best SaaS writers by Software World. She specializes in writing engaging content that ranks high in search engines and has been featured in publications like Semrush, ConvertKit, and Hotjar.
Dana holds a Bachelor's degree in Business Administration and has over 15 years of experience working alongside national brands in their marketing departments.
When Dana's not working, you can find her dancing en pointe, cooking up new recipes, and exploring the great outdoors with her two big dogs.