Thank you for signing up! Your free video training series is whizzing to your e-mail as we speak. 
While you wait, learn how you can build a money-making blog.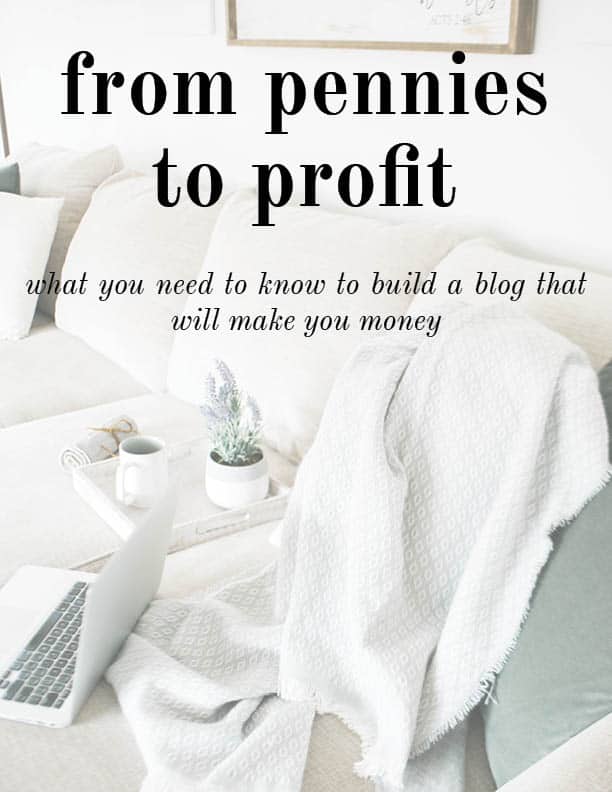 Imagine having a blueprint that will show you everything you need to know so you can make money blogging
Are you tired of trying to figure out what you need to do to make money through your blog?
If you answered with a resounding "yes", my From Pennies to Profit PDF eBook is for you.
All profitable blogs have one thing in common
They have nailed down their niche, they know how to write content that converts and they understand that making money through their blogs has to be done through various channels.
As a full-time blogger and someone who has built multiple profitable blogs in different niches, I know what it takes to create a blog that will turn a profit.
From Pennies to Profit is here to show you the ways you can make money blogging so you have a clear plan of attack and know exactly what you need to do to get your blog earning you money for all the hard work you put in.
Only $9
Blogging is incredibly competitive. If you are trying to patch together a framework to make money, you'll be swiftly drowned out by the competition.
You need a plan and strategies that actually work.
This guide is for you if...
✔ You're tired of seeing zeros across the board for your blogging income reports
✔ You feel overwhelmed and have no idea where to start or how to begin earning more through your blog
✔ You want to feel confident about your blog and know that you are employing the right strategies to bring in an income
I'm a professional writer who has built several profitable blogs over the years. I've had blogs fail and I've had blogs succeed and I know what it takes to build up a blog that will earn you an income.
Building a profitable blog is a lot like building a house.
You need a good foundation and without that, you won't be able to get started. In my eBook "From Pennies to Profit," I'm going to be walking you through absolutely everything you need to know to make money blogging.
Are you ready?
the best affiliate networks that as a blogger, you need to join
how to write affiliate content that CONVERTS
ways to make passive income so you don't need to be chained to your computer 24/7 promoting
how to build an email list that wants to buy from you
why a niche is important for your blog but why people get niches wrong
how to develop a brand voice and why missing out on your brand voice will cost you $$
how to pitch brands even with a small following (I'll include the exact email template I use so you can quickly build your own pitches)
All this for only $9
From Pennies to Profit is the ultimate blueprint for beginner bloggers.
Are you ready to finally figure out how to make money blogging?